We use affiliate links. If you buy something through the links on this page, we may earn a commission at no cost to you. Learn more.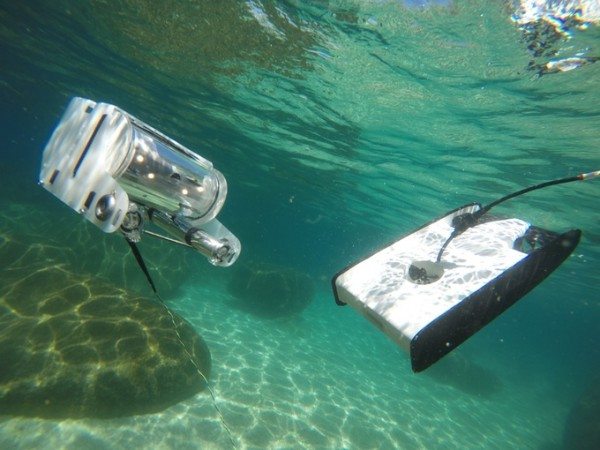 Before I pursued a degree in entomology, I first considered marine biology. I've always marveled at the unusual life forms out there, many of which exist in the ocean and many are in places most of us don't have access to. The company OpenROV has sold personal underwater robot kits for those like me who are insatiably curious about exploring the ocean's creatures. They currently have available the OpenROV 2.8 Mini Observation Class ROV kit (shown on the left in the above photo – complete assembly required). It comes with an HD webcam with audio to live stream HD video, has an easy to use web browser interface, reaches speeds of 2.6 knots, goes to a depth of 100m, has a software controlled camera tilt (+/- 60 degrees from center), has LED lights for low-light conditions, and uses rechargeable lithium batteries with a battery life of 2-3 hours (depending on use).  When assembled, the OpenROV weighs 2.6kg and measures 30cm long x 20cm wide x 15cm high. The basic OpenROV 2.8 kit is available for $899 from OpenROV. For more information on the OpenROV 2.8, please visit OpenROV. But wait! There's more! They are currently developing a wonderful looking new model as a Kickstarter project and it comes assembled.
The new OpenROV Trident (shown on the right in the photo above) is a completely redesigned underwater drone that glides or "flies" through the water more quickly and efficiently and is small enough to fit in a backpack (40cm long x 20cm wide x 8cm high/15.75″ x 7.87″ x 3.15″). It will still reach depths of 100m but will be shipped with a 25m tether (other tethers will be sold separately). This robot weighs 2.9kg and reaches top speeds of two meters per second. (I really, really, really want one of these.)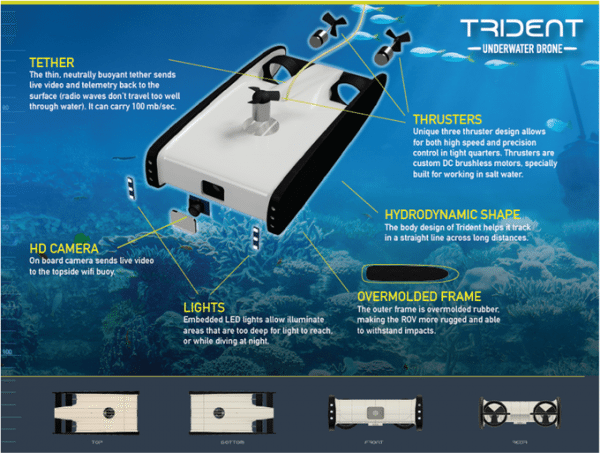 The data connection to Trident is a major evolution from the connection set up of the original OpenROV kit. It uses a neutrally buoyant tether to communicate to a towable buoy on the surface (radio waves don't travel well in water) and the buoy connects to the pilot using a long range WiFi signal. Using a wireless towable buoy greatly increases the practical range of the vehicle while doing transects and search patterns since a physical connection between the vehicle and the pilot doesn't need to be maintained. You can connect to the buoy and control Trident using a tablet or laptop from a boat or from the shore.
The software used for the Trident is an open-source project (https://github.com/openrov/openrov-software).
Our goal is to make the easiest, most intuitive telerobotic control system possible. We have embraced the latest emerging internet standards from HTML5 and webRTC to WebVR and WebGL to deliver a rich piloting experience through just a browser that runs on laptops, tablets, and modern mobile devices.
The only pledges available start at $949 for the Trident drone, standard tether, wireless topside buoy, and onboard LiFePO4 batteries. The estimated delivery date is November 2016. Please visit the OpenROV Trident Kickstarter page for more information.
"Little Geek is on the case!"