We use affiliate links. If you buy something through the links on this page, we may earn a commission at no cost to you. Learn more.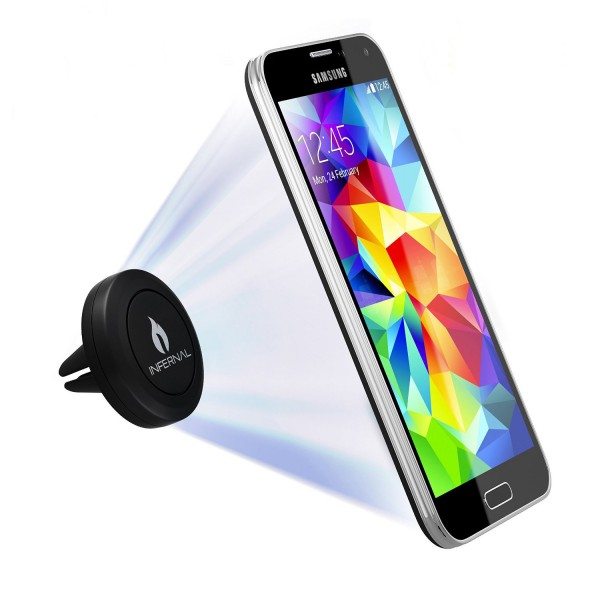 As I've said time and time again, I'm in a car a lot. A good portion of the gadgets I buy are to make life easier on me while in my car. One of my constant sources of frustration is where to keep my phone while driving.
When cell phones first came out, you could keep it tucked away in your pocket because you never needed it while driving; however, when GPS and music streaming became integral parts of our smartphones, we began to need to keep them visible. Even then, before the advent of the phablet, you could toss your phone in a cup holder or a coin tray, but now they barely fit in there.
I've tried dash mounted cell phone holders, but they just block your view of the road. I've also tried a CD player mounted holder, but it ended up blocking my climate controls. Recently, I was giving the chance to try the Infernal Innovations magnetic air vent phone mount. Hopefully, it will end my smartphone mount woes.

In the box
Air vent mount holder
2 round metal plates
1 large rectangle plate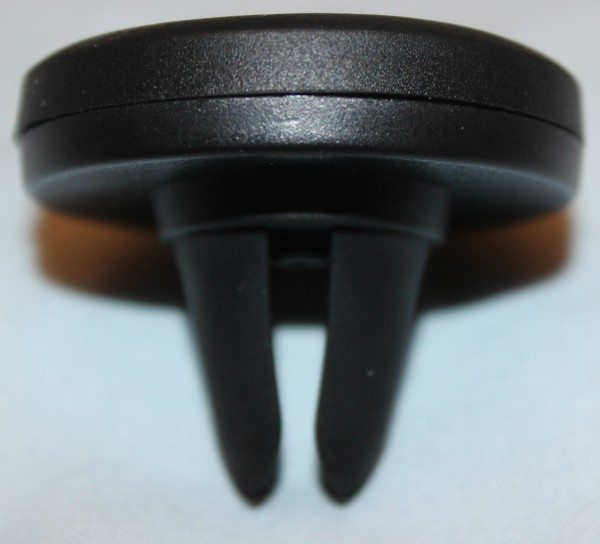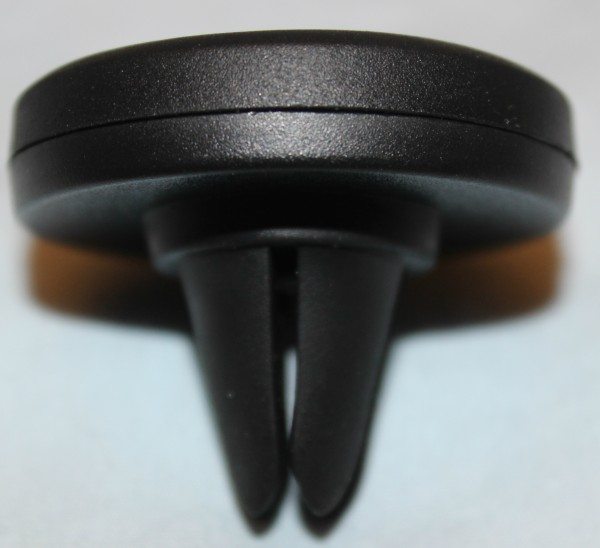 Using the air vent phone mount is pretty simple. There are four prongs on the back of the holder that come together to form a cone shape. As you can see above, the prongs are spaced apart at two different widths to accommodate various vent sizes.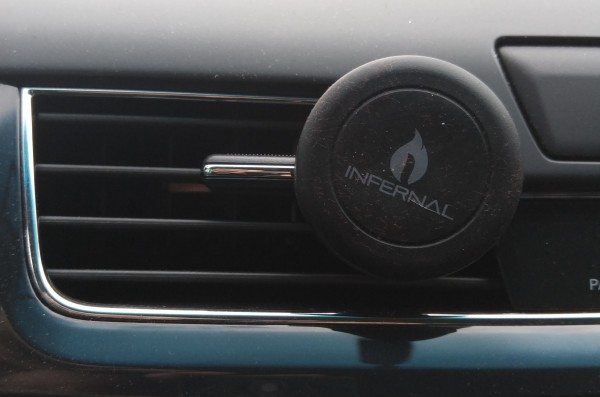 You simply push those prongs onto your vent and they hold the device in place.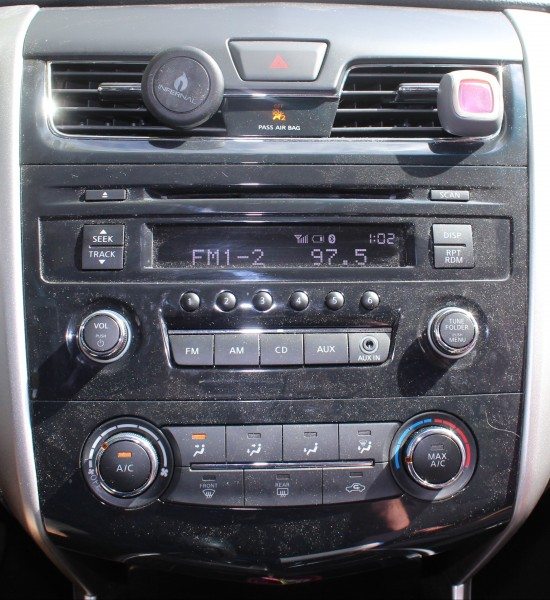 The holder takes up very little space and didn't obstruct airflow or any controls.
Once you attach the holder, you place one of the metal plates on your phone. This can be done several ways. You can stick the plate to the back of your phone, you can stick the plate inside your phone case, or – if your phone has a removable cover – you can place it inside your phone. Obviously, the less material between the plate and the magnet, the stronger the bond.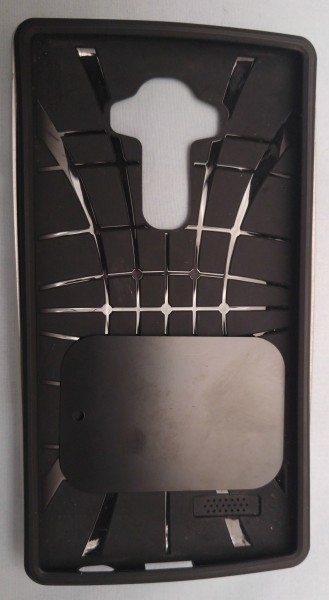 For my first attempt at using the air vent car mount holder, I attached the larger, rectangle plate to the inside of my phone's case. The device worked perfectly. I think I could have thrown my phone at the holder and it would have stuck; although, I didn't have the guts to try.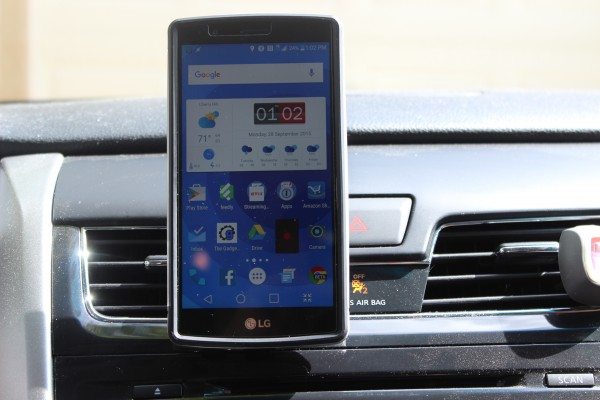 While driving around, the phone never shifted or slid out of place. Additionally, because my phone is equipped with Qi charging, I placed the magnet at the bottom of my phone hoping to avoid interference. As a result, the weight of my phone wasn't evenly distributed; even so, the phone never budged while driving.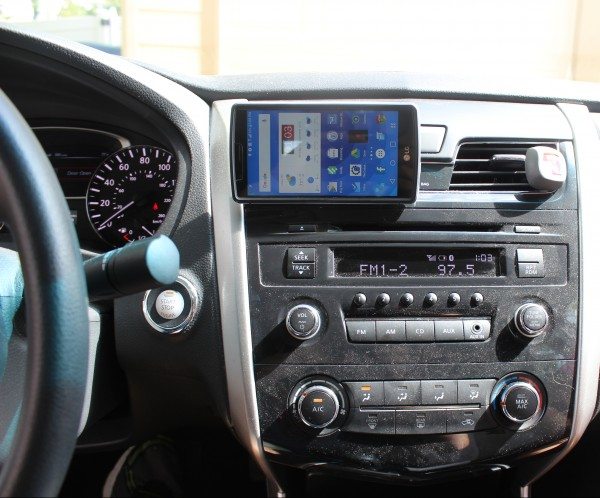 Even when the phone was mounted, it did not obstruct any of my radio or climate controls; although, airflow from the vent was obstructed.
When I returned home, I placed my phone on my Qi charger and let it charge overnight. The next day, I awoke to a fully charged, yet alarmingly hot LG G4.
One of the side effects of using Qi charging is the excess heat caused by magnetic induction. I don't know exactly how the plate affects the Qi charging, but it caused my phone to be very hot (if someone knows the reason, please feel free to explain in the comments).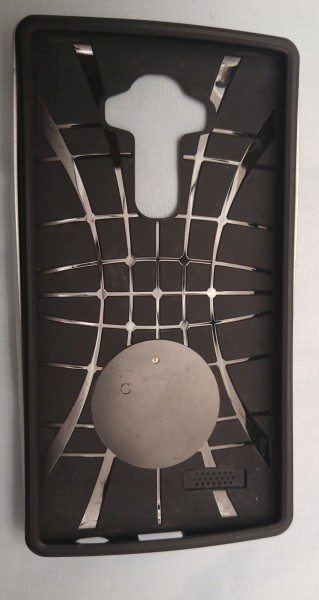 After that experiment, I decided to try the smaller, circular plate. This plate didn't allow for as strong a bond as the other plate. It would immediately "stick" to the holder, but it didn't feel as secure.
Like before, I placed the magnet near the bottom of my phone in an attempt to keep it free for Qi charing. This time, the uneven weight distribution clearly affected the bond. While my phone never fell off of the holder, it would shift its position if I took a turn fast or hit a bump.
Upon returning home, I placed the phone on my Qi charger and left it overnight. As with the larger magnet before, I woke up to a very hot smartphone. Clearly I was going to have to choose between wireless charging and using a magnetic mount.
Despite the fact wireless charging didn't work, NFC signals worked perfectly. Additionally, different phones may see different success rates. I previously had a Nexus 6; I believe its Qi charging coil was located closer to one end of the phone, while my G4's is near the center. If I had the Nexus 6 I could probably place the magnetic plate farther from the coil and avoid the issue altogether.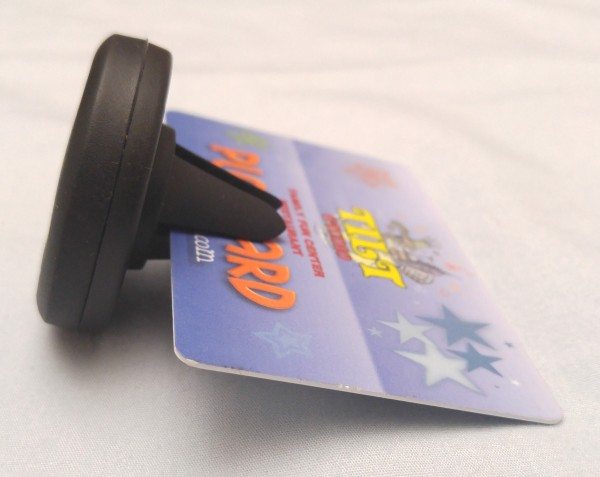 One last feature of the mount is its ability to be used as a desk stand by simply placing a credit card between the magnetic holder's prongs. I feel the need to warn people, do not to use an actual credit card; you'll just be asking to be a victim of theft. Instead, use one of those free, dime a dozen rewards cards that cashiers are always asking you to sign up for. If you get lucky, a dumb thief may steal the card, use it, and earn you some free rewards.
Okay, back on topic.
Despite the issues with the wireless charging, I really liked the holder and chose to keep using it and forgo wireless charging. While wireless charging is convenient, it doesn't beat the convenience of having a safe, reliable, and easily accessible phone mount. At $12.99, I believe the Infernal Innovations magnetic air vent mount would be great a purchase.
Source: The sample for this review was provided by Infernal Innovations. Please visit their site for more information and Amazon to order one.
Product Information
Price:
$12.99
Manufacturer:
Infernal Innovations
Retailer:
Amazon
Requirements:
Pros:

Affordable
Easy to set up
Provides secure bond
Doubles as a desk stand

Cons:

Interferes with wireless charging