We use affiliate links. If you buy something through the links on this page, we may earn a commission at no cost to you. Learn more.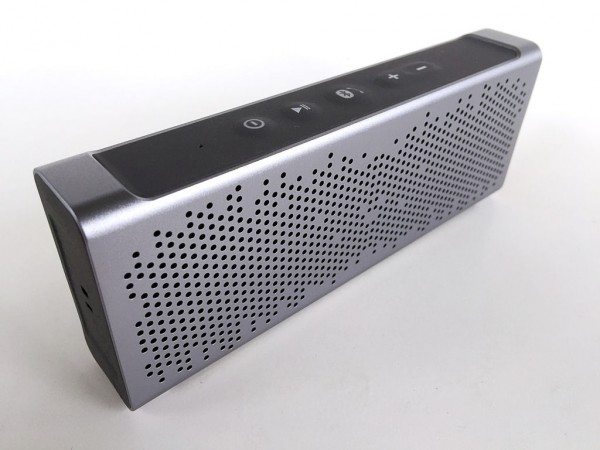 Music is everywhere these days, thanks to its digital portability and instant availability on iPods, smartphones and other devices the world over. But the tiny speakers aboard these devices aren't exactly suited to rocking out loud.  That's why the portable speaker market has boomed (pun intended) the past several years, with wireless Bluetooth connectivity one of the main features of these small-but-mighty sound boxes. I've reviewed a few different speakers on behalf of The Gadgeteer, the latest one being the Inateck MercuryBox seen here.  With a compact form factor and a handsome matte silver and black design, it adds one feature that many of the others lack—water resistance.  Let's take a look.  Gadget on!
Specs/Features
Below are some Technical specifications and features that I gleaned from the Inateck site:
Model Number: BP2101
Speakers: Dual 5W output drivers
Case: Anodized aluminum unibody
Playtime: 9-15 hours from built-in 1800 mAh Li-ion rechargeable battery (charging cable included)
Water resistance: IPX 5 rating (splash proof)
Connectivity: Bluetooth or 3.5mm standard audio jack (cable included)
Microphone for hands-free calling
Size: 6 3/8 inches long x 2 1/4 inches high x 1 1/8 inches thick (16.2 x 6.2 x 2.8 cm)
Packaging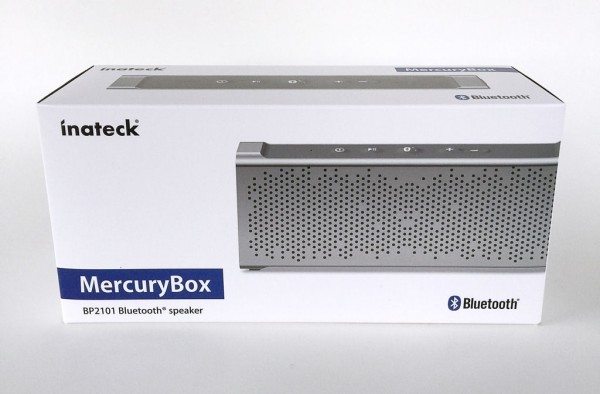 Packaging is a simple box with product photos…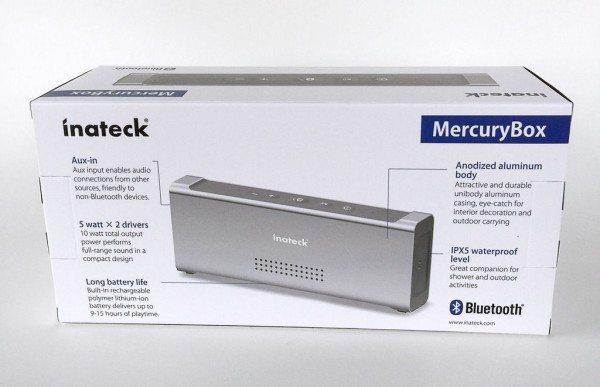 …and features illustrated.  Not a lot of originality here, and although the product itself is not visible through some type of window, the package does include a fairly indicative set of images of the product inside.
Contents
MercuryBox speaker
1.2m/4Ft audio cable
1.2m/4Ft USB charging cable
PU protection case
Hand strap (removable)
Customized cable ties
Instruction manual
Interior box with lid
Features

When I first removed the MercuryBox from its packaging, I was somewhat surprised at its actual size. It was more compact that I had expected it to be.  And the look and feel are quite stylish.  Gee, I wonder which company's hugely popular consumer electronics were used as the pattern for the MercuryBox?  Apple perhaps?  With its durable anodized aluminum, matte silver unibody case with dark grey accents, it's almost a certainty.  But so what?  It looks and feels great, and especially alongside my MacBook Pro, iMac or even my Space Gray iPhone 6 Plus.

Above, a photo of the top of the MercuryBox.  It has a grey plastic panel that includes five buttons and a tiny microphone hole.  More on the controls later.

Above, a photo of the bottom of the MercuryBox, which includes a black plastic panel with regulatory information displayed.  There are also two small, grey, rubber pads on either end upon which the MercuryBox is intended to sit, to give it some grip on smooth surfaces.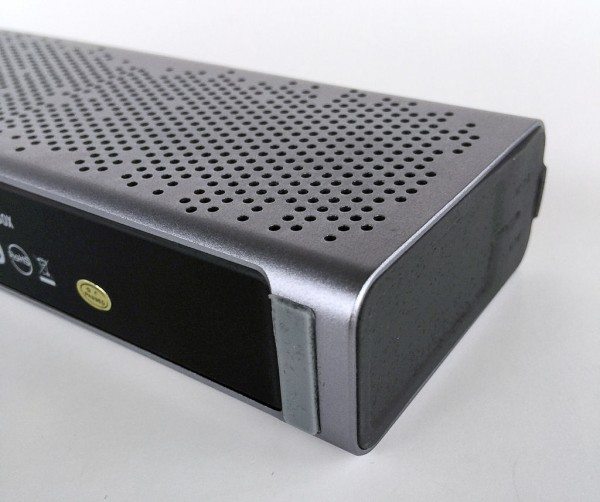 Above, a closeup photo of one of the rubber "feet."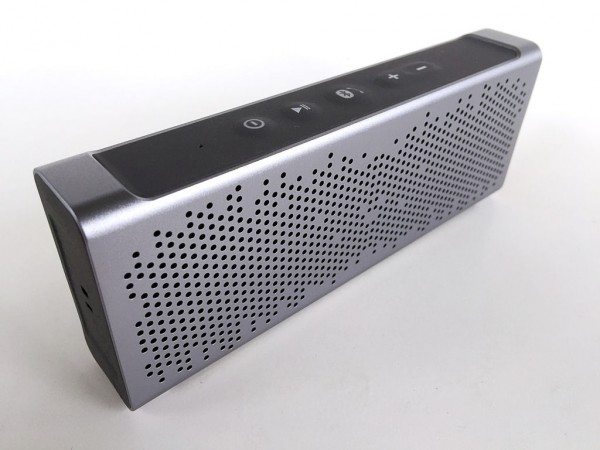 Above, a photo of the front of the MercuryBox, or it looks like in operation.  The control buttons on the top face upward and the side of the MercuryBox with the most holes is where the sound originates, thus being the front.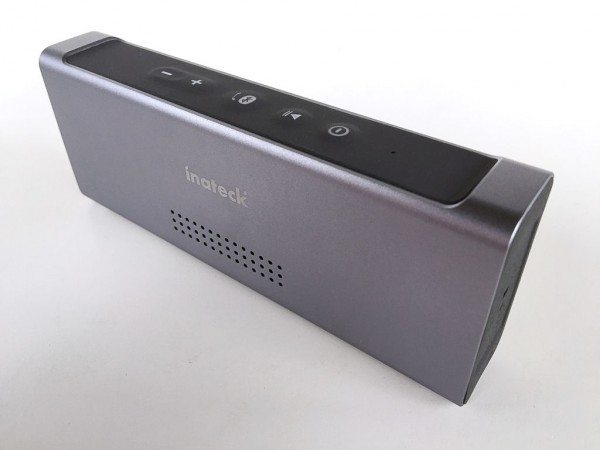 The above photo depicts the rear of the MercuryBox.  It has the Inateck logo and a smaller array holes which I presume to be a bass port.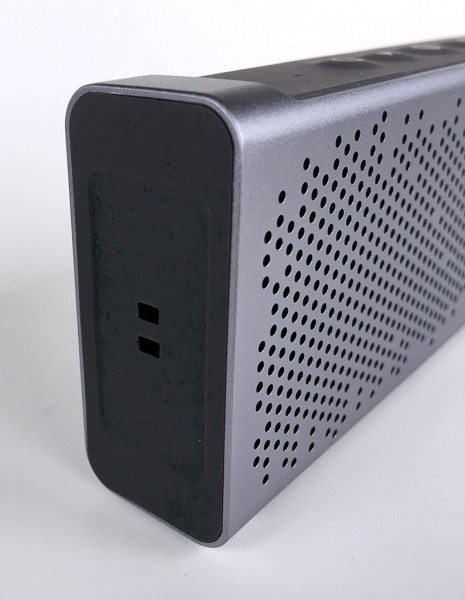 One end of the MercuryBox includes a pair of small holes that are intended for attachment to the optional hand strap…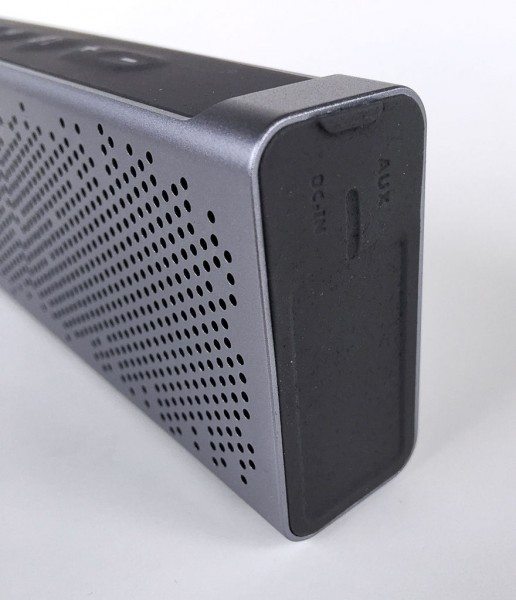 …while the opposite end of the MercuryBox has a small integrated "flap" that encloses and protects the cable jacks.  In the photo above, the flap has been sealed closed.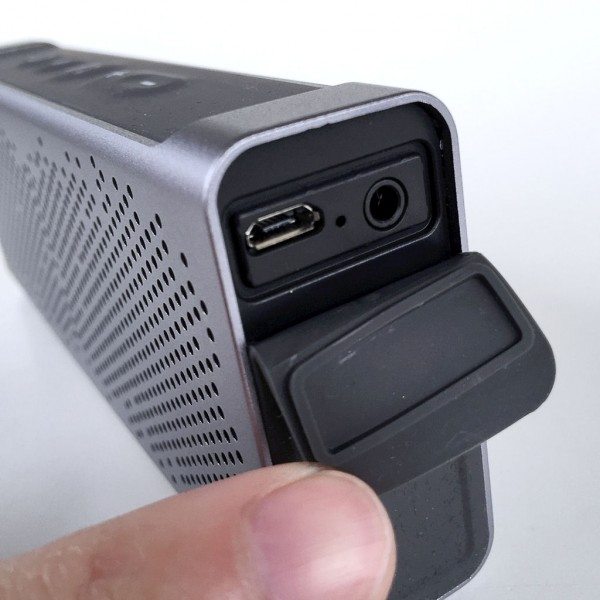 The flap has a small rectangular ridge running along the inside that fits down into a mating depression.  When the ridge is fully seated, this creates a seal that aids in the waterproofing of the jacks.  I found that it was not too difficult to get it to seal, but I did have to pay attention and visually check that it had been fully seated.  In the photo above, the micro-USB charging jack is on the left and the auxiliary audio jack is on the right.
With respect to waterproofing, this is something I didn't empirically confirm.  There is just something about spraying water on or dunking in water an expensive electronic device that I just couldn't bring myself to try.  Inateck claims an IPX 5 rating for the MercuryBox.  I did a bit of research on this.  The IP Code stands for Ingress Protection and describes how protected an electronic device is against water penetrating inside.  Specifically, IPX 5 offers protection from a 6.3mm spray of water (12.5 Liters per minute) in any direction for at least 3 minutes.  So basically this means that the MercuryBox has been designed to withstand being sprayed by a Super-Soaker or a shower, not a full a full-blast garden hose or total immersion in water.  So don't try to swim with it, but bringing it into the pool area should be fine. Knowing this, Inateck's liberal use of the term "waterproof" to describe the MercuryBox's water resistance seems a bit misleading.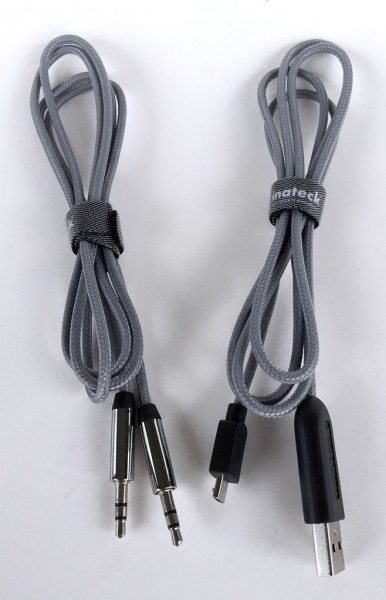 The MercuryBox includes some of the most impressive-looking and well-built accessory cables I've seen with a speaker of this type.  In the photo above, on the left is the 3.5mm audio jack cable, an alternative to wireless Bluetooth audio connectivity.  Its cable plugs are chromed and include small black plastic strain-reliefs.  On the right is the micro-USB to USB cable for recharging the battery.  Both cables feature woven exteriors sheaths that aid in both protection and in reducing tangling.  Also included are two Inateck-branded Velcro strap for bundling the cables.  A nice touch.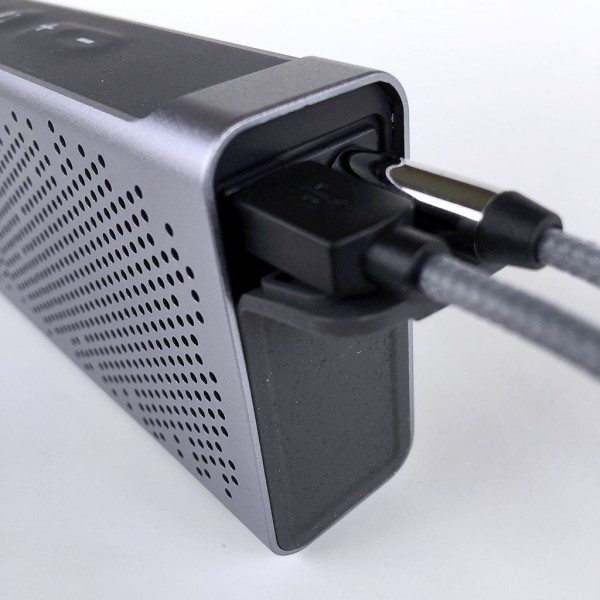 The cables both plug into their respective ports easily, as shown in the photo above.  However, keep in mind that when the rubber flap is open, the water-resistance of the MercuryBox is compromised.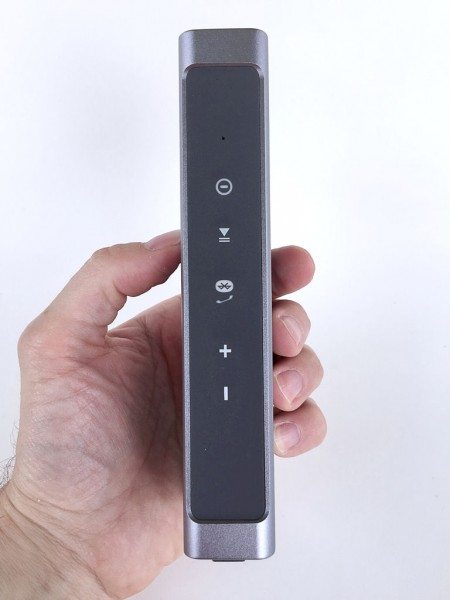 As mentioned earlier, the MercuryBox was more compact that I had expected it to be.  As shown in the photo above, for a portable speaker of this type, it is relatively svelte.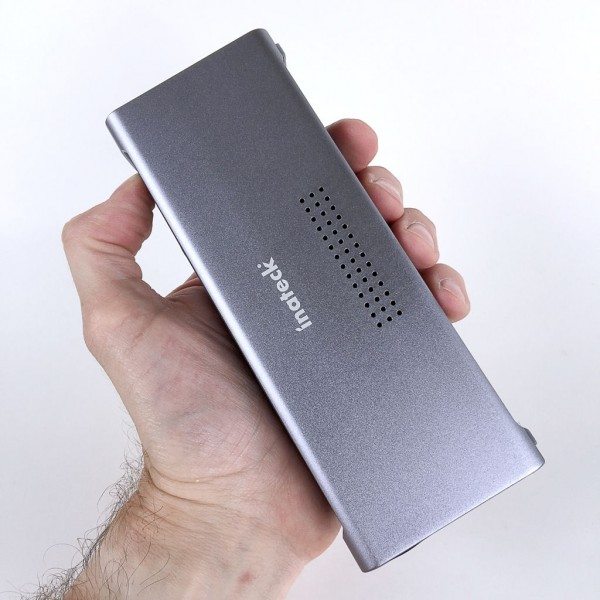 Performance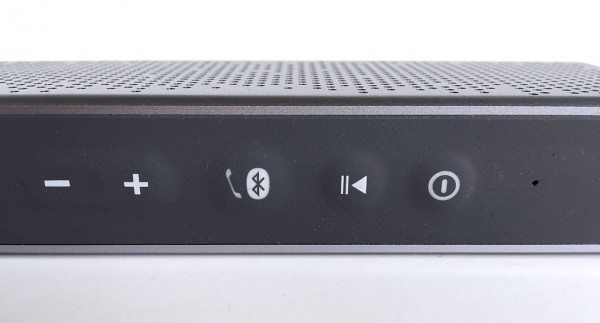 As mentioned earlier and depicted in the above photo,  MercuryBox's controls are located along its top.  They consist of five buttons as seen in the above photo.  From left to right they are: volume down/up (also track reverse/forward), Bluetooth pairing/phone answer, pause/play and power on/off. Note that short-pressing the volume up/down buttons actually increases or decreases the volume, while a long press controls track reverse/forward.  This seems to be a bit opposite: if I am forwarding or reversing a track, I want to short-press to do it quickly, while if I am adjusting volume, it would be easier to hold down the button to get the level I want. This is a flaw in my estimation.  Additionally, at the far right is visible a tiny microphone hole, which allows MercuryBox to be used as a speakerphone for phone calls.  These buttons are a raised "blister"-type and are fully sealed to prevent water ingress.  The buttons are easy to push and have a soft click feel so you get tactile feedback when pressing them.
Bluetooth pairing between my iPhone 6 Plus and the MercuryBox was simple.  I just pressed the Bluetooth button for a few seconds, then "Inateck MercuryBox" popped up in my list of devices on my iPhone.  Tap on MercuryBox and boom, I was in business.
How does the Inateck MercuryBox sound?  Compared to the other Bluetooth-type, portable speakers that I have reviewed or used, I would say that the MercuryBox is comparable.  Volume-wise I didn't expect huge sound from it, and it didn't produce huge sound.  I wouldn't plan to have a rock concert with it; however, the sound volume that it does produce works quite well for a living room, bedroom, back yard or at the beach.  Or even in the shower, which is apparently one of the intended uses of the MercuryBox per the Inateck site.  Quality-wise, the sound is adequate as well.  While the MercuryBox does not produce ultra-rich, deep quality of sound sufficient to make the strictest audiophiles weep with joy, for its size and intended use, it is quite adequate.
The MercuryBox's battery life was impressive, and I really like that Inateck went with an on board rechargeable Li-ion battery rather than disposable batteries.  At our house, we were easily able to get several hours of play time from the MercuryBox for multiple music sessions before needing to charge it.
Accessories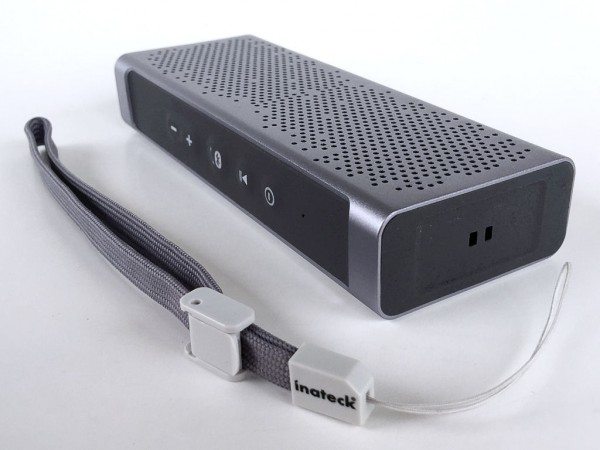 The MercuryBox includes an adjustable hand strap that can be attached to one end.  I have to admit that I found the attaching the strap to the MercuryBox to be exceedingly difficult; so much so that, as you can see from the image above, I never completed the task.  It was just a heck of a lot of work to push that thin cord loop on the end of the hand strap into one of the holes on the MercuryBox, then force it through and feed it out the other side.  Seems easy theoretically, but not so easy in practice.  I opted to go "strapless" with the MercuryBox (pun intended).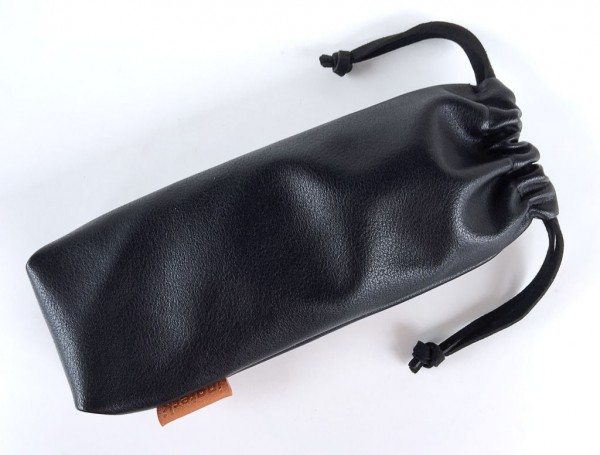 The final accessory included with the MercuryBox was a very handsome protective case.  Made from a fairly thick vinyl-type material with the appearance and feel of black leather, it has a drawstring closure and will help protect the MercuryBox from bumps, scratches and splashes.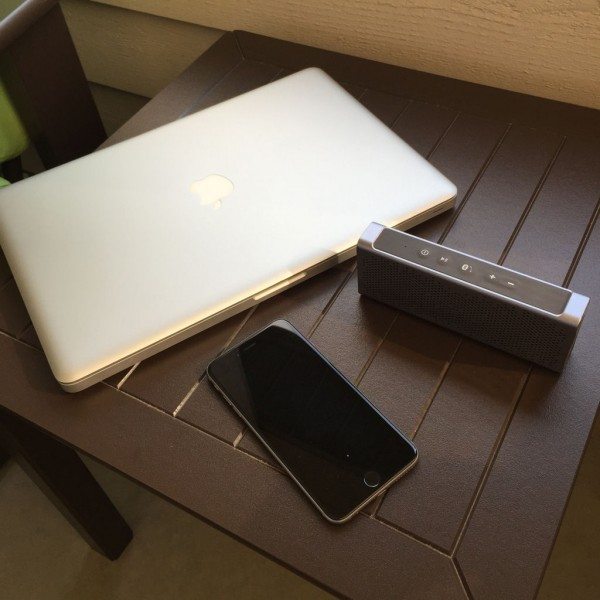 Conclusion
The Inateck MercuryBox Bluetooth speaker is a nice little portable speaker.  Its form factor makes it compact enough to take it along just about anywhere, while its matte silver, anodized aluminum unibody case with grey accents give it a handsome enough appearance for your desktop or patio. Bluetooth connectivity was a snap and the controls work well.  IPX 5 splash resistance even makes it suitable for the shower or around the pool area, and its rechargable lithium-ion battery has great longevity. Sound volume and quality are acceptable for a portable speaker of this type. MercuryBox also includes some nice accessories, like the sheathed micro USB charging cable and 3.5mm audio cable and a leather-like drawstring carrying case (although the optional wrist strap was difficult to attach). If you are looking for a portable Bluetooth speaker that looks great, is durable and has a splash-proof rating, have a look at the Inateck MercuryBox.
Updates 04/11/16
My son uses the Inateck MercuryBox speaker to pump out his jams. It's a good speaker for him because its durabilty is well-suited for a middleschool-aged boy (it's tough).
Source: The product sample for this review was provided by Inateck. For more information, please visit their site or Amazon to buy one.
Product Information
Price:
$99.99
Manufacturer:
Inateck
Retailer:
Amazon
Requirements:

A device with Bluetooth capability

Pros:

Compact size and form factor
Sharp look and feel
Long-lasting rechargeable battery
Water-resistant (well, really more like splash-resistant)

Cons:

Controls for track forward/reverse and volume up/down seem opposite of what they should be
Calling it "waterproof" is a bit of a stretch
Sound volume and quality are decent at best