We use affiliate links. If you buy something through the links on this page, we may earn a commission at no cost to you. Learn more.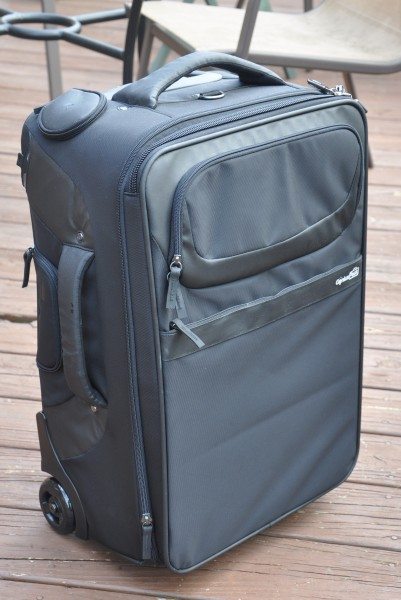 Have you ever stood at the baggage conveyor after a flight and wondered which black rolling bag was yours? I sure have. We have half a dozen in the attic in various sizes and weights, so when our Benevolent Gadgeteer Overlord offered the Genius Pack, I wondered if it might somehow be different. I had a two week trip to Italy planned, so thought it may be a good chance to test things out, just to see if it was different. (We go all out for you, dear readers!) I was sent their 22″ carry-on to test out. 
Note: Photos may be tapped or clicked for a larger image.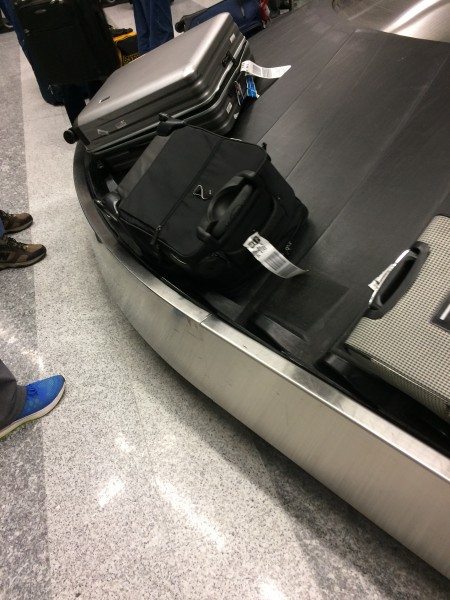 The Genius Pack suitcase is, of course, a black ballistic nylon roll-aboard with a telescoping handle and roller-skate wheels on the bottom. Outside dimentions are 22″ x 14″ x 9.5″. There are, however, several little built-in surprises in store for the user. First, let's look at the outside. Rather than a bulky, dangley name badge, there's a retractable ID card on one side, which can hold a typical business card or other ID. On the same side, there is a waterbottle fold-out net pocket, which has no entrance to the interior. (This way, your sweaty, leaky water bottle won't get into your clean clothes!)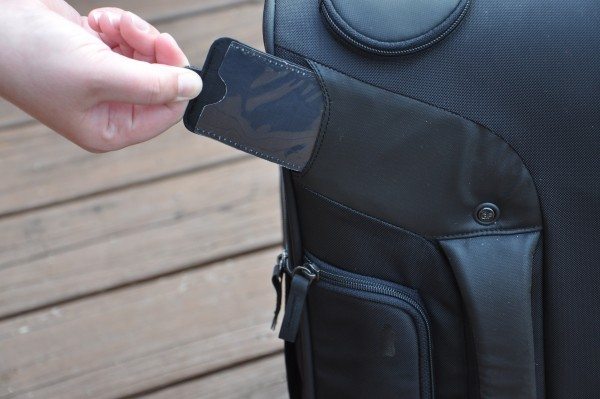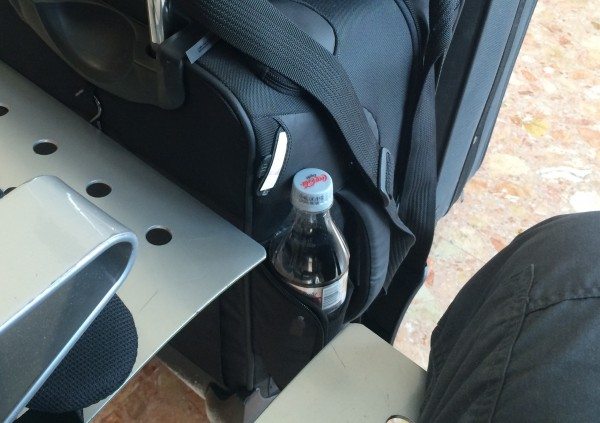 Above this, on the top corner, is a lined umbrella holder, which unzips to pop-out the official Genius Pack unbrella (not included, but available at additional cost), or one of similar dimensions. While I liked the idea of this, I didn't have much need for it, but did carry an umbrella that would fit, should it be rainy during the trip.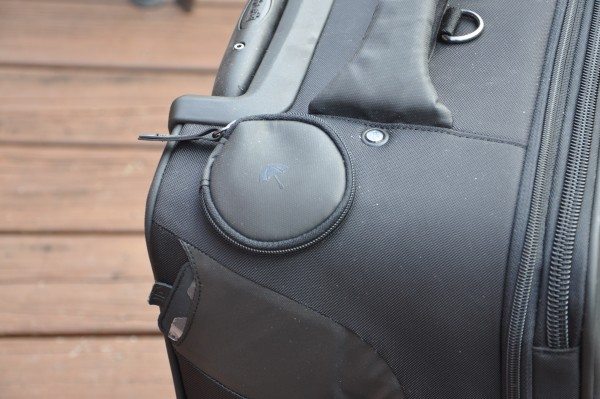 Across the back there is a large, flat magazine pocket, with a jacket wrap: an elastic band with a hook that affixes under the top handle. You just lay your jacket across the top of the bag, next to the telescoping handle, pull this band across, and your jacket is securely strapped to your luggage as you rush down platforms, and haul your bag up stairs because they can never decide which platform the train is really leaving from until most of the passengers have moved to a different one at least once. But the trains are always on time. (Except when they aren't.) The single irritation I had with the bag was that this strap, useful as it was, had to be retracted by unzipping the magazine compartment and pulling it back inside. But it's still a very useful feature, and this issue never stopped me from unhooking it to secure my jackets.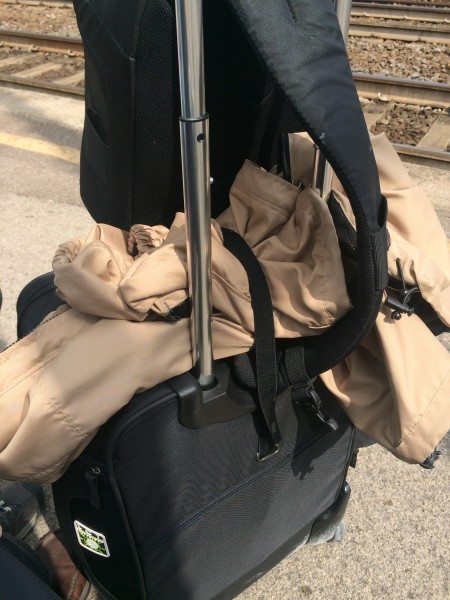 On the other side is a large panel that unzips into a segregated carry space within the main compartment. It's designed for dirty clothes. More on this once we move inside. On the front are the usual two pockets, one small for travel documents and one mirroring the size of the magazine pocket on the back, but deeper for slightly bulkier items. Interesting addition to the top pocket is the "Power Up" pocket, a net pouch designed to hold the Genius Pack Portable Mobile Charger (not included, but avaliable at extra cost). While I did carry a charger or two, neither was of the correct size for this pocket, and, since I checked this bag for all flights, it wouldn't have helped much. There's also a strap that clips in here to hold your carryon.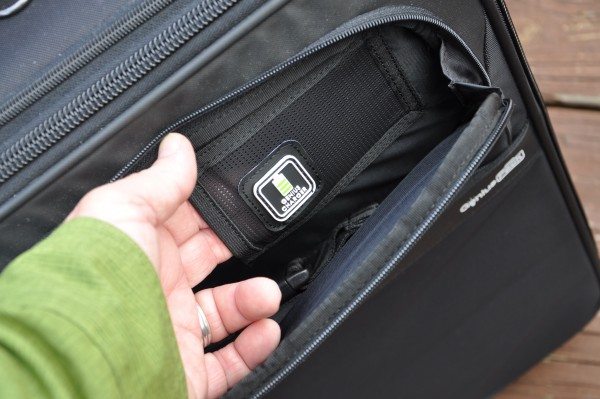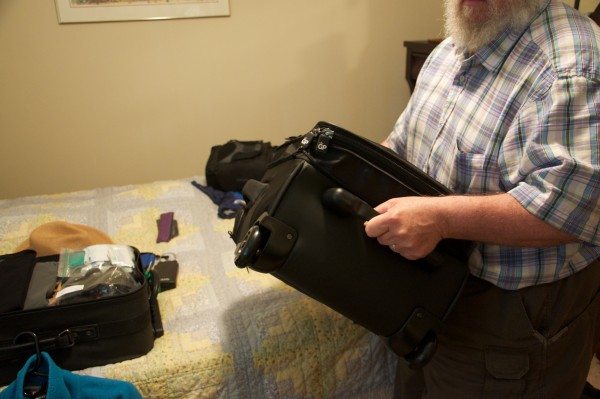 The top, side, and bottom handles are quite strong and molded of neoprene for extra comfort. They made moving the bag into and out of racks and cars a much easier task, for sure.
Moving inside, there are several interesting developments. First, there's a zip-out Garment Suiter for hanging clothes.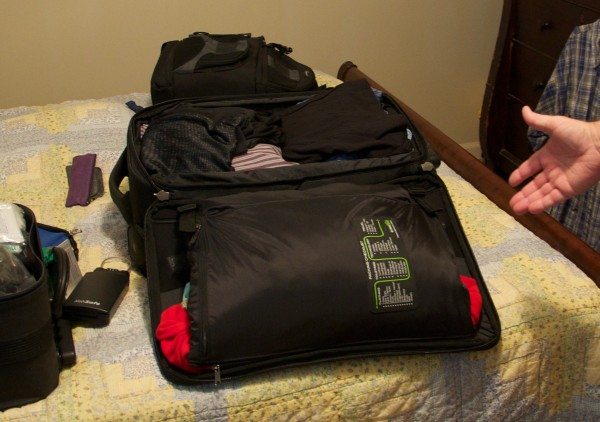 Despite my Geek Status, I rarely wear tshirts. I grew up in a culture where oxfords with a pocket were the norm, and, even though most of the patterns now in my wardrobe would not pass muster, they are still in the same basic style: full collar, six-button front, breast pocket (or two), long tail, which I usually tuck in. Blame my mother and Mrs. Isler, my 6th grade teacher, who both threatened to sew lace on shirttails if they saw them untucked. These shirts require hangers. I was able to fit a half-dozen on easily, along with the fleece I decided to take along. (It had snowed two weeks before our arrival!) The Suiter then zipped around the whole, and you're able to tri-fold the lot into the body of the suitcase. Printed on the outside of this unit is a checklist for traveling. You may think this is a bit of overkill, but there can never be too many checks to make sure you have your medicine or your camera battery charger.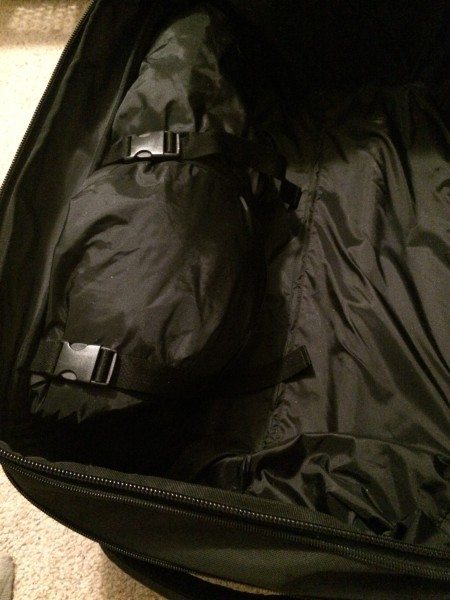 Inside the main body of the case is the laundry bag. This has two cinch straps, so that it can be compressed to the side of the bag when going home. I opened the bag's "laundry chute" side, and stuffed dirty clothes into it as they became soiled. It was great to have a single place to stuff those things. When I got home, I unzipped the bag, carried it to the laundry room, and dumped it in the washer. Robert is your mother's brother.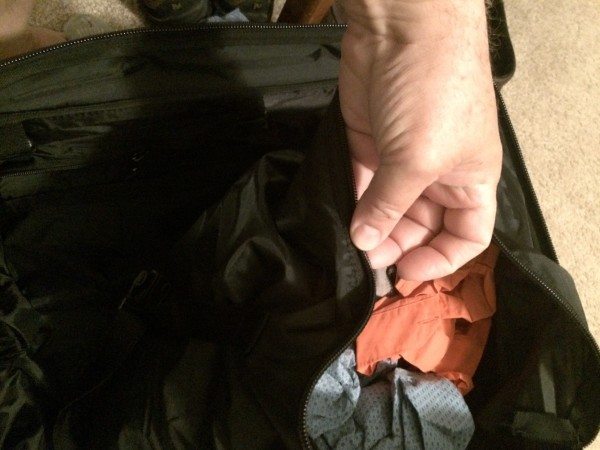 There are other accouterments on this bag, to be sure. It managed two overseas and two domestic flights without a single scuff. This on top of about a dozen train and car trips of various length. I found the little things like the jacket strap and the water bottle pocket especially useful, as the temperature would range from the 50's in the mornings and evenings while being 70-80 during the day. When you leave the house at sunrise, take a train for two hours, walk around some ancient town for most of the day, then get back in a train, and hunt down your car and drive the 40 km home, you'll need a jacket but have to schlep it around through the middle of the day.
I'm sure there are pieces of luggage with some perks similar to this suitcase, but this is a great collection of little enhancements to a standard high-end travel bag. I found it fully functional for all my needs on this trip, and I'd recommend it highly.
Source: The sample for this review was provided by Geniuspack. Please visit their site for more info.
Product Information
Price:
$318.00, on sale for $218.00
Manufacturer:
Geniuspack
Requirements:

none, really. Things to take on a trip, maybe?

Pros:

Well made, quality construction and materials.
Interesting innovations in add-ons and features.

Cons:

Loads of "extra at additional cost" items.
Jacket strap needs to be retracted manually.