We use affiliate links. If you buy something through the links on this page, we may earn a commission at no cost to you. Learn more.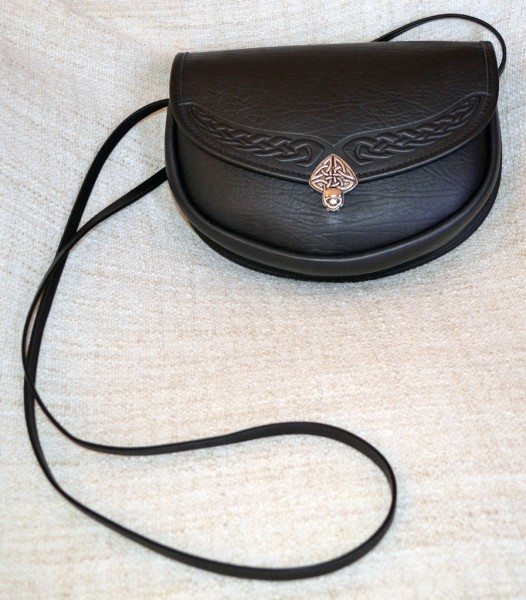 Although I carry gear, I don't carry a typical gear bag.  I don't go to an office, so I don't need a bag big enough to hold a laptop and other job necessities.  I just need a bag big enough to carry what I'll need while I'm out.  I have some bags big enough to carry a laptop for those few times I'll need it, I have a bag or two big enough to carry my iPad plus my other daily gear, and I have handbags for just my minimal daily gear.  I like those daily bags to be useful and to look pretty as well.
I've been intrigued by the beautiful leather bags that Oberon Design creates, and I actually bought one of their bigger handbags a couple of years ago.  But it is bigger than I want to carry on a daily basis, so I was thrilled to see they had started offering a couple of smaller handbags.  When Julie inquired, Oberon Design agreed to send one for review.  I received the Lilah Leather Women's Handbag in the larger size.  I've carried it exclusively for several days now.  Let's give it a look.
All images may be clicked for a larger view.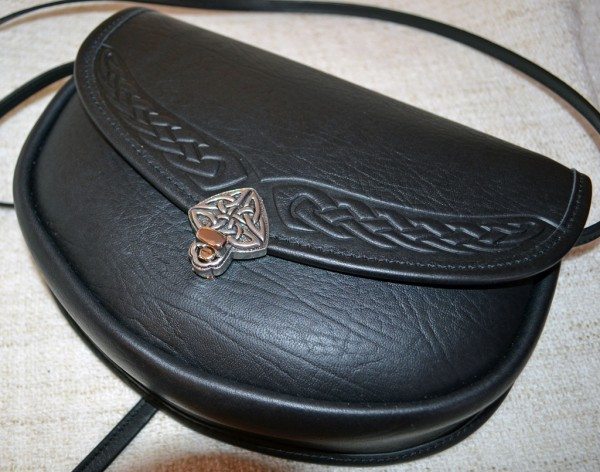 Just like all Oberon bags, cases, and covers, the Lilah handbag is made of a beautiful, rich leather that's thick enough so you don't worry about it wearing out until after you've passed it on to the next generation in your will, but not so thick and heavy that you need a wheeled dolly to tote it around.  It's only available in black with the Celtic knot design you see here.  The design seems to be impressed into the leather instead of being cut with a swivel knife.
The twist-lock closure is cast of pewter with a Celtic knot design that matches the bag's embossed design.  The stitching is even and smooth and done in black to match the bag.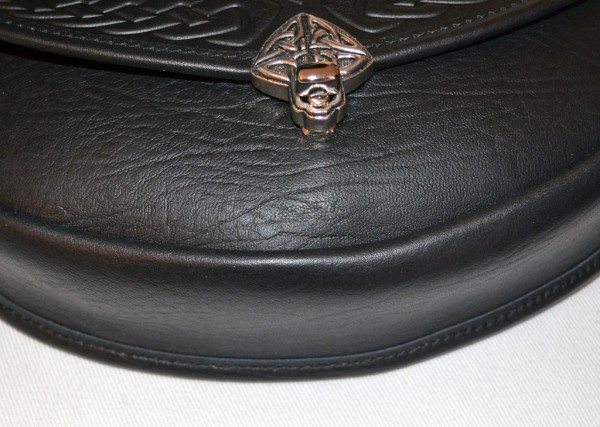 The seam holding the back to the sides/bottom of the bag has been bound with a strip of leather for a finished edge.  That binding also wraps around onto the front flap of the bag.
You can also see that the leather has nice graining.  The finish has a sheen, but it's not highly glossy or shiny.  The leather is supple and strong.  It has a delicate, pleasant "leather smell" without smelling like a solvent factory, as some leathers can.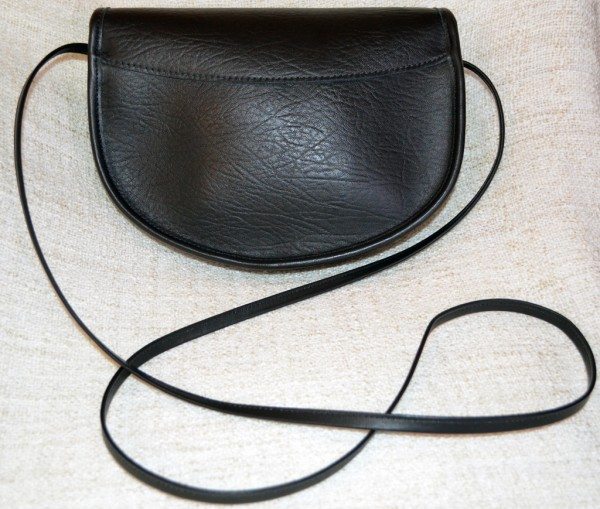 The flap is sewn to the back with more of the straight, even stitching.  There's no open pocket on the back, only the seam.
The large Lilah measures 9.25″ wide x 7″ tall.  It's about 2″ in depth, but Oberon Design says the bag opening can expand to more than 4″.  It weighs 12.8 oz.  Oberon Design also offers the Lilah in small (8.25″ wide x 6.25″ tall and 8.5 ounces), if you require a bag even smaller than the one I'm reviewing.
You can see the bag's strap in this picture (and in the preceding ones, too).  The strap is about 3/8″ wide.  Because the bag is small and light, this narrow strap is comfortable.  (There's more about the strap later in the review.)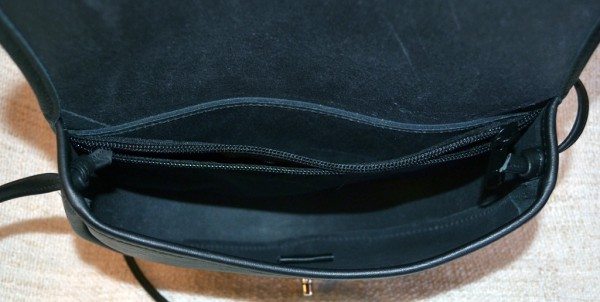 The interior of the bag has a zipper pouch that's connected at the sides and the bottom.  There's a small slip-in area behind it.  Because the zipper pocket is attached at the bottom, you don't have to worry that things you place in the small slip-in pocket will migrate to the front.
You can see there's a small leather "patch" on the inside front of the bag.  This covers the back side of the twist lock hardware to prevent it from scratching the bag's contents.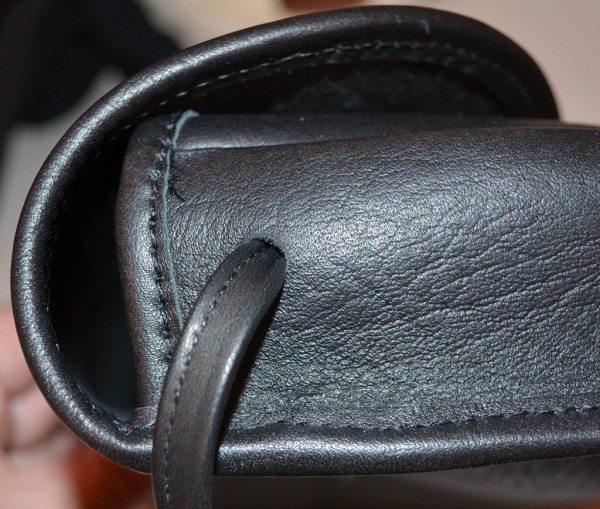 The strap is simply threaded through round holes on each side of the bag.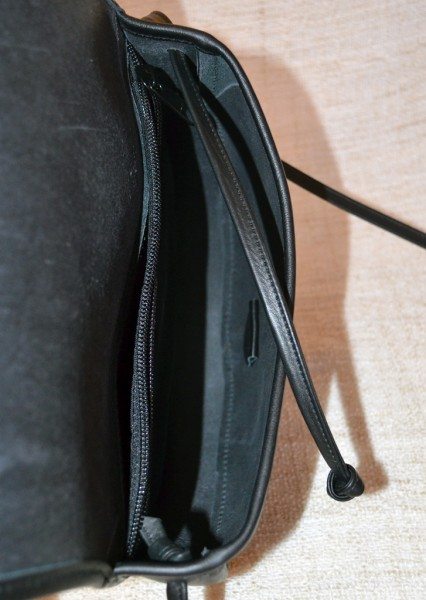 Each end of the strap is knotted to keep it in place.  The maximum length of the strap is 56″, making it more than long enough for most people to wear the bag cross-body.  If you prefer a shorter strap, you could possibly cut the strap and knot the end, but you'll need to be sure that the strap's seam doesn't start coming loose where you cut it.
I prefer cross-body bags because they are easier on my back, so I love the length of the strap just as it is.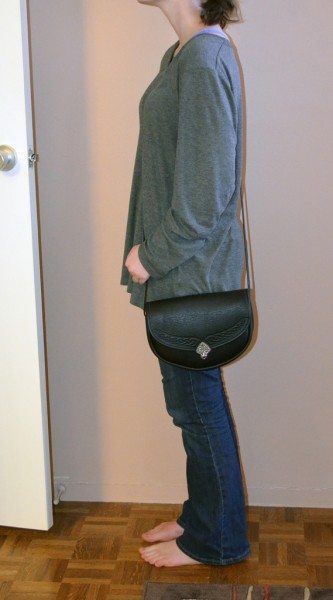 Here you can see my 19 year-old daughter wearing the Lilah bag cross-body.  She's 5′ 2″, for scale.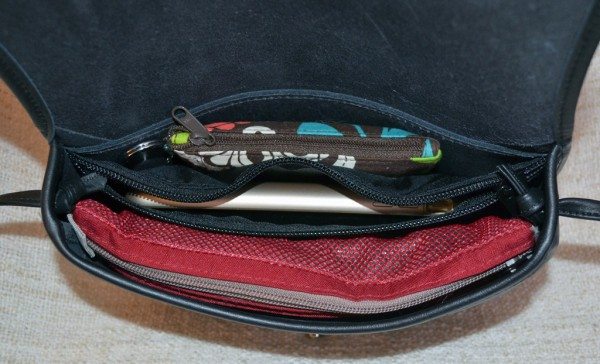 Although the bag looks small, it can hold quite a bit.  I've got it loaded down with all of my EDC necessities, plus the red mesh bag has some things that I can't always carry with me in some of my smallest bags.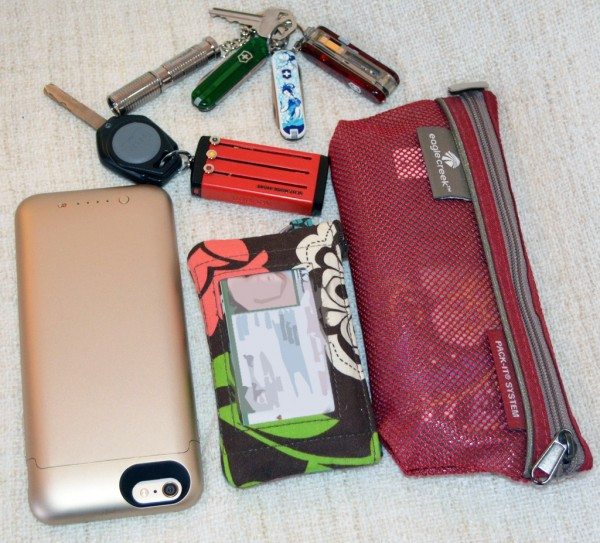 You can see that I have my iPhone 6 Plus in a mophie juice pack battery case; a Vera Brady card case with a huge stack of cards and IDs inside; my red Keyport 2.0 Slide plus my car key with remote and my building's security fob; another keyring with a flashlight and three Swiss Army knives; and the red mesh pouch from Eagle Creek.
I put the Vera Bradley card case in the slip-in pocket, the iPhone 6 Plus in the zipper pocket, and everything else went in the main front pocket.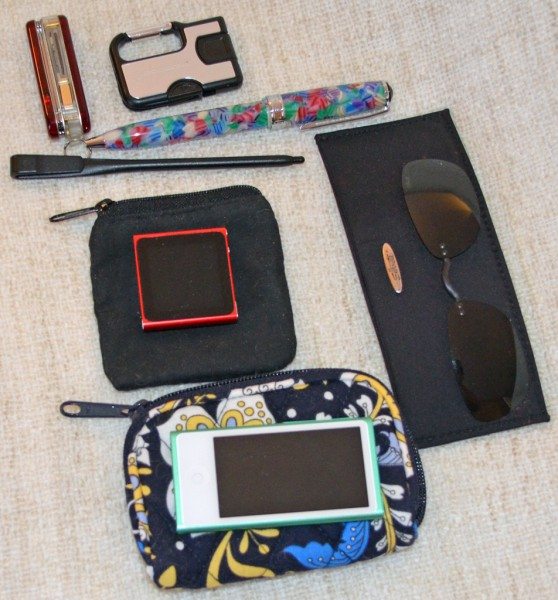 The Eagle Creek pouch has yet another Swiss Army knife (I know, I have a problem…), a Scosche clipSYNC Charge and Sync microUSB/miniUSB Cable, Levenger pen, stylus for a Sony eBook reader, a red 6th-gen iPod nano and its pouch, a green 7th-gen iPod nano (I know, I have another problem…) in a Vera Bradley pouch, and some clip-on sunglasses in their pouch.
So that's a lot of gear to fit so easily in such a small bag.  Even loaded up, the bag is still light enough to carry easily.  It's not heavy enough to hurt my shoulder or neck when loaded up with my stuff, and the strap is so smooth that there's no rough edges to scratch my neck.
When the Lilah bag arrived from Oberon Design, I loaded it up and starting carrying it immediately without photographing it first.  I'm always obsessively careful with my bags, so I knew that it would be fine for me to photograph it after carrying it for a while.  Friday night, I was running late for meeting up with some friends for dinner, so I went racing out of the building at the last minute only to realize it was raining pretty heavily.  I didn't have an umbrella with me and didn't have time to go back for one.  I tried to protect the bag from the rain as much as I could on the way to the car, and I wiped it dry with some paper towels the minute I got in the car.  I repeated this process when I went from the car to the restaurant.  I was terrified that the leather would get water spots from the rain, but you can see in the photos that it looks perfect, without a single water spot.
The Lilah Leather Women's Handbag is a perfect bag for the woman who likes to travel light.  It's got plenty of room for even the biggest smartphones, keys, and wallets, and can still fit in cables, a collection of iPods, a collection of small knives, and my sunglasses.  It's pretty without being girlish, and it's sturdy enough to stand up to even bad weather without a problem.  The Lilah will look appropriate whether you're dressed for the office or for a weekend visit to the coffeeshop.  Considering the style and the quality you get in the Lilah bag (and in everything else Oberon Design makes), it's a bargain at $129.00 (or $89.00, if you prefer the small size).
Source:  The Lilah bag in this review was provided by Oberon Design.  Check the Oberon Design website to learn more and purchase this bag and all their other leather accessories.

Product Information
Price:
$129.00
Manufacturer:
Oberon Design
Retailer:
Oberon Design
Pros:

Beautiful leather
Extremely well constructed
Enough room for your EDC necessities, plus a bit more
Not too casual for the office, not too formal for the weekend.

Cons: