We use affiliate links. If you buy something through the links on this page, we may earn a commission at no cost to you. Learn more.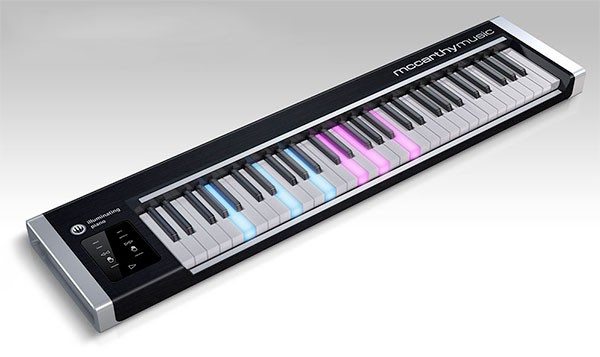 The Illuminating Piano from McCarthy Music is an integrated system that includes a piano with software and a cloud-friendly piano learning system. The Illuminating Piano has been designed to make learning to play the piano easy and fun for people of all ages. The system includes a MIDI keyboard with 61 full-size keys that are velocity sensitive and capable of full-color illumination. Application software offers real-time interactive score display on a PC or iPad connected via Bluetooth or USB while the piano keys light up in two colors so you'll know which hand plays which notes. Different modes allow you to learn while playing. There's even an assist mode that can be set to play either hand so that you can concentrate on learning the notes for the opposite hand. The cloud-based song library includes more than 1,000 pieces of popular sheet music which are priced at $4 per song.
The Illuminating Piano by McCarthy Music is priced at $499.99 and is available from http://www.mccarthypiano.com.