We use affiliate links. If you buy something through the links on this page, we may earn a commission at no cost to you. Learn more.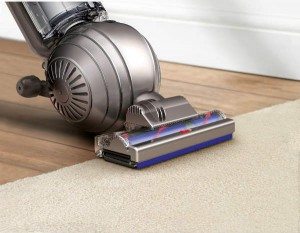 When I reviewed the Dyson Animal vacuum a year ago, I was impressed by its suction and overall cleaning ability. Dyson is well known for their convenient bagless design, but now they've improved things even more by ditching the filter. In other sweepers filters can clog if not cleaned regularly, which causes a loss of suction. Loss of suction means that the vac doesn't suck up all the dirt and allergens.
Dyson Cinetic™ science – Smaller cyclones generate higher centrifugal forces, therefore capturing smaller dust particles. But the tighter the cyclone, the more likely it is to block. The solution? Flexible tips, engineered from a proprietary material, which vibrate 350 times a second. As the tips oscillate, dust is prevented from clogging the aperture. Dust as small as 0.5 microns is spun out of the airflow and into the bin – never clogging a filter.
I don't know about you, but cleaning vacuum filters is something I tend to either forget or put off till "next time". The problem is that "next time" seems to come too rarely because it's a nasty chore I'd rather not do. I like the idea that the new Dyson Cinetic Big Ball vacuum requires no consumables. No bags and no filters. There are three new models of the Dyson Cinetic vacs. Prices start at $549.99. Visit Dyson.com for more info.