We use affiliate links. If you buy something through the links on this page, we may earn a commission at no cost to you. Learn more.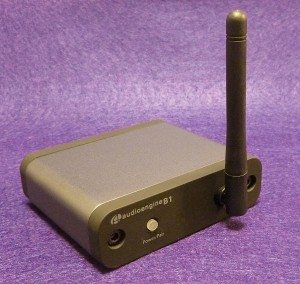 Lately, I've been considering upgrading my Onkyo stereo receiver. It's about 8 years old and doesn't have wifi, Bluetooth, USB or even HDMI. But it does have a nice sub output for my (even older) Pioneer subwoofer—but that's another story. There have been countless times that I've wished I could easily stream my iPhone to this dinosaur of a receiver, but no such luck. Well, I can stream—sort of. I have an Apple TV. While it's great for iTunes movies and Netflix, it's cumbersome for just music streaming. I have to set the TV, turn on Apple TV and go through hoops to get what I want. So, when Audioengine offered their new B1 Bluetooth Music Receiver for review, I wondered if my expensive receiver wish list would get pushed back a few years.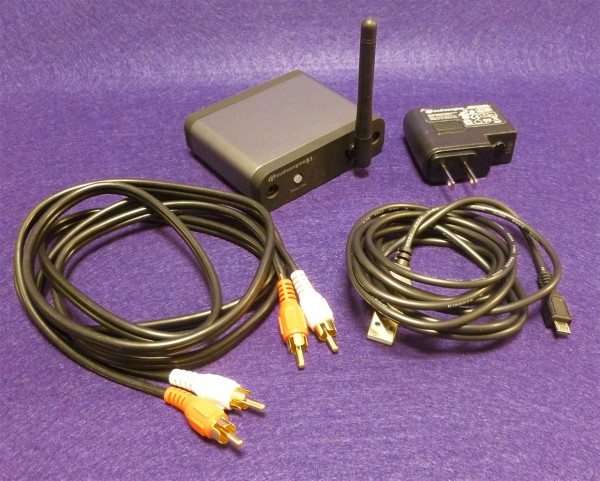 The B1 visually fits right in with other Audioengine gear—not gorgeous, but attractive. It looks very much like Audioengine's D1 digital audio converter (DAC), but with a chubby antenna.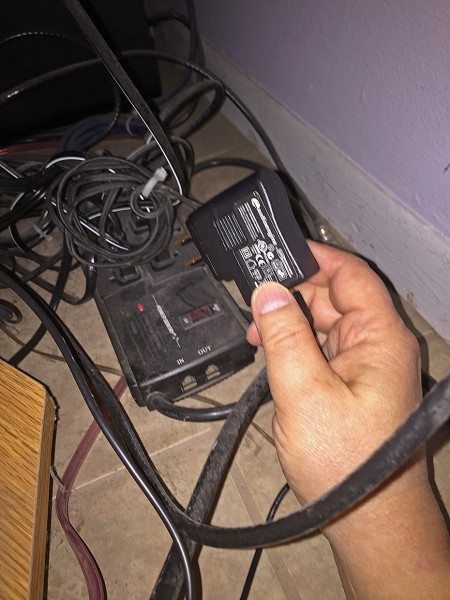 Connecting the B1 to my Onkyo receiver was easy and straightforward. Well, except for the lack of space behind my electronic gear and the fact that it hadn't been dusted in about 100 years. All I had to do was choose an audio input (I chose Tape because I don't have a cassette deck anymore). Once I pressed the Tape button on the remote, I just paired from my phone and there was Bluetooth music coming from my stereo speakers. Like I said—easy. And once set up, reconnecting is automatic, as long as it's back to the B1 and not something else.
One thing to be aware of is that once paired with a device, the B1 has to be unpaired before another Bluetooth device—such as a portable speaker—can be connected. This seems to be an issue with Bluetooth devices of all types. Am I the only one who is irked by this? It's such a pain to disconnect and then reconnect. I wish there was a simpler way of switching. Keep in mind that this is not Audioengine's fault—it's just Bluetooth being what it's always been.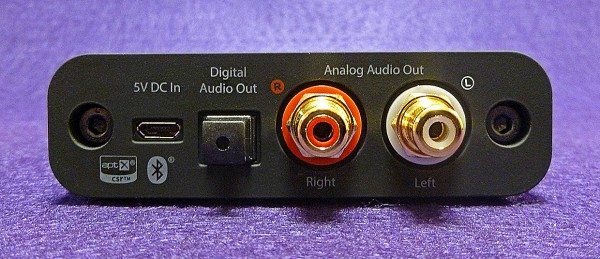 Audioengine claims a wider range for the B1 than that awful 25 ft. Bluetooth standard. So I decided to perform a highly unscientific test. While I listened in my living room, my son walked out to the back yard with my iPhone playing iTunes and then we measured where the signal degraded. The audio broke up at around 100 ft., which is about the same range as Apple's proprietary AirPlay. That's pretty darned amazing. Again, this was a blatantly unscientific test, so your milage may vary depending on structure and setup. But seriously—100 ft.—with Bluetooth?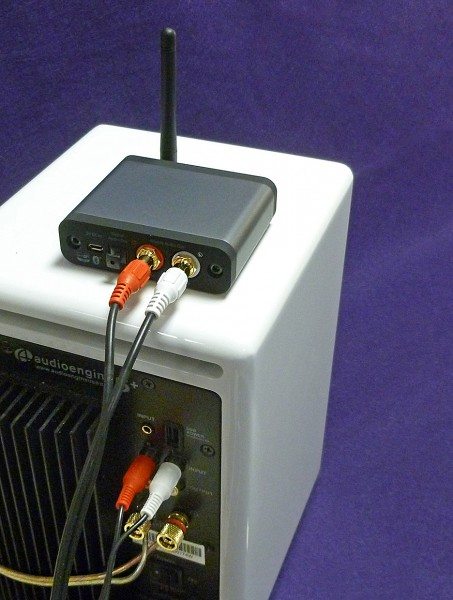 The B1 Bluetooth Music Receiver will connect to any audio source, as long as it has a standard analog audio input. Audioengine includes one pair of RCA cables which is about as standard as you can get. B1 also includes a digital output so you also can connect via optical (TOSLINK). I've never used TOSLINK, so I can't say how well it works. Also included is a power adapter (it needs to be plugged into an outlet) and a microfiber bag.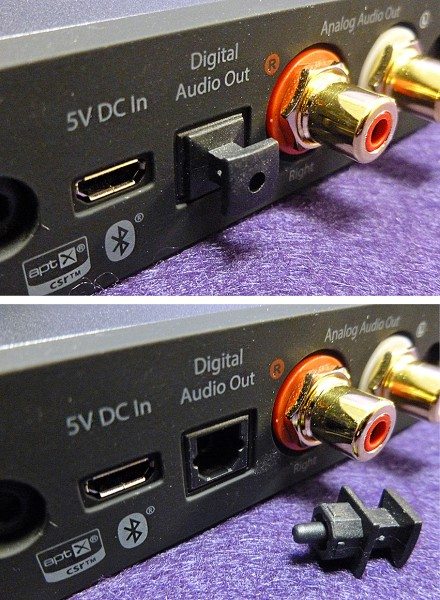 The B1 is similar in concept to Audioengine's W3, which uses their own wireless mode to transmit music, but requires senders and receivers, whereas the B1 is all you need. There are other important differences: The B1 has a better DAC than the W3, which can result in better audio when using the superior APTx Bluetooth. Here's the rub: Not everyone (hello, Apple?) uses APTx. Bluetooth reverts to the lowest common denominator, meaning for APTx to work, every part in the audio chain has to have it. Otherwise, it's plain ole' Bluetooth. So if you use an iPhone, you're out of luck.
There are other caveats to the B1. It will only work on one pair of speakers at a time. The W3 can use up to three pairs of speakers simultaneously. In my studio, I use the W3 to connect my iMac wirelessly to front and rear speakers and they all work together for a faux surround experience. I love it. While testing the B1, I could only use the front or rear speakers, not both. If I had only front speakers, I would choose the B1 hands down. It's better DAC allowed my higher res files to play whereas the W3 is more limited. But since I have four speakers, the W3 is preferable.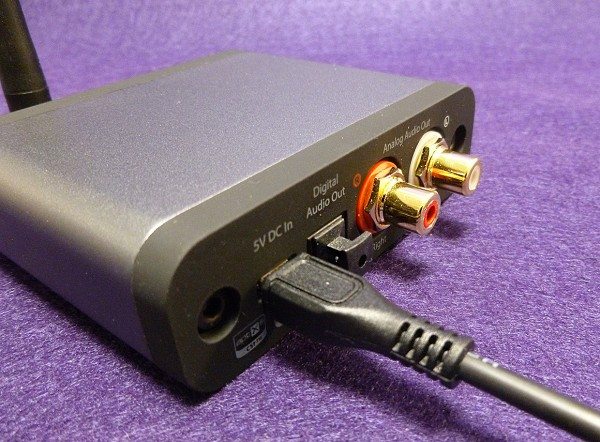 I was surprised how good audio sounded using the B1. After all, it is Bluetooth. Audioengine has done a good job of letting the audio quality come through. I played different genre's of music through the B1 and while I wouldn't us it for serious listening, it's great for background music for working,  dinner, parties or even sharing a newly discovered song with someone. Plus, on spoken word, there was no delay that I could notice.
Will your audio sound better hardwired? Of course it will. That's not the point. Having the ability to start up a smartphone, hit play and hear your music on a home stereo or that older, favorite pair of speakers is the reason for the B1's existence. Convenience is the key here and Audioengine's B1 Bluetooth Music Receiver is about as convenient as it gets.
It's also now harder for me to financially justify a new receiver to my wife.
Append: Audioengine has pointed out some features on the B1 that I didn't explain as clearly as I should have: "With MacOS (and iOS) you don't have to unpair the B1 to pair with another device, just "disconnect" the B1 before pairing with a new device (this is similar to disconnecting, but it takes less time than it does to un-pair and re-pair). We made this easier by adding what we call the DROP feature: Just press and hold the B1 Pair button for 3 seconds and it drops it's connection so you can pair with another device. For Mac users, you can send music out to multiple B1's by selecting and setting up a "Multi-Output Device" in Audio MIDI settings." Note: You will still need a B1 Bluetooth Receiver for each set of speakers. —Bill H.
Source: The sample for this review was provided by Audioengine. Please visit www.audioengineusa.com for more info.

Product Information
Price:
$189.00 US
Manufacturer:
Audioengine
Pros:

Very good range
Sounds great for Bluetooth
Convenient
Simple to set up and use
No discernable delay
Good DAC

Cons:

It's still Bluetooth
Can only connect to one pair of speakers
Pricey