We use affiliate links. If you buy something through the links on this page, we may earn a commission at no cost to you. Learn more.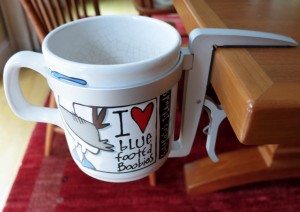 Stylish, clever and practical. If a gadget covers those three adjectives, it's got a chance for success. And those are the words that first come to mind for the Vector cupholder that I was fortunate to get my hands on. If you want to reduce your worry level about spilling a drink on your keyboard – whether at home, in the office, or in the air – read on. 
Even when you're just holding the heavy cardboard box with the black-matte finish, you feel like you're in the for same experience that you get from opening up one of those high-end, high-tech electronic gizmos. There's a catchy action photo on the box top of a typical coffee-laptop disaster in progress to get your attention. (Note: All images can be clicked to view a larger size.)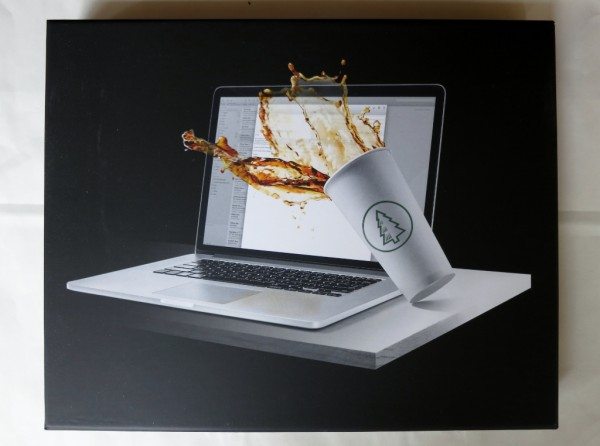 After carefully lifting the lid – this just isn't a box you'd rip open – you find a curious aluminum contraption nestled in black foam.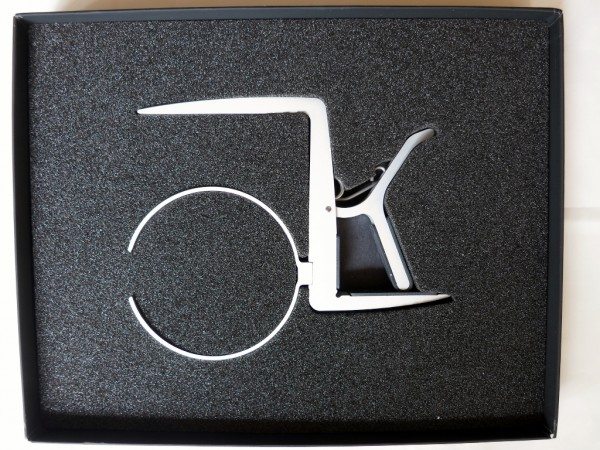 What is it? Well, that's explained clearly and succinctly under the lid you just removed.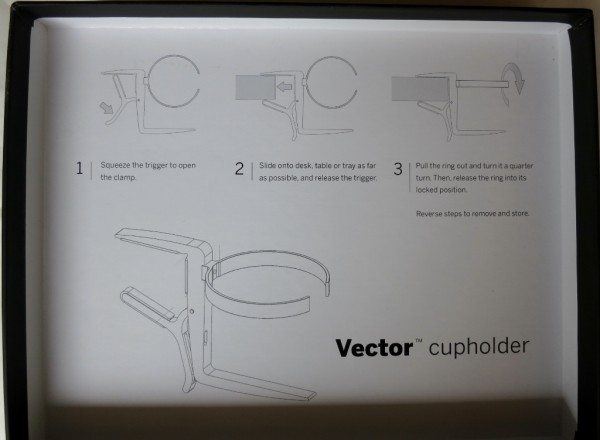 So you pull the contraption out of the foam and immediately think two things: "very light" and "sharp edges." Although the device is very solid, the aluminum keeps it light: 3 3/8 ounces.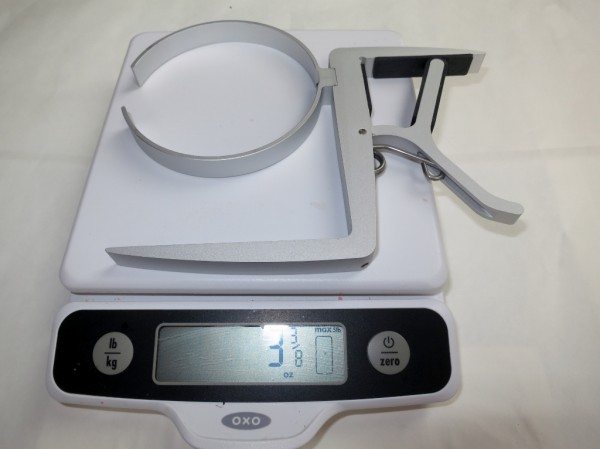 The machined edges are sharp, but more clean than dangerous. Now you want to squeeze the trigger and find a place to attach this baby. Just make sure that the table or desktop is less than 1 ½" thick. The table below is about an inch thick, and it worked fine on my 1 ¼" desk. The spring tension remains strong all the way to very thin surfaces. In fact, one recommended use is for airplane trays, which are always tricky when you're balancing work and those flimsy, slippery plastic cups.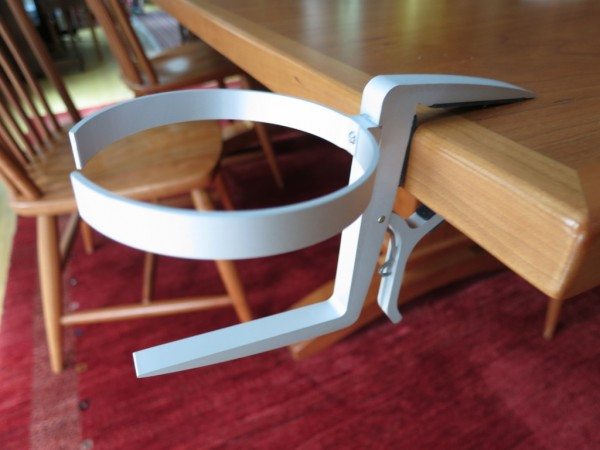 The cupholder loop is also spring-loaded. Simply pull it from the body and twist it ninety degrees into position. The quick and secure setup is the clever part of this gadget.
Now you're ready for your beverage, as long as you're not using a mug with a diameter more than three inches. The cupholder loop has very little flex in it. The mug in the photo below just barely fits, and I probably wouldn't use it regularly because the sides could get scratched going in and out of the holder.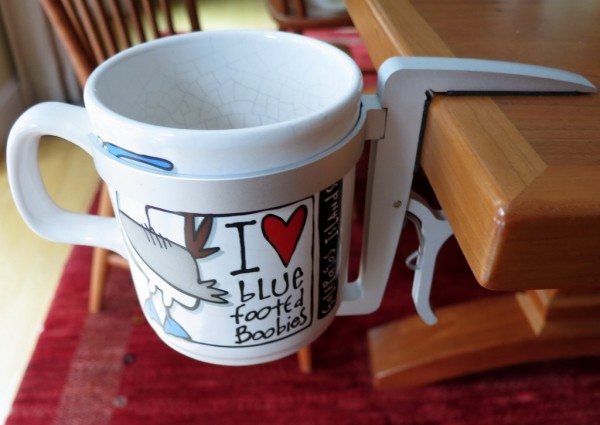 The next picture provides a closer look at the attachment mechanism. Each contact surface is covered with soft rubber to prevent scratches. The cupholder can be wiggled a bit from side to side, but it's quite stable. The only real spill danger might be if the cupholder stuck out into a traffic aisle and someone brushed up against the mug hard enough to slosh liquid out. Even then, the danger should be more to the floor than your keyboard.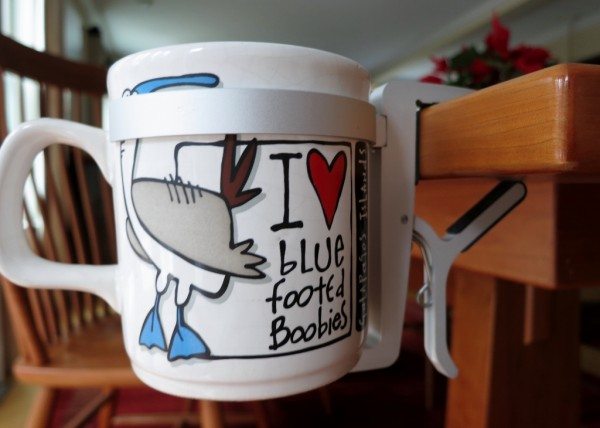 Those popular tall travel mugs fit, also. Loosely, and looking a little top-heavy, but they won't fall out.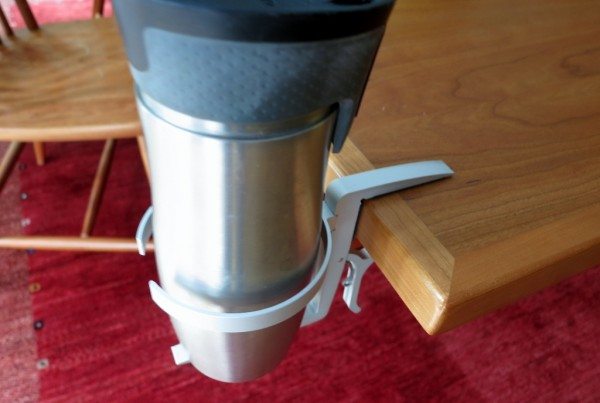 This cupholder could become a permanent fixture on your desk at home or in the office, but at least think about bringing it along on your next plane or train trip. After all, that's why it was designed to fold flat and be lightweight. It will keep your drink off that tiny little tray with your expensive computer or tablet and at the same time hold it more securely. The cupholder loop is even designed to be just the right size to hold those plastic airline cups by the lip. There's a (professionally stylish, of course) photo of this on the product website.
At $50, the Vector cupholder may not be an item that many people buy for themselves. But it is almost certain to be a much-appreciated gift.
Source: The sample for this review was provided by Vector Werks, LLC.  Please visit their site for more info about this product.
Product Information
Price:
$50
Manufacturer:
Vector Werks, LLC
Requirements:

Beverage cup or mug less than 3" in diameter
Table, desk or tray less than 1.5" thick

Pros:

Accomplishes primary purpose of keeping beverages handy but removed from keyboards and other electronics
Eye-catchingly modern and stylish
Lightweight, folds flat for travel

Cons:

Expensive
May not fit your favorite big fat coffee mug
Sticks out from table or desktop - be careful not to put it in the way of people walking by