We use affiliate links. If you buy something through the links on this page, we may earn a commission at no cost to you. Learn more.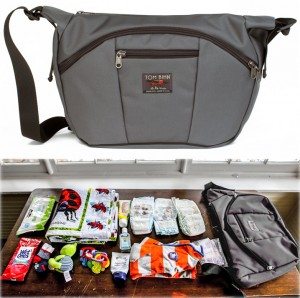 If the cutesy diaper bags with pastel-colored baby animals aren't for you, you probably have had a hard time finding a diaper bag that you can use.  Tom Bihn, after time spent coming up with the best design they thought they could make, has introduced the Parental Unit.  This diaper bag looks like a standard Tom Bihn bag – unisex, sleek, well made, and well appointed.  Men or women can carry this bag without looking out of place.  The bag is designed to be worn cross-body, or you can cinch the shoulder strap up tighter and wear it on your back, like a bike messenger.  It comes with a standard strap, but you can replace it with either the extremely comfortable Absolute Strap or with the  Q-AM (Quick-Adjust Messenger) Strap.  The Q-AM works especially well when Mom and Dad have very different heights, because strap length adjustments are very quick and easy.
Inside, the bag has various compartments and pockets to hold diapers, wipes, bottles, blankets, and the other things you need to get through a day with baby.  There's even room for a changing pad (not provided).  The Parental Unit will begin shipping in early December, and it will be available in easy-to-wipe 1050 ballistic nylon in a variety of colors, and lined with 200d Dyneema/nylon ripstop.  The bag is designed to get you through the baby and toddler years, and it will serve you as a general gear bag well after Junior is out of diapers and in school.  The Parental Unit is $140 with the standard strap; add $20 more for either the Absolute or the Q-AM Strap.  Check out Tom Bihn to learn more about the Parental Unit diaper bag and to place a pre-order.