We use affiliate links. If you buy something through the links on this page, we may earn a commission at no cost to you. Learn more.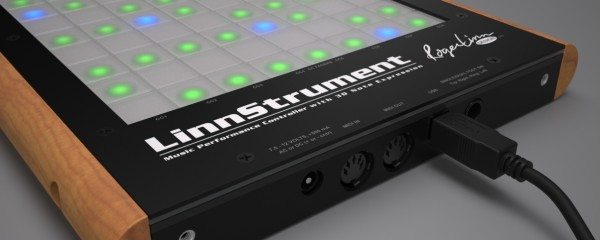 Synthesizers have been around for a long, long time and many efforts have been made to turn them into expressive, virtuoso performing machines.  Ribbons, X/Y pads and pitch/mod wheels have long been a staple for keyboardists but they all have one glitch…the expressiveness of the note is separated by two hands and two motions that have nothing to do with each other.  You can play a note and change its pitch and modulation and, if you have a really good keyboard, you'll have "aftertouch" to add even more expressiveness to your playing.  In the recent years, new instruments have cropped up that, like when playing a note on the guitar, allow you to have complete expressive control using the finger you are playing the note with.  The Haken Continuum (familiar to anyone who fancies the work of Dream Theater's Jordan Rudess) uses a mousepad-like surface laid out in a continuous keyboard pattern.  Pitch changes on the X axis, pressure changes on the Z axis control the volume of the note and the Y axis can be used for modulation or effects.  The Madrona Soundplane uses a capacitive pressure surface to do the same, but in a grid laid out like a guitar fretboard. 
About five years ago, audio wizard Roger Linn started working on his own take on the expressive controller.  Roger Linn is the father of the modern drum machine, pretty much inventing and perfecting those now-ubiquitous square pads.  He was also instrumental (pun intended) in developing the Akai MPC devices so favored by electronic music performers who use samples in their performance work.  His handiwork has most recently given rise to one of the most inspired drum synths to date, the Dave Smith Instruments' Tempest.  Well, he has taken the square pad idea and turned it into the Linnstrument.

This device is a MIDI controller (USB or DIN connections) with an 8X25 grid of 0.75″ pads, each of has multicolor LEDs and custom pressure-sensitive resistors which allow you to  control the X (pitch bend), Y (mod or effects) and Z (volume) directions at once.  The scales on the device are customizable and you can even program split-key modes.  The LED colors themselves are customizable.  This is a polyphonic instrument, allowing the playing of chords where each finger in the chord can independently express whatever the performer wishes.  You can use it on the desktop or sling a guitar strap onto it and throw it on to play standing up.  It can also act as a mono instrument, which makes it perfect for modeling string, brass or woodwind instruments.  It will work with iPad MIDI-capable audio apps like Thumbjam and Animoog and is reported to work very well with Logic Pro X.  Early reports indicate that it plays nicely with Bitwig as well.
There is far too much for me to encapsulate in a short news story, suffice it to say that I have been following this project since it was first announced and it is ready for prime time.  A few units have been released for sale in San Francisco at the time of writing but a general release is expected soon.  It retails for $1500, which is less than the Madrona Soundplane and FAR less than the Haken Continuum or the Eigenharp.  You can read more about it at Roger Linn Design's site, which includes a number of video demonstrations of the capabilities of this amazing new instrument.  I'm selling most of my studio gear to score one of these, because this, my iPad and MacBook Pro with Logic Pro X is all I'm going to need.
Update 12/10/14
Well, I just got my email that my Linnstrument is set to be shipped next week. I will not be doing a review on it as my understanding of MIDI is so lacking I could not give a meaningful review. That being said, I will lock myself in the house for years with this if I have to. Recently got a Yoga 2 11 from Lenovo to handle my school stuff so I could reclaim the 200GB Win7 partition on my MacBook. Loading up Omnisphere (an incredible synth engine with over 8000 samples and patches to play with) onto the MacBook ate up fifty gigs. When my Dell Windows 7 desktop dies, I am going to replace it with the 27″ iMac Retina. Then I will cut up my credit cards. Long, LONG past due.