We use affiliate links. If you buy something through the links on this page, we may earn a commission at no cost to you. Learn more.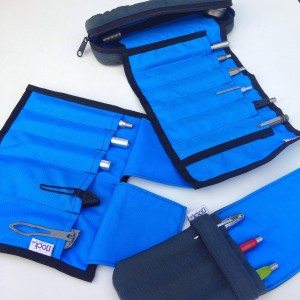 We're fans of all manner of writing instruments as well as accessories to carry and organize them here at The Gadgeteer. When I stumbled upon the Nock Co.'s pen cases during their crowdfunded Kickstarter campaign a while back, I was immediately interested in their styling and utility—they reminding me of Tom Bihn's excellent travel items in many ways—so I became a backer and received a Brasstown pen case with which I've been very pleased. After their very successful campaign, Nock Co. began selling their colorful, durable, handmade in USA pen cases directly from their site.  Recently, Nock Co. offered to let us check out a few more of their items and I was sent their Lookout and Sassafras cases as well. Gadget on!
Background
Kickstarter is a crowdfunding site.  Crowdfunding is a way for creative folks to turn an idea into a reality by asking other folks to "back" their projects, collectively pooling their money in support of a campaign to turn the idea into a product.  That idea might be a musical album, game, clothing, gadget or any number of things.  Kickstarter has taken this idea and run with it, giving creative folks a centralized place to get potential backers interested in their ideas.
That said, as mentioned above, here at The Gadgeteer, we're big fans of all manner of writing instruments. [No, not writing 'utensils'—utensils are forks, knives and spoons.]  We're also fans of accessories to carry gadgets and other items, so pen and pencil cases and pouches are right up our alley as well.  A while back, I stumbled Nock Co.'s Kickstarter campaign for their pen cases.  I liked the look of them and became a backer for one of their Brasstown cases.  I'd been planning to write a review for the Brasstown, but had too many other items in my queue to review, so I never got around to it.  Until recently, when Julie contacted me to ask if I'd like to review any of Nock Co.'s items.  I happily said yes and Nock Co. graciously provided me with samples of their Lookout and Sassafras pen cases, which I've added to the Brasstown for the combination product review here.
Specs
All cases:
Exterior Material: 1000D Nylon with DWR coating
Interior Material: Nylon Pack Cloth
Location of Manufacture: Handcrafted in Georgia, USA.
Dimensions:
Brasstown 8.5″ x 2″ x 2″
Lookout 3.5″ x 6″
Sassafras 8″ x 6.75″
Options
All Nock Co. products are produced in multiple colorways but availability is dependent on what is in stock at a particular time.  The colorway options include:
Mandarin/Bluejay
Mandarin/Mango
Midnight/Bluejay
Midnight/Foliage
Steel/Bluejay (All items reviewed here.  Hey, I like this colorway, OK?  Though I sorta wish I'd asked for one of the Steel/Mango versions to be thrown in!)
Steel/Mango
Features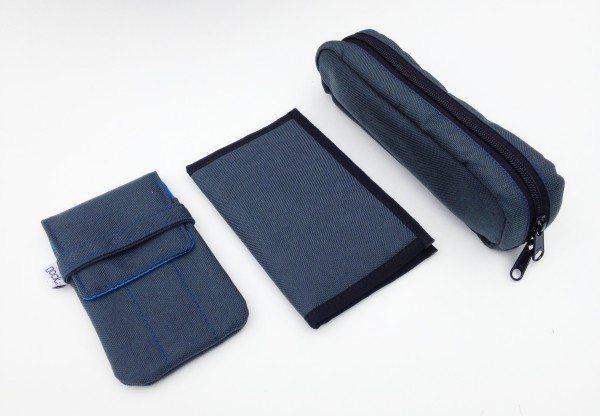 Let's take a look at the features of the three Nock Co. pen cases shown above.  From left to right, the Lookout, the Sassafras and the Brassown.
Lookout – Three Pen Holster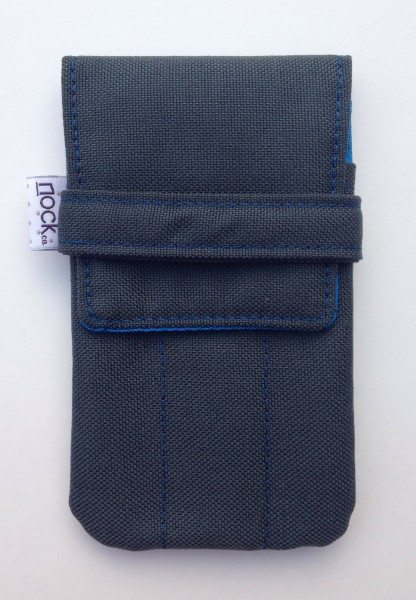 The Lookout is a pen case with a flip top that provides a good amount of protection for three or so pens.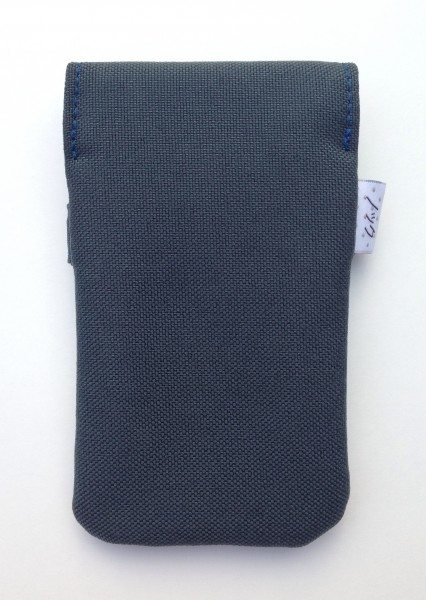 Like all of Nock Co.'s pen cases, it is a simple, clean design.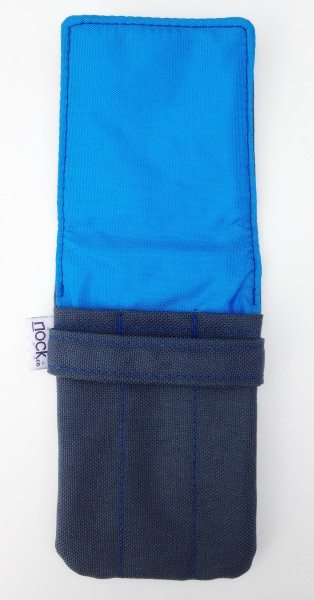 The Lookout's design features a large, fold-over top flap with a retaining strap on the front to secure it.  Its exterior is made from a layer of durable 1000D Nylon with DWR coating and it is lined with a layer of Nylon pack cloth.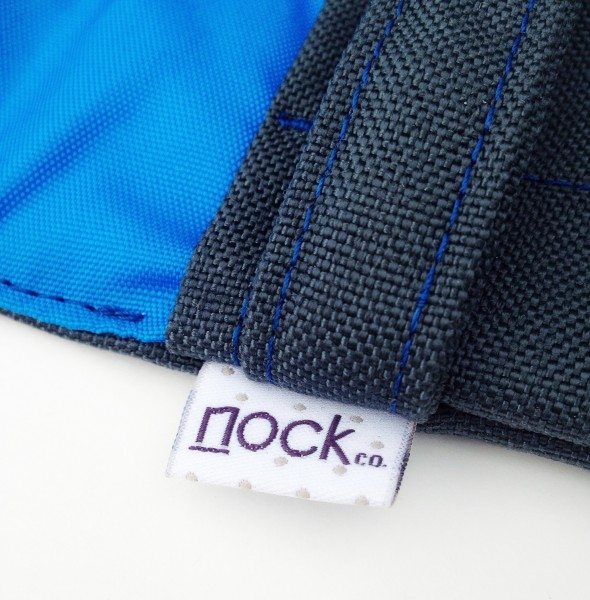 All Nock Co. pen cases have a small logo tag sewn into them…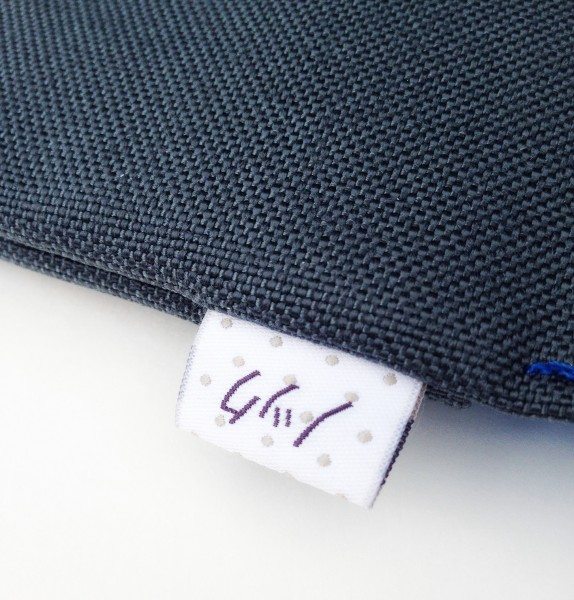 …with an intriguing-looking symbol on the back.  I think this may be in Jawa.  Or Ewok.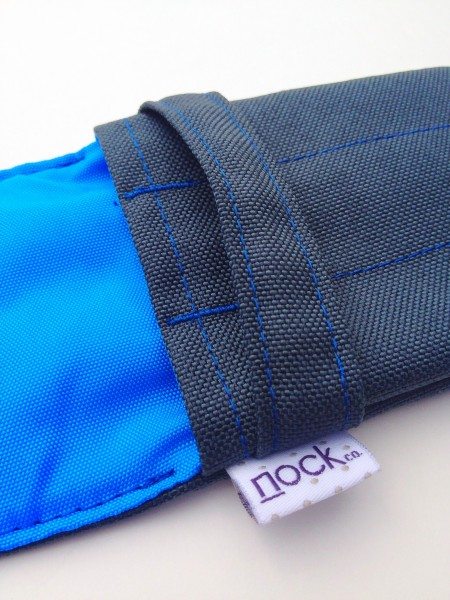 The Lookout, like all of Nock Co.'s products, is handmade in Georgia, USA.  Attention to detail and quality is evident throughout—stitching is straight and no loose stitching was visible anywhere.  Additionally, in the images above, note the bartack stitching between each pocket as well as at the base of the flap.  This small but important detail provides additional strength in these higher-stress areas and increased durability to the overall product.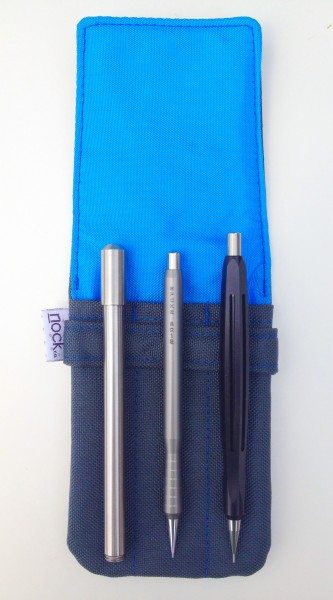 The Lookout has a simple three slot design for your pens or pencils.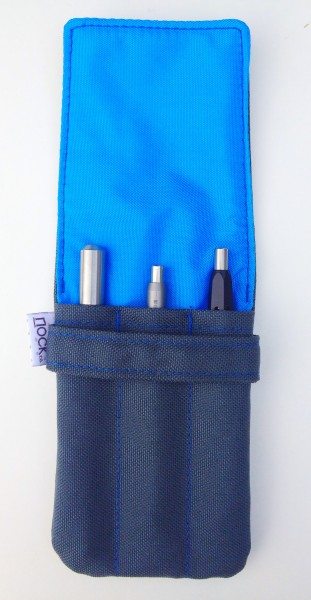 In fact, while a single pen or pencil can fit into each of the slots, there is probably enough room to place additional writing instruments into each slot, increasing the Lookout's carrying capacity.  However, this would defeat the purpose of having each pen separated and thus protected from damaging each other while transporting them.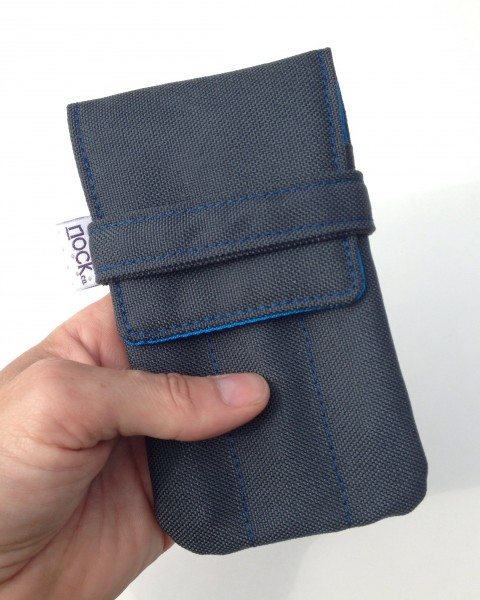 The Lookout is a nice compact size in the hand.  And I must confess that to me it does bear a distant resemblance to the pocket protectors from Back in the Day.  But in a good way.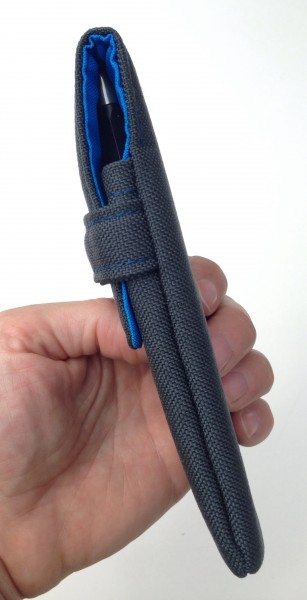 Although the Lookout is generously padded with its exterior and interior layers of material, which provides ample protection to its contents, it is not overly bulky.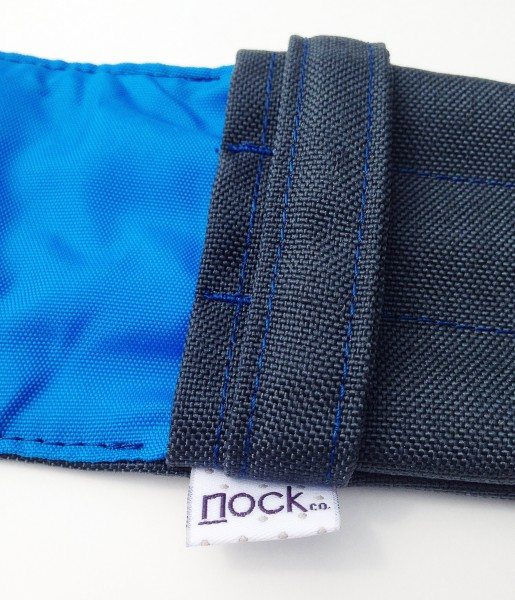 Sassafras – Five Pen Bifold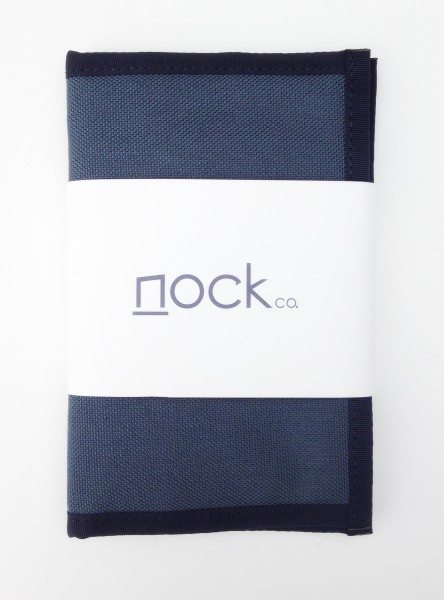 The came with a belly band type piece of paper around its midsection with the Nock Co. logo on the front…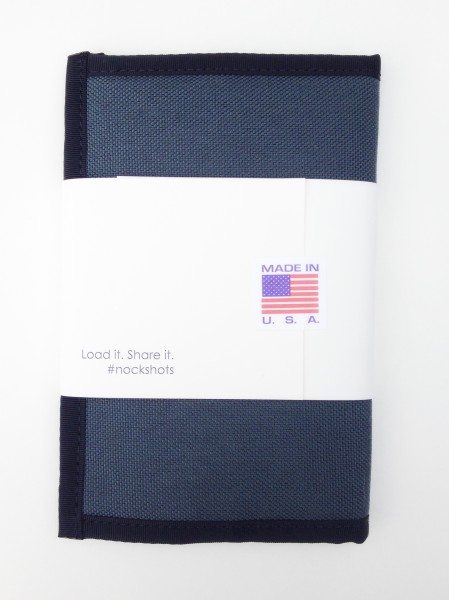 …and on the back it proudly displays a "Made in U.S.A." logo as well as suggesting that buyers use the "#nockshots" tag to share photos of their Nock Co. products on social media, like here on Twitter or Instagram.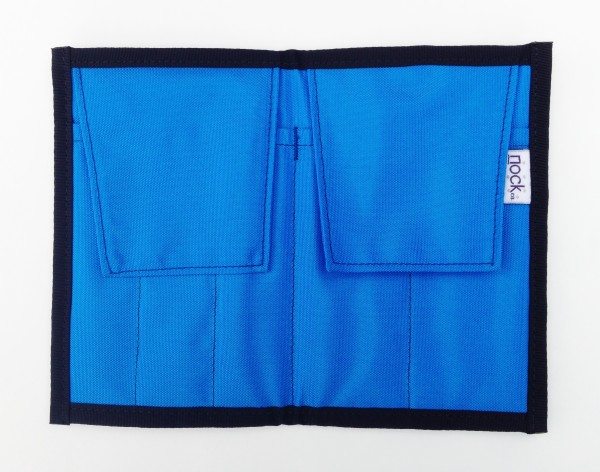 The Sassafras is similar in design to a bi-fold wallet with pockets inside.  And like the Lookout shown above, the Sassafras has an exterior made from a layer of durable 1000D Nylon with DWR coating and it is lined with a layer of Nylon pack cloth.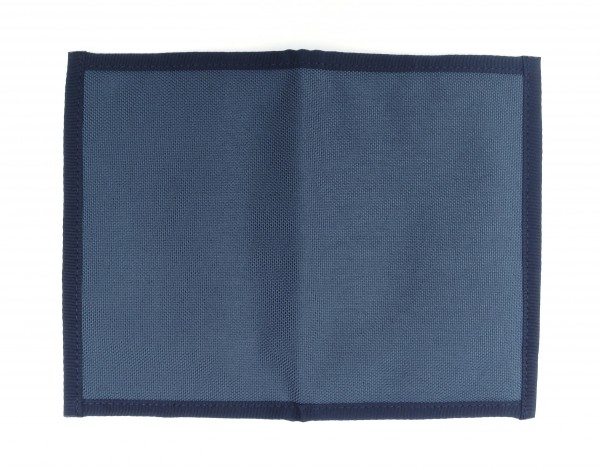 In keeping with Nock Co.'s clean styling, the exterior of the Sassafras is clean and simple.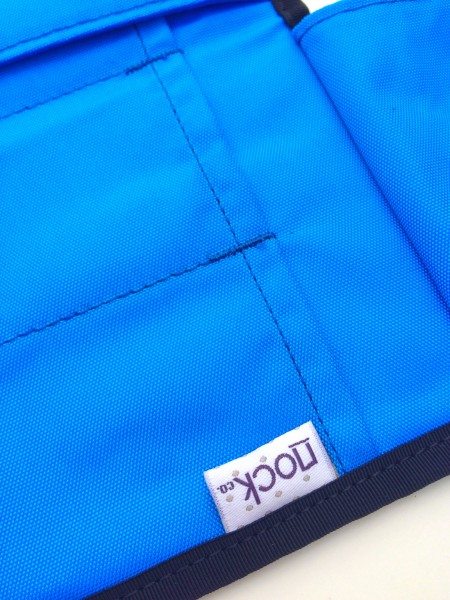 The photo above illustrates that as with the Lookout, the Sassafras includes small but important details like bartack stitching at high-stress points, such as between the pockets, which enhances its durability.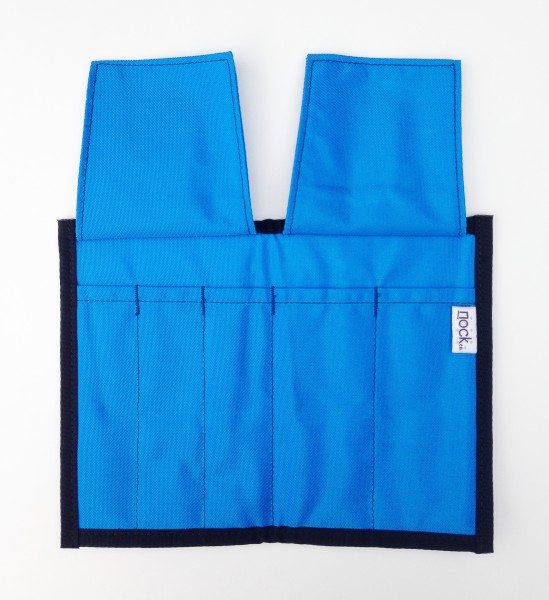 The Sassafras has two sets of pockets and each set of pockets has its own flap.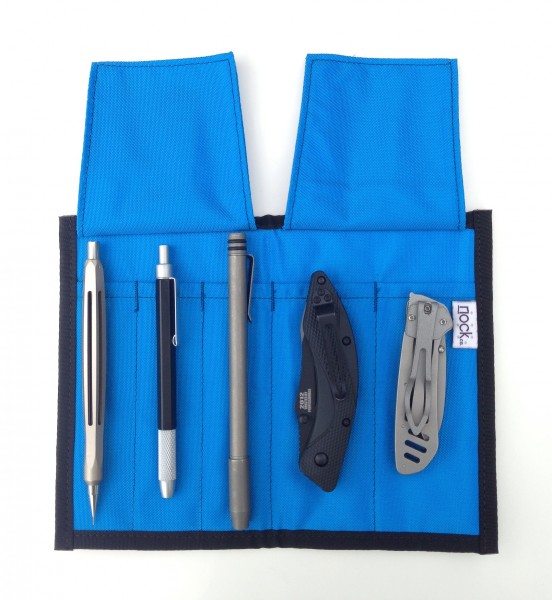 The five pockets are divide between three on the left side and two larger ones on the right.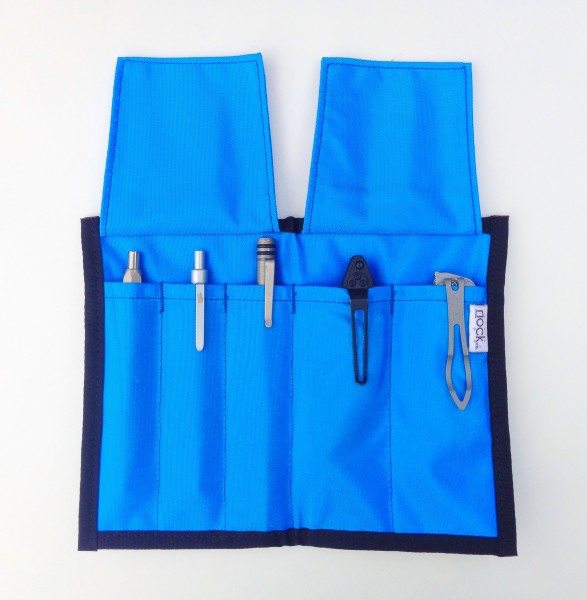 Again, as with the Lookout, the pockets of the Sassafras are generously sized.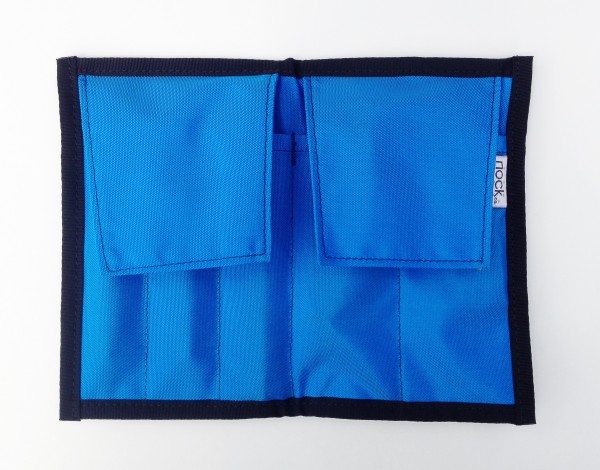 The flaps over the pockets of the Sassafras serve to both keep the pens from sliding out of the top of the case as well as providing an extra layer of protection.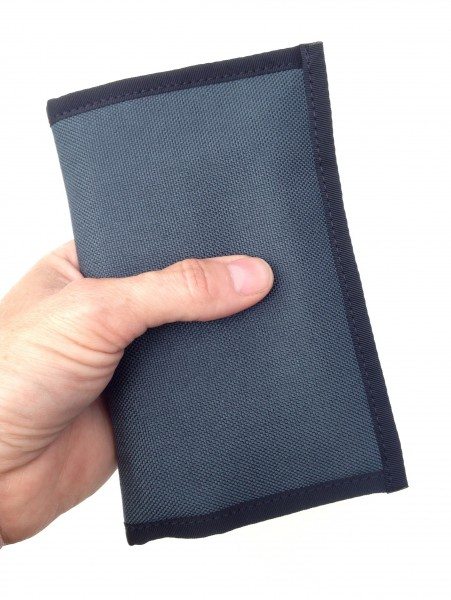 Once closed, the Sassafras has a very clean, simple look.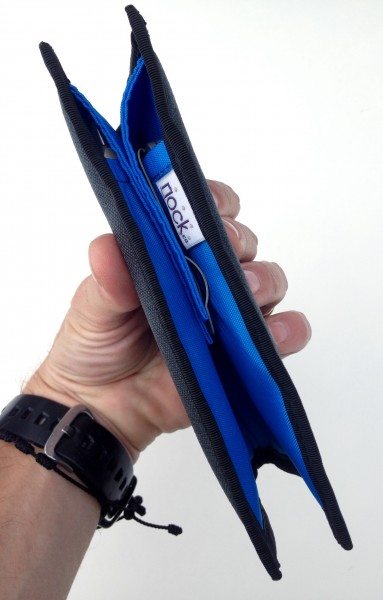 The contents are certainly protected, but no having any type of positive closure made me a bit nervous.  I would have liked for it to include some type of small tab and slot closure or something similar to prevent the Sassafras from coming open inadvertently, but I realize that this would both detract from the overall clean look of the exterior as well as increase the cost.  However, the Lookout described above does have such a closure.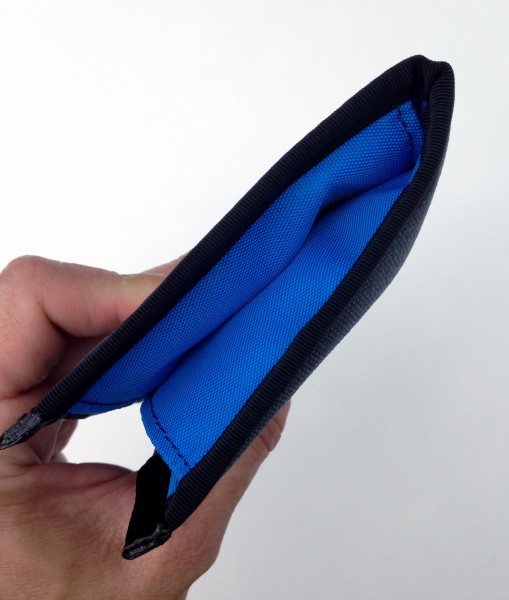 The Sassafras did become a bit bulky in thickness once closed.  However, this is more a function of what you choose to put into it and also owing to the fact that it is doubled over upon itself.
Brasstown – Zip Roll Pen Case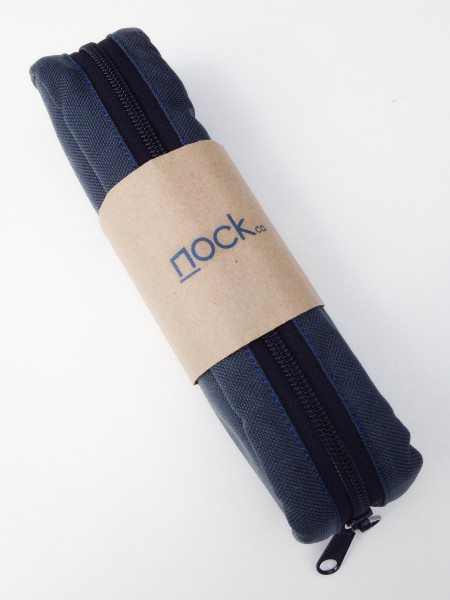 Like the Sassafras, the Brasstown came with a paper band around its midsection displaying the Nock Co. logo.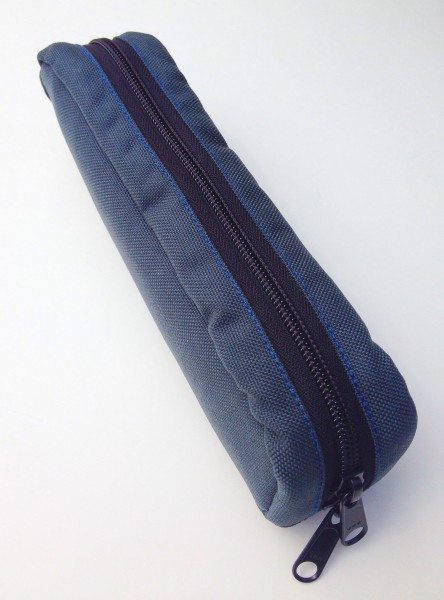 My very first impression of the Brasstown was that its clean style and compactness are exactly what I appreciated about it when I first saw photos of it on Nock Co.'s Kickstarter campaign site.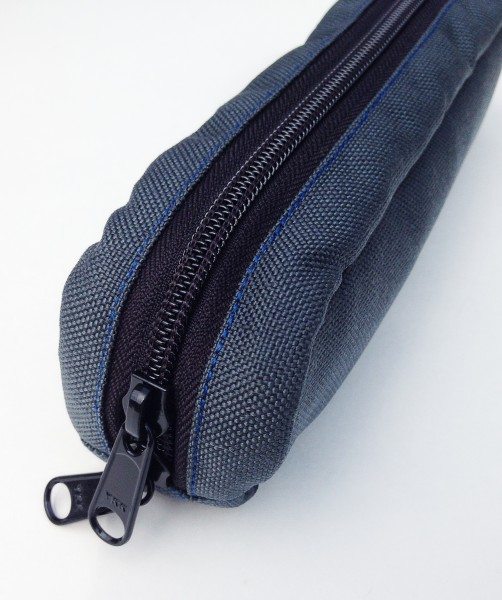 The Brasstown includes a double YKK zipper and the stitching on either side of the zipper hints as its interior color.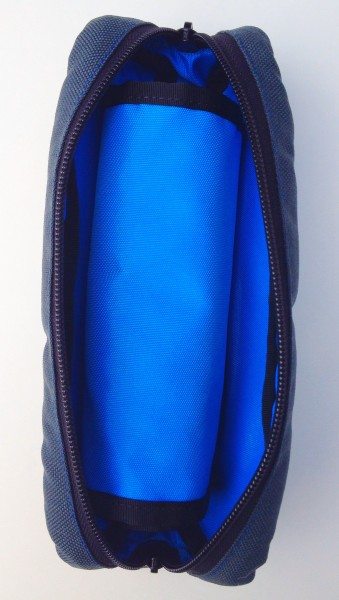 Unzip the Brasstown and the interior roll is visible.  As with the two cases above, the Brasstown's exterior is made from a layer of durable 1000D Nylon with DWR coating and it is lined with a layer of Nylon pack cloth.  The interior roll feature is made from this Nylon pack cloth as well.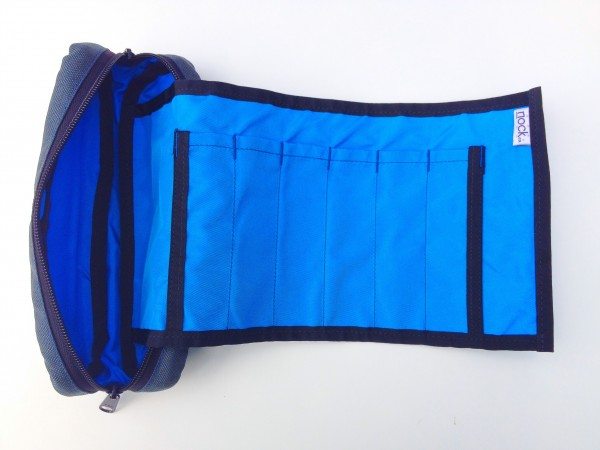 The Brasstown's pen-carrying feature is accessed by unfurling the interior roll.  It provides excellent protection for up to six pens, each individually held in its own separate pocket.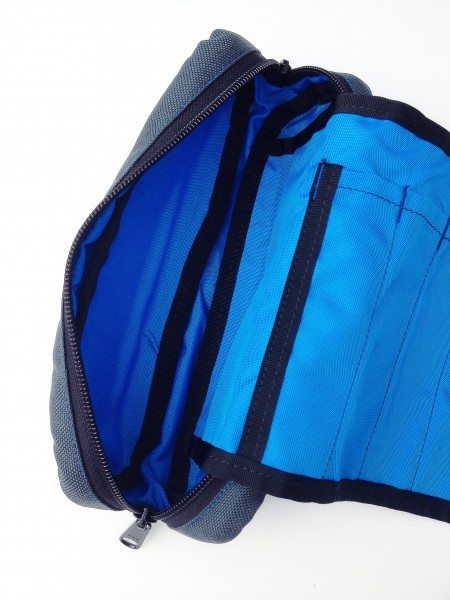 The interior roll is sewn directly into one of the bottom seams of the Brasstown.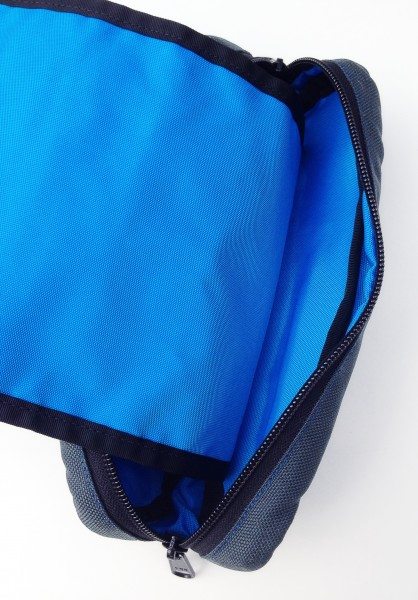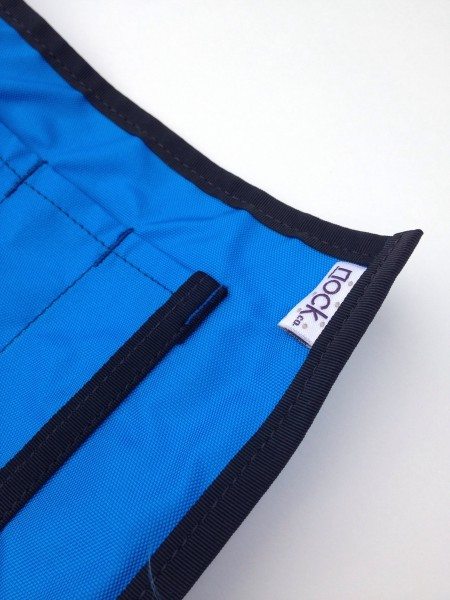 As with the Lookout and Sassafras above, attention to small details is evident with the Brasstown.  In the photo above, note the presence of reinforced barrack stitching at high-stress points as well as the the small Nock Co. logo tag.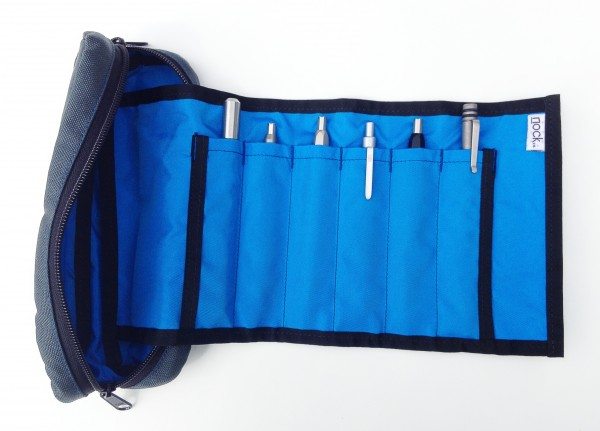 One of the aspects of the Brasstown that I noted was that the width of its pockets is slightly narrower than the pocket width of the Lookout or the Sassafras.  I suspect that this was done to help keep the Brasstown more compact.  This means that you probably won't be able to over-stuff the Brasstown's pockets with more than one pen, but there is plenty of space for a single pen per pocket.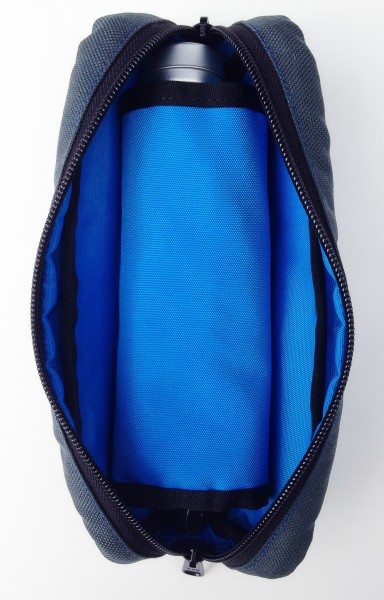 Rolling up the loaded Brasstown is quick and easy.  In addition, the ends of the Brasstown can be used to hold small items, such as erasers, containers of mechanical pencil lead, or the container of spare stylus tips and pen docking base that I have tucked into ends of the Brasstown in the above photo.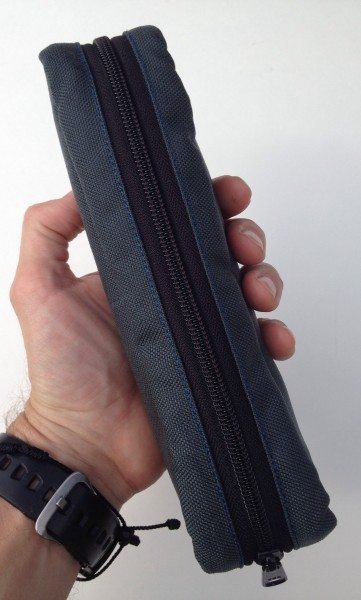 The Brasstown's roll-up, zip-closed design gives is a fairly compact shape and size once closed, about the same size as any other pen & pencil case.  While a standard pen case might hold more, it would do so at the expense of protection of each pen inside it; the Brasstown protects each writing instrument from banging into the others inside it.  I like to load up the Brasstown and stuff it into my EDC bag and I don't fear my pens and pencils will be damaged in the least.
Conclusion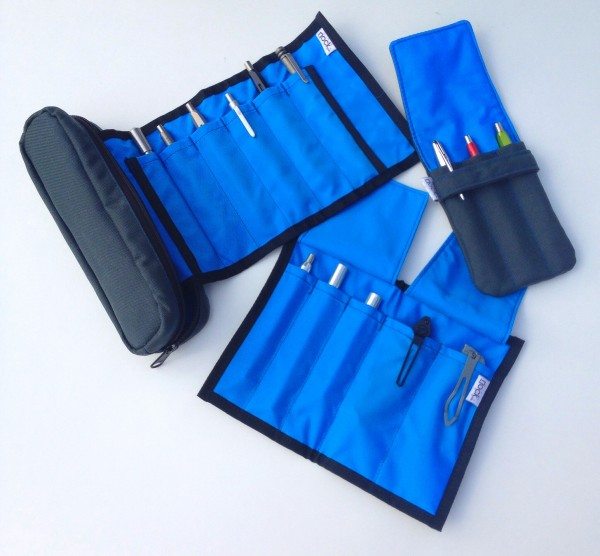 Nock Co. clearly has a passion for pen cases.  This is evident by the simple, thoughtful designs, high-quality materials and rugged construction.  And they like to have fun too, as seen in their colorway offerings.  Their products remind me of Tom Bihn's great travel bags, packs and accessories in terms of their useful features, colorful styling and USA-made quality.  The Lookout, Sassafras and Brasstown are each great designs in their own way, and because all of Nock Co.'s cases are quite reasonably priced, especially for their quality and durability, you could afford to buy a few or several of their products depending on your pen carrying needs.
Update 04/18/15
These are all nice pen cases, but the only one that I use regularly is the Brasstown, mainly because it holds the most and gives the most protection in a compact size.
Source: The samples for this review were provided by Nock Co. Head over to their site for more info.

Product Information
Price:
Lookout and Sassafras $20 each, Brasstown $35
Manufacturer:
Nock Co.
Pros:

Thoughtful design
Durable materials & construction
Fun colorways

Cons: