We use affiliate links. If you buy something through the links on this page, we may earn a commission at no cost to you. Learn more.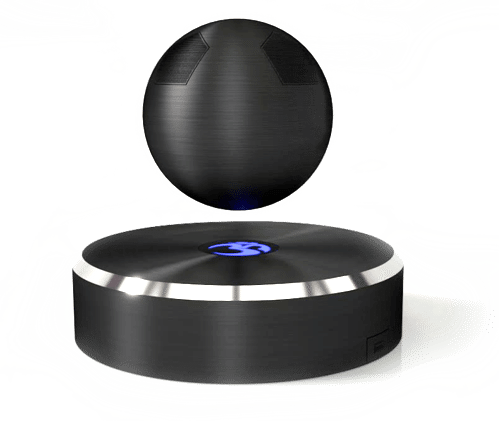 One thing I used to daydream about as a child is having the power of levitation/telekinesis. To this day, that would be my super power if I could have one. And guess what? Now there's a LEVITATING Bluetooth speaker in the works! The OM/ONE is a small orb speaker that measures 3.6 inches in diameter and weighs 0.75 pounds, while the base is 6.3 inches in diameter x 1.6 inches in height and weighs 1.3 pounds. The base requires a 12V power supply (included) to levitate the orb using a magnet but is not needed to power the speaker. The base also has a USB port to charge your other devices. The speaker has it's own USB (LED) charging cable and stand. "The speaker orb connects to a charging stand with an embedded LED stream that plugs into any USB port. The charging stand will illuminate once the orb is fully charged" (three hours charging time). Using the USB charging cable, the stand can be plugged into the USB port on the OM/ONE base or any other USB charging port to charge the orb; hence, there is no wireless charging.
The orb does not need its base to function and can be taken anywhere for portability. It has a On/Off touch sensor (controls power, Bluetooth pairing, and speakerphone functions), 75 mm driver, and will connect to your mobile device via Bluetooth 4.0. It levitates about one inch off the base, rotates as it plays up to 15 hours of music, and two speakers can be paired with one device for stereo sound. In addition, it has a microphone so that it can be used as a speakerphone – a rotating, levitating speakerphone. Awesome.
The OM/ONE comes in jet black, glacier white, or disco ball. You may pre-order your black or white one for $179 or the disco ball for $299 (ouch) from Om Audio. (Now they need to make one for the sun and each of the planets – how cool would that be?)