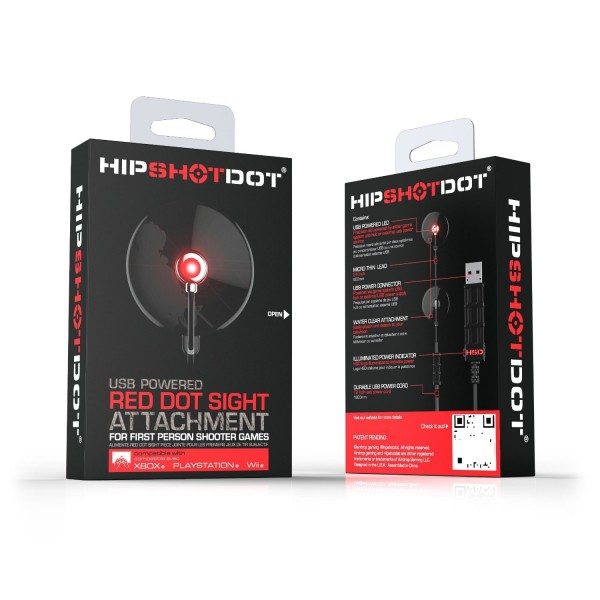 Continuing with my video gaming theme this week, I bring you the HipShotDot, an onscreen red dot sight designed for FPS (First Person Shooters) games. Here's the thing, as I have gotten a little older I sometimes have a hard time finding the sight reticle on the TV screen when playing shooting games. The scene on the screen is either too bright or the reticle is to faint to see. The HipShotDot from AirDrop Gaming is designed to help you see where your shooting no matter what the screen conditions. The HipShotDot is USB powered LED attached to a suction cup that is place directly on your television or gaming screen. Now having or making an aiming point on your TV for gaming is nothing new but having a light up version is. The HipShotDot has the following features listed on its web site:
USB Powered LED: Precision led powered by either game system USB hub or external USB power source
Micro Thin Lead: 9mm x 300mm
USB Power Connector: Powered via game system USB hub or external USB power supply
Water Clear Attachment: Easily attach and detach to your television or monitor
Illuminated Power Indicator: HSD logo illuminates to indicate power
Durable USB Cord: 2m power cord
Works great with games like: Call of Duty™ Series, Halo™ Series, Battlefield™ Series, 100's more FPS games!
I will say, having a suction cup on your screen and a wire running down from the suction cup seems a little weird, but from the videos I have seen it becomes less noticeable as you play. Available from the AirDrop Gaming web site for $24.99, the HipShotDot may help you shoot to the top of the leader boards
Support The Gadgeteer
:
We may earn a small affiliate commission from purchases made from buying through links on our site. As an Amazon Associate I earn from qualifying purchases. Learn more.