We use affiliate links. If you buy something through the links on this page, we may earn a commission at no cost to you. Learn more.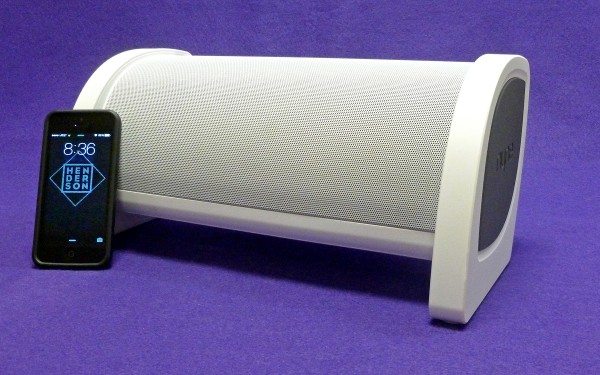 Despite the wonderful – and sometimes jawdropping – audio that manufacturers have been able to extract from small, portable Bluetooth speakers, there is still no substitution for size. Physics rules and if you're going to get a decent amount of bass from any speaker, you need air movement. The more air, the better bass. Yes, some of the smaller speakers can be very impressive in the bass department. But place them next to a larger speaker and their weakness stands out.  Which brings us to the Nyne Bass, a wireless Bluetooth speaker that lives up to its name.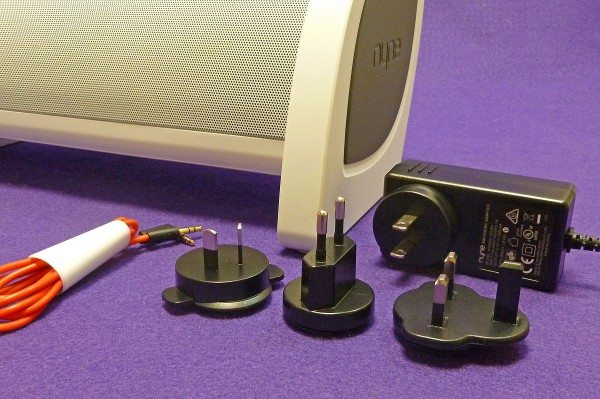 In 2013, I reviewed the Nyne NB-200 (now morphed into the Cruiser) Bluetooth speaker. It sounded great for its size. But because of its small size, compromises had to be made. The Nyne Bass doesn't need these excuses. It's big … not Bowers and Wilkins Zeppelin big, but big enough. The thing is over 13" long, 6" high and weighs over 6 lbs. In a universe of tiny Bluetooth speakers, that's huge. It also sounds big – again, not Zeppelin big, but you get the picture. The Nyne Bass will easily fill a room with music that sounds full, rich and inviting. It's also kinda cool looking.
Nyne speakers definitely have a look of their own. The shape has graceful tear-drop curves that angle the speaker slightly upwards towards the listener. This slanted angle can help improve audio quality, but it's minimal at best. Across a room, it makes no difference at all. What does help is that the Bass is raised off the floor about an inch giving the speaker breathing room. This setup can also cut down on unwanted vibrations when on a desk or table keeping the speaker in place.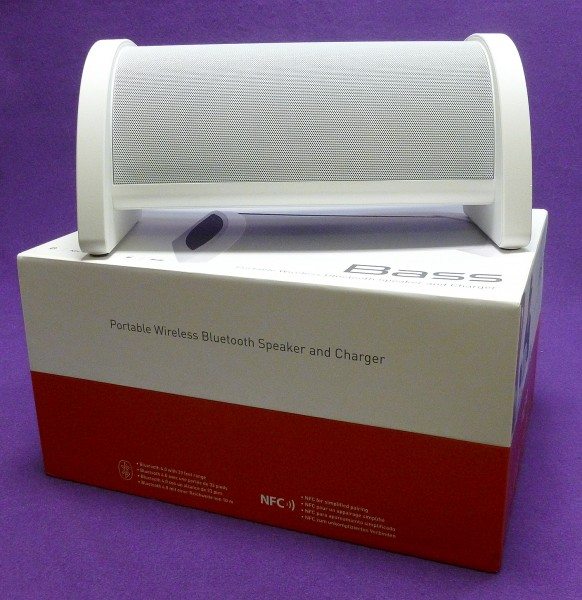 The Bass comes in two "colors" – black or white. I kept thinking how cool this would look in red – like the box color, but no such luck. I have the white model with gray accents. The slightly rubberized plastic and metal outer skin is non-slip and can easily be gripped especially using the hidden carrying handle. Note that the softer-feeling plastic dings easily. Because of this, black may be a better choice of color.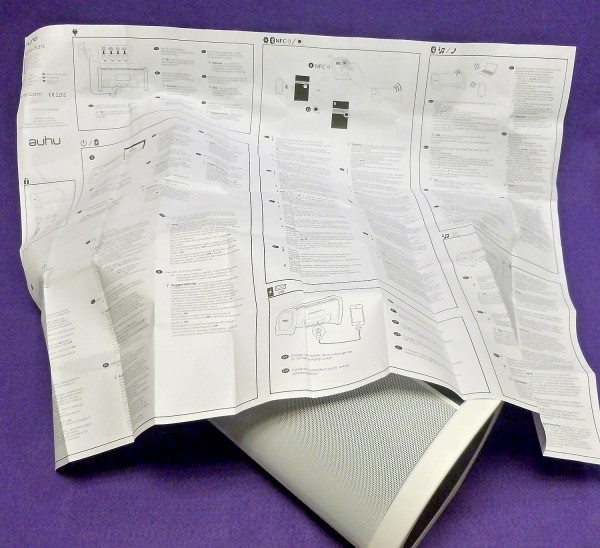 Included is a fold-out manual in 15 languages. It unfolds like an old road map and is about as much fun. It will never, ever be folded back correctly. Trust me, I tried. A regular manual booklet would be much easier to use.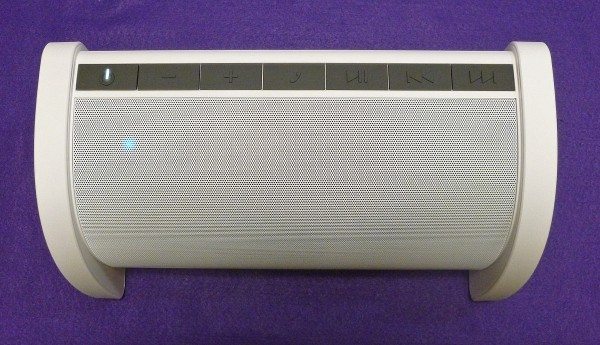 Seven large, gray buttons sit on top of the Nyne Bass: On/off (not really, but more on that later), up and down volume, phone, play/pause, skip back and skip forward. The playback buttons work perfectly with my iPhone. They should also work with other smartphones, as well. There's also a built-in microphone for hands-free calling. It worked well up close but if I walked 10-15 feet away, the person on the other end had trouble hearing me.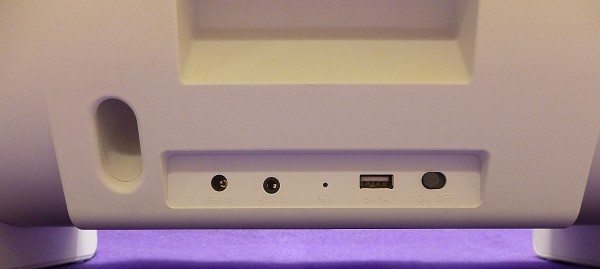 The back of the Bass has a sliding on/off button. This is the real on/off switch. If this switch is left off – and it's easy to forget to turn it on – the power switch on top will not work. I don't get it either. There's also a DC port for charging, an AUX port and a 5 volt USB port that will charge a smartphone. This popular feature is becoming more common in portable speakers – a good thing. There is also a small bass port in the back that allows air movement inside the speaker. This results in improved bass. You can actually feel the air being pushed out and sucked in as the speaker vibrates. It's not surprising when you consider that the Nyne Bass has 35 watts of power driving two active drivers, and an active subwoofer.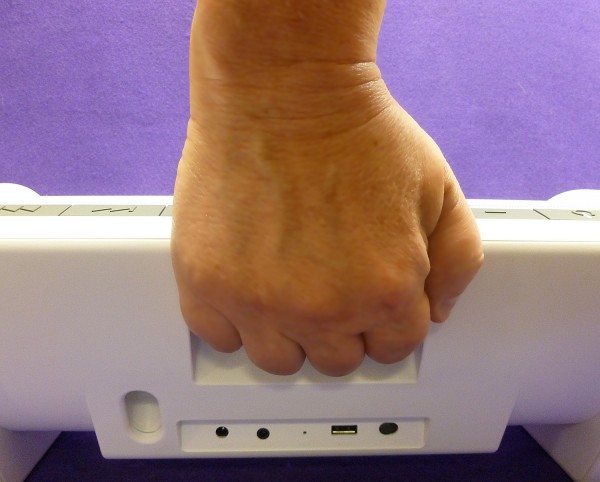 Inside the Bass is a 4400 mA Rechargeable battery with an advertised 10 hrs. of use. That's enough battery life for a party, but I'd leave it plugged in when it's not being moved around. Speaking of plugged in; the Bass has universal AC and comes with 4 interchangeable plugs which should work in any country.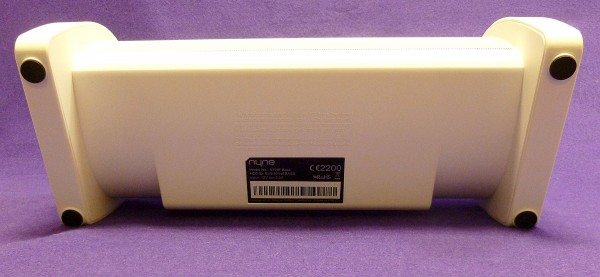 Connecting to Bluetooth is easy – sort of. I tried and tried connecting, but my iPhone would not see the Bass at all in Bluetooth settings. I tried everything. Then I realized the Bass was paired with my iMac and that the iMac would not "unpair" at all. Only when I totally deleted the Bass from iMac Bluetooth prefs did the iPhone pair with the Bass successfully. I don't know if this was a glitch with the Bass, iMac or Bluetooth, but it was a headache I didn't need. For those with other (not Apple) smartphones, NFC should prevent such issues.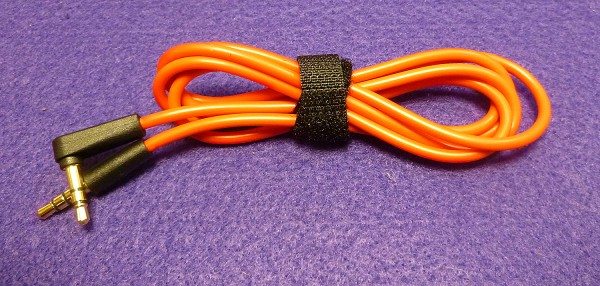 Once connected though, the Bluetooth sound wasn't bad. Not bad at all. It's no secret that I'm not a fan of Bluetooth. I prefer a wired connection everytime (still do), but I gotta admit that Bluetooth 4.0 sounds pretty darn good. I placed the Bass at the other end of my studio and maxed the volume on both the iPhone and Bass speaker. No distortion. None. Granted, there wasn't the volume nirvana of big stereo speakers, but who cares? That's not what the Bass was designed for. It still sounded bigger than it is.
Older songs that lacked in bass – at least compared to modern songs – didn't have the punch or power of more bass heavy music. Early Rolling Stones songs had a slightly hollow sound that the mids and higher frequencies in the Nyne Bass couldn't hide. Contrast that with the duet "Hush" from Joy Williams (Civil Wars) and Matt Berninger (The National) and the differences are stark. Matt's baritone voice growls and rumbles throughout the song and the Bass speaker portrays all of it with no undue roughness or distortion.
One song that shines is the underrated 80s Giorgio Moroder song, "Neverending Story" sung by Kajagoogoo singer Limahl. No one cranks the bass like Moroder and he does it so well. I can actually feel the bass vibrations from this speaker – again, with no distortion.
Santana's second album, the wonderful "Abraxas," doesn't fare so well. There is distortion throughout, especially the song, "Hope You're Feeling Better." Maybe it's the recording. It was 1970 after all– not a stellar year for rock album mastering.
Bryan Ferry's song, "Shameless" from the album "Olympia" has plenty of bottom heavy thump overlaid with Ferry's smoking-damaged vocals. His aged crooning now has a gritty, tired quality that somehow doesn't match the modern touch of his writing. Even so, the song showcases the Bass speakers's ability to hold together without becoming harsh or boomy.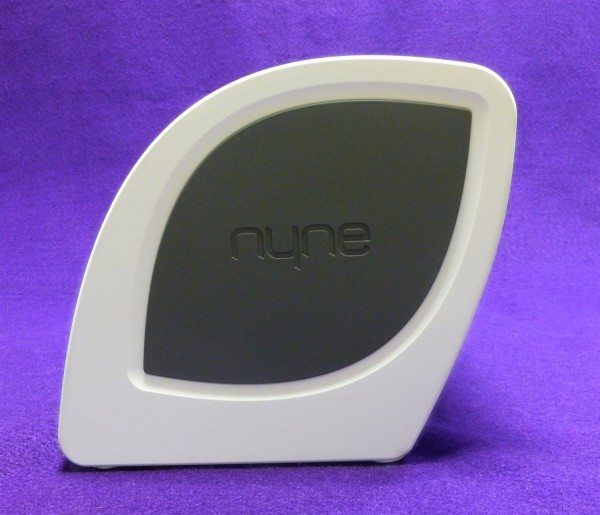 And that's another thing: Despite its name, the Nyne Bass is not a bass monster. It delivers as accurate a bass as possible in this portable form factor. Granted, the term portable when applied to the Bass speaker is subjectivel. But when a speaker is this good and this inexpensive, allowances can be made. Oh yeah, did I mention that the Nyne Bass is a whopping $150? Large speakers in this price range are not supposed to sound this good and be built this solidly.
At this price the Nyne Bass speaker is a steal.
Source: The sample for this review was provided by Nyne. Please visit their site for more information.
Product Information
Price:
$149.95 US
Manufacturer:
Nyne
Requirements:
Pros:

Built and sounds better than its price; a bargain
Tasteful design
USB smartphone charging
Strong, accurate bass
Wireless
Hands-free calling

Cons:

Soft plastic shell dings easily
Call quality diminishes as distance increases