We use affiliate links. If you buy something through the links on this page, we may earn a commission at no cost to you. Learn more.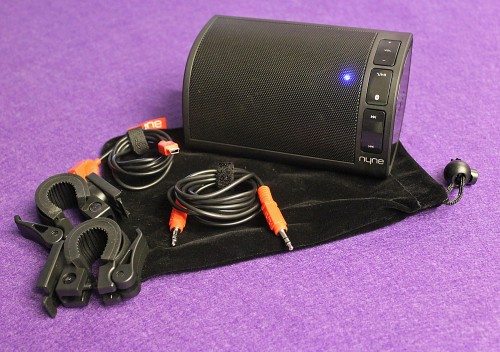 Another month, another Bluetooth speaker. That's the way it seems, anyway. Actually, new Bluetooth – and Apple AirPlay – speakers are being introduced in greater and greater numbers, way more than one per month! Nyne may not be a household name in audio gadgets, but they soon could be with products like their new NB-200 portable Bluetooth speaker.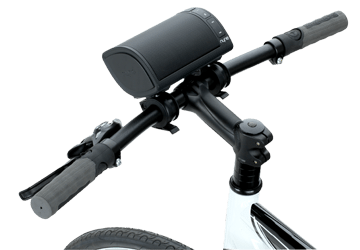 Nyne's NB-200 is a small, portable Bluetooth speaker made for an active lifestyle. I say active, because Nyne has included mounting brackets for attaching the NB-200 to the handlebars of a bicycle. Once the brackets are attached, the speaker easily slides on and off and locks in place with an audible click.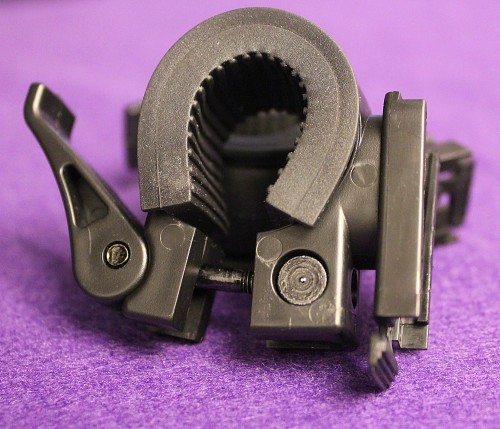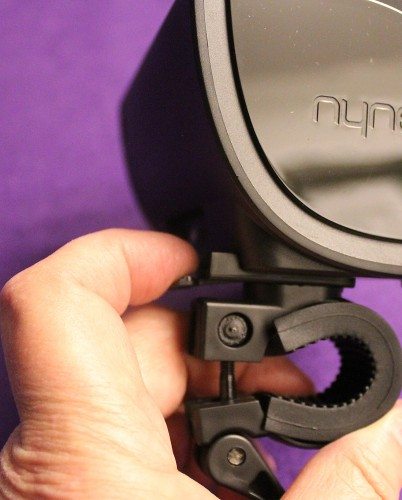 I admit that I don't bike as an adult even though I live in Florida – which has ideal year-round biking weather. In reality though, it's also as humid as a jungle here. Ugh.
One reason the NB-200's bike brackets are a good feature is that it's safer than earphones, which can make you dangerously deaf to traffic noise. Since there are many cyclists out riding nature trails and streets – with lots of distracted drivers – this speaker can be a safer companion for such an outing. Until it rains, anyway. Unfortunately, the NB-200 is not waterproof, but if the clouds decide to open up on you, the speaker is small enough to fit into a gallon-sized zip-lock bag. Even though the NB-200 doesn't come with such a waterproof plastic bag, it does have a nice velour draw-string carrying bag, which will keep the speaker clean and scratch-free.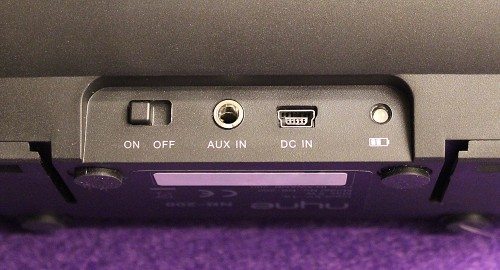 Along with those bicycle brackets, Nyne has included a mini-plug-to-mini-plug cable for connecting any audio source using the AUX port on the rear of the NB-200. I will say right here that anytime you can bypass Bluetooth and hard-wire an audio source, you should, for two reasons: The battery life will be improved and the sound quality will be  better. The NB-200 uses A2DP Bluetooth, which can be impressive, but not as much as the newer Apt-X Bluetooth, which the NB-200 lacks.
There is also a USB-to-miniUSB cord for charging the NB-200's Lithium-ion rechargeable battery. Its 5 hour playtime seems a bit short, but it is convenient and will hold a charge for a good while between uses.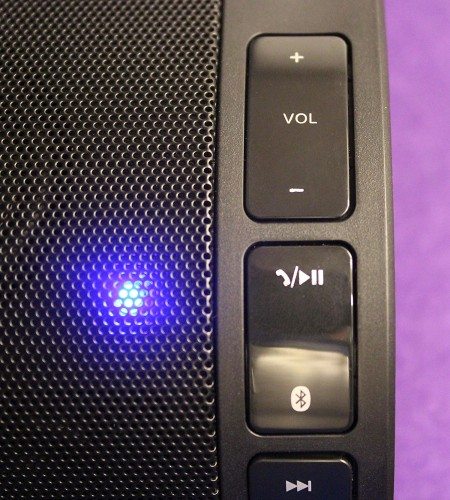 The NB-200 is also a hands-free device, so if you have a Bluetooth-equipped smartphone, your music will be interrupted when a call is received and you can then take the call. This can be convenient, but in my experience, hands-free is more trouble than it's worth except maybe while driving. But then, you really shouldn't even be on the phone while driving anyway, hands-free or not. On a bike, however, hands-free could come in handy.
As we become spoiled by these convenience features, it's important to keep the quality of the audio in the forefront. Without that, we got nothin'. I am happy to say with the NB-200, we most definitely have something.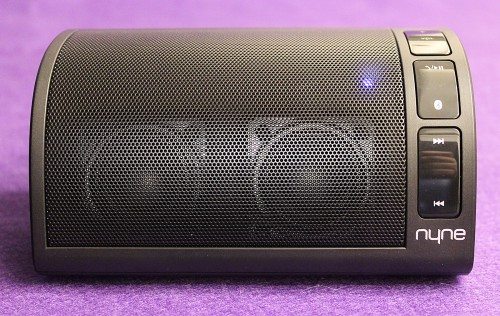 It seems that the audio bar keeps getting raised with each new speaker that comes out. Speakers like the Jambox, FoxL, Braven and others seem to bend physical laws with very impressive audio from tiny boxes. While the NB-200 is not as small as those examples, it is still petite. This slightly larger size should allow for a bit more impressive bass, but does it? Let's find out.
First, I did a 100% unscientific blindfolded sound test with my wife, who is not an audiophile. When is comes to audio, she is just like your everyday person. The test song was "Polly Come Home" from Alison Krause and Robert Plant. I chose this song for its bass-heavy sound. I wirelessly switched between the NB-200 and another small Bluetooth speaker known for its quality sound. As I switched between the two speakers, she chose the NB-200 every time. "Better bass", she said; "it just sounds better." However, she isn't doing this review, so I trudged on alone with other songs from my playlist to see if we agree.
As I said before, direct wiring wins over Bluetooth EVERY time. No contest. There's louder volume and less distortion when not using Bluetooth. However, it's sometimes more convenient going wireless. It's your choice.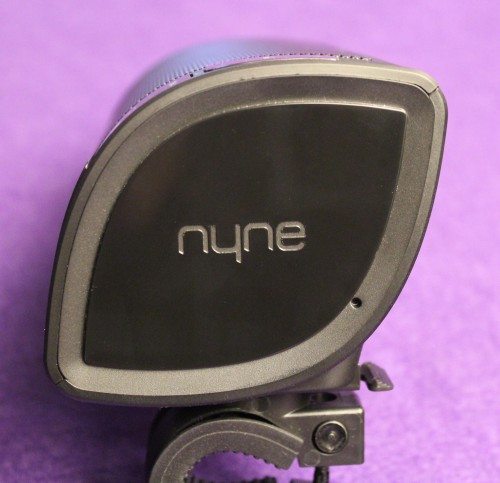 "Enjoy the Silence", from Depeche Mode's "Violator" album, is a fairly clean and punchy song for speakers. The NB-200 distorted at high volume in the bass parts, although the mid range held together well. The 80s group Visage song "Fade to Grey" – recorded ten years before "Enjoy the Silence" – fares better, mostly because the bass doesn't tax the NB-200 as much. The mids and highs are more prominent and cleaner sounding as a result. You could tune your bass up or down with an equalizer, but I like to test speakers with neutral settings.
The increased bass of The Beatles remastered CDs also strains the NB-200. "Something" from the classic "Abby Road" veers into distortion when pushed hard. George Harrison's vocals sound great as does his lead guitar. It's Paul McCartney's incredible bass playing that becomes problematic. Listen to these 2009 remasters with a good pair of headphones, and you quickly realize how they offer so much more than was ever heard before. Unfortunately, while the NB-200 does exploit this newly prominent bass for a speaker its size, those pesky laws of physics keep cropping up when the volume is cranked up.
The NB-200 performs best at a more civilized volume. This allows the bass to be heard and appreciated even if it can't be felt as with larger speakers. Let's be real here; to get a very decent sounding wireless and portable Bluetooth speaker with hands-free speakerphone and bike mount thrown in the mix still makes for a compelling audio gadget. By the way, if you don't ride a bike, it also looks and sounds good sitting on a desktop.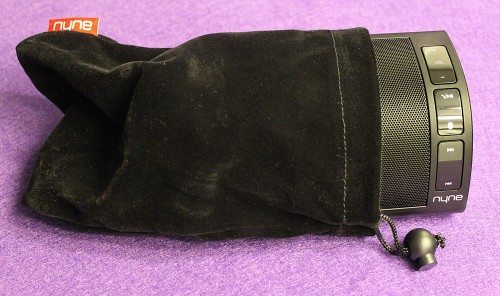 The bottom line is that Bluetooth speakers like the NB-200 are made for one reason: convenience. The fact that many of these newer speakers also have more than decent audio is a nice bonus. It's only recently that you've been able to have it both ways.
Ain't technology great?
Product Information
Price:
$129.95 US
Manufacturer:
Nyne
Requirements:

Audio source; wired or bluetooth

Pros:

Sounds better than many mini-speakers with better bass
Will mount on a bicycle
Easy to set up Bluetooth
Convenient

Cons:

Bluetooth is still Bluetooth
Audio can distort at loud volumes