We use affiliate links. If you buy something through the links on this page, we may earn a commission at no cost to you. Learn more.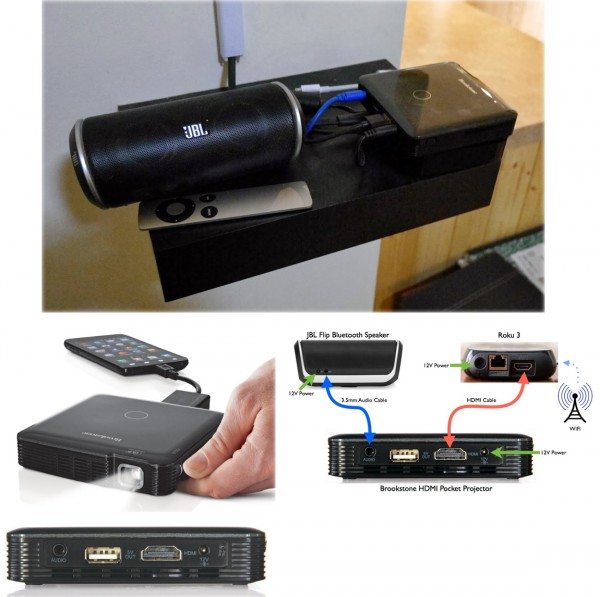 My fascination with tiny houses and micro houses continues, and I saw a home theater system in one of the small homes that would work equally well in bigger spaces.  I was watching a video made by Derek Diedricksen for his Relaxshacks website in which he toured the small house built by Chris Haynes of Tiny Home Building.  I won't go into the surgery that Chris did to convert the components to run off his solar-power system, but the important thing is that he combined a small Bluetooth speaker with an Apple TV and later with a Roku 3 box, and fed the signal out through a small projector he got at Brookstone.  His home theater projected a 50″ image on his white wall, and the entire setup used less than 19W of power – far less than flat screens on the market today.  
If you are interested in this setup, it seems that the projector Chris used was probably the Compact 85-Lumen Pocket Projector, which is still available at Brookstone.  It's just under 4″ square X 1″ thick and half a pound.  It has a rechargeable battery, so it's portable, and the 3800mAh battery doubles as a USB backup battery for your mobile devices.  It accepts 1080p and 1080i video input, and it connects to most smartphones, tablets, computers, video players, cameras, and other sources with an HDMI cable.  It has built-in speakers, but it has an audio-out jack if you'd rather use your own speakers like Chris did.  It can project an image up to 80″ (diagonal), and it has a "mega-bright LED lamp that projects up to 85 lumens for up to 2 hours on a single charge."  The Compact 85-Lumen Pocket Projector is $299.99 at Brookstone.  
Check out Derek's YouTube video with Chris and his cute dog, Ajax, then go read more about tiny houses at Relaxshacks and Tiny Home Building.