We use affiliate links. If you buy something through the links on this page, we may earn a commission at no cost to you. Learn more.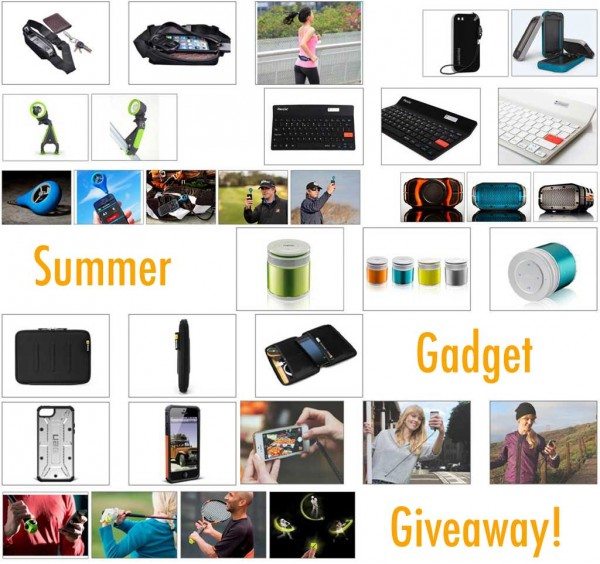 The official first day of Summer is still more than 2 weeks away, but we've already had some 90 degree days here in Southern Indiana. To celebrate the sun and fun of Summer, we are holding a big Summer Gadget Giveaway! One person will win 11 prizes that are perfect for outdoor fun and indoor fun too. Everyone has the same chance of winning and entering is easy. So click through to submit your entry for a chance to win this great prize pack!
Prizes:
1 winner will win a prize pack consisting of 1 of each of the products below:

BRAVEN: BRV-1
Small, water-resistant Bluetooth speaker blasts your jams with backup battery bank for your phone
BRAVEN gives outdoor enthusiasts 12 hours of music for any outdoor adventure, no matter how wet and wild
Water-resistant (IPX5) speaker is also shock absorbent, ultra-lightweight and compact
Palm-sized speaker delivers high fidelity sound with 6w of power and speakerphone function for hands-free calls
Battery power bank (1400mAh) means you can charge your phone from anywhere
Comes in Lava (black with orange) or Glacier (gray with a blue grill)
Available at: www.braven.com
Price: $179.99

Kenu: Highline for iPhone 5/5S
Clever case and leash system provides safety and security while capturing life's adventures
Leash solution keeps iPhone safe from accidental drops, absent-mindedness and even deters theft
Ideal for taking photos and videos while on a chairlift, whale watching, zip lining or entertaining your child
UV coated, crystal clear snap-on case made of tough polycarbonate and protective rim for maximum protection against drops, scratches and scuffs
Proprietary Lightning Lock™ system plugs safely into iPhone's lightning port, while locking to a tiny notch in the case to create a simple, yet secure connection
Braided, Kevlar reinforced elastic coil leash goes from pocket to fully extended in moments
Abrasion-resistant Kevlar extends into a loop featuring a tough, thin design to easily wrap around zippers, belt loops, stroller straps, purse-handles, d-rings, carbineers and more
Available at: Kenu.com
Price: $34.95

Rapoo: A3060 Bluetooth Mini Speaker
Cylindrical, portable speaker delivers big sound while on the go
Fits easily into any purse, backpack, carry-on or pocket to play favorite tunes anytime, anywhere
Features Bluetooth 4.0 for easy streaming from any smartphone or tablet
Intelligent Voice Prompt provides audio status updates including when speaker is pairing to device, battery life and volume changes
Integrated controls on the top allow users to control volume, pause/play music and go to next/previous track
Built-in microphone allows for hands-free calling
Rechargeable lithium-ion battery
Available in six metallic shades – silver, green, orange, yellow, blue and black
Available at: Rapoo.com
Price: $49.99

booq: Viper hardcase
Tough and lightweight hard case intelligently molded to offer additional space, protecting your tablet or laptop and basic accessories in any environment
1680 denier ballistic water-repelling nylon exterior provides superior protection from abrasive surfaces and elements
Padded interior outfitted with non-scratch neoprene and nylon twill to keep your laptop snug
Handle-less design slips easily into your favorite bag
Premium construction rounded with YKK zipper to tightly seal case without coming in contact with laptop
Available in three sizes perfectly fitted for a plethora of devices: 7" (7 and 8-inch tablets), 11" (Macbook Air and Chromebook) , 13" (Macbook Air and Chromebook Pixel)
Available at: BooqBags.com
Price: Viper hardcase 7" ($40), Viper hardcase 11" ($45), Viper hardcase 13" ($45)

Blackfire: Clamplight
Innovative and versatile LED flashlight lights up every situation by clamping to virtually anywhere, making chores easier and play better
Quality grade CREE LED's provide 100,000 hours of bulb life and up to 100 lumens
Resilient spring clamps securely to shelves, doors, pipes, branches and a plethora of other objects, keeping both hands free and flashlight out of the way
Two axis swivel head pivots and directs light where you need it
Nonskid feet lock open and convert into a stand when there's nothing to clamp to
Braced with high impact ABSplastic with non-slip TPR for a comfortable yet rugged look and feel
Maximum portability allows you to fit in a belt, pocket, or anywhere else
Available at: Blackfire-usa.com
Price: Clamplight MRSP $27.99 / Clamplight Junior MSRP $18.99

Urban Armor Gear: Apple iPhone 4/4S, iPhone 5/5S, iPhone 5C
Hard armor shell, soft impact resistant core and unique rigid structure combine to deliver a light-weight case packed with heavy-duty protection
Feather-lite armor shell and impact resistant soft core composite construction
Meets military drop test standards (MIL STS 810G 516.6)
HD screen protector guards against scratches
Easy access to buttons and ports
Glare-free flash photos and uncompromised audio
Scratch resistant skid pads
Available in Aero (Navy), Aviator (Green), Maverick (Clear), Navigator (White), Outland (Orange), Scout (Black) and Valkyrie (Pink)
Available at: urbanarmorgear.com/collections/all
Price: $34.95

PureGear: DualTekXT Extreme Terrain for iPhone 5S/5
Engineered for dustproof, shock proof, and water resistant protection
Certified IP65 rating for dustproof and weather proof protection
Shock absorbing corner impact protection controls shock by isolating vibration
Durable layered materials combine strength, toughness, and flex
Built-in screen shield for scratch protection
Slim + Sleek design provides stylish impact protection without adding bulk
Lanyard Loop with nylon lanyard and quick-release clip
Ergonomic grip for a secure yet comfortable feel
Available at: Pure-Gear.com
Price: $49.99

Penclic: Mini Keyboard (K2, Wireless)
Wireless mini keyboard's compact size and quiet-touch keys create a unique visual and ergonomic experience while maximizing work space and productivity
Sleek, Scandinavian design combines superior functionality without sacrificing comfort for size; compact size allows you to centralize your work position, creating better focus and maximized desk space
Optimal 5 mm profile and ergonomic design decreases strain on the wrists, serving to counteract and reduce Repetitive Strain Injury (RSI)
Quiet-touch keys reduce noise and offer great tactile feeling, allowing you to utilize small keystrokes and minimal pressure when typing, leading to quicker results and productivity
Compatible with Windows XP and later, Mac OSX version 10.1 or later and most Linux/BSD systems
Nano USB- receiver with wireless reach up to 16 feet; rechargeable battery lasts up to 2 months before additional charging is required
Available in several language variations and contemporary and relaxing colors that make the keyboard as easy on your eyes as it is on your fingertips
Available: www.penclic.se
Price: $79.95

Bracketron: TruRunner
Lightweight, reflective pack makes it easy to carry your smartphone and other essentials while working out
Perfect for recreational and competitive runners, this lightweight pack provides handy storage for your workout essentials
Stays in place with a fully adjustable belt for bounce-free stability and comfort; no slack or chafing
Features an easy-to-see, built-in reflector so passing driver and cyclists can easily see you
Slim-designed pocket expands for roomy, protected storage of smartphones, cash, IDs and more
Available: Bracketron.com
Price: $19.95

Zepp Labs: Zepp 3D Multi-Sport Motion Sensor
World's First sensor that allows users to review and replay their swing in 360º, plus providing detailed analysis and trend reports sent straight to any iOS® or Android device
3D motion sensor easily attaches to any bat, club, or racket using innovative sport-specific mounts
Sensor wirelessly transmits data to your smartphone or tablet via Bluetooth after every swing
Users can review and replay their swing in 360 degrees
Baseball: track bat speed, path, timing, angles at impact, trends and more
Golf: track speed, tempo, club plane, hand path, backswing position, hip rotation and more
Tennis: track shot type mix (serve, forehand, backhand, smash), power and spin (topspin, slice, flat) and more
Able to compare swings to pros and friends and share your swing data with others
Zepp application records critical data and provides analysis, personalized tips, drills and coaching
Sensor has an 8 hour battery life, weighs 6.3 grams and measures 1.1" x 1.1" x .39"
Available at: http://www.zepp.com
Price: $ 149.99

WeatherFlow: Wind Meter
Take accurate wind measurements using your iOS or Android device
Instantly measure wind speed, direction, average & gusts from any iOS or Android device
Download the free WeatherFlow Wind Meter app and plug in Wind Meter – it's that easy
Calibrated at the University of Florida's Aerospace Engineering Department, its operating range extends from the smallest puff to hurricane force winds
More accurate than any other handheld anemometer on the market (accurate to the larger of +/- 0.5% of the reading)
Reads in meters/second, miles/hour, knots, kilometers/hour & beaufort scale
Rugged and eco-friendly packaging serves as a reusable storage case
Share onsite reports within the WeatherFlow app or via Instagram, Vine, Twitter, SMS, Email and Facebook
Available at: WeatherFlow.com
Price: $34.95
How to enter (please read carefully – any missed steps and your entry will be disqualified):
1. Between now and 06/06/2014 11:59PM EST leave a comment on this page telling us your favorite place to spend your summer vacation.
Get a 2nd bonus entry by tweeting:
Win a super summer gadget prize pack from @thegadgeteer http://wp.me/p3LRkH-FvV
Make sure you come back and leave a 2nd comment on this page with a link to your tweet.
2. At some point on 06/07/2014, I'll pick 1 random winner using random.org. The winner will be contacted by email and will have 48 hrs to claim their prizes. If I do not receive an answer to my emails in that time period, I'll do other random.org drawings till the prizes are gone.
Rules:
1. Only one entry per person (warning: I check IP addresses).
2. Gadgeteer writers, family members and close friends may not enter this contest.
3. the-gadgeteer.com is not responsible for any lost packages or incorrect shipping addresses.
4. the-gadgeteer.com is not responsible for the winner not accepting their prize within 48hrs. The winner will be posted on the contest page, contest comments and will be emailed. Check your spam folder.
5. Winner must have a US shipping address.
Update:
The winner is #22 Ken Oberkrom. Congrats to Ken and thanks to everyone who entered and for the companies that sponsored the contest.