We use affiliate links. If you buy something through the links on this page, we may earn a commission at no cost to you. Learn more.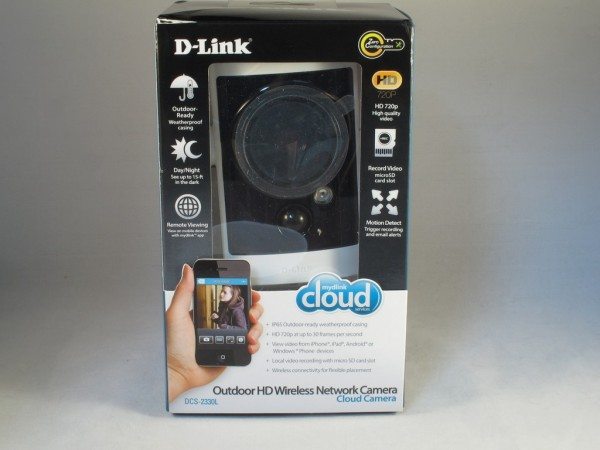 I've been looking into a security system for my home, but I keep running into the cost issue of a monthly service charge.  So, I took a different tack and decided to cobble together my own using off the shelf network cameras.  I had several cameras arrayed around the house, but I was missing a weather proof outdoor camera that could "see" in the dark.  Now that I have the D-Link Outdoor HD Wireless Network Camera DCS-2330L, I might be able to get complete coverage of my property.I'm familiar with D-Link cameras and the myDlink  portal and mobile app, having used them for several years.  At one time I was monitoring a house 150 miles away with no problems.  What led me to the D-Link line was initially the price and after using the camera for a while, I appreciated the flexibility to adjust the parameters to suit my needs.
Specifications:
Hardware Profile 
1/4" Megapixel progressive CMOS sensor
5 meter IR illumination distance
Minimum illumination: 0 lux with IR LED on
Built-in Infrared-Cut Removable (ICR) Filter module
Built-in PIR sensor (5 meter)
Built-in microphone
10x digital zoom
Focal length: 3.45 mm
Aperture: F2.0
Camera Housing 
IP65 compliant weatherproof housing
Image Features 
Configurable image size, quality, frame rate, and bit rate
Time stamp and text overlays
Configurable motion detection windows
Configurable privacy mask zones
Configurable shutter speed, brightness, saturation,contrast, and sharpness
Video Compression 
H.264/MPEG-4/MJPEG simultaneous format compression
JPEG for still images
Video Resolution
16:9 – 1280 x 720, 800 x 450, 640 x 360, 480 x 270, 320 x 176 up to 30 fps recording
4:3 – 1024 x 768, 800 x 600, 640 x 480, 480 x 360, 320 x 240 up to 30 fps recording
Audio Support
Power 
5 V DC, 1.2 A through external power adapter
External Power Adapter Input:100 to 240 V AC, 50/60 Hz
Max. Power Consumption 
Operating Temperature 
-13° to 113° F (-25° to 45° C)
Operating Humidity 
20% to 80% non-condensing
Dimensions 
2.6" x 5.53" x 3.66" (66mm x 140.5mm x 93mm)
Weight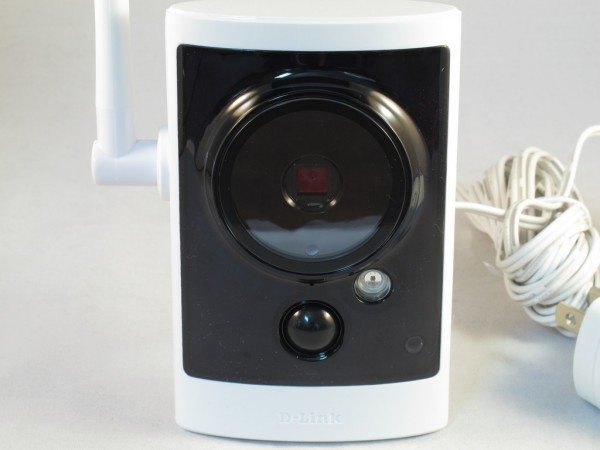 On the front of the camera there is the lens, microphone, light sensor, IR LED and power status LED.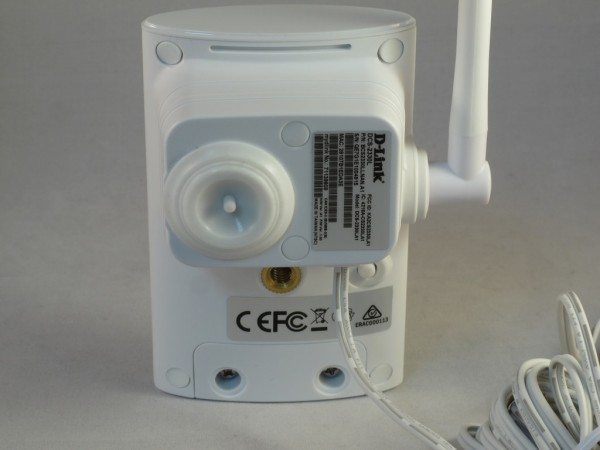 The backside is where the power cable enters and there is a port under the weatherproof cover for an Ethernet cable.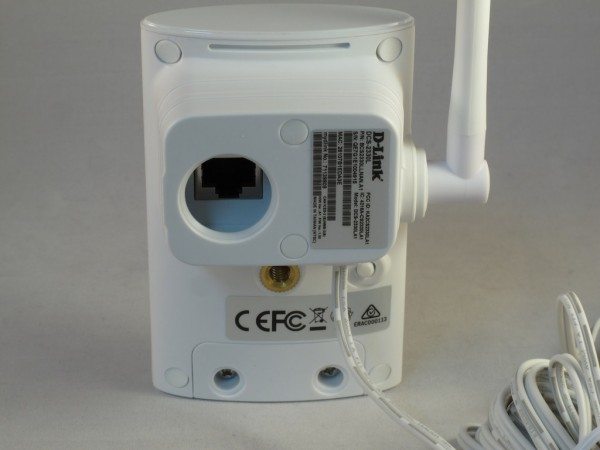 You can see the Ethernet port with the cover removed.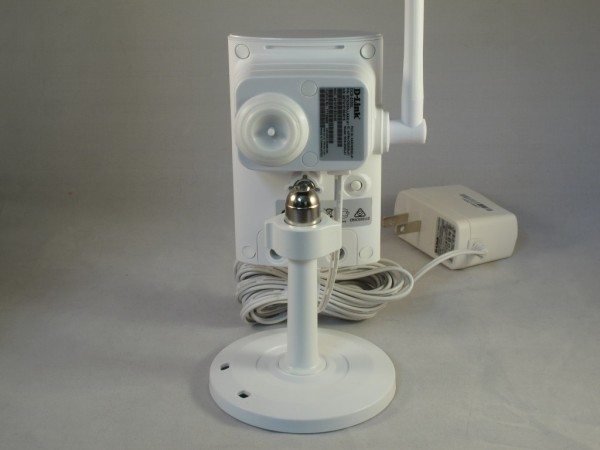 The camera is attached to the mounting bracket.  Thankfully, the bracket is made from metal and not all plastic like my other DCS-930 cameras, which break very easily.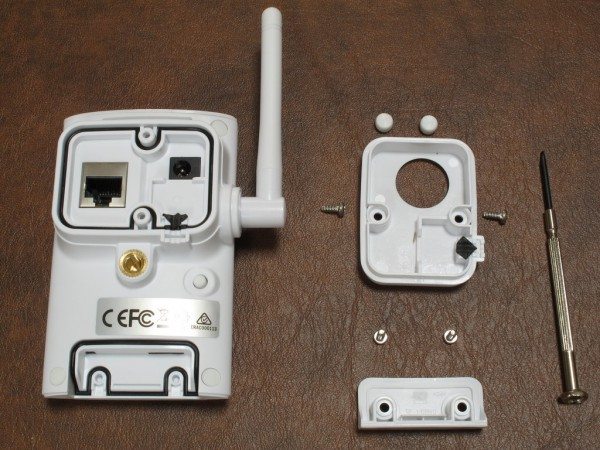 Here I've removed the weatherproof covers, giving me access to the connectors and microSD slot.  This is something you won't want to do when the camera is mounted outside, so plan well.  For example, decide what size  microSD card you want and install it.  Notice that the screws have weatherproof coverings.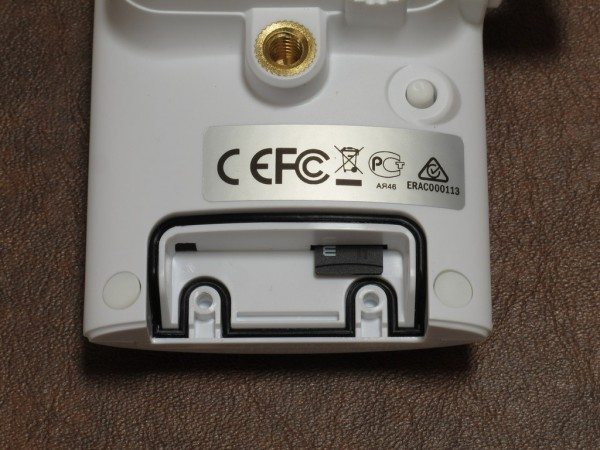 I put in a 2GB microSD card.  For illustration purposes it's halfway inserted.  The black hole on the left houses the reset button.
If you have a D-Link cloud router the setup is super simple and can be done using a wireless connection.  For the rest of us it's not much harder, but does require a hardwired Ethernet connection.  To begin, you're directed to download the setup wizard and follow the directions on the screen.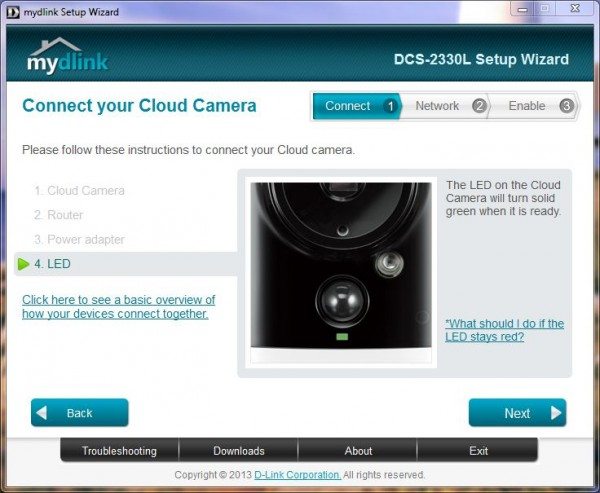 The wizard will tell you when to connect the Ethernet cable and power.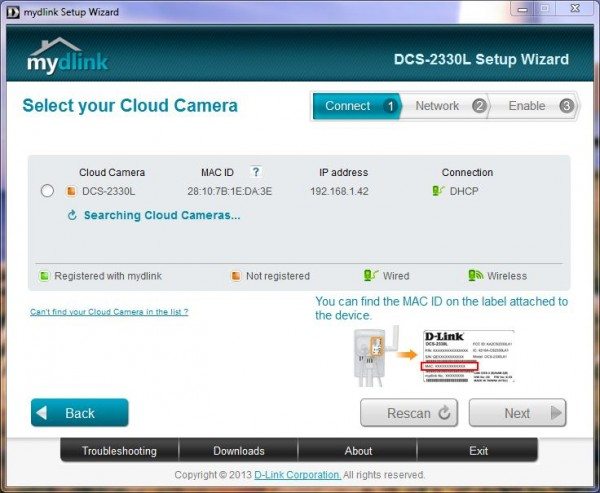 The setup will discover the camera on your LAN.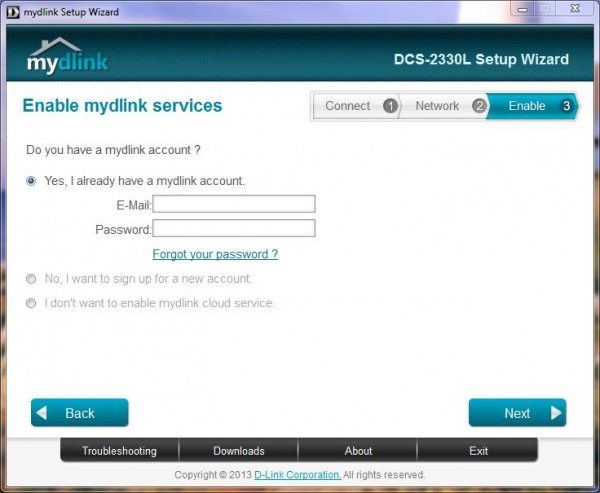 At some point the setup routine will ask you to sign up or log in to your mydlink account.  Although it's optional, the mydlink service makes it very easy to access your camera(s) both locally and remotely.  One downside of the mydlink service is that all your video will pass through D-Link's servers.  I find the convenience factor worth it, but I also insure that my cameras don't cover any "sensitive" areas.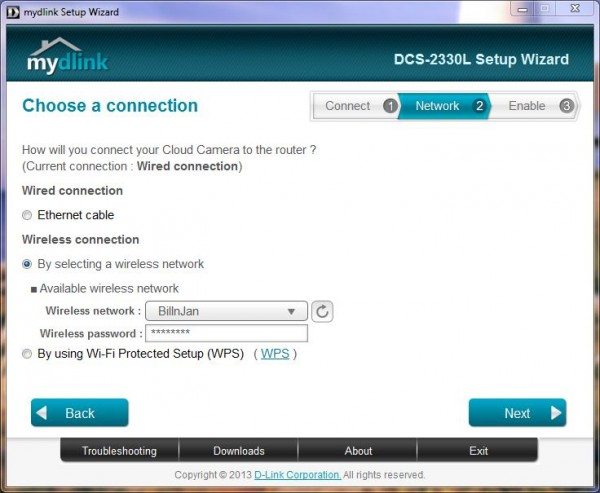 At this point in the setup you can designate a wireless network for access to the camera.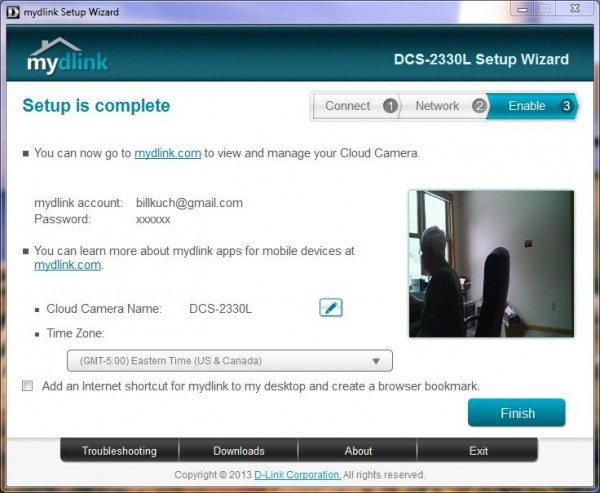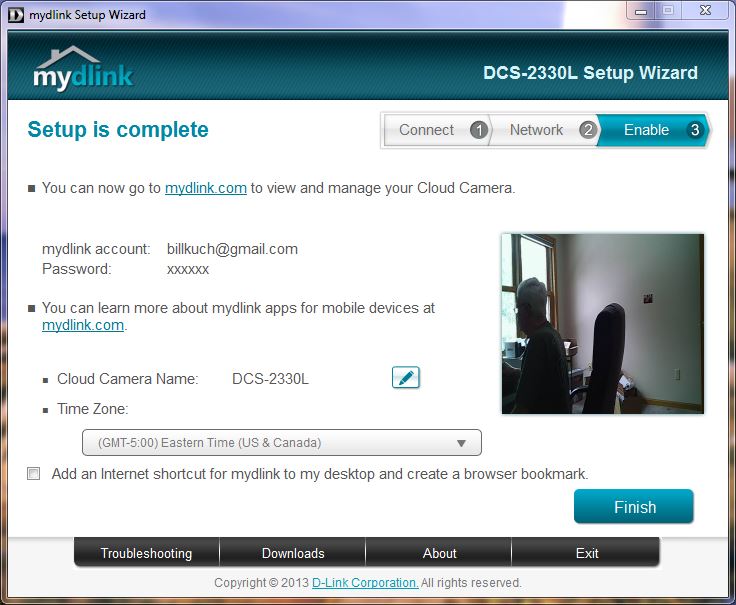 And now we're done.  Unplug the Ethernet cable and power cable and position the camera where you want that has mains power available for the camera.  Although the title of this review includes the word wireless, it's really not the case.  In fairness, this is the same for all "wireless" remote cameras I've seen.  The gating item for positioning the camera is power availability.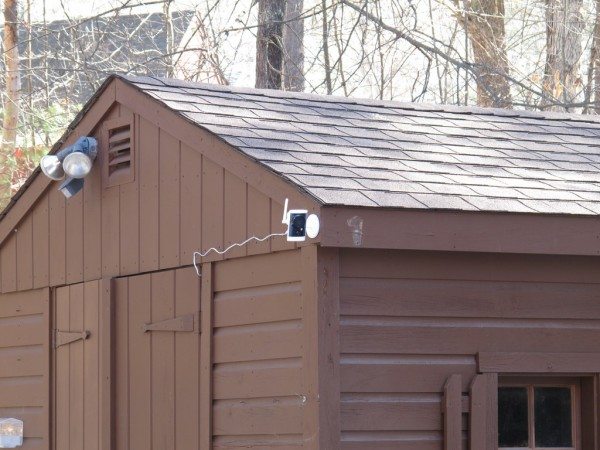 I am very fortunate, because I was able to locate the camera with a view down my driveway and the shed where I mounted it, has a power outlet.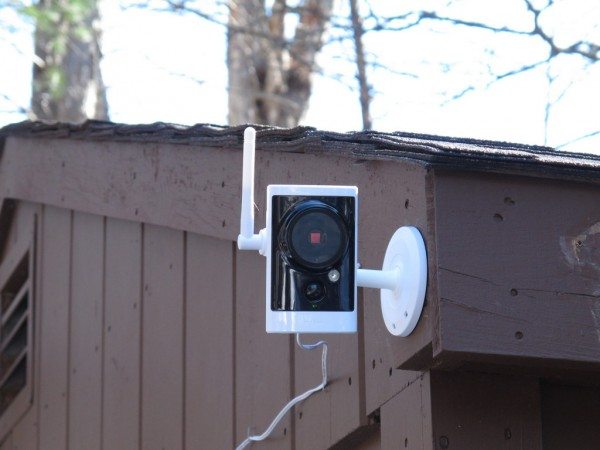 It only took about 15 minutes and 2 screws (supplied) to install.
There are multiple ways to access and manipulate the DCS-2330L and other D-Link cameras:  direct access to the camera via the built-in web server;  using the mydlink web account;  mobile access using iOS and Android apps; and the D-ViewCam Windows application, which is the most comprehensive, but as the manual has 166 pages, it takes some time to figure out.
Using the camera's built-in web server gets you to the low-level aspects of the hardware.  To access it, you'll need to know its ip address on your LAN.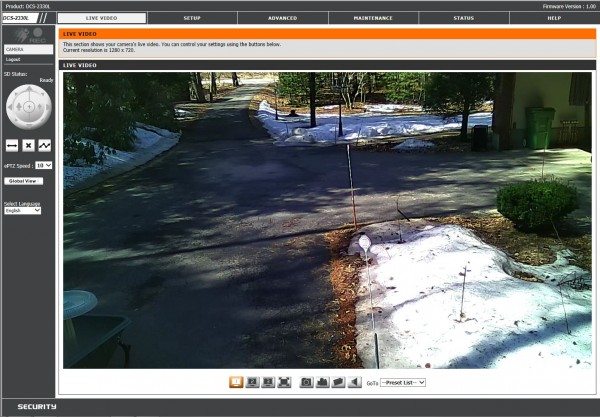 The first screen of the device web server provides a live camera view.  On this page you can record a video, take a snapshot, mute the sound and change the picture size and resolution.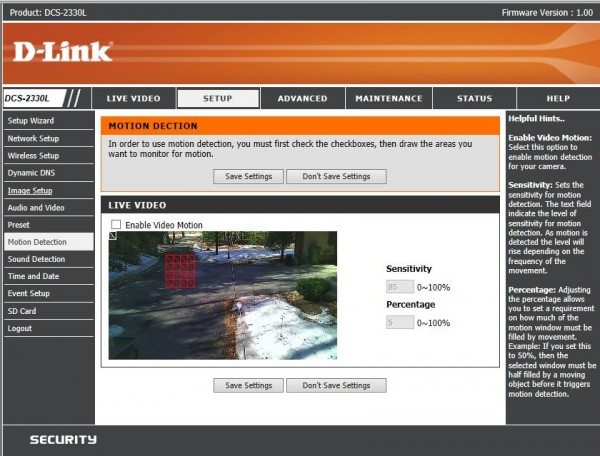 The most interesting tab is setup, where you can customize the camera to your needs.  Here I'm setting the area on the picture that will trigger an event if someone/something enters it.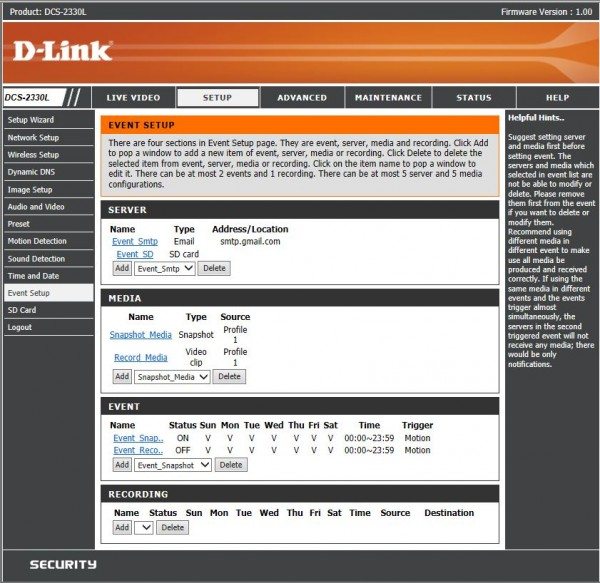 Here I've setup what to do if there is motion detected.  In this case I will get an email notifying me that there is an intrusion and the camera will record video to the on board microSD card.  I could have set an event based upon sound or a trigger of the passive infrared (PIR) detector.  As you can see on the left side of the page, there are many items that can be adjusted and tuned for your situation.  All this works well if your computer is on the same LAN as the camera, but for remote access you'll have to get a Dynamic DNS service to account for the changing of ip addresses from your DHCP server.  One issue I had with the camera's web access was that I could only get it to work with IE version 9.  D-Link states that it will work with IE, Firefox and Chrome, but I found that when using Chrome, several tabs on the left of the setup page were missing and when using IE 10, I couldn't record videos or take snapshots.  Everything worked well on a Vista system using IE 9.
If you need remote access or don't want to fool with all the parameters of the camera, the mydlink service is the way to go.  It puts a simple user interface on the complicated parts of the camera.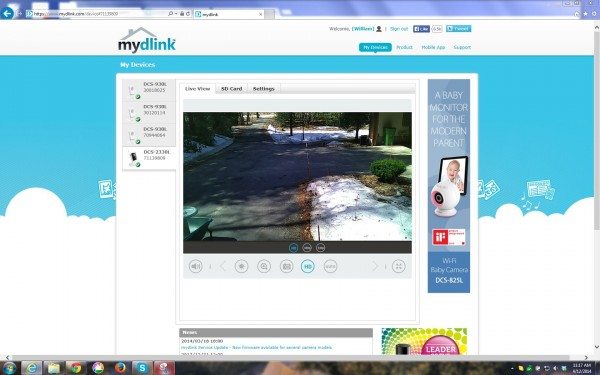 In my case, I have registered 4 cameras and using mydlink, can look at them one at a time.  On the live view page the image can be manipulated to some extent and the sound turned on/off.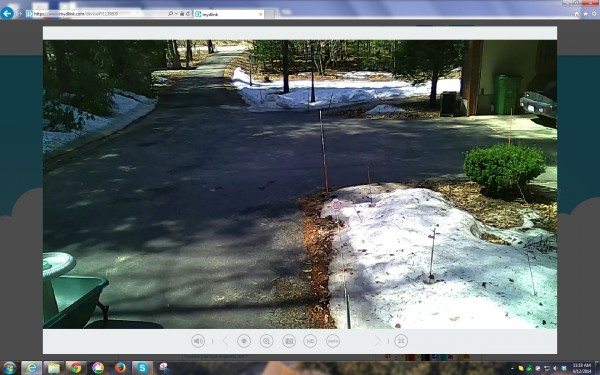 In HD mode and selecting full screen, gives a very good quality image.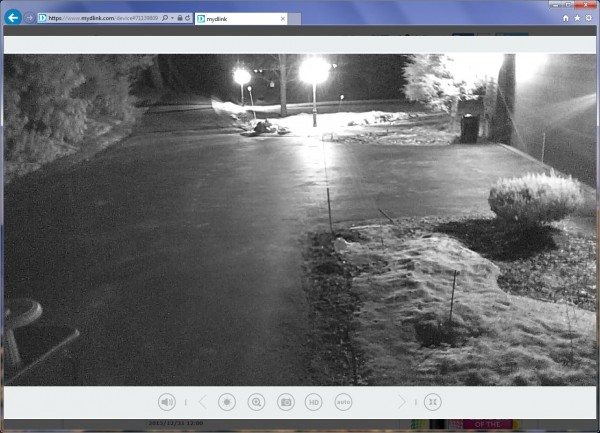 The low light capability of the camera is exceptional.  Besides that, there is an infrared light source that will illuminate the scene for up to 15 feet in total darkness.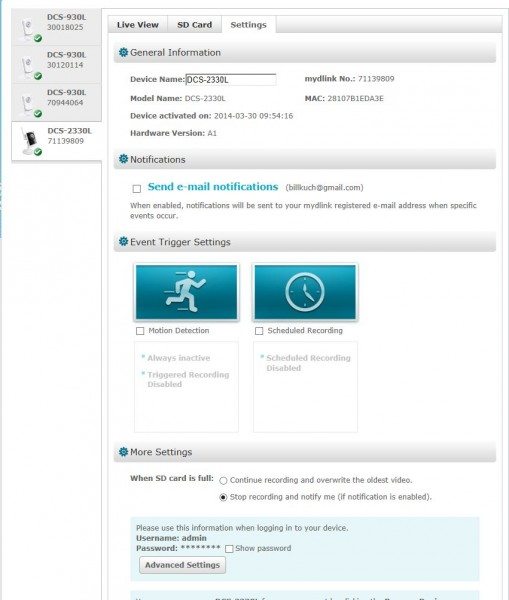 Motion detection and recording can be set from the portal.  It is also possible to access the camera's web server from the mydlink account and this can be done either locally or remotely.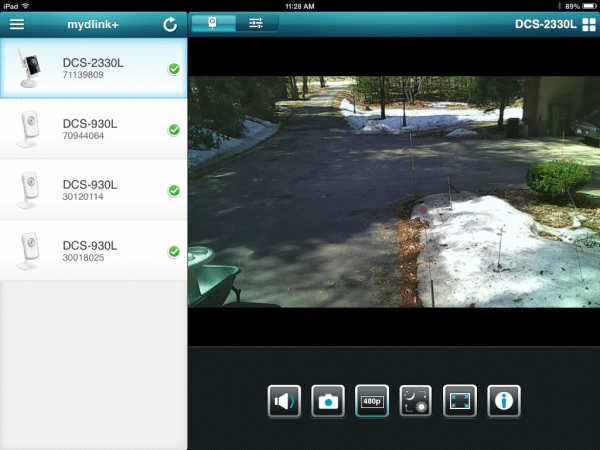 There is a free iOS app that allows you to view your cameras remotely and change some settings using the app.  Of course the resolution is dependent upon your phone or tablet.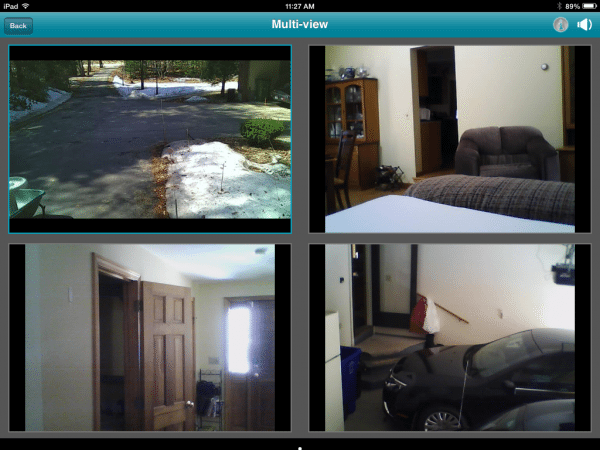 For a little money I upgraded my app to the plus version, which displays multiple cameras on the screen.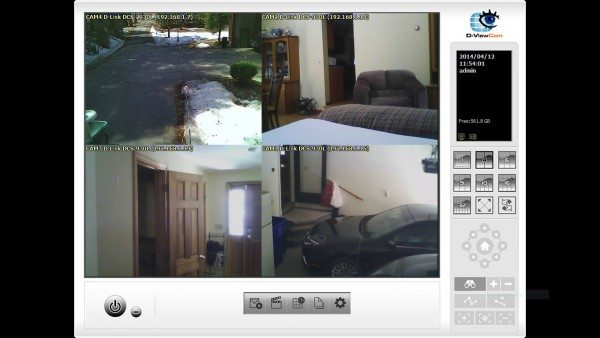 For a comprehensive surveillance system, D-Link provides D-ViewCam software for free. This allows you to monitor and manipulate up to 32 cameras.  It provides scheduled and event-driven video recordings that can be stored and searched at a later date.  With D-ViewCam you have a full-fledged surveillance system.  I'm still learning how to use it, but it's not necessary if all you want is casual monitoring of your premises.
The DCS-2330L network camera from D-Link is a good starting point to build your home monitoring system.  Add a couple of the less expensive indoor cameras and get a mydlink account and you can watch your house when you're not at home.  All the cameras I have also send alarms if they detect motion, so they double as an alarm system.  For less than $250 I have put together a video monitoring/alarm system and I don't have to pay a monthly fee!