We use affiliate links. If you buy something through the links on this page, we may earn a commission at no cost to you. Learn more.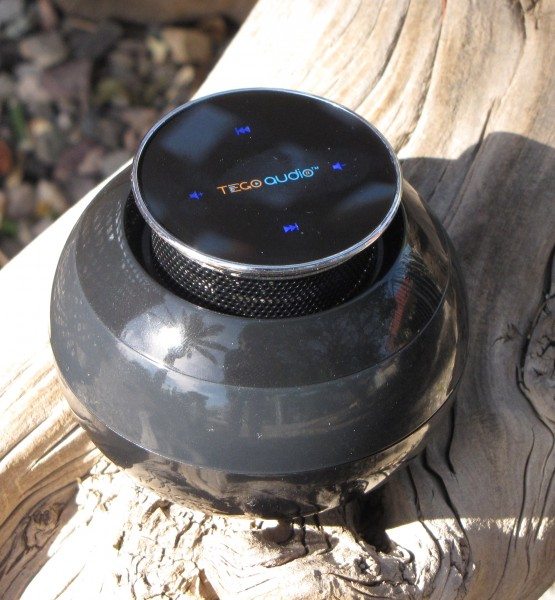 "Open the pod bay doors, HAL", "I'm sorry, Dave, I'm afraid I can't do that" is exactly what popped into my mind the first time I saw the CERA wireless portable speaker from Tego Audio. You may think that is a funny thought to pop into my head, but looking at the speaker and how its made, and being a child of the 70's when our space exploration was in its infancy, the CERAs design makes me think that it would be at home in the 70's, now or in the future. So, let's see if reality has hit fantasy.
Note: Images can be clicked to view a larger size.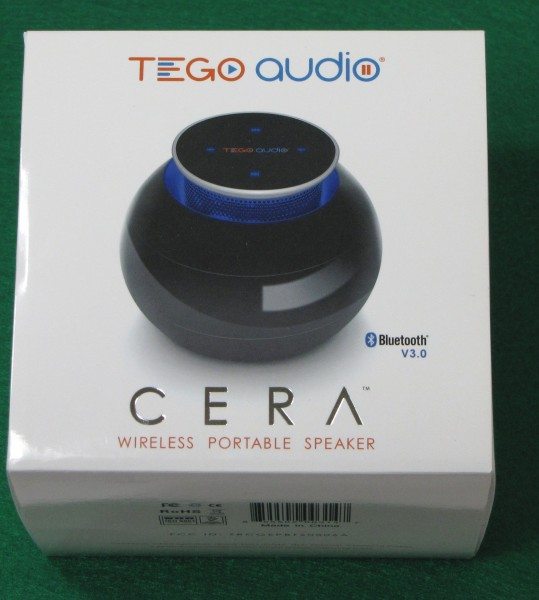 Now that I have returned to earth let's take a look at the CERA wireless portable speaker (hence forth known as the CERA). The CERA is a Bluetooth enabled portable speaker that can be used by itself or daisy chained together with several other CERAs.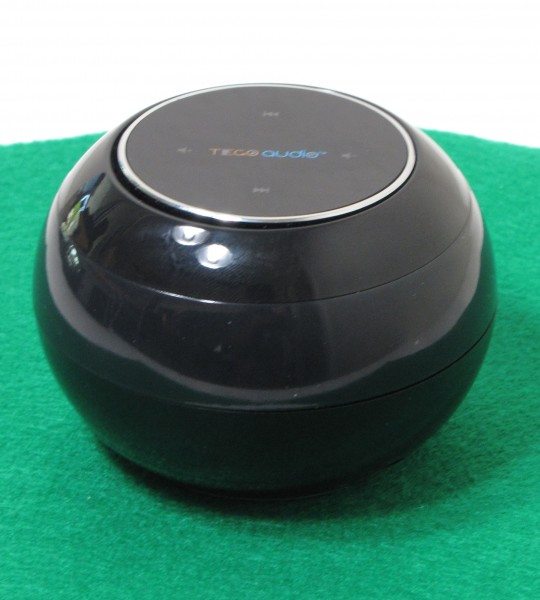 The CERA itself is a 3.5″ x 2.4″ sphere that comes in either black, red or white (I am reviewing the black version) and has the following features listed from their website:
Powerful Wireless Portable Speaker with Version 3.0 Bluetooth® Technology for a faster connection with better sound quality
Compatible with iPad®, iPod®, iPhone®, MP3, MP4, Laptop, PC and most Bluetooth® enabled devices
Voice notifications when CERA is on, in pairing mode, and pairing complete
Simple pairing with most Bluetooth® enabled devices
Stream audio from your Bluetooth® enabled device from approx. 33ft (10m) away
Plugs into any non Bluetooth® enabled device with supplied 3.5mm (1/8) headphone jack as well
New Daisy Chain function allows an infinite number of CERA's to play at the same time
Illuminated Touch Control Panel
360° Expanding Sound Chamber illuminated with blue lighting
Internal Lithium Ion Battery recharges over USB
Up to 5-7 hours playtime on a full charge (approx. 2-3 hours to fully charge)
1 Year Limited Warranty
The listed technical specs are as follows:
Speaker: 40mm
Amp. Freq. Range 100Hz- 20Khz
S/N > 80dB
Power Output: 3W
Charge Voltage: 5V + 0.5V
Charge Time: 2 hrs
Transmission Distance 33ft (10m)
Playback Time: 5-7 hrs
Bluetooth Model V3.0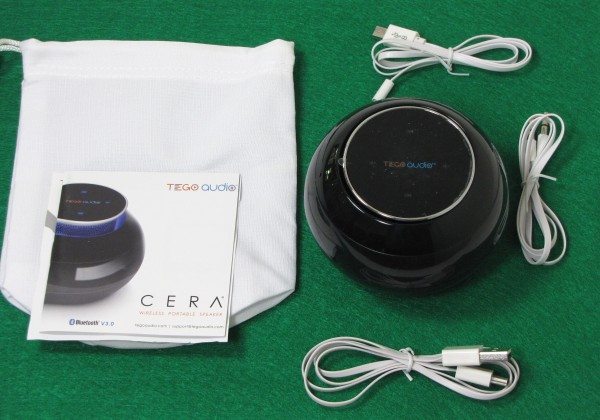 The CERA comes with the following items:
CERA Speaker
Charging Cable
3.5mm Audio Cable
Daisy Chain Cable
Carrying Case
Quick Start Guide and User Manual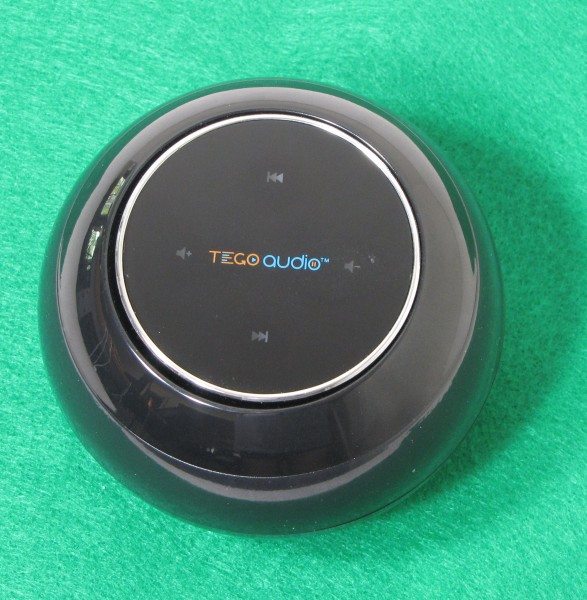 With all the technicals out of the way let's talk about the CERA itself. The top of the CERA is where all of the controls are for the speaker. The CERA has four basic control functions; volume up, volume down, track forward and track back. The top is also where you depress the CERA to raise the speaker and turn it on.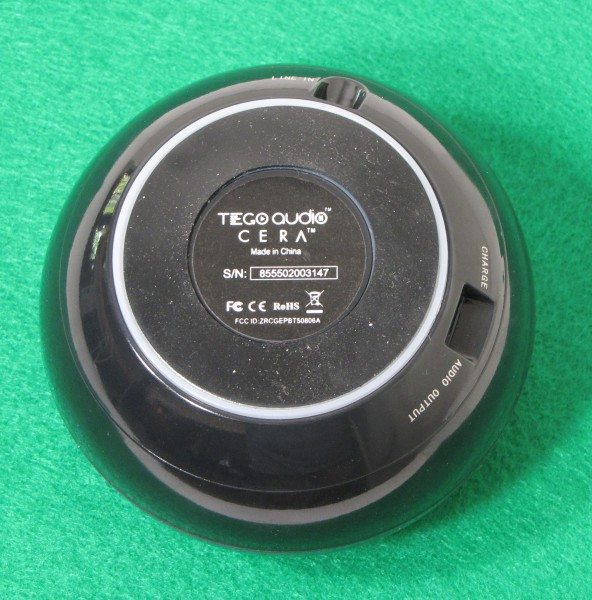 The bottom of the CERA has a nice rubberized non slip pad, the serial number and basic information.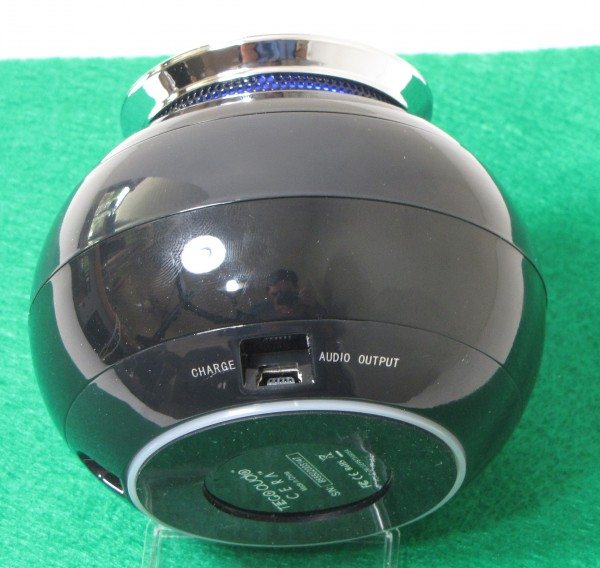 Being an orb, the CERA really does not have any sides, but on the lower section of the speaker you will see the charging port which doubles as an output and an input jack and a 3.5mm input jack.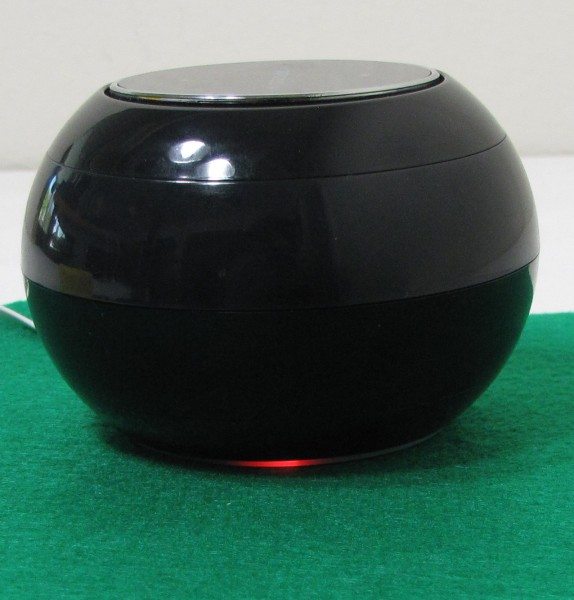 Around the very bottom of the CERA you will see an opaque white band that has a light that is red when the speaker is charging.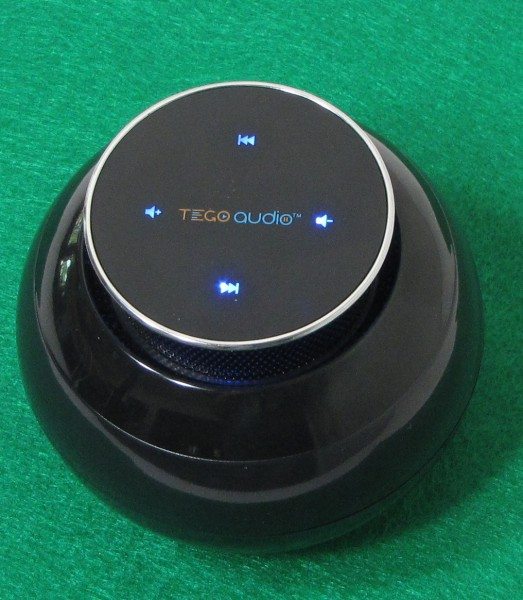 After charging the CERA, it was time to pair it with my iPhone 5. Pairing was rather simple, turn the CERA on by pushing on the top and having it tell you "power on" and then wait for the "paring" prompt. Then all you need to do is open the Bluetooth settings on your device and look for the Tego Audio CERA device to show up and select it. Once you have done that you will be told that the pairing was successful.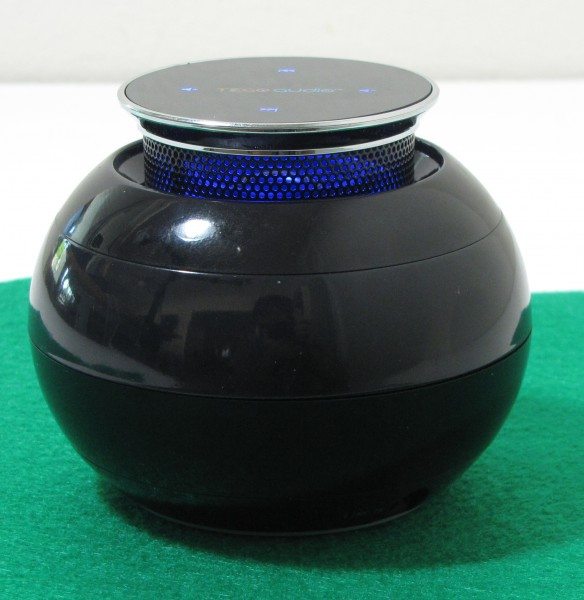 Paired and ready to play, I was ready to put the CERA through its paces. One of the first things you will notice when the CERA is on will be the cool blue light illuminating the inside of the speaker. As stated before, the controls on the top of the CERA are for volume up and down and track forward and back. These controls are all touch type controls all worked, but I did have to fiddle a little more with the volume down, I don't know if it is me or the speaker, but it does work.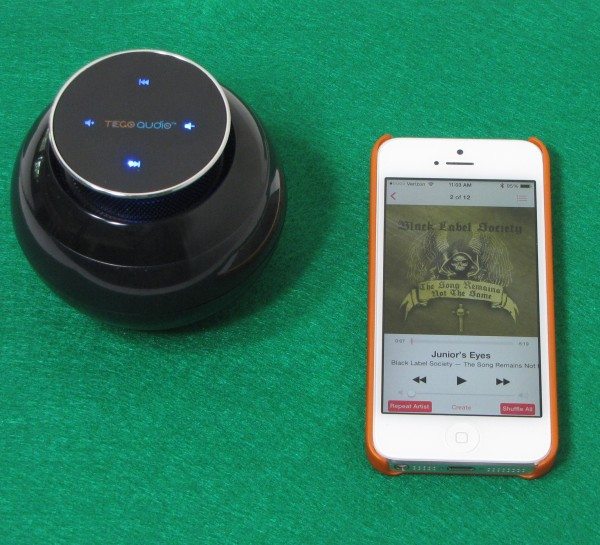 I listened to a variety of music with the CERA. Everything from classical to metal, the speaker handles it all well. Surprisingly, the speaker handled high volumes well, heavier metal type songs did seem on the verge of having some crackle in it at high volume, but never did. Sound quality was more than acceptable for a speaker of this size. Mids and highs were crisp and clear, the bass was there, but not over powering, over all it has an enjoyable sound. I played around with the iPhone's EQ settings and found that turning the EQ off seemed to work the best if you play a variety of music.
So, what's my bottom line on the Tego CERA Wireless portable Speaker? It is definitely worth a listen. The size is great, sound is more than acceptable, it has a high cool factor and it is easy to use. With the ability to daisy chain several CERAs together and its listed 5-7 hour play time you can be the hit of the party. If I were to say that I had any issues with the CERA, it would be in synching it to more than one device at a time. Again, this may be a user issue, but if not, it could be irksome if you want to listen to your friend's music from their device. I had to disconnect the CERA on my iPhone to pair it with my iPad. The Tego CERA is available on the Tego website in 3 colors for a price of $89.99.
Product Information
Price:
$89.99
Manufacturer:
Tego
Pros:

Light weight
Good sound
Cool looking

Cons:

Pairing with multiple devices is an issue