We use affiliate links. If you buy something through the links on this page, we may earn a commission at no cost to you. Learn more.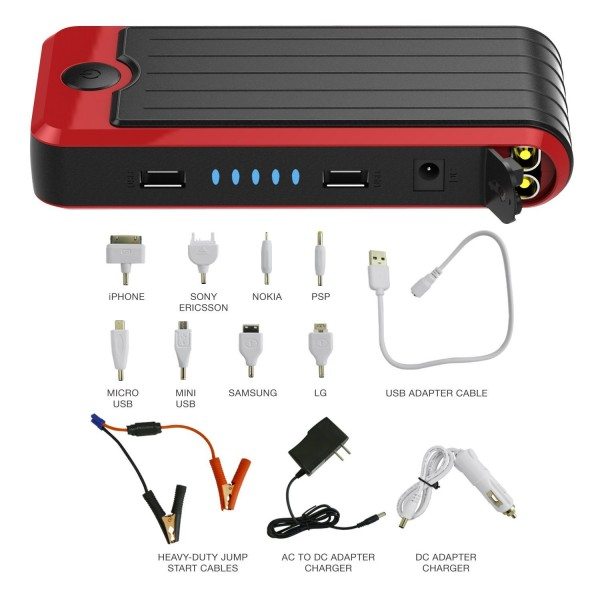 The PowerAll is a handy 12,000 mAh portable lithium ion battery charger used to charge your portable devices AND jump start your car. It has two 5V / 2.1A USB ports and is capable of charging two devices at the same time, after which it will go into sleep mode to preserve power. In addition, it will jump start your car up to 20 times on one full charge of the unit. It also has an added flashlight which features continuous illumination, strobe, and SOS mode. Measuring 6.5"x2.9"x1.2", it is small enough to store in your glove compartment when you go on a camping trip or just to have around for an emergency. Safety features include over-voltage, over-current, short circuit, overload, and over-charge protection. The PowerAll is charged using a 100-240V AC adapter or DC adapter (cigarette lighter charger); the chargers and the jumper cables are included with the device when purchased. Also Included is a USB adapter cable with eight connector tips for Apple (30-pin), Sony Ericsson, Nokia, Samsung, PSP, LG, micro-USB, and mini-USB devices.
SPECIFICATIONS
​Battery Type: Lithium-Ion
Battery Capacity: 12,000 mAh
​Battery Life Cycles: >500
Outputs: 2 x 5V / 2.1A, 1 x 12V / 10A
Input: 12V / 1A
Jump Start Current: 200 – 400A
Dimensions: 165 x 75 x 30mm​​ (6.5 x 2.9 x 1.2in)
LED Lifespan: 100,000 hours
LED Energy: 1w
LED Lumens: 86 Lm
Operating Temperatures: -20 to 140 Degrees
Smart Jumper Cable
The PowerAll is available for $99.90 through Amazon and the deluxe PowerAll, which includes a heavy duty carrying case with organized slots for all the accessories, for $119.95 through Richard|Solo. All they need to do now is cram a generator into it to make it your complete power source, house and all!