We use affiliate links. If you buy something through the links on this page, we may earn a commission at no cost to you. Learn more.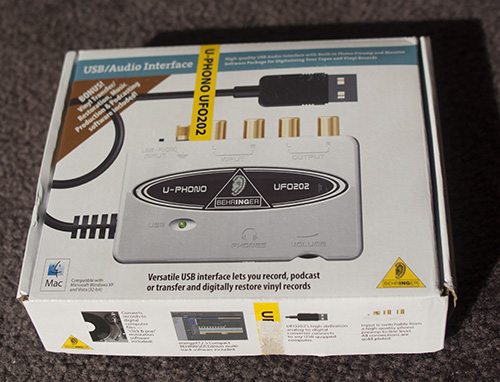 If you have a collection of old vinyl, or still buy new, and want to have the convenience of having digital copies for your phone/tablet/PC, you need a device to convert. For a number of years you have been able to purchase a USB turntable that allows you to perform this task, but what if you already have a nice turntable, and want to use it? Behringer has a solution for you.
The Behringer U-Phono UF0202 USB/Audio Interface (let's just call it the U-Phono) is an adapter that allows you to record from any RCA audio source to USB. It can take input from any device that had stereo RCA output, and can be set to take the lower input from a record player. You not only get an adapter for your existing turntable, but a tool you can use for any device the outputs in stereo RCA.
In the Box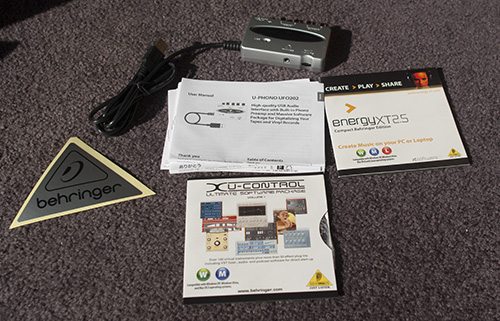 The box contains the U-Phono with attached USB cable, manuals, sticker and two CDs of programs. Most of the applications on the CDs are public domain applications like Audacity. Since I already have and use Audacity, I did not load any of the additional software. In addition, you could use the U-Phono with just about any Audio application like Bandcamp.
The Device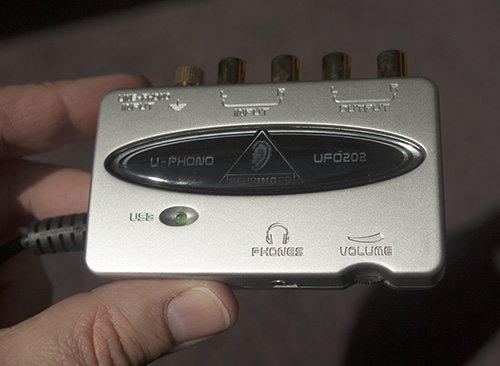 The device comes in Silver and the inputs and outputs are clearly labeled on the top. The USB cable is attached to the box.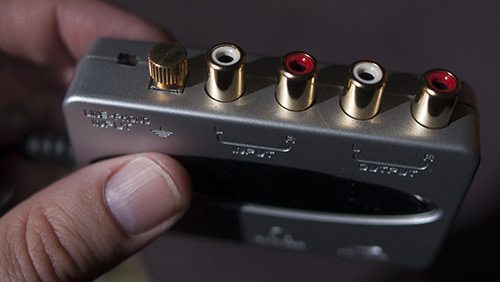 On one side you have Stereo RCA inputs and outputs, and a ground for phono attachment. A small switch (left side) allows you to select either phono or line input. This allows for the flexibility to attach a turntable that has no pre-amp to the U-Phono, or attach any device with a standard line out (like a cassette tape player, or record player with a pre-amp) and record. Those that still recall the turntables (or those that have been sucked into the old-is-new vinyl trend) will know that the ground is pretty important for a clean signal.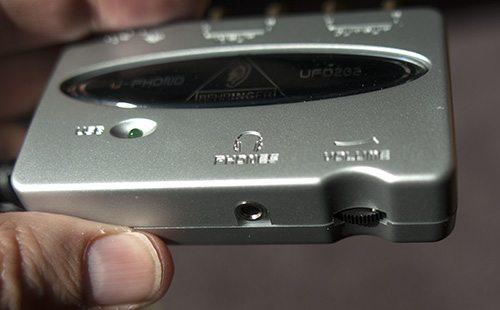 The front provides a standard headphone jack, and a volume control for monitoring the recording. The volume controls the headphones, not the single for the RCA outs or USB.
Use
The U-Phono is very simple to use. Plug your output from the device you want to record into the input of the U-Phono. Set the switch to Phono or Line, depending on the device (some newer turntables may include a pre-amp, if so, you would choose Line). Then plug in the USB in your PC (Mac or Windows) and start recording with your sound application of choice.
Using my 30-year-old Optonica turntable, I was able to quickly record some LPs I don't get to listen to much. Of course, this is recording in real-time, so not quick like ripping a CD. You'll also need to break up the tracks manually, or with the program if it supports it, and name your tracks.
The quality of the transfer was very good, and you are not limited by the quality of the USB turntable you have. You can use any turntable to play your vinyl. On top of this, the flexibility to use other inputs is great.
I still have some cassette tapes, and I was able to use this to digitize those as well. Your software can even help with the tape hiss. The quality here was not quite as good, but that was due not to the U-Phono, but rather to the quality of the recording, and the device I used to play. My tape deck died long ago, so I was forced to use an old boombox. Mine has RCA outs, but you could also get an inexpensive headphone to RCA adapter to hook it up.
Who Is It For
If you already own a nice turntable and want to digitize your collection, it is hard to go wrong with this device. It will also help you convert your tape collection, or anything that has RCA out (for example 8-track or Reel-to-Reel).
If the only thing you need to convert is some vinyl, and you don't already have a turntable, a USB turntable might be an easier choice, but I think I would look to get a turntable and this device first. At $39.99 (and cheaper from some sites) I think this is a great bargain.

Product Information
Price:
$39.99
Manufacturer:
Behringer
Requirements:
Pros:

Standard RCA stereo inputs
Switch for Line or Phono input
Compact design

Cons: