We use affiliate links. If you buy something through the links on this page, we may earn a commission at no cost to you. Learn more.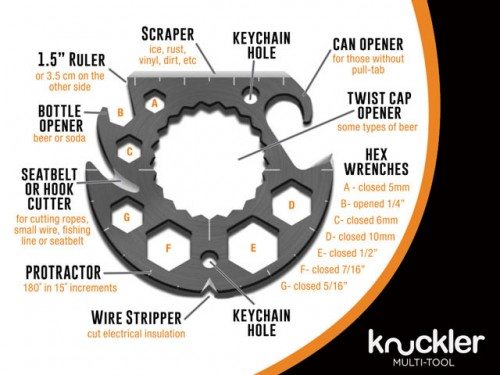 So, you're into gadgety multi-tools? Me too! The more functional the better is what I always say. But function and design have to come with a purpose, and the Knuckler multi-tool, a Kickstarter project from Jeff Morin (who also brought us the Parachute multi-tool), seems to have found its purpose. Jeff Morin has other successful multi-tools that he has designed and marketed on Kickstarter, and each one seems to be an evolution in design and refinement. The Knuckler is no different; it seems that he has taken the best features of his previous work and incorporated them into this new tool, adding more functionality in a slightly smaller package. The stainless steel Knuckler incorporates the following into a 2.5″ x 2.5″ matte silver or matte black frame:
Can opener
Twist cap opener
Hex wrenches (seven sizes)
Keychain holes x 2
Wire stripper
Protractor
Seatbelt or Hook cutter
Bottle opener
1.5″ ruler
Scraper
The Knuckler will be seeking funding until December 22, 2013. A $16 pledge will get you a Knuckler in either matte silver or matte black. If funded, the Knuckler is slated to start shipping in the January 2014 time frame.