We use affiliate links. If you buy something through the links on this page, we may earn a commission at no cost to you. Learn more.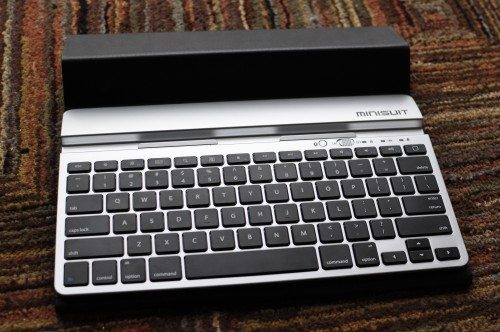 Several months ago, a friend of mine gave me a challenge.  It was to write a page a day, any format I wanted, as long as I was writing roughly 700 words daily.  While by no means did I ever consistently meet that goal, it did kickstart the writing bug in me again.
I primarily use a desktop computer, but lately I've been wanting to turn my Kindle Fire into my mobile work station, but using the touchscreen keyboard was completely out of the question.
The BluBoard keyboard looked to suit my needs perfectly.  This wireless keyboard from MiniSuit can pair with nearly any mobile device running Bluetooth 3.0.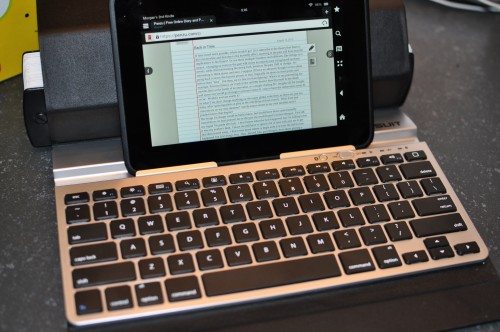 My early impression of the keyboard was that it was really designed for an iPad.  All I mean is that once I placed my Kindle on it, the Kindle looks ridiculously small (granted, it IS the 7″ model).  The size of the tablet or phone really doesn't matter to the actual functionality though.
The keyboard has a slot at its top for sliding in the device and two hinged bracers for keeping the device upright and in place.  I tested this out with my Droid Razr as well because it looked like the placement of the bracers were too wide for a phone, but it held up the phone just fine.
The best orientation for the devices also seemed to be landscape.  In a vertical portrait orientation, there was visible wobbling of the device (Kindle, iPad, and Razr) while typing, though it never fell out of its seat (when on a flat surface).
I wanted to use this primarily while lounged on the couch, with the keyboard on my lap.  The keyboard is solid enough for this type of operation, but my Kindle felt very unstable in its seat and a few times fell out while I was repositioning myself.  It's probably more ideal to be using this on a flat surface, and care is definitely needed if it's going to be on your lap.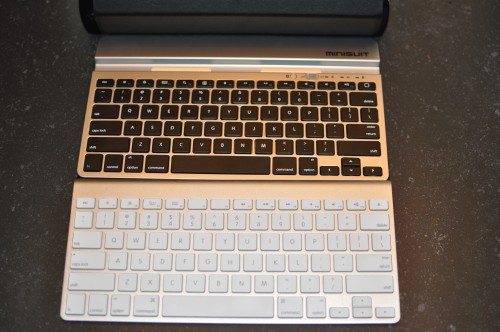 The keyboard itself is a full-sized QWERTY board, and any Mac user will feel very at home with both the aesthetics and button placement.  It's nearly a carbon copy of Apple's wireless keyboard.  My desktop is an iMac so this was a comfortable transition for me.
On the subject of comfort, the keyboard feels great.  Instead of aluminum, the casing is a hard plastic, but the keys are responsive, easy to hit, and provide a nice amount of resistance.  The keys themselves have a little more texture on them than those on the Apple keyboard, but from a tactile standpoint, I find this preferable.
The only real issue I came across is that depending on the device, not all of the function keys work.  I had no issue for instance using the volume function keys on the Kindle, but the screen brightness keys had no effect.  By contrast, all of these keys seemed to work just fine on the iPad.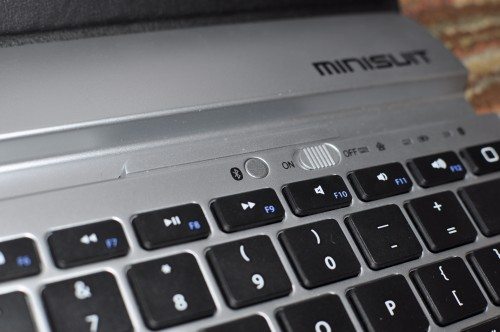 Pairing the device was pretty simple and quick.  At the top of the keyboard is the Bluetooth pairing button.  Press that, and set your device of choice to search for Bluetooth devices; once the two find each other, enter in the activation code on the device and they're paired.  I had no trouble jumping from the Kindle to an iPad to a phone.  They all paired within seconds.  For fun, I attempted pairing it with my iMac, but I couldn't get a successful pair for whatever reason.  Since it's not technically marketed as a desktop keyboard, I didn't dig too deeply into why the fail occurred.
Also at the top of the keyboard is the on/off slide switch.  It doesn't easily slide, which I actually like as it prevents an accidental shut off.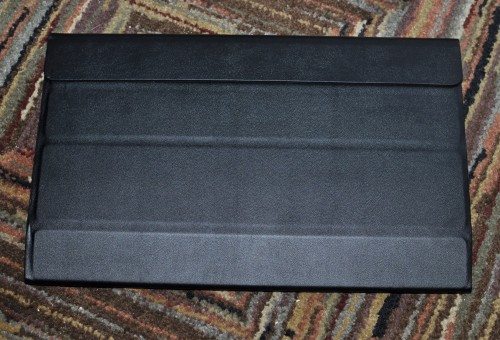 The slightly odd thing about the BluBoard, to me at least, is the case.  It's a case solely for the keyboard and will not fit over a tablet or phone.  It looks like it's modeled after the iPad from its aesthetics to it being a foldable prop.  However,  I ended up wrestling endlessly with this cover.  For the life of me, I couldn't perform the origami needed to fold the cover to prop it or keep it in that position for any length of time.  Once I thought I had it right, a few taps on the keyboard and my carefully folded triangle would collapse on itself.
It also doesn't seem like the cover is easily removed from the keyboard.  Pulling resulted in sticky peeling sounds, so I quickly abandoned that thought.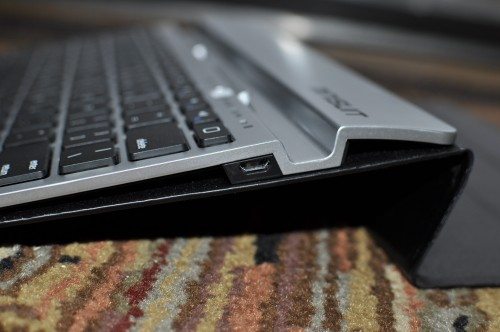 A micro-to-standard USB cable is included for charging.  Two hours of juicing will give the keyboard a full charge, which lasts for about 120 hours of continuous use.  Indicator lights will show when power is running low, charge is full, or the keyboard is charging.  I get a little irked when just a USB cable is included for charging and no USB to AC adapter.  I personally hate charging devices directly from my computer and prefer just plugging into the adapter when possible.
My complaints with the keyboard are minimal, with the pros far outweighing the cons.  It's a comfortable typing keyboard and doesn't add too much additional bulk to a travel bag.  It's a full-size Bluetooth keyboard under $50 – and it works across all mobile (Bluetooth) devices and OS's.  What more can I ask for?
The BluBoard Wireless Keyboard is available for $39.90 directly through MiniSuit.  If you're looking for a keyboard for your iOS or tablet device, this should definitely be considered as a contender.
Product Information
Price:
$39.90
Manufacturer:
MiniSuit
Requirements:

Bluetooth 3.0-enabled mobile device

Pros:

Full-sized keyboard
Inexpensive
Easy Bluetooth pairing

Cons:

Cover doesn't easily hold a propped position
Stability issues on non-flat surfaces