We use affiliate links. If you buy something through the links on this page, we may earn a commission at no cost to you. Learn more.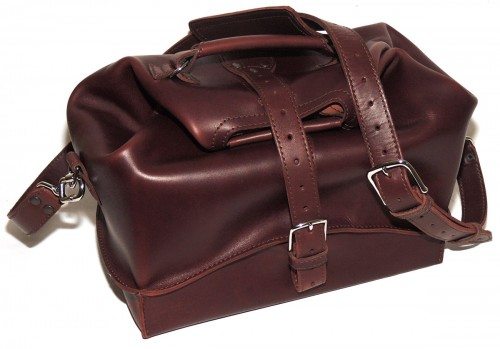 Several years ago, I reviewed Saddleback Leather Company's Waterbag, an excellent piece of hardy luggage I use to this day. While I do not use it everyday, my wife and I often use it when going on weekend or overnight trips together. It is perfectly sized for a couple of days worth of clothes for the two of us or for just myself for a week. It is big, some might say huge, and not for most folks to drag around daily. To accommodate those who are traveling solo or needing to carry less gear/clothes, Saddleback Leather Company has created a smaller, lighter sibling: the Dry Bag.
Note: Images can be clicked to view a larger size.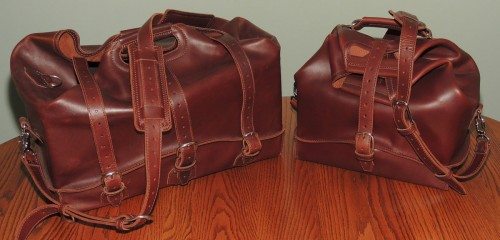 Alright, I am going to quote myself… This is a passage from my Waterbag review and surely holds true for the Dry Bag (plus as I said, all the other SBL products I have seen/used/reviewed) as well.
All of Saddleback's creations radiate old-world craftsmanship, handmade artistry, over-the-top rugged design, and the highest quality materials; all backed by a lifetime warranty. If you have researched Saddleback Leather Company's products at all, you know they are definitely not the [email protected]#y, mass manufactured, thin-leather bags from China. Saddleback products are hand-made in Mexico.
All of their gear is truly meant to last a lifetime of the rough road traveled.
Can be rolled to the desired height
Made of only one solid piece of leather
Effectively keeps out dust, rain, heat and cold
Fully watertight when rolled
Closes tightly around protruding baseball bats, tripods, etc.
Two handles let you carry it open or closed
Removable, collapsible liner
No breakable parts, e.g. zippers, snaps, buttons, etc.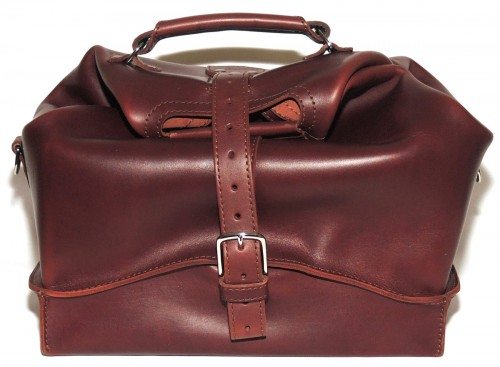 Saddleback Leather bags are constructed of 4-5 ounce full grain leather, which comes from the top layer of the cow hide (the toughest part). Like the Waterbag, the Dry Bag is constructed of a single piece of thick hardy leather. The edges of the leather are stitched together with double zero continuous-filament polyester thread. The Dry Bag is held closed by a single strap that comes over the top and buckles to the front of the bag.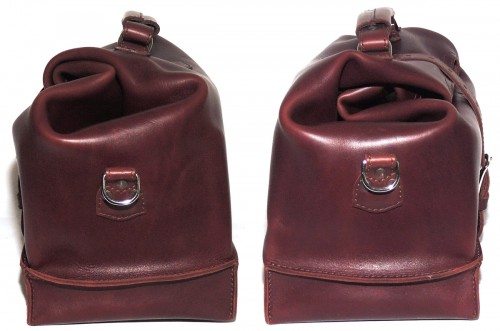 All the hard-points are not only stitched but re-enforced with brass rivets. The sides have D-rings to attach the included shoulder strap. As you can see, the upper portion of the Dry Bag can be rolled closed, effectively keeping out dust, rain, heat and cold, and according to SBL, making the bag watertight when done so. While I have not tested it, I would not bet on it being truly "watertight" but more weatherproof; doubtful it can be submerged long at all without water getting in.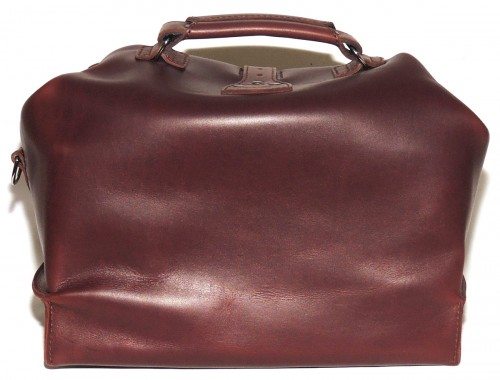 The main handle is nicely done, well-sized, and very comfortable to hold. There are no zippers, snaps, or buttons to break or fail. Plus if in the unlikely event something does go wrong with the Dry Bag, Saddleback Leather's 100 year warranty will make it right.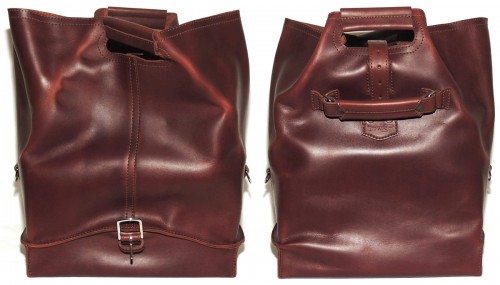 Along with being able to carry the Dry Bag closed or over your shoulder, if you need more capacity, the bag can be carried fully opened as well. It has two additional handles at the top/opening, enabling it to carry about twice the volume of gear.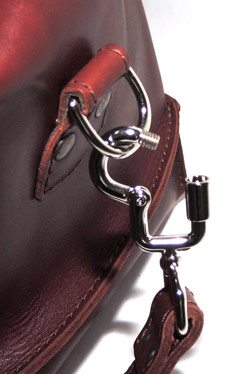 Not often do gear bags, even the best of them, take me by surprise anymore, especially from a design standpoint. But the mechanism for attaching the shoulder strap to the D-rings is an impressive upgrade from the standard spring loaded clip. The Dry Bag shoulder strap has a well done carabiner-like securable hook with a screw-down closing system. The strap quality is equal to the Dry Bag's quality and is very comfortable to wear over your shoulder.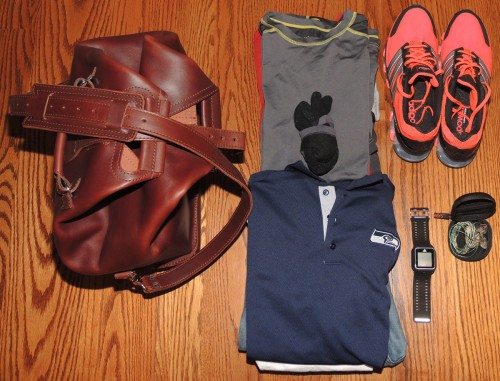 When I go on a day or two trip, this is what I typically carry with me:
Impressively, the bag is able to hold my size 13 (aka gunboats) shoes. Though it is highly doubtful that the medium-sized Dry Bag would fit my gear/shoes…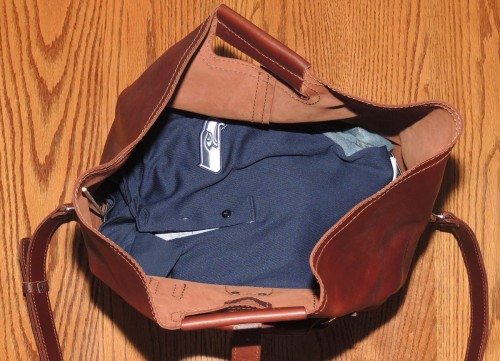 …all of it fits within the large Dry Bag. It was approximately two-thirds full with the bag being able to close normally. The large Dry Bag empty weighs 5.3 pounds and with the gear you see here, total weight of 10 or so pounds.
Specifications:
Medium

Exterior: 10" W x 18 ½" H (unfolded) x 8" D
Interior without liner: 9 ¾" W x 16 ¾" H x 7 ¾" D
Liner Dimensions: 9 ¾" W x 7" H x 7 ¾" D
4.6 pounds

Large

Exterior: 14" W x 18" H (unfolded) x 8" D
Interior without liner: 13 ¾" W x 15″ H x 7 ¾" D
Liner Dimensions: 13 ½" W x 7" H x 7 ½" D
5.3 pounds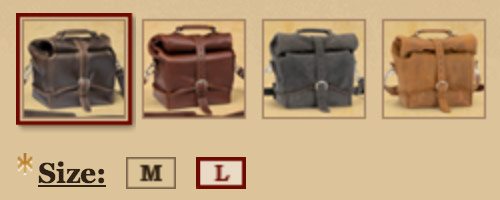 The Dry Bag is available in four colors and two sizes:
Chestnut
Carbon black
Dark coffee
Tobacco
Saddleback sent me the large in chestnut.
Here is a great video of Dave from Saddleback Leather explaining the features and function of the Dry Bag.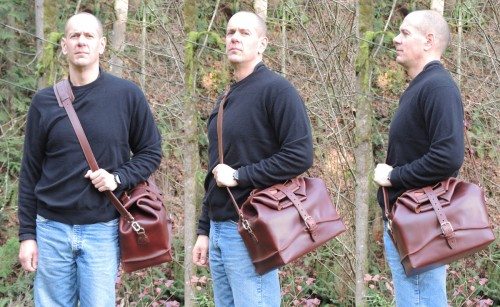 I really like the Dry Bag from Saddleback Leather and plan to take it with me regularly. It is an excellent size for carrying your workout gear to the club or essentials on an overnight trip. Saddleback's stellar material quality and old-world craftsmanship are very much alive and well in this bag. Its durability, size and ability to transform to twice its volume are definitely its best features.
Product Information
Price:
Medium: $310 / Large: $347
Manufacturer:
Saddleback Leather Company
Pros:

- Excellent materials and craftsmanship
- Well designed/engineered
- Beautiful/gorgeous/eye-catching
- Adjustable volume size
- Will last forever
- Lifetime / 100 year warranty

Cons: