We use affiliate links. If you buy something through the links on this page, we may earn a commission at no cost to you. Learn more.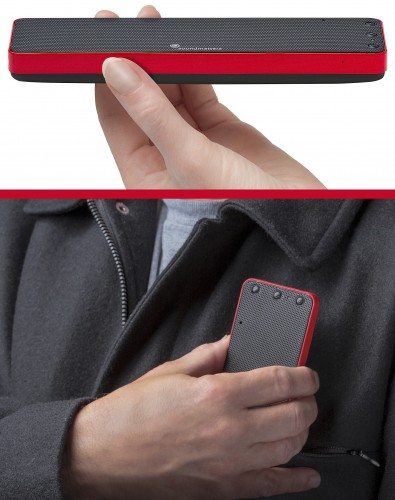 Soundmatters has introduced a new speaker to compliment the original – and amazing – FoxL portable bluetooth speaker. The DASH7 is a thin, ¾ inch-high wireless pocket-portable Bluetooth soundbar and speakerphone that will fit into any purse or jacket pocket. Soundmatters' Lee Adams states how amazing it is to get DASH's performance out of something so light and small.  "For us, it's all about making REALLY pocket-portable systems. The DASH7 provides a larger soundstage, more detailed midrange and highs with bass that goes a bit deeper than FoxL," says Adams. The DASH7 comes with extended range Bluetooth, AUX inputs, 12-hour battery life, built-in speakerphone with noise-canceling mic, and a subwoofer port. Also included are an international charging kit, cables, and combo stand/travel case. Three colors are available: vibrant red, arctic white and midnight black. The DASH7 sells for $219 US and is available now, although supplies are currently limited.
Soundmatters also offers the foxLO – a mini subwoofer available for either the DASH7 or FoxL that adds a full octave of deep bass providing even more depth to the audio. It sells for $149 US.
Interestingly, the famous Jambox adapted its tech from Soundmatters' original FoxL, and the new Mini Jambox (a thin version of the Jambox) has internal components similar to the DASH7, although the DASH7 sounds significantly different, according to Soundmatters.