We use affiliate links. If you buy something through the links on this page, we may earn a commission at no cost to you. Learn more.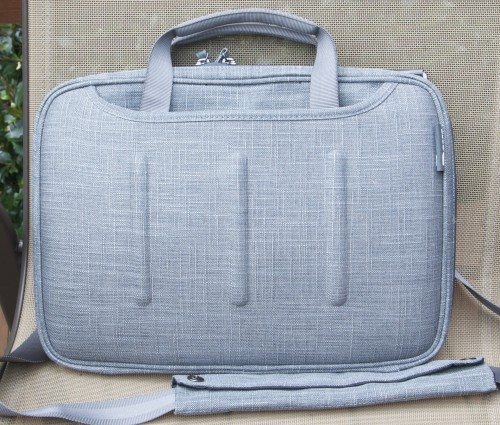 Ah, gadget lovers and their gear. Hauling around our stuff used to be such a hassle.  Today, it's all about carrying multiple screens rather than a single screen and power adapter. Most of us carry a smartphone, as well as a tablet or phablet, and maybe a laptop. To accommodate the changes wrought by the iPad and similar devices, gadget bag makers have started to scale back some of the giant messenger bags of yesteryear and offer bags and slings of more modest size, but designed for a few screens, rather than one gigantic one. One such company is Booq, who have produced several lines in the few years the iPad has been on the market. Now they have added the Viper Courier 13, a horizontal-orientation laptop bag sized either for a 13-inch MacBook Pro or Air and iPad and iPhone, plus other accessories. (There's also a model for 15 inch MacBooks Pro, but I was sent the 13″ model for testing.)
Note: Images can be double-clicked or tapped for a larger version.
The Courier series is marked by the natural woven fabric that the outer shells of the bags are constructed from. Uniformly grey, they are neutral enough to fit in nicely with casual clothes or business attire. The straps are made from seatbelt webbing in grey, and the hardware is a silver-grey gunmetal color. Zippers are finished with cloth pulls of the same material as the outer layer. The Viper models are a subset of the Courier series that incorporates a hardshell front on the outer level, such that the inner pocket items are protected from crushing – as long as there are not too many items in it. (More on that later.)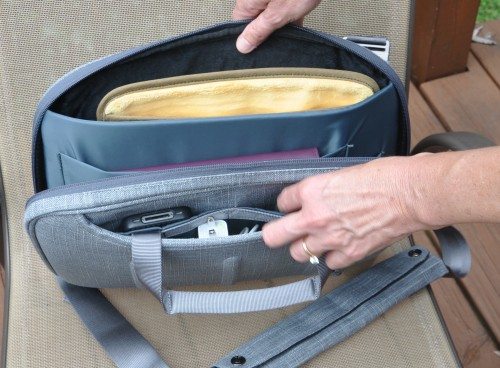 Inside, there is a padded pocket on the back wall sized for a MacBook Pro. (My Rickshaw iPad sleeve is in that pocket in the photo above.) Sewn onto the inner face of that is a sleeve that holds a full-sized iPad. (My wife's burgundy-covered iPad mini is in that pocket above.) This is pretty tight, and an iPad will fit with a Smart Cover attached, but I don't think the Smart Case or other binder-type cases would fit. My Lovely Bride's iPad mini and its padded leather case fits without a problem, though.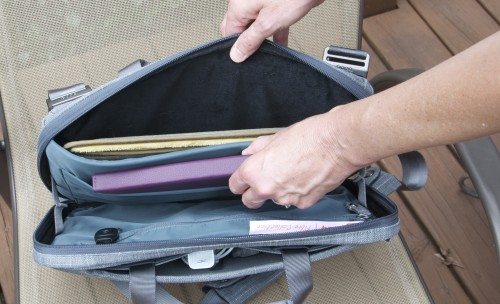 On the opposite side, a zippered pocket of quality nylon hugs items against the outer front hardshell. The full length zipper is nylon, but the pull is metal and slides easily. A clip-off key fob attaches on an inner corner near the zipper. Outside, on the other side of this pocket, is a pair of slip-in pockets that could hold an iPhone, mouse, or other slim items. Between them, there is room on the deeper front sleeve for a cable, wallet, or other must-reach items. Across the rear side, up against your body when carrying by shoulder strap, is another open-top sleeve. This one will accommodate two full-sized magazines. Travel documents or a slim paperback could also ride here, but an umbrella is going to be a stretch. Sewn against the back wall inside this pocket is Booq's TerraLinq serial number. Once you purchase a Booq bag, you register it with this service for free. If someone finds your bag and contacts them, they will help you arrange to get your bag returned. Fees apply if used, but isn't that a nice service?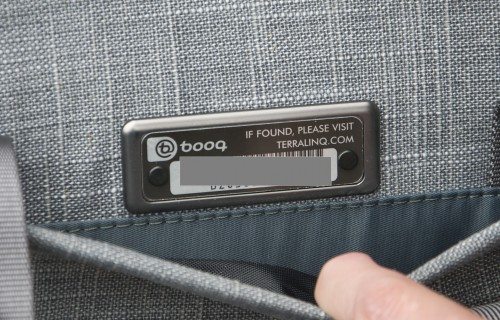 At $100 ($110 for the 15 inch model), the cases are within the middle realm of designer-oriented bags. There are no chrome or embossed designer initials, but the quiet quality is much more apparent than with a cheap nylon throw-together. Stitching is tight, even, and almost hidden, yet very strong.
I tested the Viper Courier as a daily bag for a while. I don't carry a laptop anymore, so the padded area in back held my iPad, which rattles around a bit. Placing other items in with it, however, made me a bit nervous for the screen. If I folded my work shirt to fit, it was OK, but this was more than the compartment was meant to handle. The center area, meanwhile, is just a wide open chasm (nicely held together with straps of the same outer material about a third of the way up from the hinge), so doesn't lend itself well to any organization. I used my Grid-it Cocoon for many small items, but it's still an awkward size for a non-laptop load.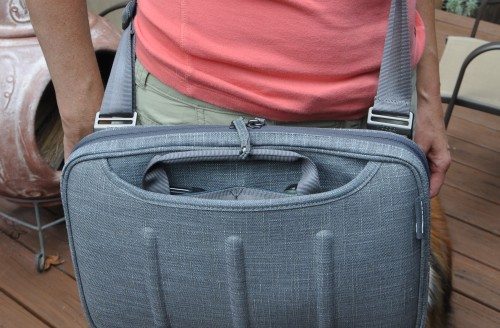 Traveling with my Lovely Bride changed the mix a bit, as her MacBook Air 13" fits perfectly in the padded compartment. With my iPad in its dedicated compartment, the rest of the interior was too crowded for the Cocoon, let alone her iPad mini or the chargers needed. We were wanting this to be a carry-on for air travel, but it's just not roomy or flexible enough to use in this capacity. I've found the same to be true with other hard-sided cases – you can lose the benefit of the protection afforded from hard sides by not having the items being carried correctly aligned with the designer's notion of the perfect portable kit.
The other thing I found as a problem is, when using this bag with only an iPad, you have the full screen of the iPad stretched across your body, suspended by the far corners. This makes it very easy for the screen to be broken by your body by bumping into someone, say on a crowded train or somewhere. I'd rather have the iPad in a vertical orientation, which makes the ends less likely contact points with fellow travelers. I'm amazed that this simple idea has not filtered into the general use case, other than for backpacks. As laptops become thinner and tablets more common, it will, I think, but it's frustrating in the meantime.
The miniaturization of the Post-PC era has affected the size of messenger bags greatly. Think back just a few years on what you carried on a daily basis – some of us looked like we were storming the beaches at Normandy with huge packs, little side bags, and things attached to our belts and such. Not saying there still aren't those folks out there, but, in general, the gear folks carry today weighs about a third of the stuff available a decade ago. I'm glad that gear bag designers are taking note of this sea change and making new bags and such, but I do wish they'd play around more with the orientation and interior arrangement, rather than just giving us a large space surrounded with limited small pockets. I'm sure someone is going to come up with a flexible interior design similar to what camera bag users have for their gear, but until then, keep reading reviews and asking folks you see in coffee shops what they're using. I've never met a mobile user that didn't respond favorably to inquiries about their choice of gear bag!
Product Information
Price:
$99.95 for 13
Manufacturer:
Booq
Pros:

Stylish, looks great in casual and business settings
Nice pockets for MacBooks or ultrabooks, tablets, and smaller phones (not phablets)
Well-made, feels great
Hard cover on front protects contents

Cons:

Pockets can be a little tight for some wide-screen phones, or with more than two large screen devices
Case is very narrow, so can't hold bulky items (like water bottles or cameras)