We use affiliate links. If you buy something through the links on this page, we may earn a commission at no cost to you. Learn more.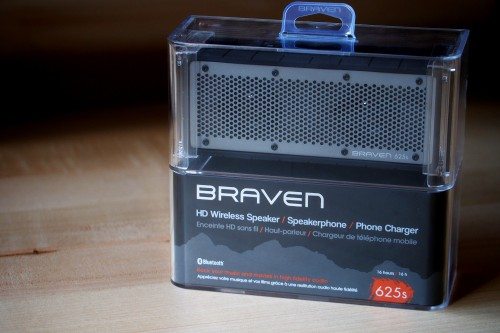 First things first.  Do you enjoy listening to clear clean voices with readily identifiable instruments and feel a little uneasy with big booming bass?  Then the portable Braven 625s speaker, built for the outdoors thanks to a rugged rubber exterior, should be a Bluetooth speaker at the top of your wish list.  I usually stream movies and music to a Sony home theater system, or a set of Bose speakers and the sound quality from both is, well, "lifelike".  The Braven isn't home theater or Bose sound quality, but take it with you outside on the patio, on an impromptu camping trip, around the office or to a party with friends and you'll absolutely love it just as much.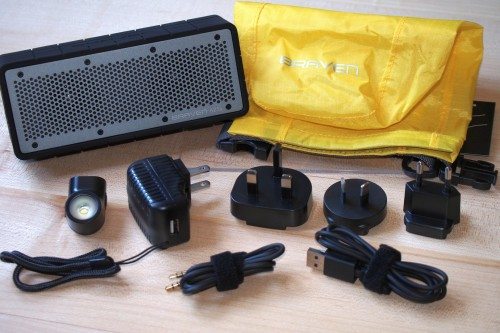 The 625s is available in two front panel colors, "Stealth Black" as shown in this review and a more modern looking "Summit Green" front face.  Here's what you'll find inside the Retail Braven package (not listed are the international electrical adapter plugs) :
BRAVEN 625s wireless speaker
40" USB to micro USB cable
24" 3.5mm audio cable
UL approved wall power adapter
Quickstart guide
Water resistant dry Bag
USB Flashlight
Lanyard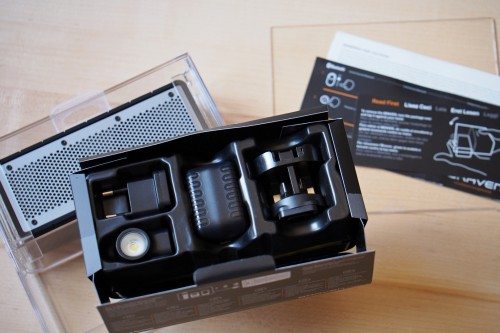 The Braven packaging is as thoughtful and as high quality as the speaker itself.  The speaker has a very solid feel.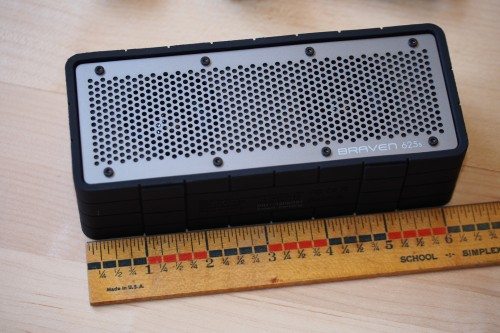 Sporting a rugged rubberized outer housing to protect it from falls, the speaker measures just 6.3 in x 2.5 in x 1.8 in and weighs in at 11.6 oz or 330 g.  The size makes it just about pocket-able and is truly easy to carry anywhere with the wrist strap attached to the lanyard on the left side of the speaker.  It has identical grills on both the front and back of the speaker but the Braven 625s logo is only on the front.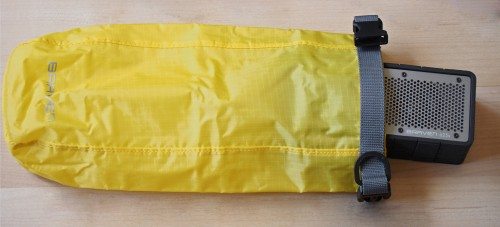 Included is a water resistant dry bag, but the speaker itself is not water resistant.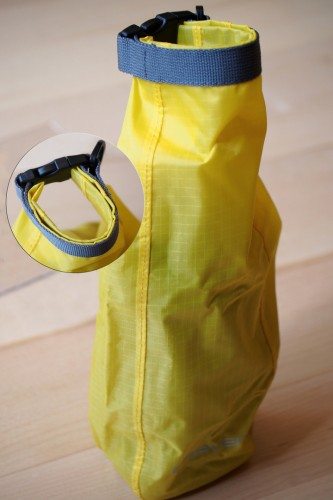 The top of the dry bag has metal inserts that warp to form a collapsible snug closure to keep water out.  The closure would work if you got caught out in the rain, but it's definitely not submersible.   There's a D-ring on the closure to quickly hook the bag on your belt or hiking pack.
The two 3W stereo audio speakers are amplified by left and right channel passive sub woofers that can make this diminutive speaker actually quake/shake at full volume.  You wouldn't want to place it precariously on a steep rocky ledge or say poolside while playing it at full volume.  The sound is loud enough to fill a medium patio and a bit beyond.  Using at full volume there is little distortion unless you're playing a track with extreme bass.  I'm not a fan of booming bass and really prefer the clarity you get out of this tiny powerhouse while I listen to, my favorite, 70's rock, and southern rock tunes.  Where you decide to place the speaker can also affect the sound quality dramatically.  Make sure to test different locations before settling on the best spot.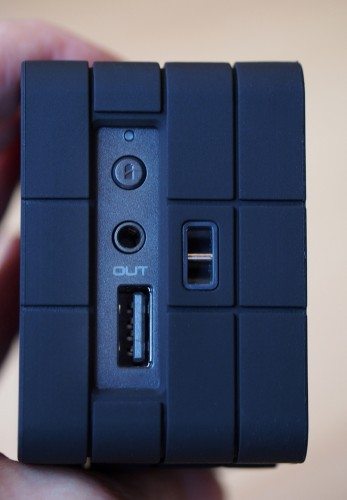 The sporty Braven 625s is a very clever gadget that you'll want to own like I do.  Not only is it a Bluetooth 3.0 speaker with great sound and up to a brillant 16 hours of play time, it has a built in 1700 mAh power bank you can put to use as a portable charging station.  A standard USB port on the left side is used for charging your iOS or Android mobile phones.   Note: streaming and charging at the same time decreases your play time.
The box does mention that it is not intended for tablet charging.  From their FAQ page: BRAVEN speakers are NOT designed to charge a tablet or any other device requiring a higher powered (2A) USB connection.  BRAVEN speakers are designed to efficiently charge mobile phones and other small portable devices that draw power from a 0.5A to 1A charge.  Most likely due to the smaller 1700 mAh size of the power bank.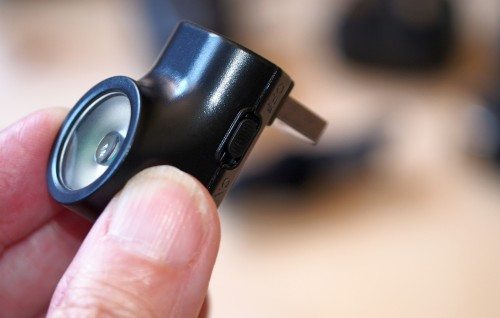 This same USB port doubles as the port for the included LED flashlight.  You may be thinking, flashlight?  But it works surprisingly well and if you're sneaking around trying not to disturb the peace, or looking in a dark tent for say, a BIG BUG, the bright focused light is extremely useful.
You can check the battery charge by pressing the battery button on the left side.   It will shine white if you have between 50-100% battery, blue for 10-50% and red for you're almost toast.  The buttons are pretty hard to see in dim light.  You'll need to remember which one is which.
If you need more volume, you can multiply the sound by daisy chaining additional speakers together with the 3.5mm audio cable and the line out jack on the left side.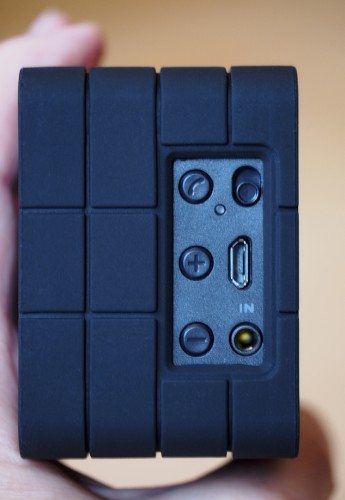 The volume buttons on the right side of the speaker do double duty.  To skip forward a track or backward press them down for approximately 3 seconds.  You can also pause a track by holding either button for a brief half second.  Use the 3.5mm cable and the line-in jack to attach the speaker directly to your mobile phone or tablet headphone jack and the 625s sounds even better.  The volume is louder and the music richer.  You can also attach non-Bluetooth devices this way.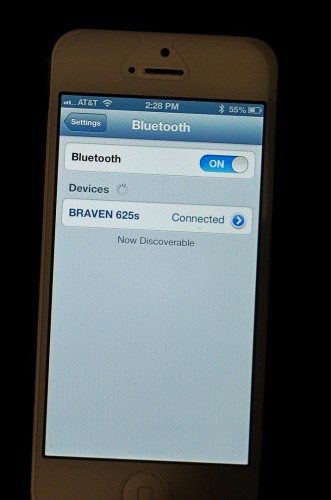 There's even more to like about this tough little speaker, a hands free speakerphone.  Bluetooth pairing the speaker with my smartphone, an iPhone 5, and tablet, an Asus TF101, was successful quickly and a completely stable connection.  The speaker should work just as well with Bluetooth enabled Android phones like the new Samsung Galaxy S4 and the HTC One.  Once paired you'll have a hands free wireless speakerphone using Braven's noise cancelling built in microphone.  You still need to toggle the phone button on the speaker's right side to answer or disconnect a caller.
Range is, line-of-site, approximately 30 feet.  I tested the range at almost exactly 30 feet, but keep heavy-duty solid doors out of the route to your phone and the speaker.  Speakerphone quality was good, I could hear the caller perfectly fine and the caller had no trouble hearing me, though they did report that I sounded a bit like I was in a hole the farther I was away from the speaker.   I did have a glitch where when I switched back to my phone speaker from the Braven speaker, the Braven would intermittently switch back to itself with no interaction from me.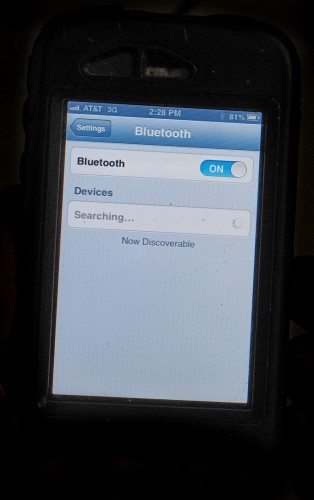 My husband has an old iPhone 3GS that did not pair successfully the first time.  Since I wanted to check out Braven's support, off to the Braven website and their instant chat app.  Heather L, the chat agent, responded right away with the following steps for fixing a phone that didn't connect:
Try resetting your 625s using these steps:
Remove the BRAVEN from your list of Bluetooth devices on your mobile device
Turn Bluetooth off on your mobile device
Turn the device off
Turn the device back on
Turn Bluetooth back on
Turn the BRAVEN off
Turn the BRAVEN back on by moving the power switch to the up position
Press and hold the Bluetooth pairing button until the speaker sounds and is in pairing mode
Press and hold the volume up and down buttons at the same time until you hear a beep. This will reset the speaker
Pair with the BRAVEN speaker
That should help with the problem.
This speaker has made me a Braven fan with it's impressive feature set and will definitely take trips to the lake where there's only a feature-less cd player that won't allow you to even skip a track.  Patio table in the breeze and sunshine is where this speaker belongs.
Braven carries six models of wireless portable speakers, all with different personalities and features.  The latest outdoor sport model is the Braven 855S with 20W of power and priced at $299.99.
Product Information
Price:
$189.49
Manufacturer:
Braven
Retailer:
MobileFun
Pros:

Sporty, rugged, includes a weather resistant bag and flashlight
Great sound for the size and daisy-chainable for even bolder sound
Stable Bluetooth syncing music streaming and speakerphone
16 hour play time
Power bank for charging on the go

Cons:

The unit itself is not water resistant
Hard to see buttons
Really old devices may have more difficulty syncing
Clear balanced sound, but a touch more bass might be appreciated