We use affiliate links. If you buy something through the links on this page, we may earn a commission at no cost to you. Learn more.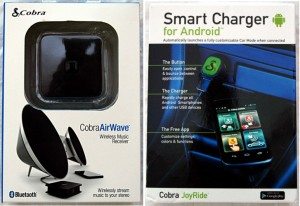 The Cobra AirWave Bluetooth Music Receiver can transform any non-Bluetooth audio playback device with a 3.5mm aux port or RCA inputs into a Bluetooth enabled audio receiver. Add the JoyRide 2.1 Amp Intelligent Car Charger and you can power either the AirWave or just about any other mobile device in your car. If your mobile device of choice happens to be Android-based, you even get a single button hands-free action capability with the addition of free software from the Play store. I have reviewed several Bluetooth-enabled speakers for The Gadgeteer, so my primary testing environment for the AirWave is my 2010 Nissan Versa with factory stereo. It lacks Bluetooth audio but does have a 3.5mm Aux port. It also has a dedicated iPod/iPhone dock, which is what I usually use for music playback, so I'm interested in seeing if going wireless is better!
Unbox All The Things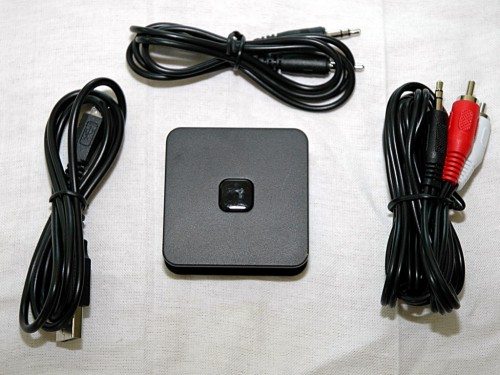 Inside the AirWave box is the roughly 2″ square Bluetooth receiver and three cables: a USB-to-microUSB cable which can connect the AirWave to a USB power source; a 3.5mm-to-3.5mm stereo cable; and a 3.5mm-to-RCA stereo cable – both of a generous 4′ or so length. There is also a small pamphlet that walks you though the setup process.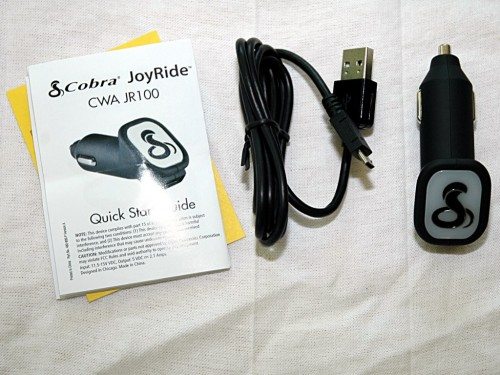 The Joyride is equally simple – just the DC power adapter, a microUSB cable, and a fairly redundant quick start guide are inside.
AirWave – Thee Sides of the Cube Tour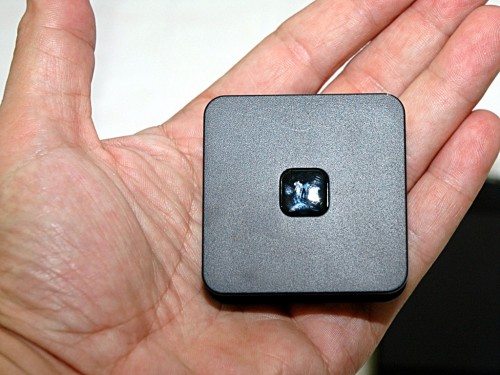 As noted above, the AirWave isn't very large or very heavy. The top sports a button for pairing; the button also has blue lights to indicate it is powered on, in pairing mode, or paired.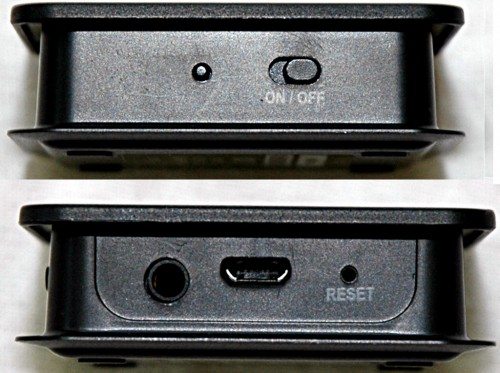 On one side are the power on/off switch and a tiny red LED that indicates the power is on (or the battery is charging, or if flashing, that the battery is low.) The opposite side has the 3.5mm jack, microUSB power port, and reset pinhole.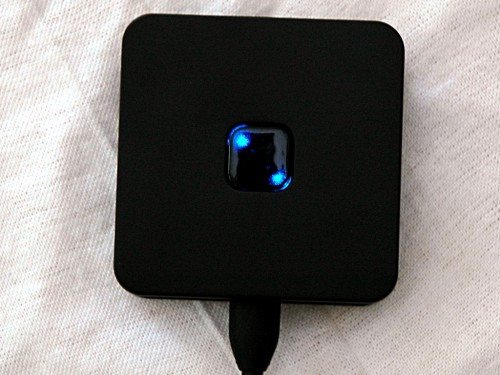 The blue LEDs are quite moody.
AutoMotive Wireless Music. With lots of Wires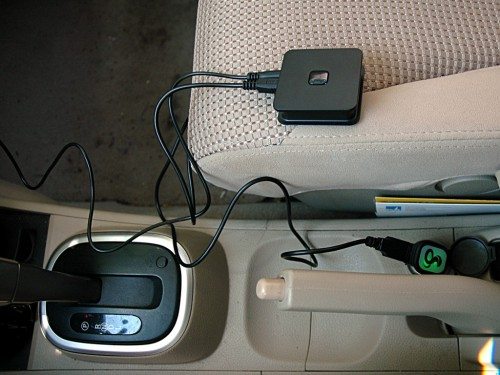 Here we have everything plugged in and ready to go in the cramped confines of my commuter car. You can see the JoyRide providing power to the AirWave, and the AirWave has the 3.5mm stereo cable trailing up to the Aux-in port on the car's stereo. That's a lot of wires! I suspect with a little tucking and routing I could make this look a bit neater. The JoyRide doesn't need to be there all the time, as the AirWave can go for 15 hours per charge – more than enough for several days of commuting, so long as you remember to turn it off when you're not using it.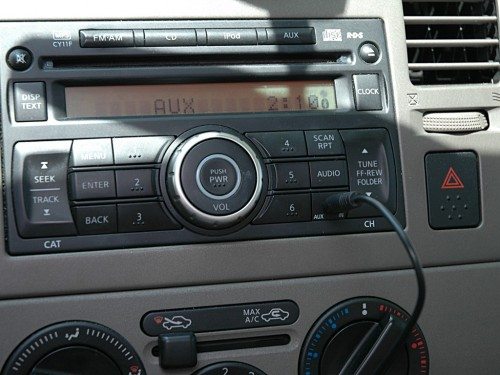 Here's the other end of the stereo cable. You can't hear it in this photo, but it sounds great…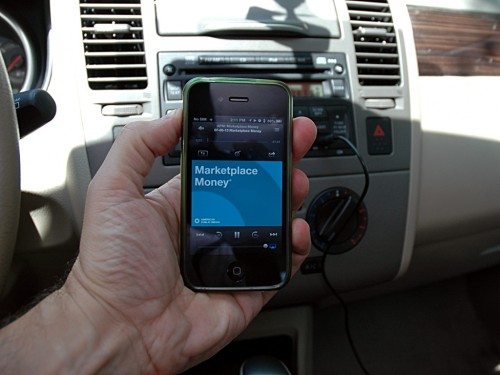 And finally, we get to the wireless part!
Yep, It's Bluetooth
By now you've no doubt figured out that pairing one Bluetooth device is the same as pairing any other. The AirWave is (thankfully) no different – which simply means if you've got anything that can deal with the very common A2DP Bluetooth profile, you should be paired up with the AirWave in no time. Put it in pairing mode by powering it on, pressing and holding the one big button on top, and then look for a Bluetooth device named – wait for it – AirWave on the device you want to send from. That's it.
Bluetooth Performance
This is pretty much just something that you expect to work – and it does. In a car setting, you better not be able to get more than 30′ away from the AirWave. In a house I could easily connect to the AirWave from several rooms away. The A2DP Bluetooth profile is also standard, and there isn't much to get wrong here. Cobra doesn't seem to have gotten anything wrong, as the sound quality, dynamic range, and resistance to interference are all on par with anything else I've reviewed in the past few years.
The issue with Bluetooth music streaming (or essentially plugging any player into your Aux port) in a car is that, other than volume, all your media controls are now on a device that requires a lot of attention and at least one hand to operate. Contrast this with a docked iPhone in the same car, and you see the difference.  When I've got the iPhone connected to the stereo via the dock, it's charging (which is nice) and I get some information on the display (which is lame in 2010, but on a newer model car with a LCD panel is usually information rich) and most important of all, I can control the media – pause, play, ff/rev, skip forward and back buttons (and those on the steering wheel) all work. When I'm connected via Aux I can control the volume, and that's it. And the phone battery is draining, not charging. The convenience of saving 10 seconds not plugging the device into the stereo costs me quite a lot during actual use. In the car at least, this doesn't really help me much.
JoyRide… One Button Isn't Really Hands Free
A few words on the JoyRide. On the one hand it's a somewhat expensive but high-powered DC power adapter/charger. At 2.1 Amps it can power/charge the most power hungry devices, like an iPad, or my Lumia 920. The button lights up which makes it easy to find to press, and also lets you clearly know you're getting power. There is a full-featured free app in the Google Play store that, if your Android phone is supported, does a lot with the two "events" you control with the JoyRide. You can configure this app to perform actions when you plug/unplug from the JoyRide, and to perform an action when you press the lighted button.
The downside? It's only supported on Android phones. I lack an Android phone, so I'll have to leave the review of the JoyRide there. As a high-power car-to-USB power adapter, it works great.
Conclusion
I'm not sure how I feel about the AirWave. I hooked it up to the Aux inputs on my home theater Amp, and it worked great. Ditto for the Car. Due to my inability to remember to turn it off, the battery lasts one use (ie, one day) since I'll turn it on, use it, and then (being wireless and all) I'll just walk away from it when I'm done. So then, the next time I try to use it, I find the poor thing has drained itself overnight for no reason. This happened quite a bit in the car, to the point that I just left it plugged into the JoyRide all the time. If it were AC powered (for inside use), that would diminish its portability, and being USB powered but not supplying a USB/AC power adapter means you'll have to hunt one of those down if you're using it in a fixed location and you don't want to think about power. If you're looking for a portable thing you can bring along and use in several settings in a day, and you've got a good "recharge everything at night" routine, the AirWave could fill that role nicely. As for the JoyRide, it's a great high-power USB charger/power source for your car. The extra functionality you get on Android devices seems like it could be useful, and the app is certainly priced right (free) – but would be more useful if available on other platforms and Android tablets too.
Product Information
Price:
$39.95 each
Manufacturer:
Cobra
Requirements:

Device supporting Bluetooth A2DP audio, audio playback device with 3.5mm aux port or stereo RCA inputs. USB-based charging cable, Android device if you want to use "hands free" action button on JoyRide.

Pros:

Inexpensive way to add Bluetooth audio capabilities to any receiver/auto with Aux inputs
2.1 amp charger can charge any device supporting USB charging
Extra "hands free" capabilities on Android with free app
Decent battery life for AirWave

Cons:

No support for non-Android devices for JoyRide action button
No AC/USB power supply provided with the AirWave