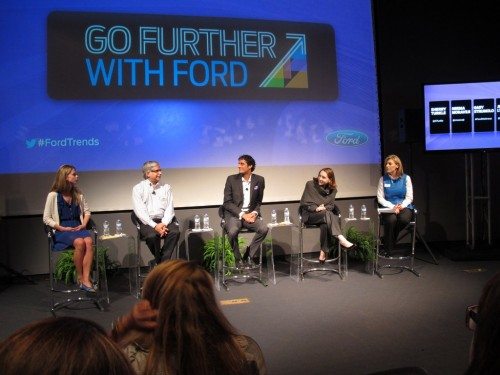 I recently spent three days in Detroit, Michigan, as one of 200 guests at Ford Motor Company's annual Trend Conference.  The event was a showcase of several Ford products, but more importantly, it's a look into the future direction of technology and environmental concerns for Ford and the auto industry as a whole.   It was a jam-packed 3 days with several sessions interspersed with product demos and a test drive here and there.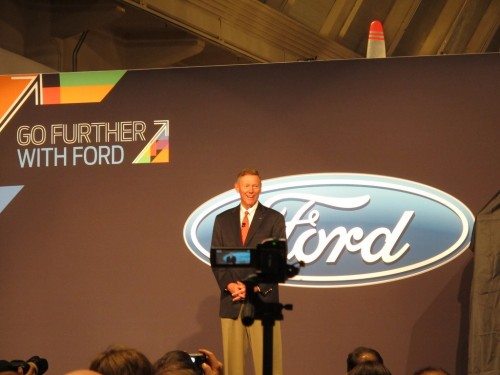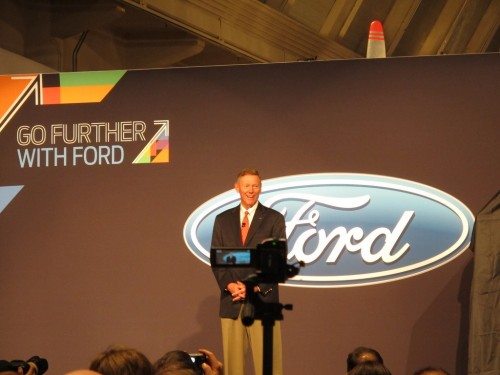 The conference began with an opening address by Alan Mulally, the CEO of Ford Motor Company.  The venue was at the Henry Ford Museum.  I was a little skeptical of the location because I haven't been in a museum since my wife and I visited the Louvre in Paris.  She thought it was great, but I wasn't impressed, and my comment about it being just a building full of old stuff insured that I'd never visit a museum with her again.
I have changed my mind about museums!  If you have the opportunity, visit the Henry Ford Museum.  It's a fantastic collection of Americana from the industrial revolution and beyond.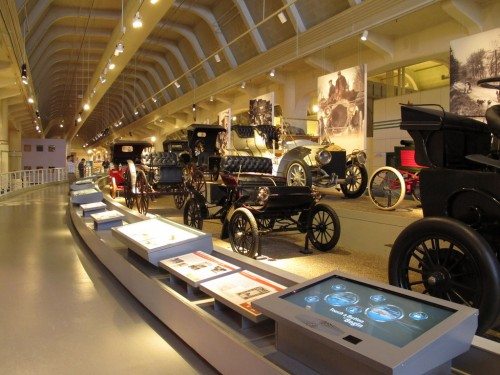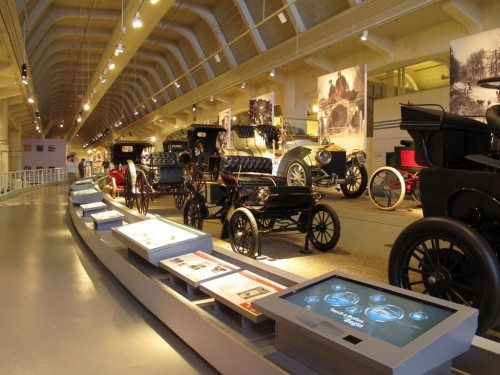 As one would expect, there is the collection of vehicles.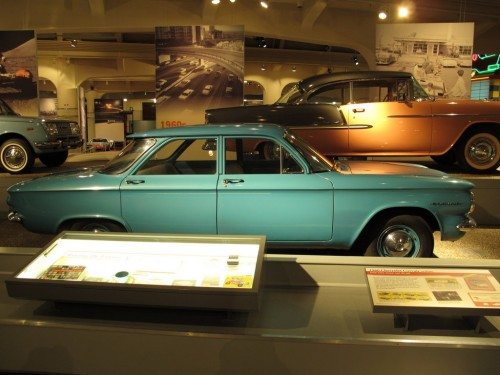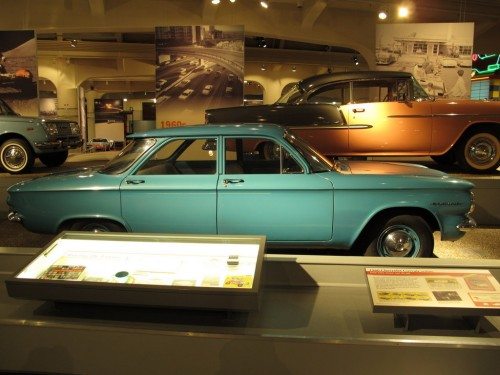 They are not all Ford cars.  I actually owned a Corvair like this in the '60s.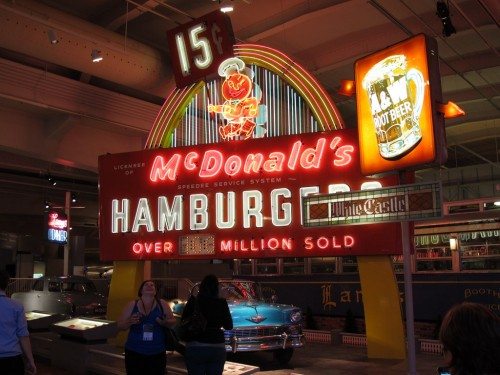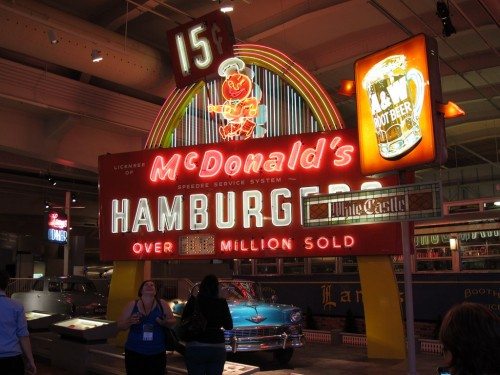 The displays went beyond vehicles to capture icons of the 20th century.  I wonder how many Gadgeteer readers remember when a hamburger was 15¢.
The opening night was a nice prelude to the following day, which was focused upon the sessions.  There were several sessions during the conference, and it was possible to attend 3 of them in rotation.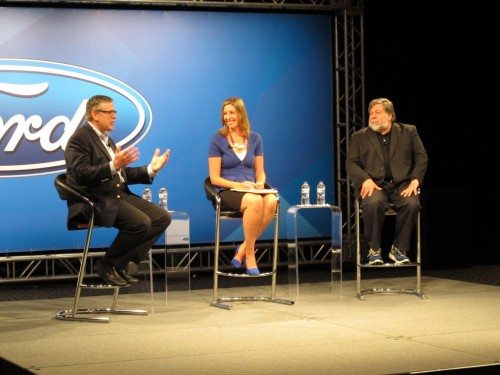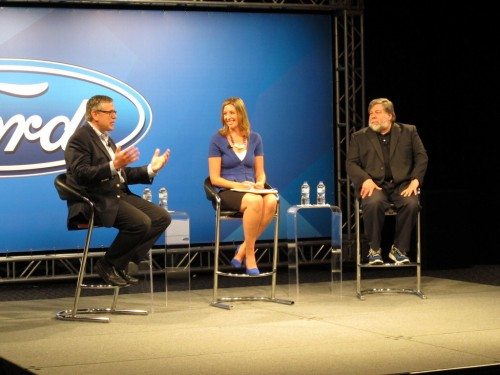 While all the sessions were informative, I was particularly interested in the Disrupting the Drive session.  You  may recognize some of the speakers.  Here the discussion revolved around technology and how it will change the way we relate to our vehicles.
We got to see some examples of Ford's quality control.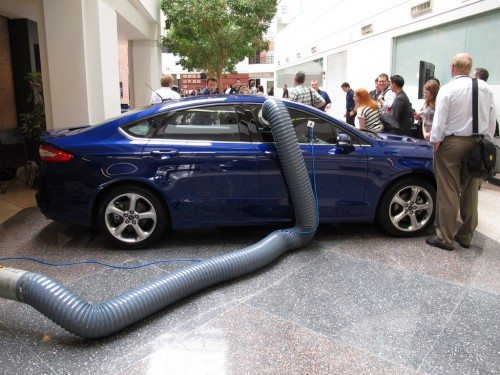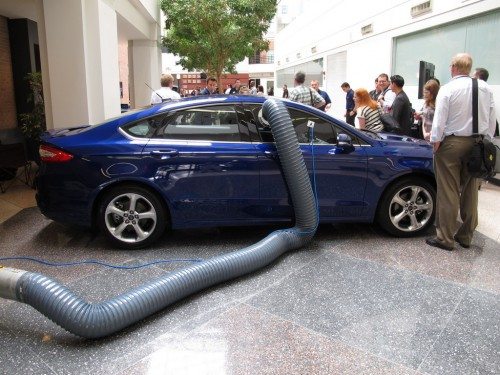 Hmmm, a car with a built-in garden vac.  In fact Ford uses thermal imaging to find air leaks in their vehicles, so that the problem can be corrected on the production line.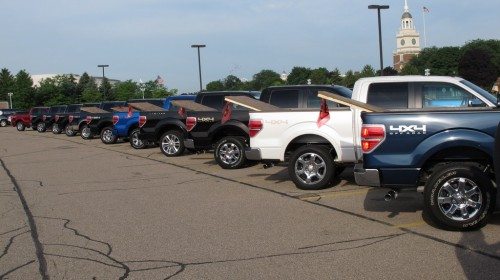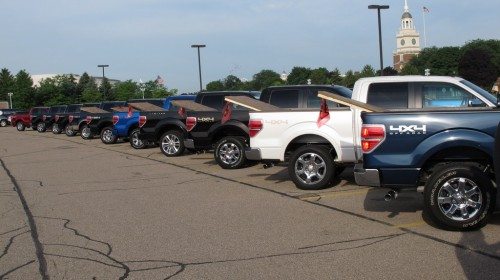 All the participants were given the opportunity drive an F150 truck either to deliver building supplies to Habitat for Detroit or garden supplies to Greener of Detroit.  This demonstrated the Ford partnership with the local community.  They also give their employees time off to volunteer for these organizations.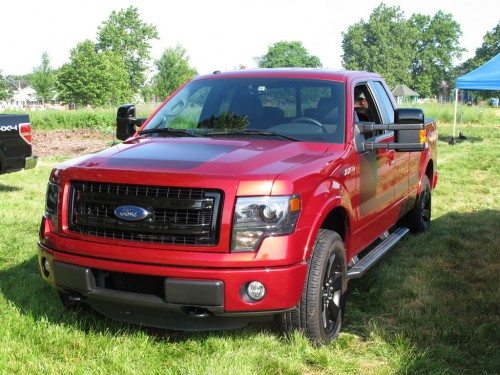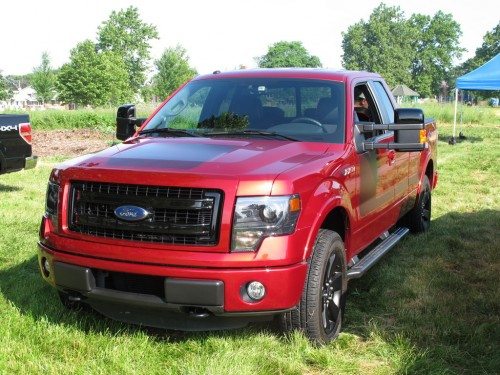 I've never been a need-a-truck person, but if I were, I'd give the F150 some serious consideration.  Of course it came loaded with options.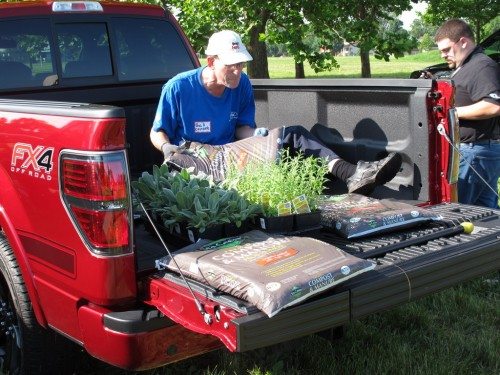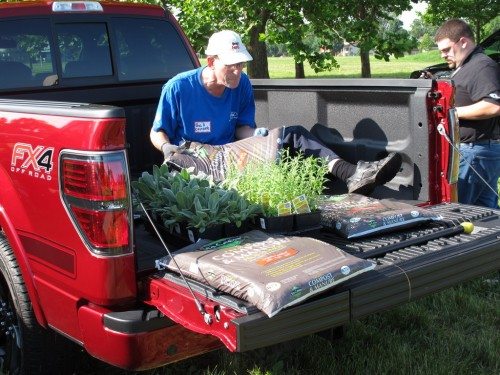 Here is a volunteer unloading the garden supplies.  The area that is being planted was an abandoned park in Detroit.
On the last day, we were taken to the Ford test track for a driving "experience" with the Fiesta and Fusion Energi.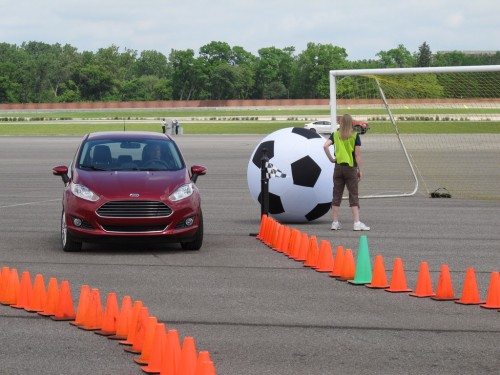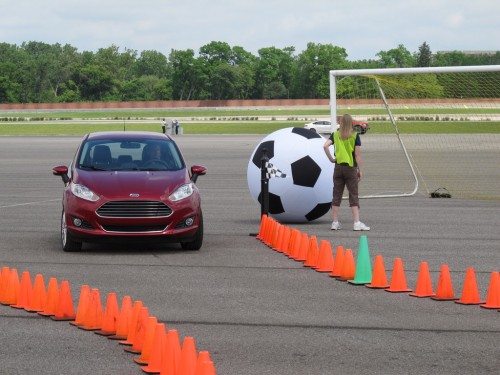 One of the challenges at the track was to navigate a Fiesta through a gauntlet of cones and then knock an oversize soccer ball into a net.  This was to be done in reverse using the rear-view camera.  I nailed it!  However, I didn't do so well on the timed course. 🙁
As the owner of a 2010 Ford Fusion Hybrid, I was eagerly looking forward to giving the 2013 Fusion Energi a spin.  Unfortunately, there were too many people and not enough time for me to drive it.  I'm sure Gadgeteer readers would be interested in the technology, and I hope to be able test drive the car in the future and post a review.
My take-away from the conference is that Ford does listen to the public and wants to be on the leading edge of technology.  They've embraced a connected paradigm to reach the younger potential customer.  They'll have to move slowly to insure connected technology doesn't compromise safety.  Although it would be interesting to connect the car to the cloud, is that a good idea?  There was a lot of discussion among the conference participants about distracted driving and the role of in-car gadgets.
I also came away with an appreciation of the Company's commitment to going "green" when possible and its partnership with community organizations.  There's too much information to cover in this article.  If you're interested in learning more about the conference, check out http://storify.com/Ford.
Some of our links in posts like this one are affiliate links, which means that we may receive a small commission on purchases at no cost to you.