We use affiliate links. If you buy something through the links on this page, we may earn a commission at no cost to you. Learn more.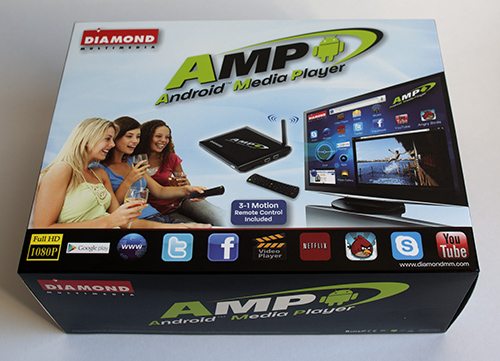 The Google Nexus Q may have died before hitting the shelves, but there are a number of devices that look to add Android to your TV viewing pleasure. We received the Diamond AMP device for review. It makes a lot of promises, including:
Enjoy your favorite Android Apps on your Big Screen TV
App Installer for application installation from USB/SD card
Built in 802.11b/g/n WiFi module, wireless Internet access
RJ45 10/100M Ethernet interface
Simple and easy installation
Supports 1080P video playback
HDMI video output
Supports SD card
Supports Google Chrome browser
3-in-1 Motion Remote
Android Ice Cream Sandwich 4.03
Supports Any USB Mouse & Keyboard
But the question is, what does it deliver? Let's find out.
What's in the Box?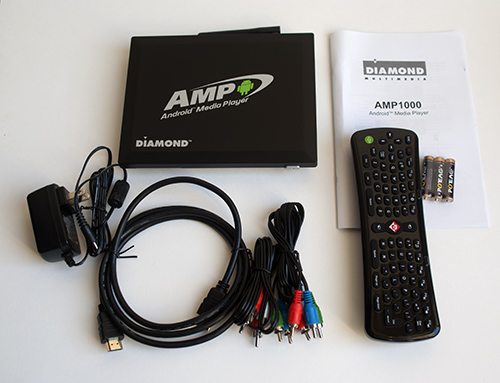 Opening the box you discover the player, the manual, an AC Adapter, a funky looking remote with batteries, composite cables and, and an HDMI cable. This was my first pleasant surprise, it comes with an HDMI cable.
The Player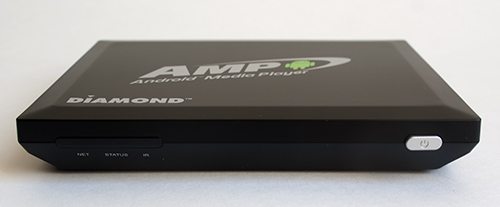 The front of the player has three status lights, and a silver power button.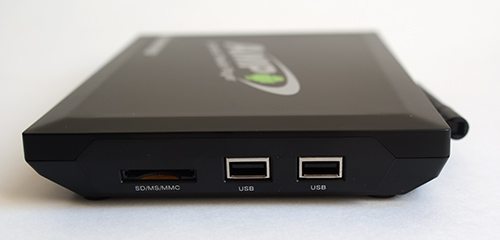 The side has a slot for SD, Memory Stick, or MMC cards and two USB ports. Since the card reader is multi-format, the cards don't neatly slide out of view, they stick out from the side of the player. Not very attractive, but with the multi-format approach, very practical. The USB ports can be used to hook up a standard USB Mouse and Keyboard.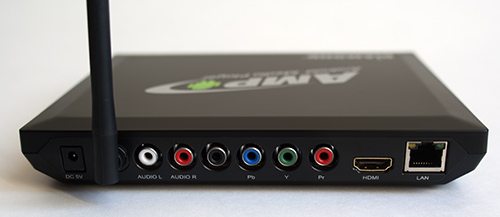 The back has the power supply jack, RCA plugs for left and right audio as well as the composite signal, an HDMI port and an Ethernet port. The antenna is for the WiFi. This player has both a wired network jack and 802.11b/g/n WiFi. I was impressed that it came with WiFi, and did not require a seperate WiFi dongle.
The Experience
Hooking up the device is fairly easy. I used both the component and HDMI interface. I aslo connected to my HDTV and my ViewSonic monitor. I found that the auto settings could be a little flaky. What displayed on the monitor was not a good match to the screen, but rebooting the AMP with the monitor on allowed it to reset the display. I did not even have to adjust it at that point. It displays a nice test screen to fine tune the settings. I definitely needed to tweak them on my TV. However, during the initial review, my TV was still an old Sony CRT 4:3 aspect HDTV. It did not play well with it, but this is really old tech. During my review, I upgraded to an LG 46″ LCD HDTV, the device worked fine with it.
The standard Android 4.0 ICS screen capture does not work on this device. Since the volume is on the remote, you just can't engage power and volume at the same time. Fortunately my new LG TV has a screen capture utility in its Android Remote application: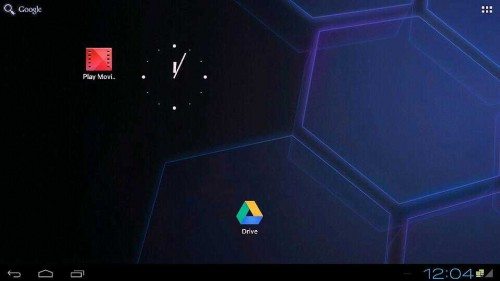 The primary use for the player is media. Imagine that, the device they call an Android Media Device, I am using to play media. It lets me access my Google Play movies and shows on my TV. Currently I have only 2 movies, Ice Age and Karate Kid.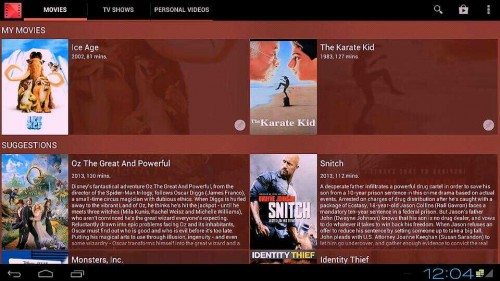 There is something funny about watching a movie from 1983 on the AMP: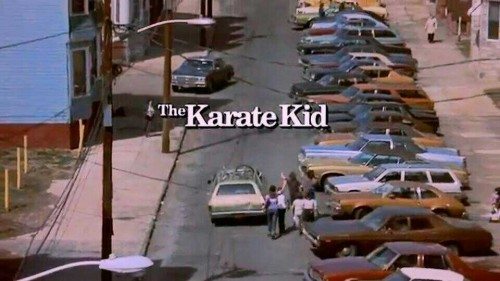 The remote includes a full keyboard, and can also act as a mouse. You move the remote in the air to move the pointer. Playing with the mouse features on the remote is definitely a challenge. It took a little while, but I did manage to get it to work. I even, somewhat successfully, played Angry Birds on my TV with it.
One of the really interesting features are the two USB ports. They allow you to add a USB mouse and a keyboard. It took me a while to find an old mouse with a tail. In fact when I pulled it out, it still had the USB to PS/2 adapter on it, which tells you how long it was stored away. The AMP worked great with an attached mouse and keyboard. You could actually use the AMP as a personal computer using Google Drive. OK, so perhaps more intriguing to a geek like me, who likely has a laptop already, than a typical user, but it is intriguing.
It is unfortunate that the AMP does not have a Bluetooth receiver. I would love to use this with a Bluetooth keyboard and mouse in my living room.
Conclusion
The AMP delivers on its promise, the question is do you need what it offers? I have wanted to have a way to play my Google Play purchases and rentals on my TV. I chose not to go with the Google TV, so I needed an option like this. I was an avid Amazon Video user, but since they only support viewing their purchases on Kindle tablets, and do not provide an application for my Nexus 7 this gives me a reason to go with Google Play and get my media on PC (Mac or Windows), Tablet (Nexus 7), TV, and even smartphone.
You can also access Android apps on your TV with this device. It turns my LG TV into a 46″ tablet, albeit without a touchscreen. I played with Flipboard (which I love on my phone, but is kind of quirky on a tablet), Angry Birds (which is a great trainer for the wireless controller) and Google Drive. If this device supported Bluetooth, I could see using the apps a lot. As it is, I doubt I will do much with it besides access media.
Product Information
Price:
$99.99
Manufacturer:
Diamond Multimedia
Requirements:

TV or Monitor with HDMI or Composite input

Pros:

Built in b/g/n WiFi
RJ45 Ethernet port
Memory Card slot
USB ports
Wireless Keyboard Remote

Cons:

No Bluetooth
Android 4.03 Ice Cream Sandwich