We use affiliate links. If you buy something through the links on this page, we may earn a commission at no cost to you. Learn more.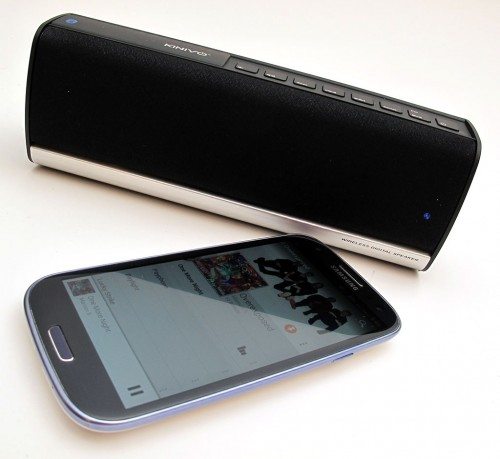 A few weeks ago Steve reviewed the Kinivo BTX450 Bluetooth Speaker and gave it a thumbs up. Today I'm going to tell you about another Bluetooth speaker from Kinivo. The BTX350 is physically smaller with a smaller price tag to match. But how does it sound? That's the $39.95 question. Let's take a look.
Note: Images can be clicked to view a larger size.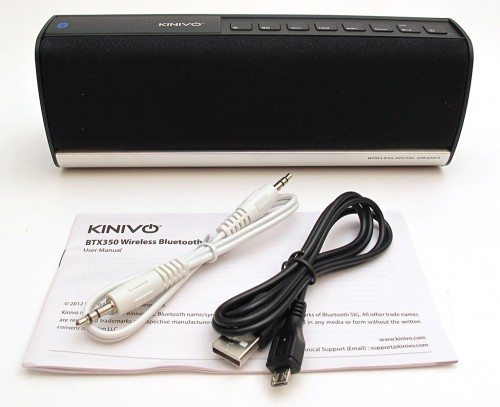 Included in the box
Kinivo BTX350 digital wireless Bluetooth speaker
Rechargeable lithium-ion battery
USB Charging Cable
3.5mm Audio Cable
User manual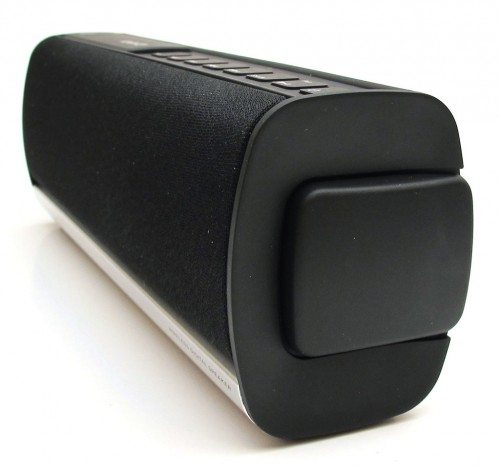 The BTX350 has an understated attractive black with brushed silver design that should blend in easily with any decor. It's only 8 x 3 x 2.25 inches, so it won't take up much room on your desk or shelf.
I like the way the BTX350 looks except for one thing… it has a knit cover over the speakers. I hate knit covers on speakers because they always collect dust and lint… just a personal pet peeve.
Although it's not visible in the image above, there's a small blue status LED in the lower right corner that is hidden behind the knit covering. It shines through to let you know when the speaker is powered on and if it's in pairing mode.

On the back you'll find the battery compartment for the replaceable and rechargeable lithium-ion battery. The battery provides up to 5 hours of wireless music which is short, but you can also use the speaker while it's charging via the included USB charging cable.
There's a line in jack on the back of the speaker that allows you to connect non-Bluetooth devices using the included 3.5mm patch cord.

On the top of the speaker is a panel of 8 buttons that control volume level, bass enhancer, track prev/next, source, pause/play/pair and power.
Pairing is dirt simple. Just power on the speaker by holding the power button for a couple of seconds. You'll know it's on by the blue LED on the front and the ascending tone it makes when it powers on (it makes a descending tone when it powers off). Holding the play/pause/pair button will put the speaker in pairing mode. Passcodes aren't required, so it's quick to pair.
Steve was impressed by the sound quality of the larger BTX450 speaker, but for me, the BTX350 was just ok. Nothing about it is bad, it's just not as impressive as some other Bluetooth speakers I've tested recently.  It has good volume and good clarity, it's just not going to make you say "wow". If it had better bass, I think I'd be a lot more impressed. Unfortunately the special bass enhancement button does nothing as far as I can hear. I kept turning it on and off and could discern no noticeable difference.
If you're on a budget,  it's hard not to like this speaker and its sub $40 price tag. Just don't expect your socks to be blown off.
Product Information
Price:
$39.95
Manufacturer:
Kinivo
Pros:

Great price
Track navigation buttons
Easy to use

Cons:

Bass boost doesn't seem to do anything
Short battery life