We use affiliate links. If you buy something through the links on this page, we may earn a commission at no cost to you. Learn more.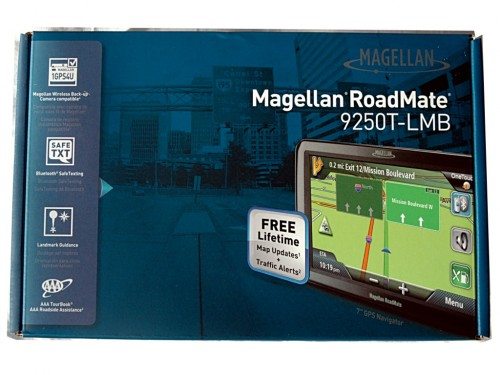 The Magellan Roadmate 9250T-LMB GPS is one of the latest Roadmate dedicated GPS products from Magellan. It's got a large 7″ touch display, live traffic, spoken road names and landmarks, video inputs for an optional rear view camera (not reviewed), Bluetooth supporting hands-free speakerphone, lifetime map updates, and more. In other words, it's got more features then you'll likely need, in order to cover as many bases as possible. I was able to use the 9250T on a multi-day road trip as my sole navigation system, where I used the most important navigation features – more on that after we unbox!
The Goods In The Box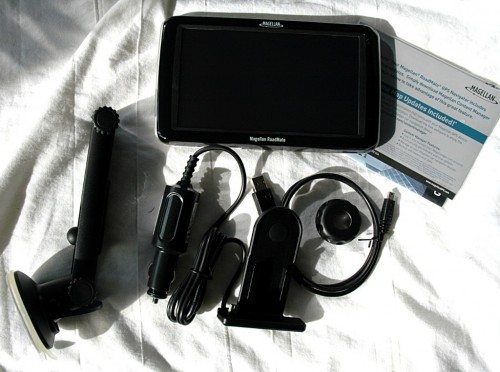 The 9250T includes the battery-powered 7″ GPS unit, a dual jointed window/dash suction mounting bracket that the GPS slides into, a DC power adapter to power it, and a mini-USB cable for charging/syncing the GPS with a desktop Mac or PC. There are also some manuals. As is common these days, you download the desktop sync software and the detailed manual pdf file from the Magellan support website.
Hardware tour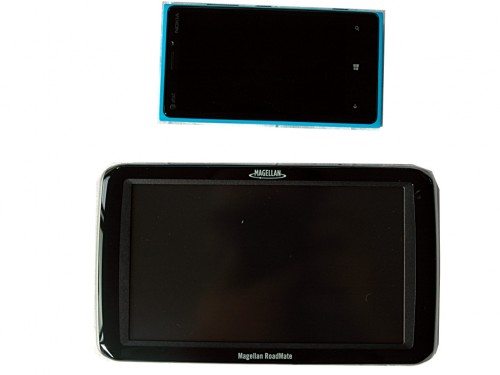 The GPS unit is big, thanks to its 7″ touch screen. You can see here it dwarfs my (otherwise large!) Nokia 920 4.5″ display size. The GPS has an internal 720mAh Li-ion battery that can run the GPS for about 30 minutes. This is handy for entering addresses and reviewing routes without needing a power source, but you'll want the DC power for actual navigation use. Obviously you'll not be using the 9250T for walking directions, at least not for very long walks! The 9250T has a plastic body, so it weighs in at a light 12oz/340g. That's light enough that it's easy to pop off the mounting bracket and toss into a bag when you've parked. The GPS is roughly 7.5″ wide, 4.5″ tall, and 3/4″ deep.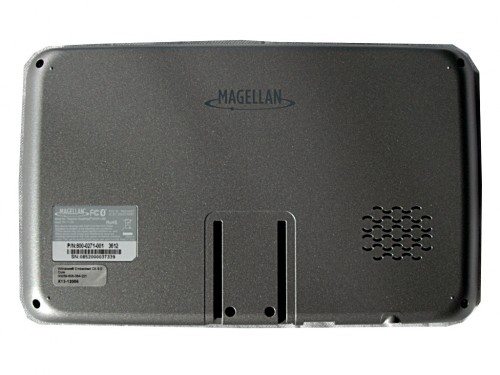 The back view- the single speaker is rear mounted, but plenty loud. You can also see the mounting slots – the GPS slides down onto the mounting bracket head and snaps in.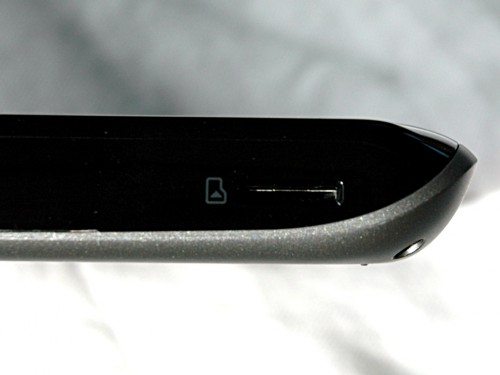 There is an SD card slot on the bottom right side – you can add additional map regions via the SD card slot.

The left bottom side has the AV In port for the optional backup camera, and the USB/power connector.  When using the mounting bracket, there is a power connector that slides in to the power port when you slide the GPS into the bracket.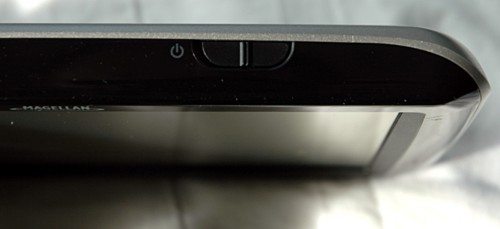 The top right side has a power switch.
The Interface
The Magellan Interface seems to be fairly consistent across products (and over time!). I've not used a dedicated GPS for a number of years yet found the interface to be familiar enough that I was able to find my way around fairly easily. These are actual photographs (in daylight no less) which should give you a good feel for just how bright and clear this display is.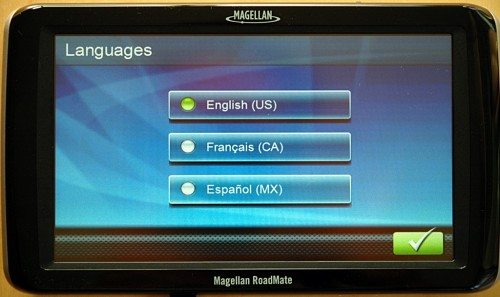 The startup configuration lets you select your language.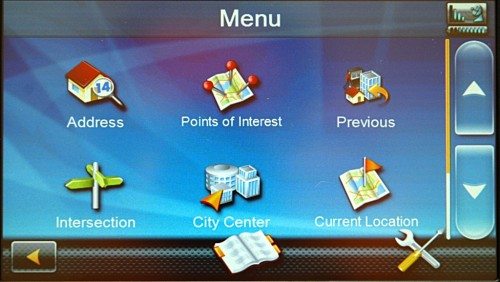 The Navigation Menu, with typical choices.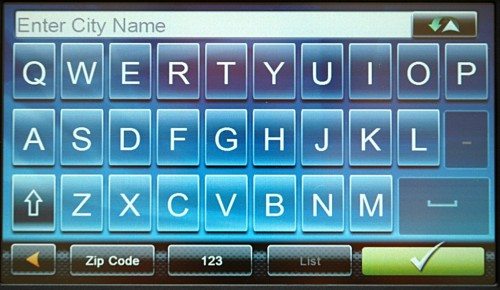 Data entry keyboard. The Magellan software continually searches its database of addresses as you enter more and more information, and keys that aren't possible become grayed out. So once you've entered a city, and you start entering a street, it tries to help you by limiting what you can enter to just keys that are possible. I suppose this is helpful, but I never liked it. There is also audible conformation of each key (it says the letters as you press them) which was maddening and really slowed down text entry. Thankfully that's a setting, and once turned off, text entry was smooth and fast. Honestly you should NOT be entering text on your GPS while driving, so making it "easier' to do so isn't really a feature.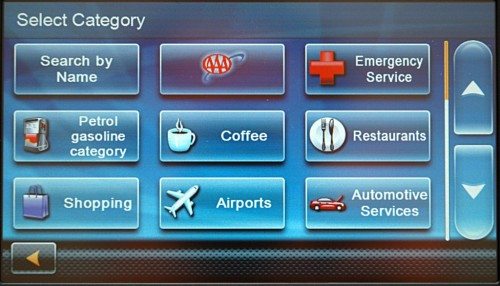 Points Of Interest menu. There are 7 million of them. I counted. No, I didn't. But it knows all the colleges we were looking for in Southern California. And a lot of restaurants.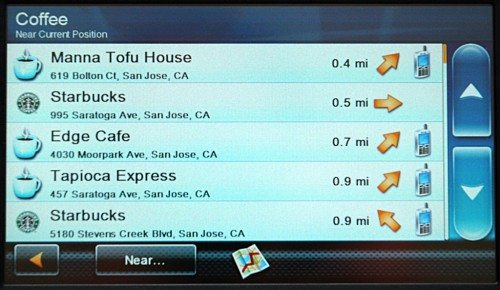 Yes, there are a million coffee (or Tofu) houses within a mile of my home.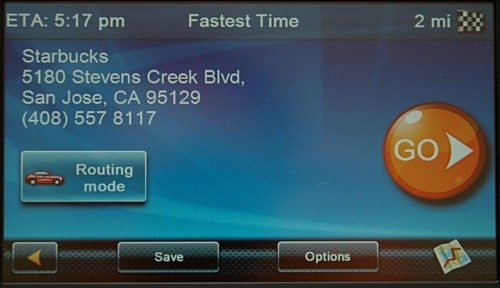 You're never more than two miles from a Starbucks!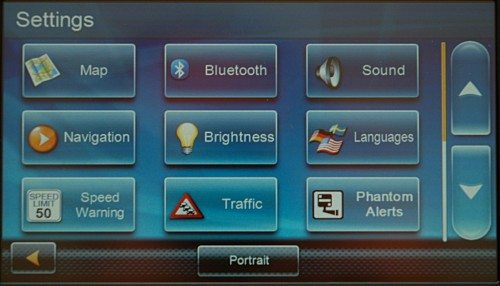 You've got a lot of settings options.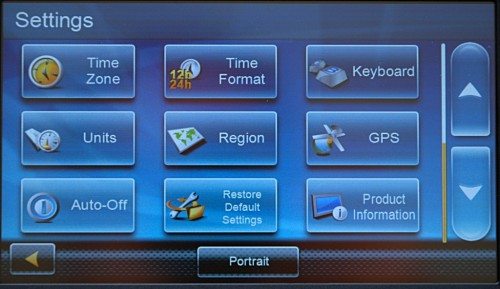 Two pages worth. Most of the defaults are sane, fortunately, so you'll only dip into these once or twice as you tune the 9250T to your liking.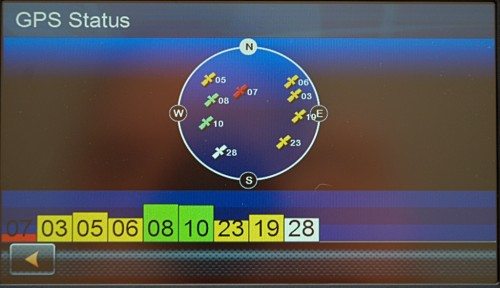 According to the specifications, the 9250T has a high-sensitivity GPS with a multi-directional patch antenna. This is what it sees inside my house. That's a lot of birds. If you've been using your smart phone GPS, you've been getting by with a lot less accuracy.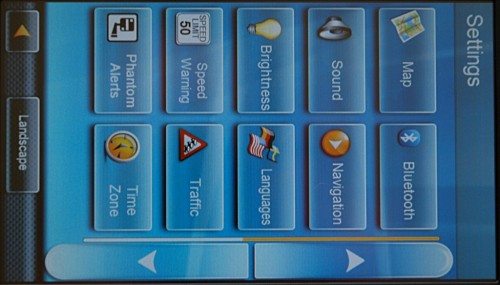 If you prefer a tall, thin view you can rotate the screen. It's a setting, not a sensor.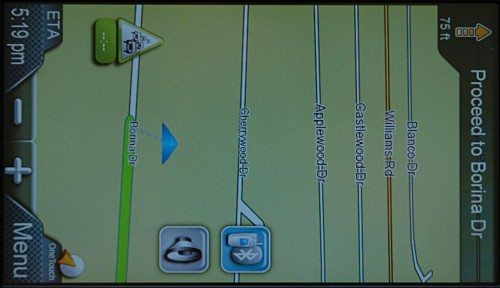 The 3D portrait display.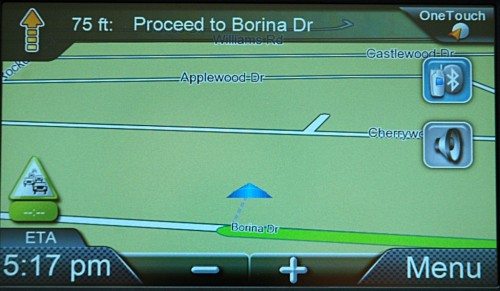 I prefer the landscape view, but the 9250T can go either way.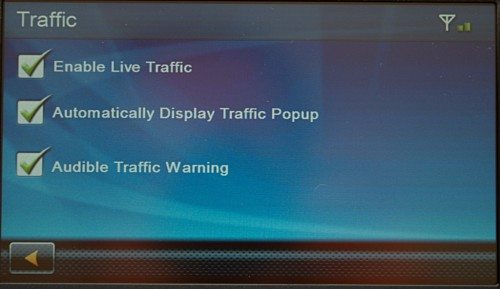 The Traffic options. We ran with live traffic since we were driving in the LA area quite a bit during the road trip test. The 9250T did a great job of telling us about the bad LA traffic. It heroically tried to find alternate routes, but since it was LA, the alternates were just as snarled.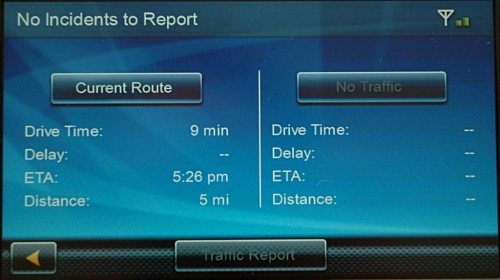 The Car Mounting System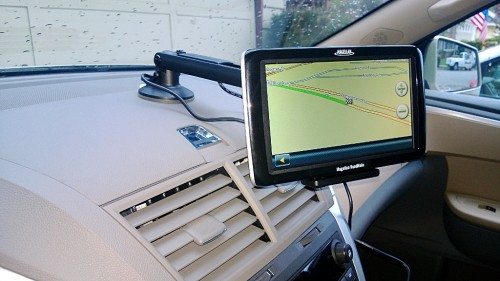 You are not seeing things – that is suctioned onto the (not smooth) dashboard. I ran it this way for 5 days, and that arm never budged. When I got home, it popped right off when I released the suction. I also tested it on the glass, which worked just as well, but I found the dash mount really kept the field of view clear.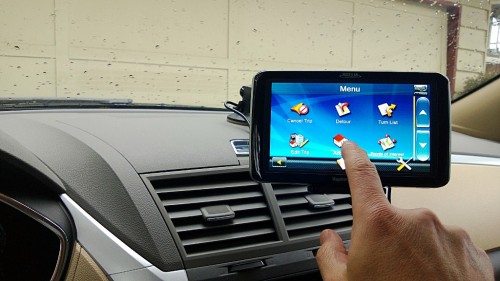 The arm pivots at the suction cup, and pivots/rotates/tilts at the GPS end. There is an elbow joint in the middle. You can contort it any number of ways. Once you have it where you want it, you tighten down all the joints and it is rock solid. The power cord is a generous length – in my car it was long enough to loop over the back of the arm to take up the excess slack.
The Desktop Application
I had trouble initially getting the 9250T to connect to the desktop application on one PC. After troubleshooting with Magellan, I tried on a second PC and it connected right up. Turns out it works on every PC and Mac I had access to, except that first one. The Desktop application is useful for three things with the 9250T – you can update the device (the firmware) and the maps, and you can sync/enter address books.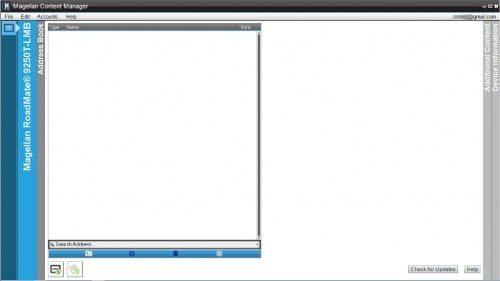 Once connected, my review 9250T asked to be updated, which I did.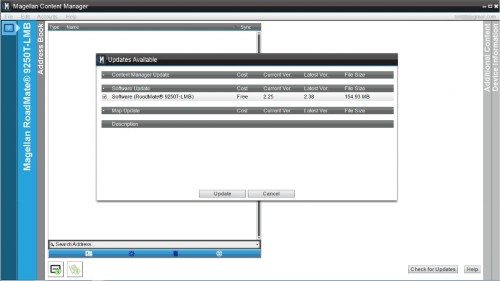 As I said, the desktop software wasn't cooperating at first, so I had to manually enter the various stops we planned for the road trip on the 9250T itself. I was able to sync those addresses over to the desktop easy enough though.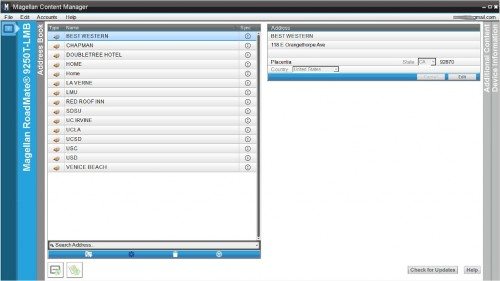 You can also get device information, which will look more or less like the image below.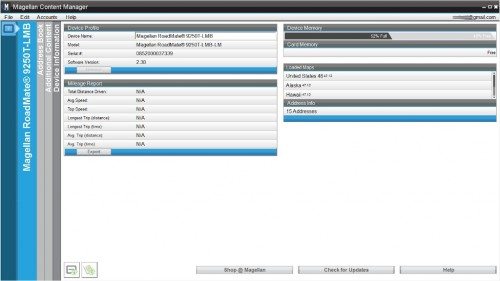 Road Test: 1000+miles, 5 days, three hotels, 10 colleges.
I was able to give the 9250T a real-world test, as it arrived in time to be the primary navigation system for the dreaded College Visit Road Trip with my child. We had the ambitious goal of driving from the Bay area to LA on day 1, Days 2 & 3 would be 7 colleges in the greater LA region (switching hotels overnight). Day 3 ended with a couple hour long drive to San Diego (new hotel), and then day 4 & 5 were three colleges in San Diego. The end of day 5… drive home from San Diego. That was the plan, anyway.
Preflight
I entered every address (hotels, colleges, any other potential points of interest) into the address book, and put as many of them as would fit, in the expected order of visiting, onto the "One Touch" menu. I updated the one touch menu halfway through the trip, dropping the items we visited and adding the upcoming ones in order.
Typical Day
We'd start each leg of the trip the same way – first pop the GPS onto the arm (which we left in the car all the time – without the GPS) and then after it started up, tap the next destination on the one touch menu. After just a few seconds it would lock in and start offering directions. Once we got where we were going, we'd power it down and pop it off the arm, then stash it out of sight if we were on a visit, or take it into the hotel room. The accuracy of the directions was outstanding, speed of getting GPS lock nearly instantaneous, traffic and speed warnings helpful, and a couple of times POI like food and gas were spot on. As a GPS, it worked out well. We were in blinding LA sun in the day, and had more than a little night driving. Daylight visibility was fantastic. The 9250T flipped into night display automatically, but it was so big and bright I hand to manually dial down the brightness at night.
We had one reroute failure when driving in San Diego that required a quick power cycle to recover from. For some reason the 9250T got lost when we made a pit stop for gas, and sat in the "re-routing" mode for a good 5 minutes while we drove on the highway back to our hotel. I knew the way back, so I gave it plenty of time to recover. After it meditated for five minutes, I had the passenger try selecting one of the one touch destinations. It would not route.  I then had the passenger power cycle it to see if it could get a lock or if it had had some kind of catastrophic failure. It restarted, we selected the destination, and it routed right away. Go figure.  It only did it that one time, and this was before I updated the firmware, so perhaps I found a bug that was fixed.
The Long Road Home
Everything was going well, but we had to change plans for day 5. From San Diego, we'd go to UC Irvine (by 2pm) and then make a break to escape from LA by 3pm. Good plan. At 3pm, in the car, the 9250T routes us towards the north and we begin with an ETA of 9pm as expected. Thirty minutes in, we get the traffic warning indicator, and the ETA climbs by 30 minutes. OK, 30 minutes of traffic. No problem. From there, we got traffic warnings (which we kinda were expecting) every few minutes. For fun, we checked the alternate route options, but since we were deep in LA, they were all equally bad. It was nice to look at the route change color (Red – Dead slow. Yellow – pretty slow but rolling – Green GOOD) as we slowly extracted ourselves from LA. The traffic reporting was pretty accurate and timely the whole way out.
Shut Up and Drive
I've been using phone-based GPS navigation for years, and primarily use Nokia Drive on my 920 as my GPS. The Magellan 9250T was a huge improvement over the phone – the quality of the directions, accuracy, and added features including live traffic, were a huge improvement over those offered by typical phone navigation software. It was also nice to be able to take/make a call without having the navigation system disappear. A fully-featured car (the "test car" had hands-free Bluetooth and a backup camera already) renders several features redundant in the 9250T. However if you travel with it and use it in a rental car, the hands-free Bluetooth capability would be very useful indeed.

Product Information
Price:
$229.99
Manufacturer:
Magellan
Requirements:

PC or Mac (for sync/updates)
Car with DC Power port

Pros:

Accuracy of directions
Large clear display, voice navigation prompts
Live traffic
Huge POI library, lifetime maps
Handsfree bluetooth speakerphone

Cons:

Cost
Limited battery life off power