We use affiliate links. If you buy something through the links on this page, we may earn a commission at no cost to you. Learn more.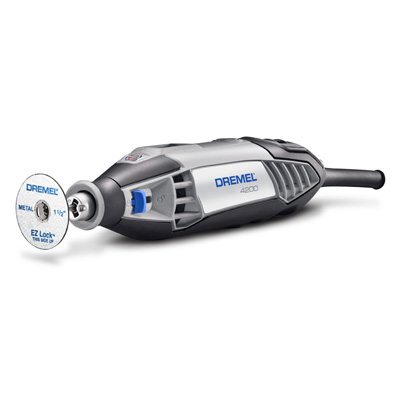 I've always heard great things about the Dremel line of tools.  They are known for their good build quality, and can be used for  cutting, grinding, sanding, shaping, and etching various materials.  I recently had the opportunity to review the Dremel 4200 High-Performance Rotary Tool with EZ Change, so let's take a look at what is inside the box.
Note: Click the images in this review to see a larger view.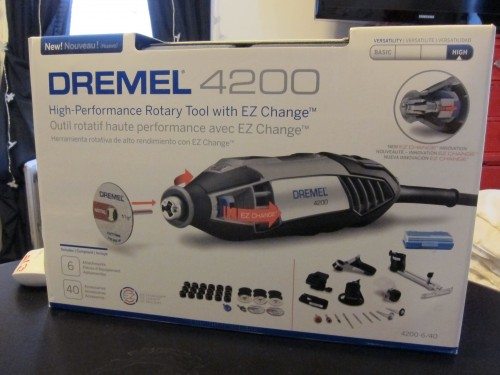 In the box there is a nice sturdy case with handle to hold the Dremel and its many accessories.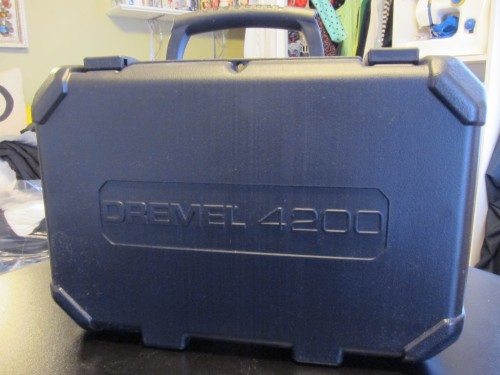 Everything is laid out for easy access to all attachments.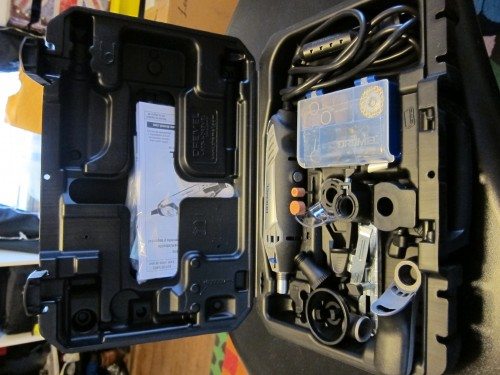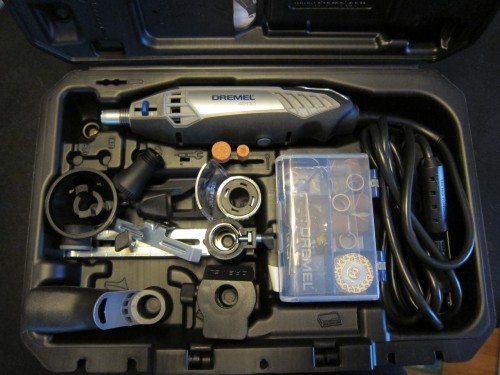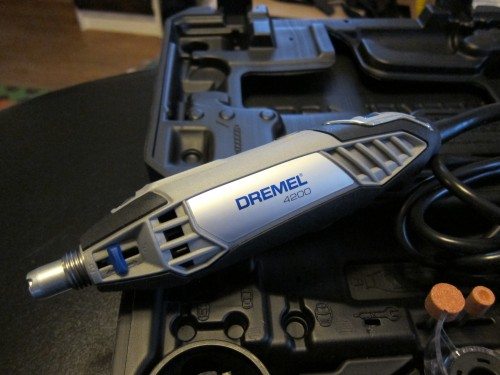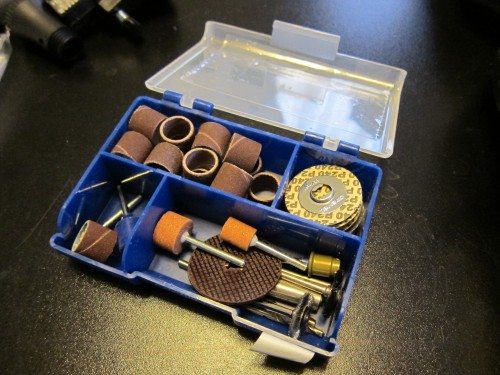 The accessory list
EZ407 EZ Drum mandrel
408 ½" 60 Grit Sanding (6 pcs.)
432 ½" 120 Grit Sanding (6 pcs.)
445 ½" 240 Grit Sanding (6 pcs.)
EZ402 EZ Lock Mandrel
EZ411 EZ Lock Sanding Disc – Coarse (3 pcs.)
EZ412 EZ Lock Sanding Disc – Medium (3 pcs.)
EZ413 EZ Lock Sanding Disc – Fine (3 pcs.)
EZ409 Thin Cut 1 1/2″ Wheel
EZ456 Metal 1 1/2″ Cut-Off Wheel
107 1/8″ Engraving HS Cutter
191 1/8″ High Speed Cutter
561 Spiral Bit
8193 5/8″ Aluminum Oxide
84922 3/16″ Silicon Carbide
932 3/8″ Aluminum Oxide
403 Brush Wheel
428 Carbon Brush Wheel
150 1/8″ Drill Bit
Adapter and drive coupler for attachments 225, 575 and 670.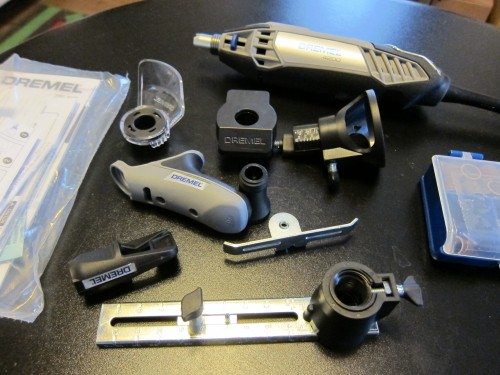 The Dremel 4200 runs at variable speeds, from 5,000 – 35,000 RPM, with a 1.6A motor and an EZ Change™ system.  It's very simple to pop on the attachment that you need;  just push down both levers on either side of the Dremel and then insert the bit that you need.  No wrench needed.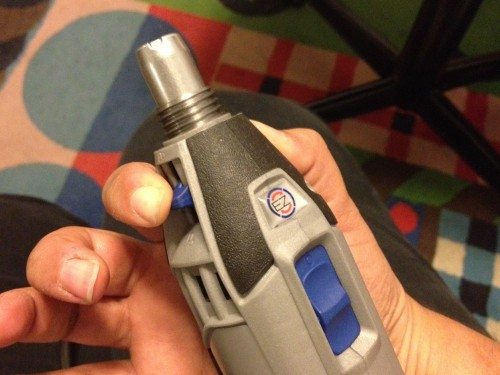 It's also easy to change parts such as the cutoff wheel into the EZ Lock Mandrel attachment.  There is a spring-loaded sleeve in a bowtie shape that you align with the EZ Lock Mandrel.  Once you insert and turn the cutoff wheel, everything locks into place.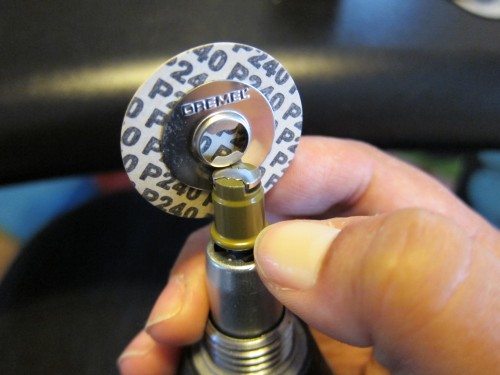 Ready to cut!  As always you need to ensure everything is locked securely, for your safety.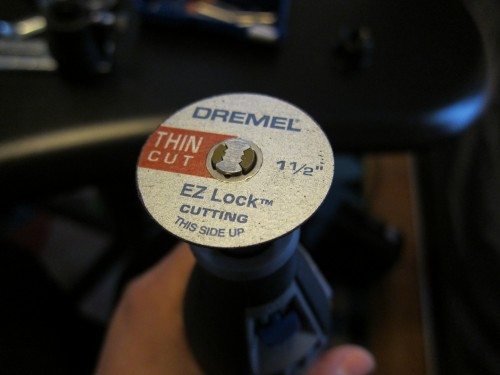 More attachments (gutting guide and rotary cutting bit) are seen below.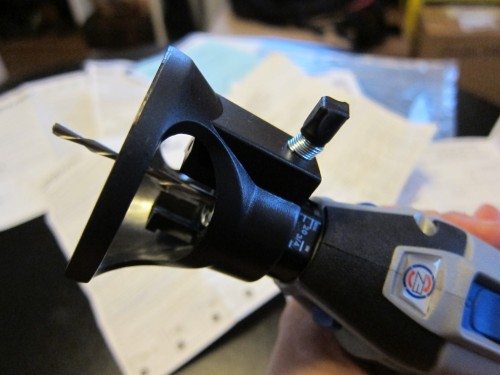 And here's the variable speed dial.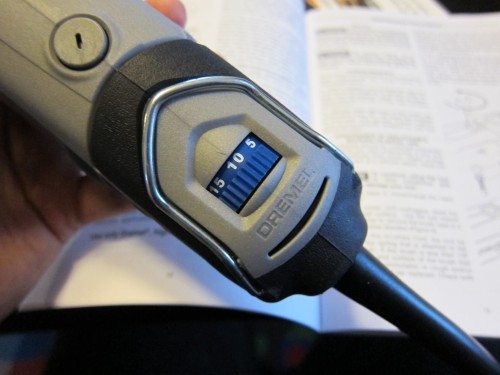 Holding the Dremel was quite comfortable, and I like the fact that it's easy to use in either hand. (I'm left-handed, so I always have issues when holding tools.) You can use various grips such a "golf" grip, or hold it like a pencil.  It's pretty overwhelming what you can achieve.  On the Dremel website is a Projects and Community section filled with how-to videos for ideas and various projects.  I really like the new EZ Change™ mechanism that this Dremel features, so you can switch up whatever accessory you need.  Best of all, if you already have Dremel attachments, most are compatible with this new tool.   The Dremel 4200 High-Performance Rotary Tool with EZ Change is available from various online retailers for about $129.00.