We use affiliate links. If you buy something through the links on this page, we may earn a commission at no cost to you. Learn more.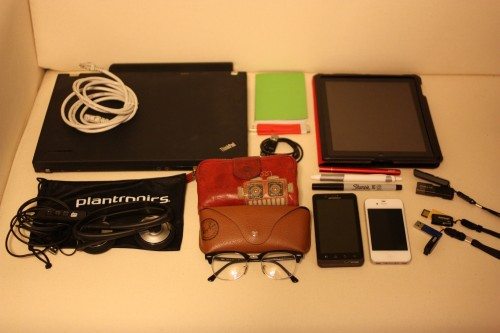 Recently Julie asked us to do a post on what we carry every day.  My two bags vary depending on if it's a weekday or a weekend.
I'm a computer technician, so my everyday carry bag is pretty heavy.  It needs to be a mobile workstation. (See lead photo.)   I usually carry a Fossil messenger bag, but sometimes I switch to a backpack if I'm going to walk a lot in the city, or switch up the bag for a different style.  Here are my work day contents:
Lenovo Thinkpad T400 laptop
Apple iPad 4th Generation
Plantronics .Audio 478 usb headset
Motorola Droid Bionic (work cell phone)
Apple iPhone 4S (personal cell phone)
Tons of USB thumb drives in various sizes and styles
My favorite red leather Fossil wallet
Twig iPhone cable/charger, which is the first Kickstarter project that I backed
Ray-Ban Clubmaster eyeglasses
Various pens, pencils, and an Adonit Jot Classic stylus
Small pocket-sized notebook
Victorinox Swiss Army knife that has tools such as a philips and flat screwdriver bit (in another bag at the moment)
An Ethernet cable, because you never know!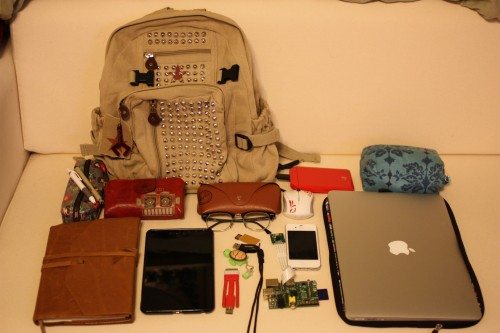 On the weekends, my gear is a bit more fun.  I usually geek out with my boyfriend by doing some sort of project, or I go out with my friends to catch up over dinner or movie night.  My favorite backpack at the moment is one that I studded myself.
Along with items mentioned previously (Twig iPhone cable/charger, Apple iPhone 4s, leather Fossil wallet, eyeglasses) I carry the following:
It turns out that I constantly switch out items from my bag, depending on the days of the week.  If I really want to keep it low-tech, I take only my wallet, phone and whatever other small hand bag I feel like wearing.  After reading the other Gadgeteer's EDC's, I'm glad I'm not the only one with a bunch of tech on them all the time!