We use affiliate links. If you buy something through the links on this page, we may earn a commission at no cost to you. Learn more.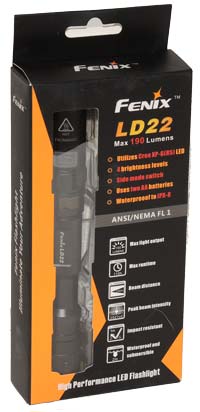 Several years ago, Julie reviewed the Fenix LD20 LED flashlight (see related links) which, for the most part, received a positive review. The only negative comment she gave involved how Fenix engineered its brightness/mode switching feature. With the LD20, you had to twist the cap to switch between modes. Well, it looks like their designers listened to Julie and fixed the one issue she had with the LD20. The LD22 is Fenix's follow-up to the LD20 with a bit more polish, horsepower (aka brightness), and a few added features as well. The folks at Fenix Outfitters sent one for me to tryout and review.

Like its predecessor, the LD22 is made of T6 aircraft-grade aluminum with a durable Type III hard anodized finish. The Cree XP-G (R5) LED has a lifespan of 50,000 hours and is protected by a hardened 'ultra-clear' glass lens with an anti-reflective coating. One of the great features of the LD-series of flashlights is that they are powered by standard-sized AA batteries. These are much easier to get on the fly than CR123As that many flashlights are powered by.
Features:
Cree XP-G (R5) LED with a lifespan of 50,000 hours
Uses two 1.5V AA (Ni-MH, Alkaline ) batteries
6.1″ (156mm) long x 0.85″ (21.5mm) diameter
2.1 ounces (60g) weight (excluding batteries and body clip)
Digitally regulated output maintains constant brightness
Reverse polarity protection guards against improper battery installation
Anti-roll, slip-resistant body design
Push-button tail cap switch with momentary-on function
Side mode switch in the front, fast and convenient
Made of durable aircraft-grade aluminum
Premium Type III hard-anodized anti-abrasive finish
Toughened ultra-clear glass lens with anti-reflective coating
Package Contents: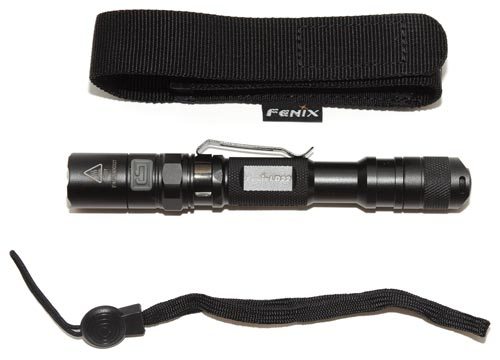 LD22 flashlight
Nylon Holster
Lanyard
Two spare o-rings
Specifications and Runtimes:

The mode button can switch the flashlight through four brightness levels and from steady-state to either strobe or SOS modes. Depending on your illumination needs, the LD22 can run between 2.5 and 110 hours. While you can still see some difference, I found little difference in brightness between the High and Turbo settings. Turbo was definitely brighter, but not doubly so. In either Turbo or High mode, the LD22 is very bright, and the strobe feature is certainly noticeable/eye-catching. For its size, this relatively small (AA powered) flashlight produces an impressive and highly uniform field of light.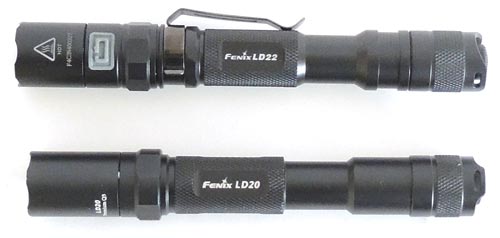 As I said and you can see, other than the mode switch on the side of the LD22, there is little difference between these flashlights. There are also two insets on either side of the barrel of the LD22 to accomodate the pocketclip, which is a new feature as well. Digitally-regulated output maintains constant brightness as the batteries are depleted.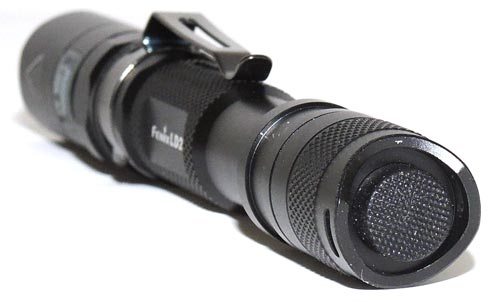 The push-button tail cap switch allows for convenient, momentary-on function of the flashlight. The tailcap is designed to unscrew to allow access to the batteries. An O-ring keeps the inside chamber watertight to two meters. The knurled design on the barrel of the body gives the flashlight a pleasing feel and solid grip. Along with a good feel, its relatively light weight and thin body make it ideal for travel gear.

The max output setting of 190 lumens can cause the torch-end of the flashlight to get warm/hot during extended periods of use. Since I received the L22 for review, Fenix has upgraded the LED on the LD22 to 215 lumens. The higher-lumen version is now available.


I have been using the Fenix LD20 for years, and it continues to not only work well but look as if it were new. The LD22 is just as well made, has better features/design, and is brighter for approximately the same cost as its predecessor. At under $70, the LD22 is a great bang for the buck and makes a great travel companion, glovebox gear, birthday gift, or stocking stuffer.
Product Information
Price:
Available for under $60
Manufacturer:
Fenix
Retailer:
Fenix Outfitters
Pros:

- Uses standard AA batteries
- Very bright (190 lumens on Turbo setting) with very good field of light
- Includes 4 brightness modes plus strobe & SOS
- Slim form-factor, lightweight
- Press for On tail-cap
- Pocket clip is removable and reversible

Cons: