We use affiliate links. If you buy something through the links on this page, we may earn a commission at no cost to you. Learn more.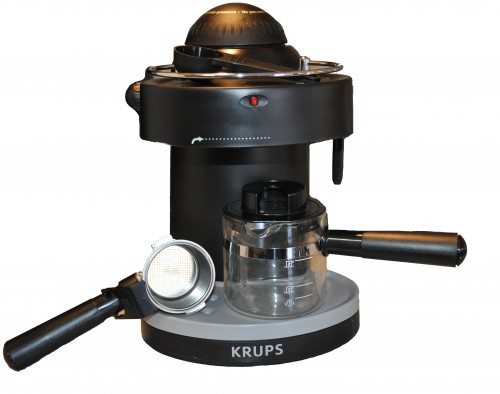 If you're a coffee person, chances are you've owned a Krups product over the years.  They run the gamut in small appliance product offerings from toasters and blenders to juicers, panini presses, and high end pump espresso machines.  It was a Krups drip coffee machine that got me through my college years, and although I have upgraded over the years, I personally use the brand as a "go-to" for entry level versions of products.
There was one piece of coffee paraphernalia I've never owned–an espresso machine.  While the pod-based brewers are experiencing something of a renaissance, the long term cost and inconvenience of finding of pods as well as the lack of control over the brewing process has made me hesitant to invest in one.  Patience paid off, and I was given the opportunity to try out the Krups XP1000, a steam-driven espresso machine.
A steam espresso machine, just like the name implies, uses steam pressure to heat the water and force it through the coffee grounds to pull its espresso shots.  With that pressure comes a bit of danger, or as I like to call it – adventure.  And honestly, what's better than having an adventure at 6am after roughly three or four hours of sleep?  If all that built up pressure is not let out after operation, it can explode.  See?  An adventure!  The instructions are actually very, very clear about this point, and the boiler lid has a printed warning as well.  In several weeks of operation, I managed to keep my machine intact and my kitchen explosion-free.  I read multiple Amazon reviewers on similar Krups machines complaining about explosions causing scalding grounds to fly all over themselves and the kitchen, but my best guess is that this was user and not device error.
What's In The Box:
Krups XP1000 base unit

Filter and filter holder
Glass carafe
Measuring scoop
Instructions
Let me get my first complaint out there right away – where's the tamper? The manual states that the back of the coffee scoop or a spoon could be used to tamp down the grounds, but really?  If you're making a single shot, the back of the scoop can't reach down far enough in the filter holder to even touch the grounds, not to mention that it just does an inferior job, period. $6 or $7 can buy a decent tamper from Amazon, and I personally recommend you get a tamper instead of using a spoon.
Before first use, the instructions suggest running about 8oz of water through the system to clean it out and prime a new or unused system for operation.  For my first few operations, there was an unpleasant plastic/rubbery odor coming from the unit, probably from the lines getting their first use and factory coatings burning off, but it quickly went away with further use.  My suggestion would be running a second or third cleaning steps through or discarding the first few espresso shots pulled, but why waste perfectly good coffee?
To start the machine, there's a side dial that must be rotated from the O (off) position down to the little cup for espresso or up for using the steam wand.  This is not the easiest dial in the world to rotate; it definitely needs a strong grip and some muscle behind it to rotate, even after weeks of operation. A switch would have been great instead.
Operation is simple, but needs to be precise.  First, you must fill the tank with only the amount of water you need for the amount of espressos you'd like.  The manual suggests 1-2oz of water per scoop of espresso for a strong coffee and 3-4oz of water for a milder coffee and an additional 2oz of water if you needed to use the steamer for milk.  We're all adults here, so I opted for the 2:1 ratio of water to beans and went with the maximum number of shots, four, and decided to hold off on any frothing for the moment.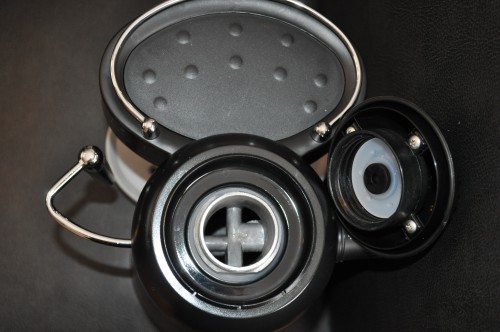 Using my amazing math skills, that came to 8oz of water needed for the whole operation.  And yet it took me several hours to figure out why I could never seem to pull a full four shots; it always stopped at roughly 3 shots, or 6oz of espresso.  Maybe it's common sense that to produce steam, you're going to lose water, but in my defense, there are instructions about adding additional water for steaming milk (optional), but nothing about additional water for the steam itself.
Once I made this discovery, I just added an additional 2oz of water to each operation to account for evaporation.  The tank holds about 14oz of water, so even if I did decide to froth some milk, there's still room in the tank to allot for everything.
The tank capacity could prove problematic though if you enjoy a milder espresso in your cappuccino.  With evaporation and steam for the milk taken into account, that gives you a maximum of 10oz of espresso available at any one time.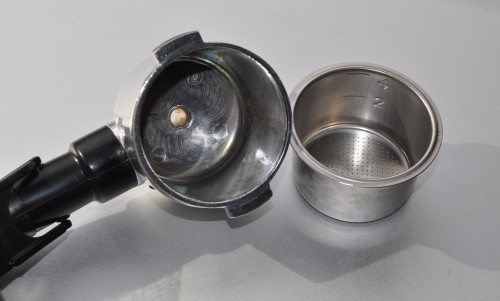 Start to finish, total brewing time for my four shots clocked in at nearly fourteen minutes.  This doesn't include steaming any milk, mind you.  From switching the unit on, to brewing four shots, to relieving the remaining built up pressure is nearly fifteen minutes!
The first time I made a cappuccino, I followed the instructions which advised steaming the milk first.  I steamed the milk up to about 160 degrees, put it aside, and began brewing the espressos.  By the time all was said and done, the milk was down to around 120/130.  Definitely do not steam the milk first, unless you're a fan of tepid beverages.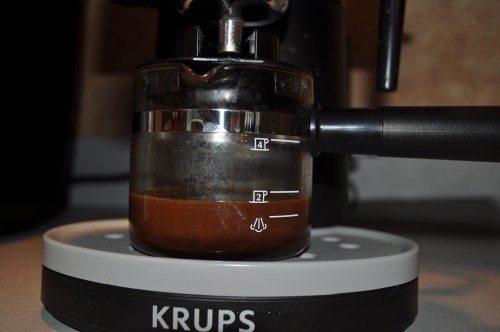 The espresso also doesn't drip in a nice steady stream.  For maybe the first half to whole shot, it's steady, but after that there are frequent pauses in the cycle, stuttering and spitting of coffee, and so on until the brewing process is complete. The pauses are so frequent that it's nearly impossible to tell whether it's finished if you're not looking at progress on the graduated carafe.
Now aside from the water measurements, I only really ran into one other issue during operation. The cap on the water tank needs to be shut tightly–I mean really tight.  During the first few run throughs, steam was escaping around the cap because I didn't have it shut as tight as possible. So my method I've been using to great success is to shut and tighten the lid as much as I humanly can, pause to hulk up, then try to tighten it a little more. Works like a charm!
Steam-powered espresso machines are all going to have the issue of dealing with releasing pressure during operation. It's no fault of this particular unit, it's just an annoyance inherent to the design of this type of machine in general. I usually opted for a lazy way and let the machine run until silent. This meant letting the steam out through the coffee grinds until the machine was empty. The plus side to this is that the steam dries out the grinds, producing an easy to dispose of puck. Option B is to switch over to the steam mode and allow all of the steam to escape through the wand. This is also probably a pretty good argument for ending with steaming milk.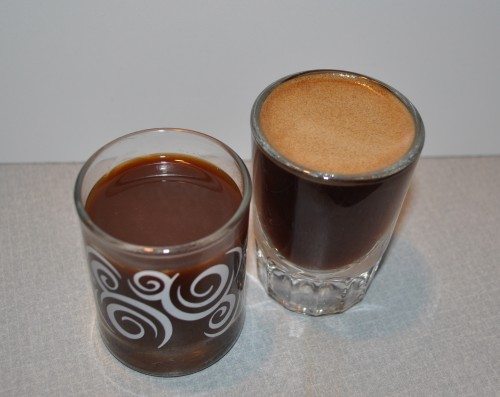 I compared a Krups shot to one from a higher end espresso machine and taste-wise, there wasn't really much difference.  The most obvious difference is the lack of crema from the Krups shot.  No shot I've pulled managed to get this creamy head, and that's probably just the machine itself and the lack of high enough and consistent pressure.  There was a little less creaminess, less complexity to the taste of the Krups shot, but it was still very tasty and impressive to have come from this little machine. The taste difference all but disappears if your end product is a cappocino or latte.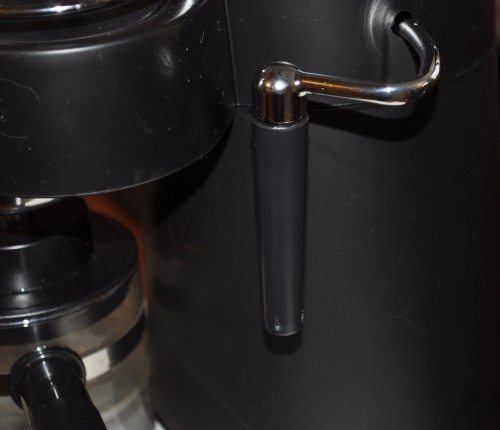 So now let's talk about that steam wand.  I really have no complaints here.  It does its job as well as I would expect it to.  It takes a little longer to steam milk up to the optimal temperature than the bigger machines, but it works just fine.  The wand is in a fixed placement, but it's still convenient to access and the nozzle is removable to facilitate cleaning. It's a solid little steamer.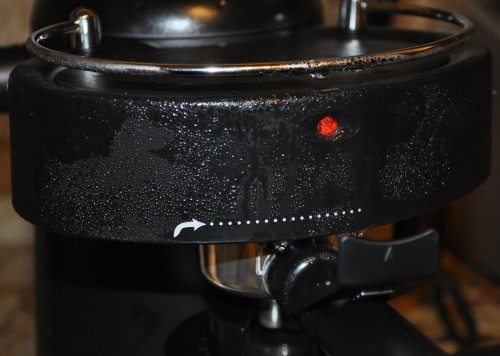 I noticed that during operation, the steam that comes out from the filter will collect on the outside front of the unit.  This seems to be normal, and probably doesn't have any long term implications as the only electronic piece on the front is the "on" light.  But it will require a wipe down after each operation.
My main complaint about this machine is just that it's time consuming and requires vigilance.  Fourteen minutes is a long time to wait for a few shots of espresso. Having to pre-measure my water so that I don't concentrate or dilute my shot is also annoying, but it does allow me a little more customization over the end product.
The trade off for these minor headaches is the price – for significantly under $100, you'll be able to pull pretty fine tasting espresso shots, and have a built-in milk frother.  The shots are on par with similar offerings from coffee chains, and MUCH better than what comes out of a Keurig.  To me, this is a very good entry point espresso machine model to cut your teeth on.  There is a learning curve to its operation, but once you find your operating sweet spot, you'll be pulling delicious, consistent espresso shots.
The machine retails for $72 but can be found for about ten dollars less through Amazon.
Update 12/4/14
I replaced this with a Nespresso pod-based espresso machine and have never looked back.  Highly recommend Nespresso, but not so much the Krups.
Source: The sample for this review was provided by Krups. Visit their site for more info.