We use affiliate links. If you buy something through the links on this page, we may earn a commission at no cost to you. Learn more.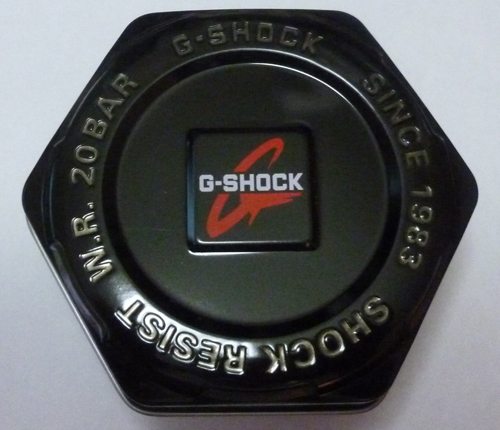 After a long stretch of wearing mechanical, self-winding watches, I got the urge for a state-of-the-art timepiece.  An international trip where I needed to keep track of multiple time-zones was the final straw.  After a lot of research and window shopping, I decided on the Casio G-Shock G-Aviation Mutli-Mission Combi (MMC), the GW3500B-1A (#5173).
My criteria for a new watch were as follows:
Rugged
Accurate
Full-featured
Night readable
Multiple time zones
Wearable in both business and sport situations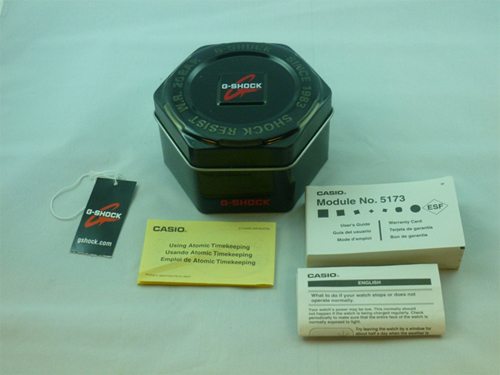 As with most of the G-Shock watches, the G-Aviation Multi-Mission Combi came packed in a nice, hexagonal tin with manual, instructions, hang tag, and warranty card.
The GW3500B-1A meets my criteria well with the following features:
Solar powered (6mo battery life)
Multi-Band Atomic Timekeeping
Shock- and water-resistant (200m)
Luminescent hands and LED backlight
4 alarms, countdown timer, stopwatch (1/100sec)
World time functions for 29 time zones w/ DST
As far as size goes, it is not as big as some of the G-Shock line, but it is a substantial watch.  According to Casio, it is 2.1″ X 2.0″ X 0.6″  (52.5 X 49.8 X 15.5 mm) and weighs 2.9 ounces (82g).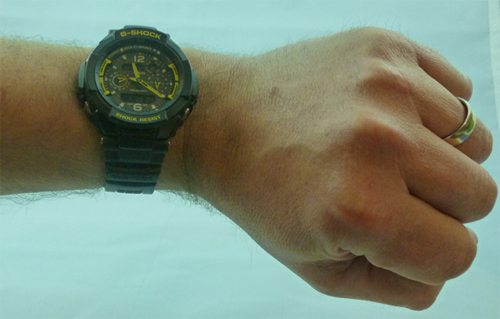 The upper ring is rubber, and it is surrounding a steel case with additional bumpers around the watch.  The buttons are well protected, but large and easy to push.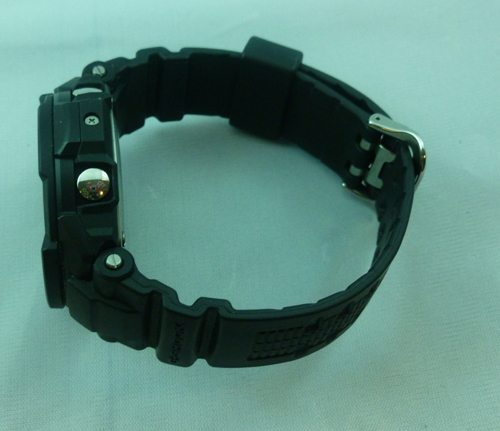 The band is resin, but soft and comfortable.
The GW3500B has three digital readouts and three analog displays.  The digital displays are negative with gray characters on a black background.  The upper digital display is alphanumeric and displays either the day of week or a second time zone.   At the one o'clock position is a mode indicator for the sound, alarms, and light settings.   At the three o'clock position is a 12-hour, single-hand, analog display for the second time zone. The bottom digital readout is for date or stopwatch, and it can display a third time zone.  The nine o'clock analog display shows the mode of the watch and the charge of the internal battery.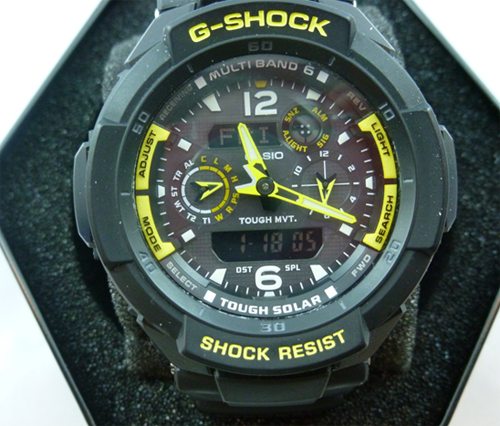 The main analog display has numerals at 12 and 6, hour markers, and four yellow button labels, and they are luminescent. Brightness of the luminous coating is just ok, but it is supplemented with an orange LED at the six o'clock position.  This can be turned on with the upper right button, or when it's dark, a motion sensor in the watch will turn on the light when it senses you're turning your wrist toward yourself.  It is a nice feature and works very well.  My recommendation to Casio would be to put a purple UV LED in the watch and have it charge the luminescence when it activates.  I would also like a backlight on the two digital displays.
Features
From a ruggedness standpoint, this watch is nearly bulletproof.  The crystal is well protected and hard.  The watch is waterproofed for deeper (200 m / 656 feet) than I ever hope to be when checking the time!
The exciting part about this watch is that it is solar powered and has Multi-Band Atomic Timekeeping in the US, UK, Germany, Japan, and China.  Once a day, or on demand, the watch will connect to a radio signal and sync to Atomic time.  Without syncing, the watch is rated to 15 seconds a month.  The sync function is wonderful, and I find it to be simply the most accurate watch I have ever owned!  Casio says the battery, once fully charged, will last for six months without any further exposure to light.
For time-keeping functions, the watch has four alarms and a snooze alarm.  An hourly chime can also be set.   The stopwatch is 1/100 second, 24-hour with lap and splits.   There is also a countdown timer with 1 second resolution.
Probably my biggest gripe about this watch is the sound.  The alarms and chimes are very faint.  This is probably a function of the ruggedness and sealed nature of the case, but if you are a heavy sleeper, you should NOT make this your primary alarm clock or you will oversleep!
For the traveler, the multiple time zone functions are a real gem.   The main hands can display local time and the analog display can show a second time zone.  These can be instantly switched with a push of a button.  A third zone can be displayed in the lower digital display.
The operation of the watch is fairly straightforward, but do plan to spend some time with the manual to get acquainted with all the features.  You may want to download a full-sized PDF of the manual (#5173), because the manual that comes with the watch is tiny and hard to read.
Conclusion
This watch offers a very nice mix of functions and features, as well as nice ascetics. It's a good looking watch that is also very rugged.  With the solar power and atomic timekeeping, it should never need maintenance and is extremely accurate.  At $260 (list) and ~$200 street, it will not break the bank and should last a lifetime. Casio offers a one year warranty with a second year if you register on their website.

Product Information
Price:
$260
Manufacturer:
Casio
Pros:

Rugged
Solar powered
Atomic time
Multiple time zone, alarms, and timers
LED backlight

Cons:

Faint alarms and chimes
Weak luminescence and incomplete backlighting