We use affiliate links. If you buy something through the links on this page, we may earn a commission at no cost to you. Learn more.
The iPod touch and the iPhone create arguably one of the best-selling handheld gaming systems in the US, if not the world. While not all of them are sold for the purpose of gaming, there are a lot of them out there being used for games as well as other things. That means they're open season for casual games. I've never been one for gaming add-ons to my phone, but, when Julie offered us the Appfinity Racing driving wheel attachment, I thought I would give it a try.
A week or so later, a huge, yet very light box arrived for me. In it were not one, but three different Appfinity game controllers for handhelds – a two-trigger gun, the promised four-trigger driving wheel, and a two-trigger fishing pole. Wow!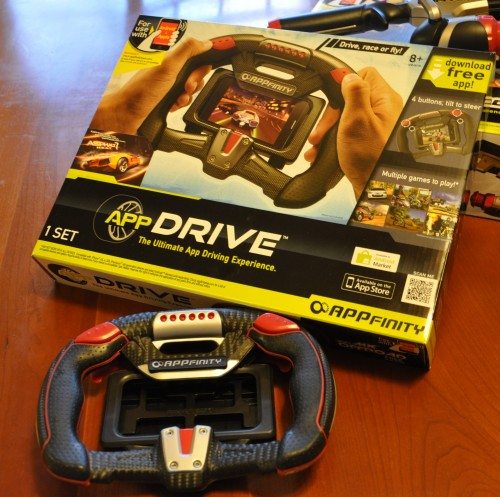 There are games that work with these controllers offered for free and for sale on the App Store, so I started downloading right away. In the box are adapters to let you use various devices within the controllers. These will not work with the newer large-screen devices, but if you've got a phone or iPod touch in a form factor from the original iPhone to the iPhone 4S, you're most likely in luck. Let's look at the generalities first, then the specifics of each controller individually.
The overall construction is of a high quality plastic, molded and painted. The enclosures for your device (no devices come in the boxes!) are very, very secure. There is an enclosure, slide locks, and a good bit of surrounding plastic on each one. The actuators that hit the screen to control the game are a soft conductive material.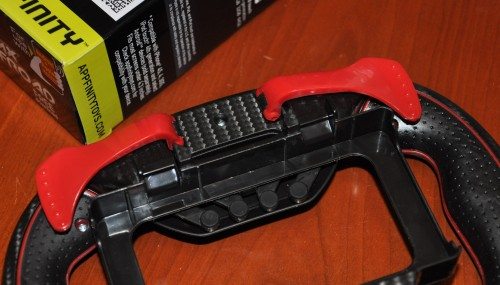 Speaking of conductive, the design of these gadgets is quite ingenious. There is metal on some part of each one, right where you would have to touch it to hold or fire it, so that there is never a time when you hit a key and nothing happens. It is so subtile that, unless you're looking for it, you'll miss it.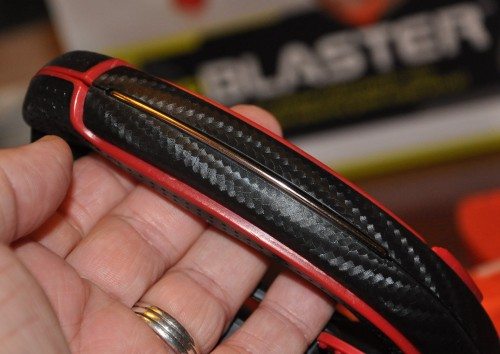 The metal, while necessary for electrical conduction to the screen, is of a heavy enough gauge as to enhance the structure of the controller, rather than just being a foil add-on. These are well-thought-out, well-made devices.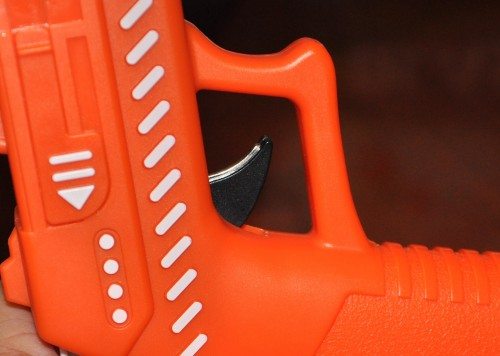 The first one I opened was the blaster. (Hey, I'm a boy! Everything's a gun.) There's a QR code on the box that takes you to the App Store where you can download a free alien shooting game, so I was fighting off virtual aliens in minutes. Your device is locked into a holder which clips onto the "barrel" and is held in place by two sliding locks which click firmly into place.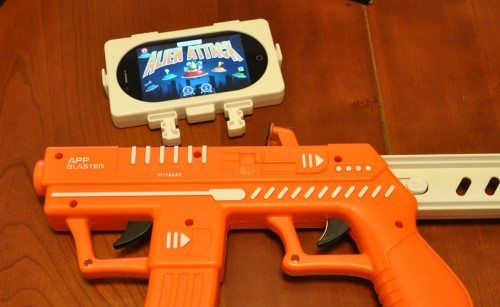 I never worried that my iPhone was going to go flying off as I moved about shooting aliens that were attacking me from 360° on all planes. You're basically in the center of a sphere, and they come at you from everywhere, getting larger as they get nearer. Since they are kinda cartoonish, and they only box and bump you, it's very appropriate for younger gamers. Sorry, guys, no blood and gore a la CoD or GoW! But the immersion is instantaneous.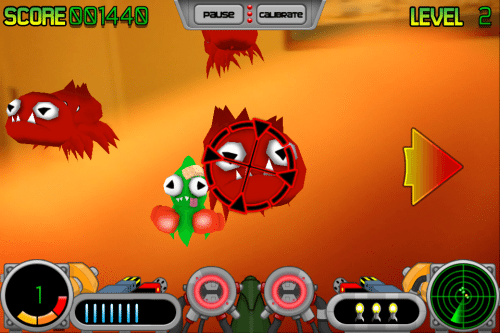 There is a hole in the rear of the phone holder, and the camera activates, showing your cartoon nemesis imposed over the real world. On-screen arrows alert you to attacks from behind, and a radar scope in the bottom right keeps you aware of "bogeys" as they approach as well. The front trigger is used to fire a different type weapon (in the case of this game, a smart bomb that blasts all aliens in a certain range), but it's also nice having two hands to hold on to the controller.
I then tried the fishing controller. I've fished in real life a good bit over the years, and the casting and reeling actions mimic the real thing pretty accurately. I never did get the hang of landing a fish, though, because my line kept breaking. Even when I gave it more line, the fish would always snap it and get away. But you shoulda seen the size on that monster! ;-P
Finally, I got around to the driving controller. The four controls are mounted under your index finger and thumb of each hand, and can control things like camera angle, forward/reverse throttle, and other in-game elements. "Steering" with the gyroscopic function has always seemed second nature, but putting the actual grips onto your phone really takes it up a notch. It's very easy to get into, and snapping your phone into the controller takes just a second or two.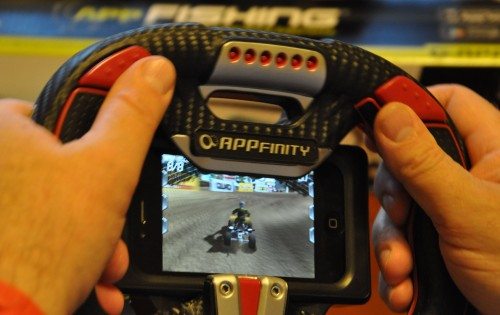 For my testing, I couldn't rely on just my limited experience with games, so I enlisted some help. I wanted to see what pros and n00bs alike would think of the games and the controllers.
My Lovely Bride loves word games, but not so much action, "twitchy"-type games where you have to be quick with your fingers, rather than your wits. Despite this, she laughed and played along for a few minutes, once I got her into the basics of finding the bad guys, reloading, and firing the right weapon (trigger). My younger daughter (23) is also more adept at word and puzzle games, but really had a ball, once she figured out the mechanics. I just about couldn't get my phone back! ("Wait, wait! There's one more! Pew! Pew!")
The acid test, however, came when I took them into the breakroom at work. At first, I just showed them to a colleague or two, and left them sitting on the counter near the break computers. As soon as I got them all there, however, I needed to do something about storage. Owing to my general appearance, I felt it apropos to label a box "Santa's Toys" and explain in a meeting what I was doing. From then on, I rarely came back to the break room without seeing someone playing something. Even those with the iPhone 5, which doesn't fit in the holder, were borrowing older phones in order to play. Those who are not avid gamers also got involved, and there was a lot of coaching and sharing going on. Several who have kids with iPod touches were asking about them as holiday gifts.When I took them home to shoot photos and finish the review, several folks moaned and asked when I was going to bring them back in. I think they were a hit.
So, let's look at pros and cons. Price wise, they are not too bad. Since there are no electronics involved, they are very reasonably priced at about $20 each. For the build and design quality, this is right in line. I'm sure these will survive far longer than some other things that cost a bit more in your holiday gifting! Ease of use and versatility (being able to use with several different devices via adapters), and a good number of games available are top-notch. The only real drawback I found with any of the controllers is that there's no easy way to get to the system volume when it's locked and loaded for play. You have to remove the device from the holder, set the volume, and then put it back in – not easy to do, if you're a parent with kids playing while you're trying to sound professional on a phone call. You can go into settings and turn things down from there, but it's just as fiddly. This is probably not addressable without compromising the security of the device, but it was mentioned several times by my testing crew. (Of course, they all wanted to turn it up, but same difference!)
If you have kids (of any age), one of these would make a great addition to their handheld system. One of the parents I spoke with was talking about having to get her kids an iPod touch, and wanted to buy the less expensive, older design, since her kids are younger. "One of these might make it justified," she said.
Five stars.
Product Information
Price:
various - but about $20 per controller.
Manufacturer:
AppFinity
Retailer:
various online and in stores
Requirements:

Phone or iPod Touch in 4.5" x 2.5" form factor

Pros:

Sturdy
Device is secure in holders

Cons: