We use affiliate links. If you buy something through the links on this page, we may earn a commission at no cost to you. Learn more.
Bluetooth speakers are becoming quite popular, since most folks are carrying their music on their phones or tablets. Sure, plugging in an AUX cable gives a better connection in most cases, but trying to use something while its tethered, or having something fall off the edge of a counter because it was precariously balanced next to the stereo and power outlets is a drag. I've found Bluetooth also is much more flexible when sharing devices between folks. Once you learn the pairing process, it's trivial to connect from another device. As Bluetooth 4.0 becomes more common, the quality of both the audio and the connection is growing continually.
RichardSolo, the new company from the founder of the Sharper Image, makes several different products that we've reviewed here in the past. His newest offering is the FreeWheelin Audio System for Helmets, a Bluetooth speaker system designed to use on your bike, in your car, and on your desk. Since I try to bike as often as possible, I requested to be the one to review it. 
The Freewheelin system comes in a cardboard box, with a molded plastic insert holding the main unit and speakers and the clip all assembled. Under the molded tray is a proprietary round USB charging cable and several click-loc patches to attach the pieces to your helmet. I have used speakers on my helmet before, and enjoyed the safe freedom of hearing my choice of audio while not blocking out the sound of cars and fellow riders as they pass. (It's really sad to pull up at a light beside someone else on a bike, make eye contact and say "hello", only to realize they have earbuds buried in their ears and can't hear anything. I like to be a bit more aware of my surroundings than that when I'm on a bike!)
The FreeWheelin system consists of three pieces wired together with curly cables. The center piece is a "head" unit, which contains the battery and probably the Bluetooth radio. The left speaker has a single button, used for turning it all on and off or for answering the phone or starting/stopping music. The right speaker has two buttons for volume up/down. The buttons are rubber coated and very easy to engage. Pairing is handled by holding down the power button until the LED on the head unit blinks to indicate discover mode.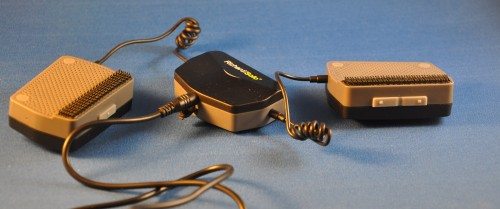 The back of each piece has a click-loc connector patch attached. This is not Velcro, so there is no "scriiiiitttttch" noise as you remove or replace items. Instead, each piece has a series of teeth that stand up with little heads on top, almost like a forest of sewing pins. They are spaced apart enough that, when you press a similar piece onto it, the pins merge with a little "snick" and hold quite well. Since all pieces are the same, there's no rough side/soft side issue like there is with Velcro. Pretty nice stuff, and well suited to this application – except that it works best with a flat surface. Biking helmets are pretty much free of straight lines on most surfaces. I tried every place I could think of, and could never find a place where I could stick the click-lox patch that would actually hold the speakers. There is a flat place on the back top, where I previously mounted a speaker. It fit the head piece of the FreeWheelin' perfectly, but the two speakers could not engage at all. I finally was able to MacGuyver things together with duct tape in order to test, but it was a struggle. Plus, that prevents the quick on/off that the system is designed for.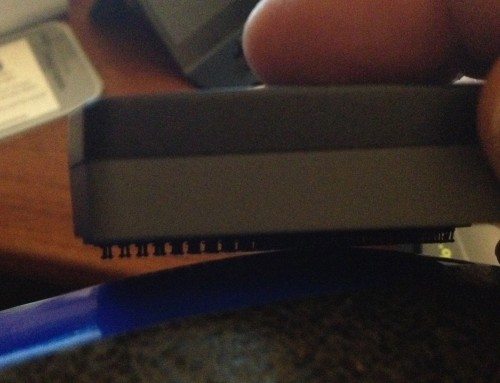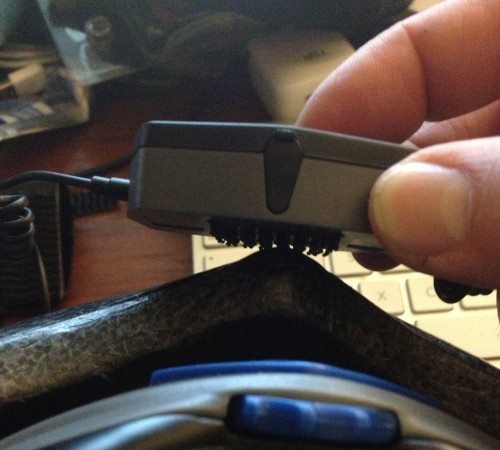 The included clip is plastic, flat on one side, with click-loc patches already attached. You can leave the speakers attached and move it around, or clip it to your visor for sound in your car.

I've been using a different Bluetooth unit clipped to the visor in my car, and replaced it with the FreeWheelin for a few days. The sound was quite a bit louder, but there is much less bass, I guess due to the smaller speaker size. If you're listening to a podcast or audiobook, this is great, since you don't have to deal with the lower registers. But for music, when you want to have a broader sonic experience, this is less than optimal. On a bike, this is really helpful, in that you have the higher level sounds cut through any other noises, yet you can hear the sounds of car engines coming behind you, which are usually in lower frequencies.
Having your audio come from something other than earbuds is great. You can still hear birds, people talking, and vehicular traffic, yet your music is there, as loud or soft was you want it to be. You do get looks as you pass other folks, however, much like those who drive around with music blaring out of their car's stereo. Even listening to softer sounds or even a podcast, folks don't expect to hear a radio out on the greenway, or while walking the streets of their neighborhood. Prepare yourself for quizzical passersby.
So, the sound is OK, but not stellar. It's nice to have a decent sound system clipped to your visor or helmet, but what problems can you expect? First off is the whole proprietary charging cable. I know, as an iPhone user, I should have no ground to stand on here, but the iPhone 5 has already brought more Lightening connectors into the marketplace than what RichardSolo will ever sell of these units. If you are not going to sell tens of millions of your device within the first few months on the market, you need to stay with standards, which means microUSB or miniUSB. Period. Any other wacky connectors, no matter the rationale, is just not acceptable. I guarantee there are already buyers of this device that have lost/broken their charging cables and are either calling the company or ending their use of the product because they can't get a replacement.
The biggest drawback to the whole setup, however, is that it's three little pieces, dangling together with tiny curly cords. There is no bag or case or anything to carry it in, unless you attach it to the clip. But even then, the cords are still exposed.
I attached the clip and used two mini-bungie cords to connect the unit to my handlebars, and it was like having a stereo system on my bike. (Actually, I've been doing that almost every ride since I first tried it and probably will continue.) When I stop, however, I have to unbungie the unit and carefully put it into a pannier or whatever bag I'm using before I can get going. On my helmet, I just store it with the speakers attached.
Music on the go, or catching up on a podcast or audiobook while also getting exercise or running errands on a bike is really fun. I guess this is how the first people to have car radios felt. Getting the periodic reports from my health-tracking app with the music ducked to the background is quite nice, as well. I could probably use this in a strange town to find my way with a GPS mapping application as well. I'm really sad the helmet attachment thing didn't work out.
So, altogether, three and a half out of five stars. Really well done sonically, good battery and weight. Poor choice for charging connector, and the idea of a flat surface on a bike helmet is a bit naïve. And would it hurt to toss in a drawstring bag to hold the cable and all the pieces when not in use?
Product Information
Price:
$150
Manufacturer:
RichardSolo
Retailer:
various online and in stores
Requirements:

Device that attaches to Bluetooth speaker

Pros:

Fast pairing.
Decent sound.
Great concept.

Cons:

Flat speaker will not attach to any of the helmets in our home.
No way to easily transport pieces.
ROund proprietary charging cable.