We use affiliate links. If you buy something through the links on this page, we may earn a commission at no cost to you. Learn more.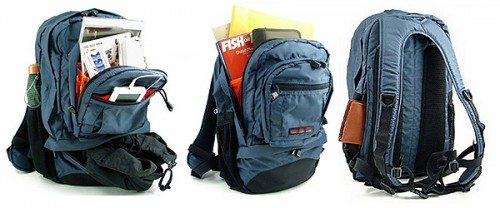 "A place for everything and everything in its place" – Samuel Smiles, Isabella Beeton, Benjamin Franklin? 🙂
Isn't coincidence a funny thing?  My wife had to go on a work trip for a few weeks and asked if we had a small backpack she could use while she was away.  Now I'm a messenger sort of guy so while I have multiple messengers, in multiple sizes, I had no backpacks. That week I received a "care package" from Julie and as a surprise inside was a Nomadic Wise-Walker CB-01 backpack.  The CB-01 is a  Japanese-designed backpack that's distributed by Jetpens in the US, and it's one of their most popular bags. Will the Nomadic Wise-Walker meet the WAF (Wife Acceptance Factor)? Read on after the break.
Size and colour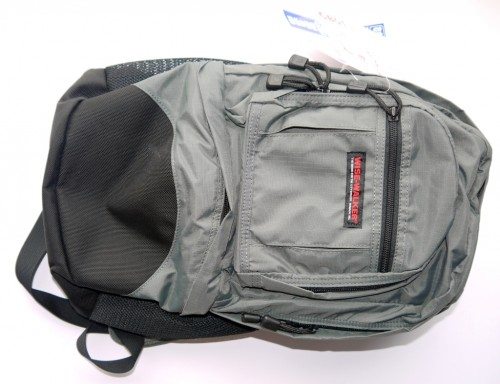 The Wise-Walker isn't an overly big backpack at 40 X 24 X 19 cm (15.75 x 9.5 x 6.3″), and the ripstop nylon that most of the pack is made of makes it pretty light at 680 grams (24 oz).  The rip-stop has a waterproof treatment on its exterior and a polyurethane layer on the back, so it should protect your gear from water and rain. Jetpens offers it in black, grey and navy.  You'll see I have the grey.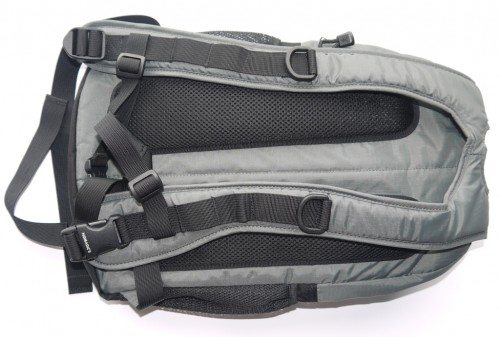 It's got a nice ergonomic strap system with padding for back airflow and an adjustable sternum strap with an elastic expansion section as standard.   Another neat feature is the clip on the bottom of the left hand strap. It's a nice touch and makes it heaps easier to remove and put the backpack on without having to go into all sorts of contortions when it's fully loaded.
Everything in its place and a place for everything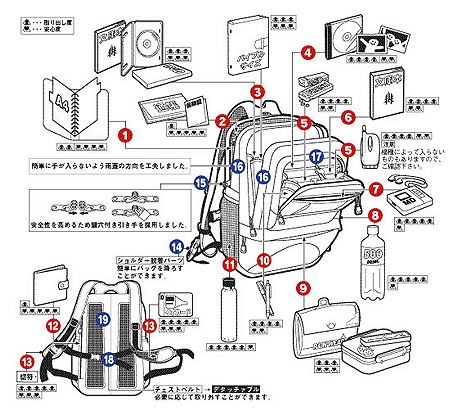 The Wise-Walker is full of pockets and pouches.  Above is the diagram from the website.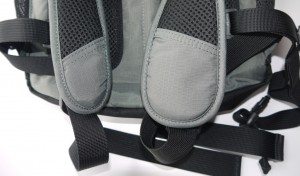 The two smallest pockets are at the end of the shoulder straps.  They're the perfect size to put in a bus ticket or pass and easy to get at as you don't need to open any pouches or zippers to access them.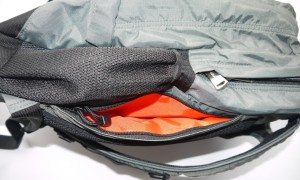 On the back of the pack, up against your body, there's a "hidden" pocket that would make it very hard for someone to access when you've got the pack on.  It's perfect to keep your wallet,keys or phone safe from pickpockets. If someone tried to get into this pocket you'd feel it. On each side there's a mesh drink bottle/umbrella pouch.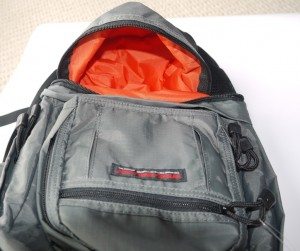 On the bottom of the pack is a compartment separate from the main compartment.  This could be used to keep things like your dirty sneakers away from your clean clothes in the main compartment, or perhaps food separate from your food "sensitive" electronics.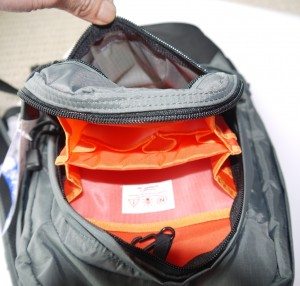 Here are the two smaller front pockets.  The pack is lined in orange throughout, which makes it easy to see your little items. Just this one pocket contains 5 different compartments in it. And at the top is a key lanyard.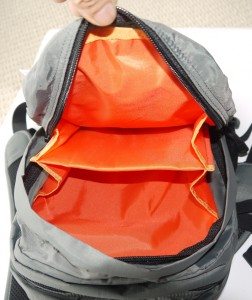 The next set of pockets are for those slightly bigger bibs and bobs you need to carry with you. You only get 2 compartments here 🙂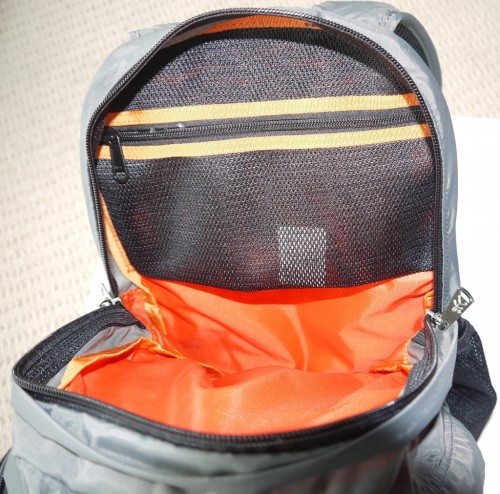 And here's the main compartment with a mesh pocket on the back. This compartment is big enough to carry a 13″ notebook (with neoprene case)  in it.
On the back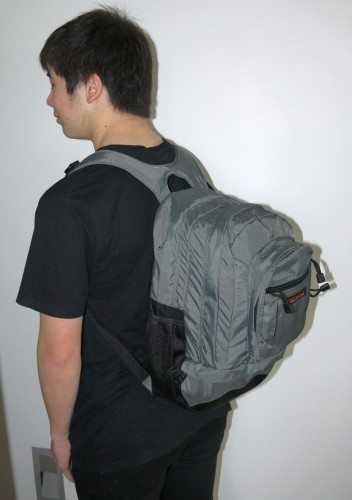 And here's the pack fully loaded on one of my never-ending supply of "willing" volunteers. He's about 5′ 7″.  When unloaded, the pack looks very small, but it's pretty deceptive how much gear you can really fit into it.
Wife's Experience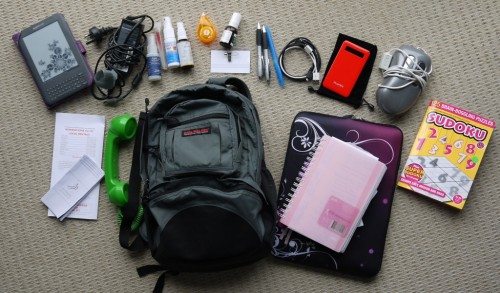 So here's all the stuff she carried around with her everyday for the 3 weeks she was away, again looking at the picture, it's hard to believe that so much fits into this small backpack.
Conclusion
When I first received this backpack, I actually thought it looked neat and was going to give it a test run even though, as I mention in the beginning, I'm a messenger lover.  I figured I'd give it to the wife and then get it back when she returned and give it a run.  On return however she commented that she loves the bag because there are so many pockets and compartments and a place for everything (strangely she's more organised than I am 🙂 ). She's now claimed this bag as her everyday work bag, replacing a number of carry bags she was using.
If you've ever received an item and wondered whether it'll pass the WAF then for me this is one item that certainly does, however in this case WAF doesn't stand for Wife Acceptance Factor; it stands for Wife Acquisition Factor. 🙂
Updates 04/21/16
Managed to steal this back of the wife (though she still commanders it sometimes). When I need a smaller pack, this is the one I reach for. Still looks as good as new.
Source: The sample for this review was provided by Nomadic. Please visit their site for more info and Jetpens to order.

Product Information
Price:
$91
Manufacturer:
Nomadic
Retailer:
Jetpens US
Pros:

Deceptively small when empty
Holds quite a lot of equipment
Heaps of pockets, compartments and pouches
Comfortable harness system
Waterproof
Meets the WAF

Cons: