We use affiliate links. If you buy something through the links on this page, we may earn a commission at no cost to you. Learn more.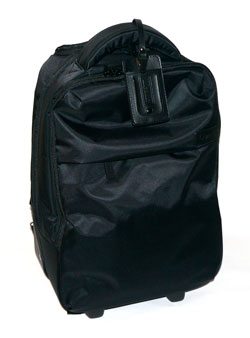 The technology we carry around is continuously becoming lighter, smaller, faster, more feature-rich, etc. But many of us are having to carry more of it with us, either by choice or necessity. I regularly find myself taking my iPad and MacBook with me day in and day out, along with their power cords, odds and ends, plus paperwork as well. Let's face it, the weight we haul around adds up quickly. Well, the designers at Lipault of Paris have recently released a 2-Wheeled Laptop Backpack engineered for both carrying and rolling to help you lighten your burden while on the move.
Specifications:
18.3"x13"x6.7" – 5.2 lb – 2,135 cu in
Exterior:
2 wheels
1 handle at the top
1 flat pocket on the front panel
1 large front pocket
1 central compartment
2 shoulder straps for use as backpack
Back cover to slip over wheels to protect your clothing
Interior:
1 main protected compartment fits laptops, ipads and e-reader's up to 15″ in size
1 organization pocket for credit cards, pens, business cards, mobile, etc
monogrammed lining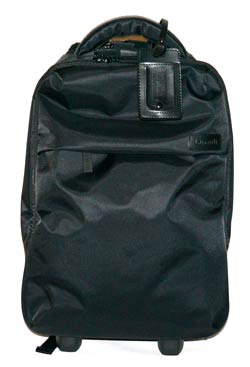 The Lipault wheeled laptop backpack is nicely sized for getting around. It's big enough to accommodate much, if not all, of your tech traveling needs, but small enough to easily take with you on the bus or a small commuter plane.
x
x
x
x
Construction Quality and Design: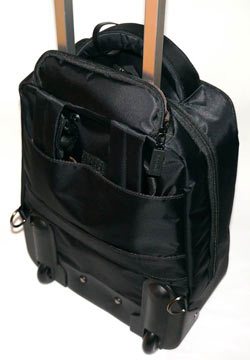 This backpack is made from a relatively thick ballistic nylon. The material is stitched onto a solid aluminum frame. Empty, the bag weighs just over five (5) pounds. Considering its frame, extendible handle, and wheels, 5 pounds does not seem like all that much weight. The Colonel Littleton Navigator bag I use weighs that much.
x
x

With the handle extended, the Lipault Wheeled Laptop Backpack stands 42 inches tall. The handle is made of aluminum and has its own zipped storage compartment when it is not in use. The handle is sturdy and freely extends and retracts. The backpack straps have their own Velcroed storage compartment as well to keep them out of the way when not in use. Each strap attaches to a d-ring hard point.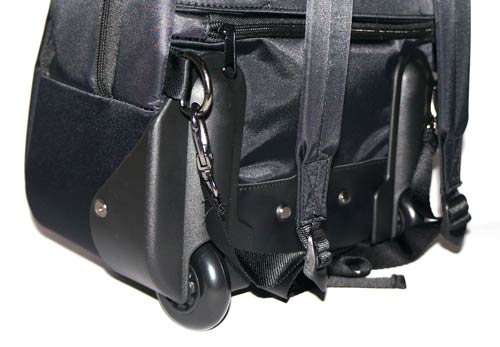 Its construction is built well enough, but I would not describe it as great or truly able to stand the test of time. I personally like more rugged construction in my travel gear. For comparison, my Northface roller backpack that is years old and traveled tens of thousands of miles is still going strong. The engineering, design and build quality is definitely better, but at twice the cost.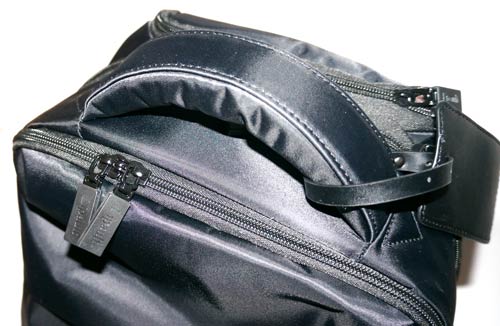 The main/top handle is well made and nicely padded. The zippers open and close smoothly and are moderately tough, but definitely not the most rugged ones I have ever seen.
The backpack has three storage areas:
Flat Front Pocket: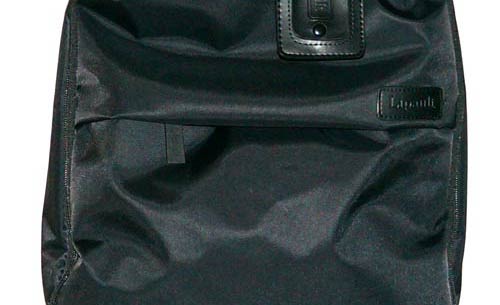 The flat front pocket on the front panel for paperwork and/or cables.
Large front pocket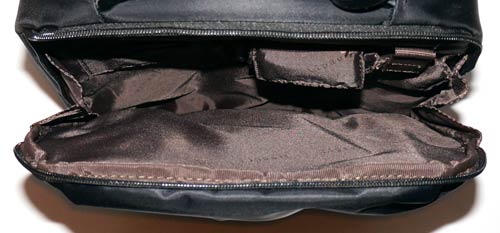 The large front pocket can hold a tablet, smartphone, pens, business cards, sunglasses case, or other such items of this size. I like the interior pockets to better organize my gear (vs being just dumped into a single large void). The interior lining is monogrammed and well stitched.
Main compartment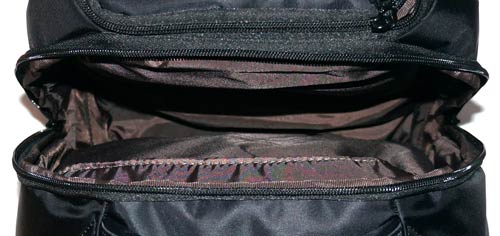 The main/laptop compartment easily fits my MacBook Air and there appears to be plenty of room for up to most 15″ laptops. The compartment is well padded and will protect your device from most bumps and drops.
Fit/Feel/Function: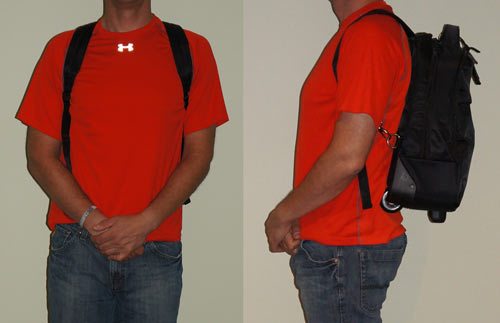 From a design/use point of view, you have the option to wear it over one or both shoulders, or if the terrain permits, extending the handle and wheeling it behind you.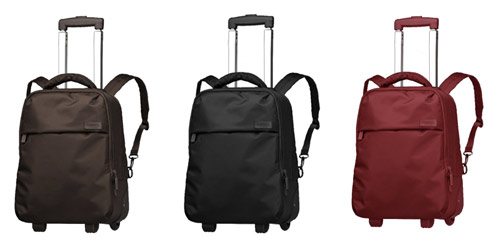 The Lipault 2-Wheeled laptop backpack is $179 and available in brown, black and red. I looked for equivalently sized roller backpacks and found many for a fraction of the cost, from Nike to Little Kitty. While the Lipault roller backpack is stylish, well made and constructed with quality materials, there are definitely less costly alternatives that will do just as well getting your gear around.
Product Information
Price:
$179.00
Manufacturer:
Lipault Paris
Pros:

- Nicely constructed
- Well designed/organized
- Can be carried by handle, as a backpack, or rolled

Cons:

- Expensive
- May not stand up to the test of time