We use affiliate links. If you buy something through the links on this page, we may earn a commission at no cost to you. Learn more.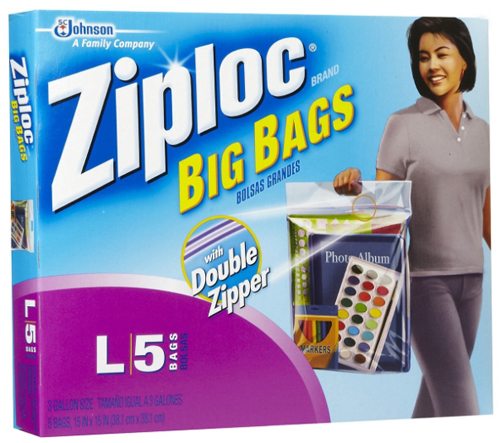 I know there are various waterproof bags for phones and other small gear available for purchase, but what do you do if you don't have one of those – or one big enough to fit your laptop – and you're going to be exposing your gear to water?  As I was taking Rachel to school this morning, it was raining torrentially.  Water was standing on the roads, there were wrecks causing traffic delays, and a transformer literally blew up as I was driving by.  Rachel has a phone in her backpack, and she also takes a laptop to school most days.  Most backpacks aren't exactly waterproof, and she was going to be outside quite a bit today while walking into and out of the school from the car drop-off location and while changing classes on a campus the size of a small college.  And need I tell you that she couldn't find her umbrella?
We put her phone into a Ziploc sandwich bag; we've used this before and it works great to keep her phone protected from the water that gets through the backpack.  You can even use a capacitive screen through the bag.  Luckily I had a Ziploc bag big enough for her laptop, too.  Ziploc also makes Big Bags that were designed to store bedding and off-season clothing, toys and sports equipment, or the like.  Luckily I had some of the Large size, which are 15″ X 15″.  (Big Bags are also available in a 2 ft X 1.7 ft size and a 2 ft X 2.7 ft size.)  The Large size was big enough to hold her laptop, and the plastic is thick enough that I don't have to worry the bag will rip easily while she's moving the laptop in and out of the bag.  It has double zippers to ensure a water-tight seal, too.
I'm going to make sure she keeps a Ziploc Big Bag inside her backpack all the time for other days when she gets caught without an umbrella.  How do you keep your gear dry when you don't have a waterproof gear bag or a waterproof cover for the bag?