The Gadgeteer is supported by readers like you! If you buy something through links on our site, we may earn an affiliate commission. Thank you! Learn more.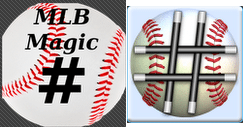 It's that time of year for baseball fans, the race for the playoffs. This is the time when baseball fans start talking magic number. The magic number is the number of wins by the leading team, and loses by the second-place team that will secure the division for the leading team. It is an easy number to calculate, just take 163 (number of games in a season + 1) subtract wins by the leader, and losses by the second-place time, and you have it. But that involves looking up the records, and doing math. Fortunately a smartphone is adept at both those things, so with my Reds leading the Central, I went off to the Android Market to find an App.
My simple search yielded two likely candidates.  MLB Wildcard Magic Number, and MLB Magic Number Widget. Both are free, and looked like they could do the job. I gave them both a spin, and found a clear winner, at least for me. This is not an in-depth review on these two apps, but just a quick look.
MLB Wildcard Magic Number

The first one I tried was the Wildcard Magic Number. Now, since I am not a Cardinals or Pirates fan, the wildcard aspect did not appeal to me, but I figured that it would also give the magic number for the division. It does the job, but has a couple of things working against it.
Strike one is it opens to a useless splash screen. You get an animation of two baseballs, and then the screen just stares at you. I won't bother wasting space with that screen, you simply tap one of the 5 buttons at the top to get to the information. Here is the important screen, the Magic Number screen.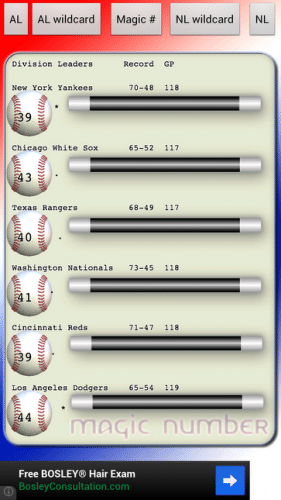 This provides the Magic number for the leaders of all divisions. It is ordered AL first, NL second, and then East, Central, West in each league. And here is where we get strike two. I am no designer, but yikes this is one ugly screen. Those are meant to be magic wands (get it, magic number). With a screen shot you miss out on the animation of stars near the numbers. Really, all we need is some blinking text, and I would be feeling full Geocities nostalgia.
The AL/NL buttons give you the standings by division, and the AL wildcard/NL wildcard gives you the current race (with more pointless animations). But since I have already dinged them for animations, we'll call that a foul tip, and leave the count at 0-2.
This is a baseball article, so you are probably not surprised that there is a strike three. This app has no widget. I wanted to be able to put a widget on my home screen to keep me up to date on the Magic Number.
The app does provide a lot of information about the playoff race, but the design is quite distracting. This app does not have a long future on my phone.
MLB Magic Number Widget

As you can likely surmise from the name of this app, it has widgets. In fact, this is not an application at all, it is only a widget. It would be nice to have an app as well, but not a big deal.  I'll call it a ball, just low and outside. When you go to add a widget, you have a few choices to make.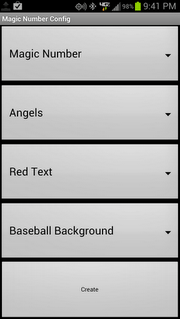 You first choose what to track (defaults to Magic Number, more on that later), then the team, color of the text, and background. The baseball is kind of ugly, and the backgrounds boring. I think we'll have to call this a strike, though the app did get a piece of it. The count evens to 1-1. Here is the app on the home screen, showing my Reds with a magic number of 39.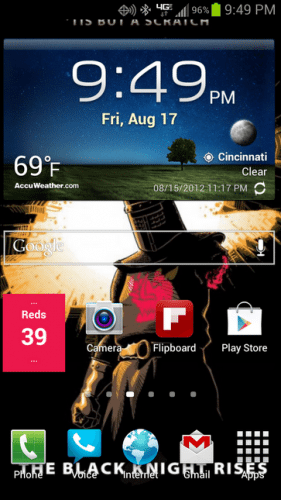 When you tap on the widget, you get some nice details. So the widget makes nice contact on the ball. Please note that during the time it took me to write this post, The Reds have already dropped to 38.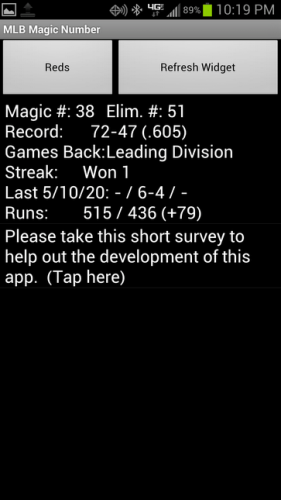 Unfortunately the only thing you can change about the widget is the team. Which is frankly the least likely thing you would want to change. No changing of text color, background, or what is tracked, so the ball curves foul, and we stand at a count of 1-2.
However, adding a widget is very quick, so I think we get a good solid hit from the widget. In fact, you can add multiple widgets to a home screen. I have dedicated a screen to the Hunt for Reds October, so I can see all this on one screen: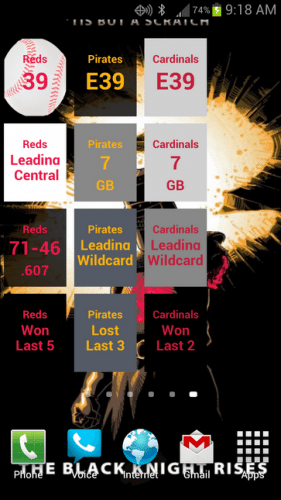 So on one page I get the Reds magic number, a reminder that they are leading the Central, their record and current streak. I also see where the Pirates and Cardinals stand. So a solid hit indeed.
But this widget wasn't satisfied with a single, they stretched a nice solid hit into a double by adding a bunch of tracking options. In addition to the ones you see here, I will be able to add widgets for the Division, Championship and World series, days until opening day (which is always a special day in Cincinnati), days until pitchers and catchers report, and days until players report to spring training. I have a feeling this app has found a permanent home on my Android.
Conclusion
So, if you are a baseball fan, you now have two good options for tracking your favorite team. They are not perfect, but they are free and they accomplish the job at hand.
Support The Gadgeteer
:
The Gadgeteer is supported by readers like you! If you buy something through the links on our site, we may earn a small affiliate commission. Thank you! Learn more.