We use affiliate links. If you buy something through the links on this page, we may earn a commission at no cost to you. Learn more.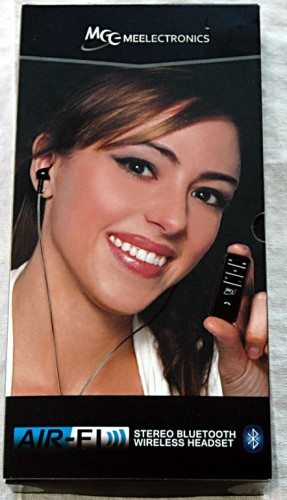 The Air-Fi AF9 Stereo Bluetooth Wireless Headset with Microphone from MEElectronics is a small Bluetooth receiver (with controls and mic) and stereo headset. It provides hands-free talking and Bluetooth stereo media playback/control in a convenient-sized device providing unconnected (to your phone, anyway) use with any Bluetooth-enabled device.
Inside The Box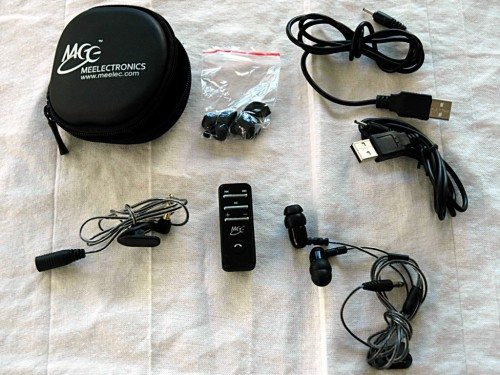 The AF9 comes with a generous supply of cables and rubber ear buds. You'll get two USB charging cables (one for home and one for work, maybe?), the Bluetooth module (labeled AF1 on the side of the module), the AF9 stereo headphones, an audio extender cable that doubles the length of the headphones cable, 4 sets of ear buds in various sizes, and a clamshell carrying case.
The Headset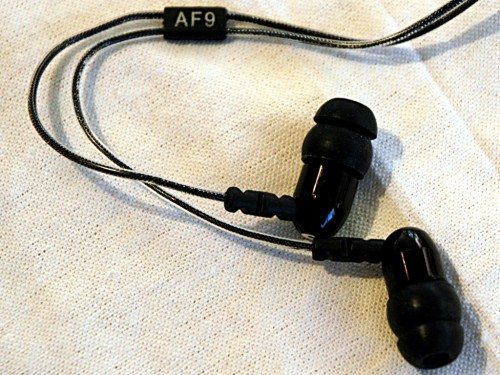 The AF9 Stereo headphones are of a lower build quality than the MP9s I reviewed back in 2011, but then again this whole package is only $15 more than those headphones.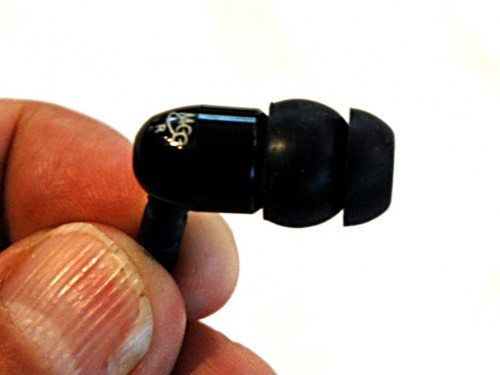 They're still noise isolating in-ear earbuds, and they have decent sound and in-ear comfort. They're also only headphones – no mic is included on them, as it's on the AF1 body. Still, with the included extender cable they're usable as wired headphones and their shorter main cable is a more manageable length for use with the AF1 receiver. Given the hit in sound quality you take when using Bluetooth anyway, they're quite serviceable.
The AF1 Bluetooth Receiver/Mic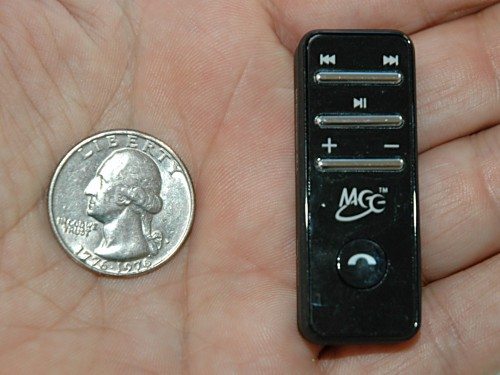 This little rectangle  is the meat of this device. In the tiny 10.1 gram obelisk is your Bluetooth radio and a battery rated at 5 hours of talk or 6 hours of music playback and 100 hours standby time.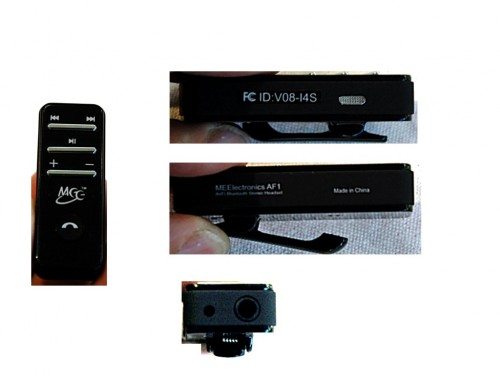 On the right side is the microphone. The top is where you'll find a 3.5mm headset jack and the charging port. There's a clip on the back, and four control buttons on the front. If that sounds like a lot to pack into 1.5″ X 0.5″ X 0.25″ to you, then you're in the same boat as me. The control buttons are cramped, but fortunately they function well and have nice "click" feedback. Oh, and since this is a Bluetooth device, it includes an annoying bright blue blinking LED on the front – apparently this "make you look silly" blinking blue LED is required of all Bluetooth devices.
The supplied pair of USB-to-charging pin cables let you charge the Air-Fi off any USB port in about 4 hours.
Grab Your Partner
Partnering the AF1 to a Bluetooth device is no longer the exercise in trial and error that it was in the early days. You press and hold the "multifunction" (phone symbol) button until the AF1 glows solid blue, and then you look for it (it's called AirFi) in your pairing device's "device scan." It uses the PIN of 0000, which most devices will try for you when connecting a headset. I was able to pair it with ease with an iPhone4, Windows Phone 7, Android tablet, and several Win7 PCs. It seems to remember at least 4 pairings before overwriting the oldest device. It will reconnect to the last connected device automatically. In other words from a Bluetooth perspective, it works just like most other Bluetooth headsets.
What's the Frequency
Radio performance of the Air-Fi was decent, but not earth shattering. It was rock solid at 12 feet and under, and seemed tolerant of use in areas with other radio waves about (WiFi, microwaves, wireless home phones, and who knows what else.)  Beyond 12 feet out to about 30′ (less if not in sight), things get a little more hit and miss, with increases in drop outs or hiss/noise near the far end of the range. Battery life was also passable. the two charge cables mean you don't need to carry one with you between work and home, but you'll not make it through a whole day on a single charge if you use the Air-Fi for extended listening. You'll also not be listening during recharges, as the unit doesn't work when charging. In my tests of listening, the runtime was just about 6 hours. Standby lasted 4 days (paired to my desktop, sitting there, doing nothing but being on and paired.) I can't imagine talking for 5 hours, but that seems plausible given the listen time.
Can you hear me now?
Evaluating the performance of audio gear is tricky enough when you get past a certain age, and then add-on variables like cell phone call quality and Bluetooth wireless interference, and things get downright subjective. Certainly compared to other Bluetooth headsets, call quality and my voice as heard on the other side of the call were both reasonably clear and understandable. The mic isn't noise cancelling, so you're going to have background noise, wind noise, and garment noise (if you're moving) more so than with a high-end headset. Pretty much it will be no worse than with a wired headset and mic.
Music playback was acceptable as well. In a noisy environment I can't really tell much difference between the Bluetooth stereo profile and a wired headset on MP3s, but in a quiet room with high quality audio sources, the typical Bluetooth compression/loss of dynamic range is evident.
Wearing a Wire
The whole point of these devices isn't high-fidelity of course, it's not being directly connected to your audio source. To achieve that you've got two options – either the receiver and battery are IN the headset, or they're in some blob you plug a headset into. With the blob approach, you still end up with a wire going to the blob, with the blob clipped somewhere on you. Then your phone or other device is in your pocket or on a nearby table, or you're using your laptop or desktop. You're free to move around a bit, but you've still got a wire. The upside is far less weight on your head or ear. I found the combo to be quite comfortable for walking and talking, or exercising and listening. It was also good for use around the office taking VOIP calls & online meetings, while  allowing me to move freely about a desk-sized area without getting tangled up.
Over and Out
The Air-Fi AF9 is an inexpensive way to break the connection between your head and your phone/media playback/PC, provided they have Bluetooth support. It's not immune from the typical drawbacks of Bluetooth, but then at this price I'd not expect it to be. The use of a completely stand-alone receiver unit with integrated mic allows you to use any headphones you'd like with a 3.5mm jack with the AF1, should you wish.
Product Information
Price:
$49.99
Manufacturer:
MEElectronics
Requirements:

Bluetooth 1.1, or 2.1+ EDR (A2DP/AVRCP)
Supports Hands-free Profile (HFP) 1.5, Headset Profile (HSP) 1.1, Advanced Audio Distribution Profile (A2DP) 1.2, Audio Video Remote Control Profile (AVRCP) 1.0

Pros:

Full support for all Bluetooth handsfree and media profiles.
Small, lightweight, standard 3.5mm audio jack.
Expected range/Bluetooth wireless performance.

Cons:

Battery life quite short for media playback.