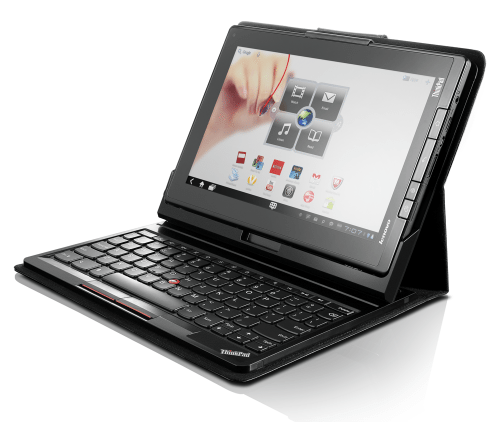 I managed to get my hands on the Thinkpad Tablet Keyboard Folio Case from Lenovo recently, fairly cheaply.  I hadn't worried about one before as I found that the Tablet was fine without it for my current needs, but the offer was too attractive to knock back. I've mentioned in several of my Thinkpad Tablet articles (see Related Items below) that you can quite easily input data just using the screen and either on-board keyboards or the active stylus, but that longer articles might be an issue. Does the keyboard folio change that?  Read on.
Connection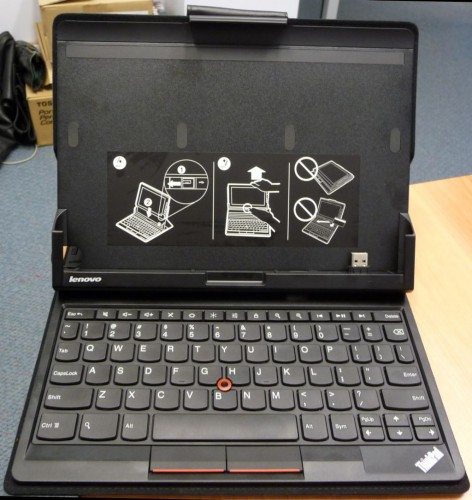 Here's the empty folio case; you can see that the Tablet slides into the top of the case using the two slide rails on the bottom and the soft rubber top bumper locks your Tablet into the case. The tablet connects via it's full size USB port on the bottom right hand side.  The method is a bit fiddly, but at no time have I felt that I'm going to damage either the tablet or the folio. Connection via USB has the advantage of not blowing battery power connecting via a wireless protocol, and there's certainly no lag when typing, which you sometimes get when you use a wireless solution. The big disadvantage is that when you are docked, you can't use your full-sized USB port for anything else, like inserting a memory stick.
Side Access

When inserted, on the right hand side you can still access your micro-HDMI, micro-USB port and headphone port.  You can't access your SD card or SIM slot, but that's no biggie really.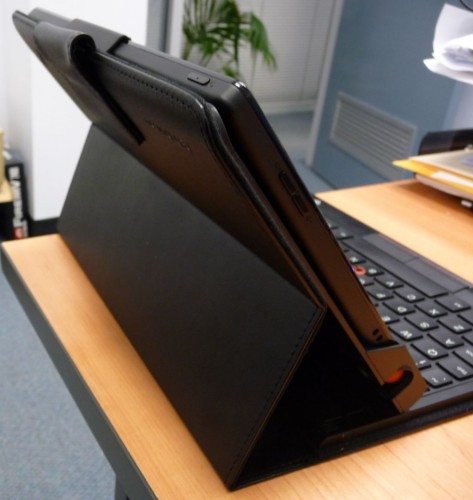 On the left hand side, you get easy access to the active pen.  The case is capable of holding the tablet in 3 different positions, and rather than just sit there via gravity, the base has magnets in it which gives you a nice positive click and lock mechanism.  Note the flap on the top; this is the magnetic closure strap, and as a nice little touch, when using the folio, the magnet holds the flap out of the way as well.
The Keyboard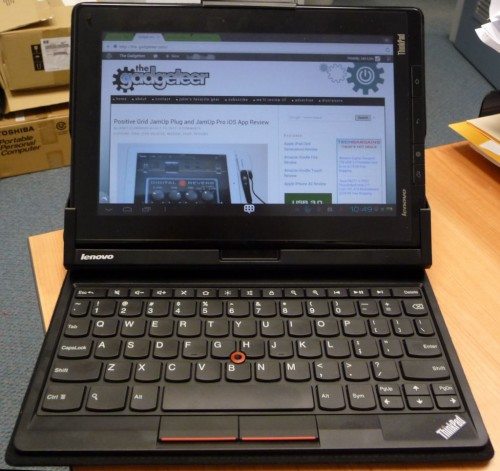 The keyboard itself  is 9.5 inches wide and 4 inches deep. The top has a row of system controls such as volume, home, settings and music control that are quite handy. In the middle of the keyboard is a Trackpoint.  It's not like a normal Thinkpad Trackpoint, as it's optical, so rather than physically move it, you slide your finger over the top of it.  It doesn't take too much getting use to, especially if you're used to using this sort of system before with devices like Ipaqs and O2 Atoms 🙂  If your tablet's screen blanks but you're not in "deep sleep", swiping the Trackpoint will also wake your tablet up. For my usage, I'm actually not using the Trackpoint at all.  It's just as easy to reach up and touch the screen with my finger, and where I need more precision, I can use the active pen.
The real test for any keyboard, portable or otherwise, is how well it feels typing.  Thanks to Mrs. Cornock and manual typewriters back in 1981, I'm a touch typist. (Never let it be said that having your knuckles rapped with a ruler when she caught you looking at your hands is just child abuse. :)) The keys on the Folio keyboard are "standard" size, no miniaturization here.  They have a nice amount of play, and unlike some "mini" keyboards, it didn't take me any time to be able to use.  Even the shrunken Enter and Shift keys don't cause me an issue. Thinkpads have always be known for their fantastic keyboards, and even in it's smaller state, this keyboard is no exception.  I can easily write a long article with this keyboard just as well as I could on my standard notebook.
It's worth noting here that the stand is fine when you've got it on a solid surface like a desk; however, it's not all that good for lap use as it becomes a bit "floppy" if your lap isn't perfectly horizontal.
The  major issue is that the keyboard cannot be turned off.  This means that when your tablet is docked in the Folio if you fold back the keyboard and try and use it as a tablet, if you rest the keyboard on your forearm you get random key presses.  Tablet mode does work fine if you hold the folio like a book, but as soon as you want to input any text you need to use the physical keyboard, you don't get the option for an on-screen one which isn't good when you're in portrait mode.
Weight and size

Now here comes the kicker with the folio case; when closed up, the case is 1.25″ thick and with the tablet attached weighs around 3 pounds.  That's even heavier and thicker than some notebooks, especially with the Ultrabooks being released these days.  That being said, you can tell that the folio is well-engineered and isn't going to break easily.
Conclusion
This really is a good little accessory for your Thinkpad Tablet. The keyboard certainly lives up to the reputation that Thinkpad keyboards have developed over time.  I can now easily use my tablet to write much longer articles and reviews if required, quickly and efficiently.
A lot of thought has gone into the design of this folio; from the easy pen access to the magnets to hold the base in place however, the big downside is the additional weight and bulk that the case adds.  Like much of Lenovo's equipment, you know that this has been (over?) engineered to survive; there are no cheap, creaky joints or materials here.  Most of the additional weight is in the tablet-holding mechanism, and it's a pity that they couldn't have come up with a lighter solution. The inability to turn off the physical keyboard means you really have to decide if you want the tablet docked or not, there's not really any in-between solution.
It would have been nice to have access to an additional USB port when docked and even nicer if, like the ASUS Transformer, there was an additional battery inside the keyboard. (The feel of this keyboard is way better than the Transformer one). I mean, they've aimed this tablet at the mobile executive who's going to be out of the office all day using their tablet.  But then an additional battery would have added even more weight to the unit . 🙂
It's not a case that I'll be carrying around with me all the time, but if I know I'm going to have to do a lot of typing, then this will be invaluable.
Support The Gadgeteer
:
We may earn a small affiliate commission from purchases made from buying through links on our site. As an Amazon Associate I earn from qualifying purchases. Learn more.
Product Information
Price:
$99.99
Manufacturer:
Lenovo
Requirements:
Pros:

Fantastic keyboard
Well made
Added protection

Cons:

Heavy and Bulky
No full size USB port available when used