We use affiliate links. If you buy something through the links on this page, we may earn a commission at no cost to you. Learn more.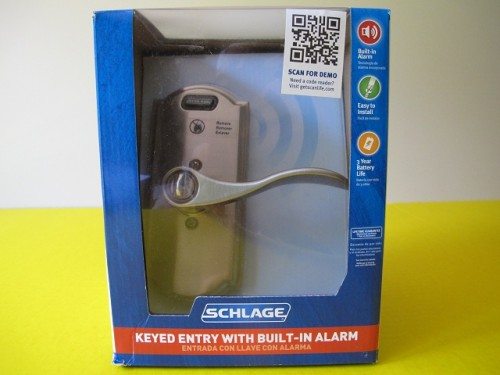 We all probably have lock-sets on our entry doors, and I'll surmise that most of those aren't alarmed.  As a matter of fact, I've never thought it was necessary to have an alarmed door knob/lever.  However, Schlage is trying to change my opinion with their FE51 series of Keyed Entry with Alarm lock-sets.  Will my opinion change, and more importantly, do you agree?
Upon receiving the FE51 I debated where to have it installed.  My main home has three exterior entrances which already have Schlage Keypad locks.  I didn't see a need to replace well-functioning units, but I do have a need at my vacation home.  Here I have just one entry into the house and the lock-set was getting wobbly.
Features:
A residential alarm lock that alerts you to activity upon first contact at lock or handle—not just when door is opened
3 different alert settings — right at the lock — as your security needs change
Resistant to pick and bump security attacks
Guaranteed fit on existing pre-drilled doors
Easy installation with a screwdriver in just 5 minutes—no wiring required
Two AAA batteries (included)—with three-year battery life-and low battery indicator
Rugged, all-metal construction
Lifetime limited warranty on mechanical components and finish, one-year warranty on electronics
Specifications:
Applications: Residential single- and multi-family doors
Certifications: ANSI A156.2, 1996, Series 4000 Grade 2
U.L. Listed: Locks for up to three-hour fire doors available
Keying: 5-pin tumbler C keyway with two keys
Door thickness range: 1-3/8″ to 1-3/4″ (35mm-44mm) standard
Backset: Universal latch standard, fits either 2-3/8″ (60mm) or 2-3/4″ (70mm) backsets. 5″ (127mm) backset  available
ADA compliant: Yes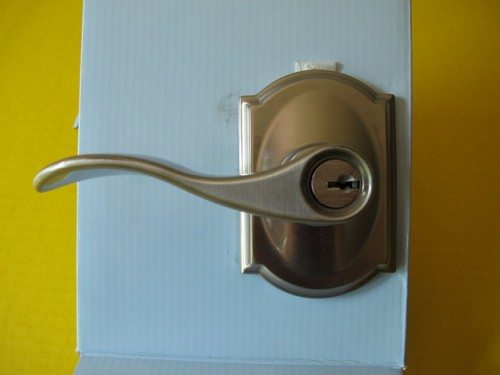 This is the front side of the unit.  As you can see, it's in brushed nickel and is of the lever type.  From the outside, there is no indication that the door lock-set is anything but a keyed entry lever lock.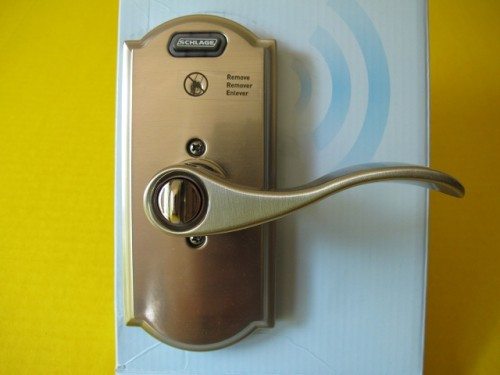 The indoor part of the unit.
Installation instructions are provided and are easy to follow.  Besides the front and rear plates, additional parts in the package include a striker plate, a backset, all screws, 2 x AAA batteries, a set of keys and a tool used to reverse the levers if necessary.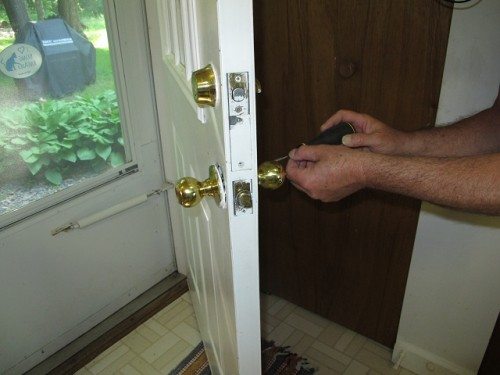 The first step was to remove the original lock and knobs.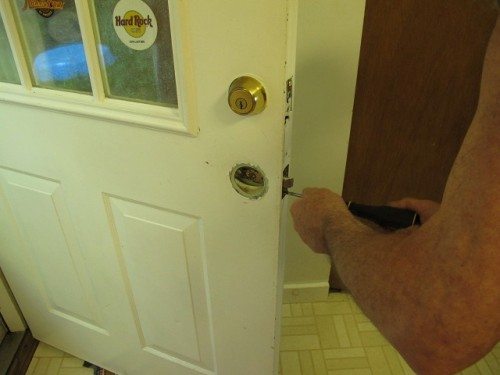 It's almost out!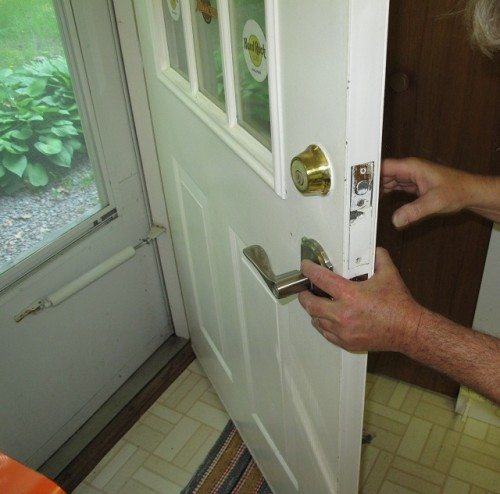 Now we're installing the Schlage lock.  As part of the installation, we installed the 2 x AAA batteries.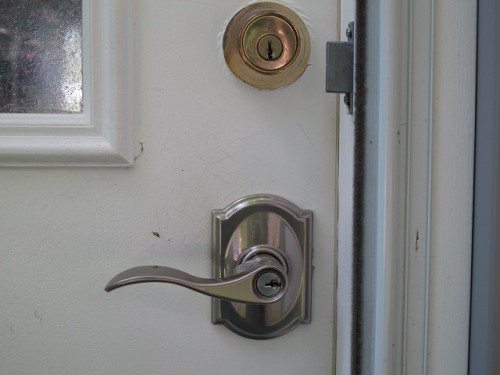 Done!  This is a view from the front.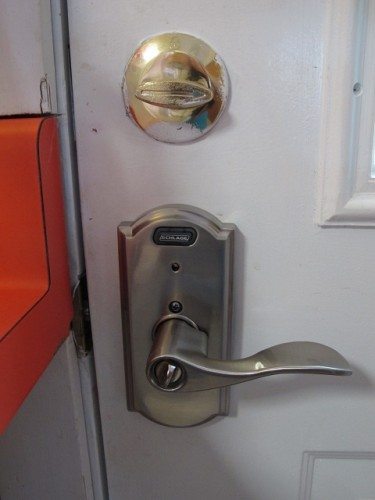 A look from inside the house.
Although the Schlage documentation states that it will take 5 minutes to install the lock, it took us 10 minutes.  That included the time to remove the old lock.  I have no complaint about the time it took.  We didn't replace the striker plate on the door jamb because it lined up fine with the new lock, and I had a bad experience of stripping out screw holes when I installed the striker plates at my home.
The alarm can be set to 3 modes and comes preset to the Forced Entry alert.  This mode will trigger the alarm for 3 minutes and the 3 indicator lights will flash if the door is forced, as when someone attempts to kick it in. There is no off mode for the lock, and as this is the least sensitive mode, it can be used all the time. If the alarm triggers, it can be silenced by holding the Schlage button until it stops.
The Activity Alert mode will beep twice every time the door is opened and closed.  It will reset in 3 seconds.
The Tamper Alert mode will sound a 90dB (the same as a smoke detector) alarm for 15 seconds when the lever is disturbed.  The left and right indicators will flash.  There is a 60 second delay to allow you to exit and lock the door.
To set the alert mode, you press the Schlage button for 2 seconds, until it flashes.  Then release and toggle it, and the LEDs will cycle through the 3 positions indicating the different alert modes.  Stop when you have the mode you want and it will be set.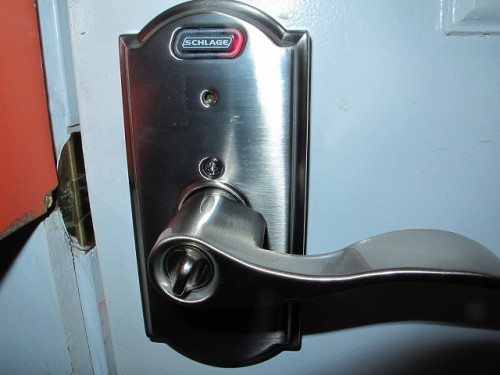 Here's a photo of the lock set to the Forced Entry Alert.  The LED only illuminates for a second or two to let you know which mode you're in.
Installation was a breeze and programming the alert setting is simple, but I wondered why I would want one of these.  After using it for a week, I can see the usefulness of the lock.
Because our vacation home is on a lake, our daughter is worried that her 3 ankle biters, our grandkids, will sneak out of the house and fall in the lake and drown.  With the lock set to Activity Alert, we can tell when someone opens the door.  The sound is loud enough to be heard throughout the cabin.
At night we set the alarm to Tamper Alert, so anyone opening the door will wake up the household.  It just a little extra security and peace of mind.
For a small additional cost, the purchase of this lock adds a bit of security and is simple to install and operate.  If you're planning to replace an entryway lock, why not add some peace of mind?
Update 01/08/15
The alarm capability stopped working.  It's now just a dumb entry lock.
Product Information
Price:
$99
Manufacturer:
Schlage
Retailer:
Amazon.com
Requirements:
Pros:

Easy to install
Simple set-up

Cons: