We use affiliate links. If you buy something through the links on this page, we may earn a commission at no cost to you. Learn more.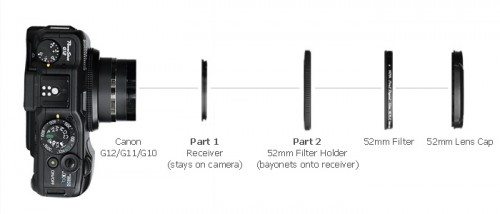 In 2002 I purchased a Canon G2, considered at the time to be one of the best prosumer cameras around. At the time the camera cost me around $1200AU, and as an optional extra, Canon offered a lens surround which would allow you to run filters on it.  Not only was it expensive, but it was made from cheap  black plastic that didn't even match the champagne camera. After much research I found Lensmate, a small niche company that was making CNC machined aluminum versions that not only matched the colour, but looked a heck of a lot classier.
Well I'm glad to say that Lensmate is still in business.  Currently they support accessories for the  Canon G1X,  SX series, latest G series (successors to my old G2) and S series,  Fuji X10/X100 or Olympus XZ-1. So if you own one of the above cameras and you've been considering a filter adapter for running a CPL, close up kit, or even quick change filter systems, then it might well be worth a visit.