We use affiliate links. If you buy something through the links on this page, we may earn a commission at no cost to you. Learn more.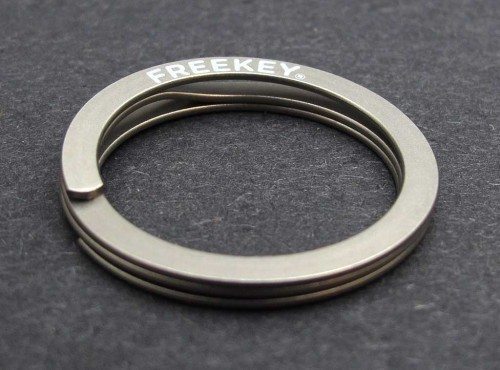 I love it when someone takes an item that we all use everyday and reinvents it to make it more convenient. For example, when was the last time you thought to yourself that you love the design of the everyday ordinary keychain split ring? Probably never… More likely, you swear under your breath every time you break a nail or pinch your fingers when you need to remove or add a key to your keychain. The FREEKEY is a reinvention of the split ring and it's awesome. Trust me, I don't say the word awesome very often.
Note: Click the images in this review to see a larger view.
I've been using the FREEKEY for a few months now, but didn't post a review because I was unable to find any stores that sell them here in the US (or anywhere else for that matter). I don't like posting reviews of products that you can't buy because that's just mean… so I held off until today. Something told me to google FREEKEY and I happened to find out that this Swedish made product is now being carried by Fenix Outfitters. So here we go…

What is the FREEKEY? It's a sandblasted finished stainless steel split ring key holder that has been redesigned to make it much easier to use. In the image above, you see the FREEKEY on the Left and a regular split ring that we all know and love on the Right. The regular split ring has been around for years and years and does its intended job well. The only problem is that to add and remove keys, you have to wedge something between the two pieces of the ring to lift one end. Usually the thing we use as a wedge is our fingernail, which often ends with pain and suffering as nails break or finger tips get pinched.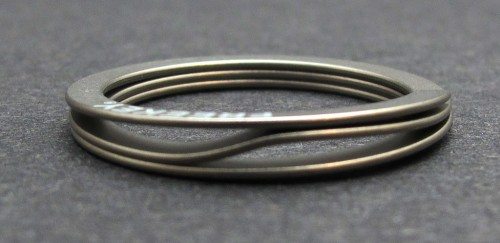 That's where the redesigned FREEKEY shines. It's still the familiar circular shape, but instead of the layers of metal being flat, there's a curved layer that creates a spring effect.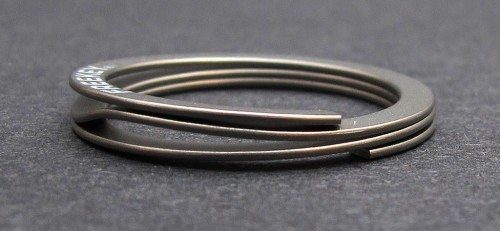 Squeezing the FREEKEY in a specific spot on the ring causes one end to lift up.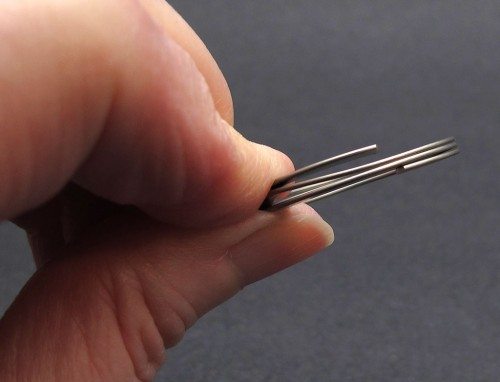 The squeeze takes much less effort than using your nail to pry the two layers apart on a normal split ring.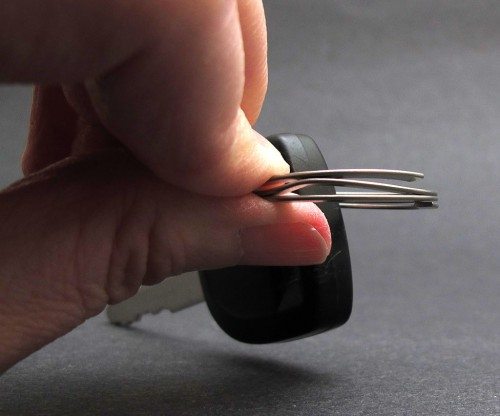 Just squeeze…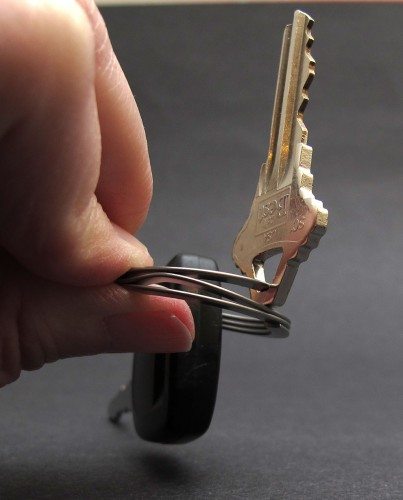 …and slide a new key on or off the ring. Simple! No broken nails, pinched fingers or swear words needed.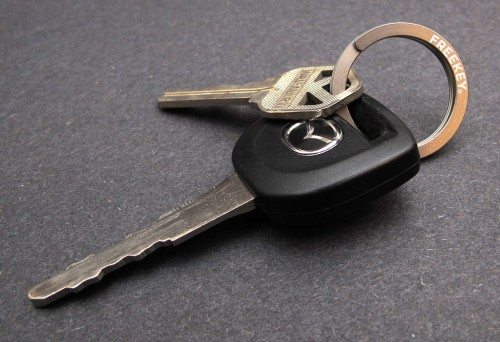 Put all your keys on one FREEKEY…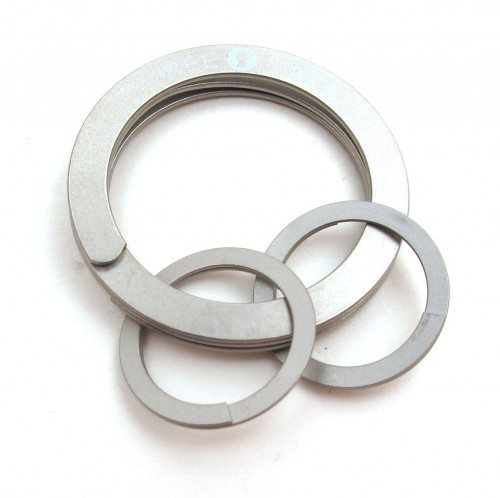 Or use the included group rings to organize your keys. Keep all your house keys on one group ring and all your work keys on another.
I absolutely love the FREEKEY and plan to never use an old fashioned split ring for my keys ever again. The only problem with the FREEKEY right now is availability and price. One FREEKEY (with 3 smaller organizational group rings included) is about $9. I know that's very pricey. But once you use a FREEKEY, I think you'll be hooked. Here's hoping that this product will take off in a big way and we'll never have to deal with those old style rings again.

Product Information
Price:
$4.49 - $6.49
Manufacturer:
FREEKEY
Retailer:
Fenix Outfitters
Pros:

Very easy to use
No broken nails

Cons: