We use affiliate links. If you buy something through the links on this page, we may earn a commission at no cost to you. Learn more.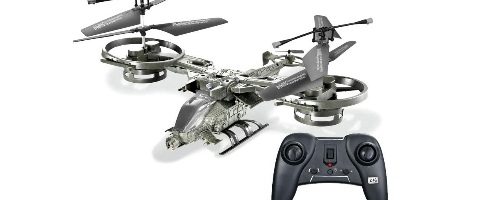 Sigh. I love remote control stuff, especially helicopters, but I may well be the worst RC 'copter pilot ever. I got the cool looking YD-711 2.4GHz 4-channel Avatar licensed RC helicopter from Attop, and broke one of the blades within about 10 minutes of actual flight time. More on that later.
The 'copter is packed in a rather flimsy display box, but it's well-secured in it. Because of the lightweight nature of the toy, you have to be a little careful detaching it from all the wire ties used. The box included the 'copter fully assembled, the remote control (powered by 3 AAA batteries, not included), an AC charger, instructions (in Chinese), an unlabeled rechargeable battery pack, and the tail rotor. The last two items are shown in the instructions but are pre-installed. It took me a while to figure out that the 'bow-tie-looking thing' shown in the what looks like a 'included in box' photo layout was the tail rotor.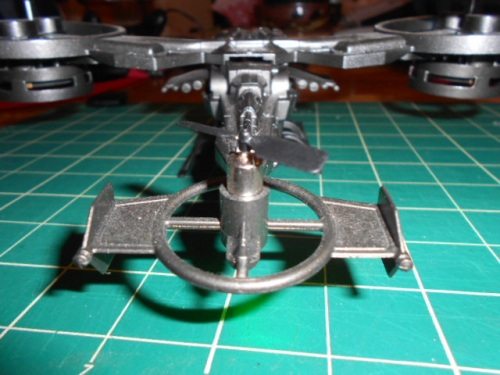 Build quality is so-so. Retailing from under $50 to over $80, it is not a really expensive toy, and it needs to be rather light and 'cheap-feeling' to be resilient enough to absorb some punishment. Nonetheless, it seems kind of 'cheaply made' to me. One rotor cracked, then later broke only minutes into the test flights.  But the initial crack was my fault – it got tangled up on a kitchen stool's legs. Ouch! The main forward-facing spotlight also went out – it did not get hit or anything before it died, and nothing I have tried has made it even flicker since. Some part was rattling around – possibly why the spotlight does not work.
Having said that, the overall looks are pretty dang cool! There is a decent amount of detailing, and while it really does not look much like the Avatar helicopters, it is close enough and looks great just sitting around.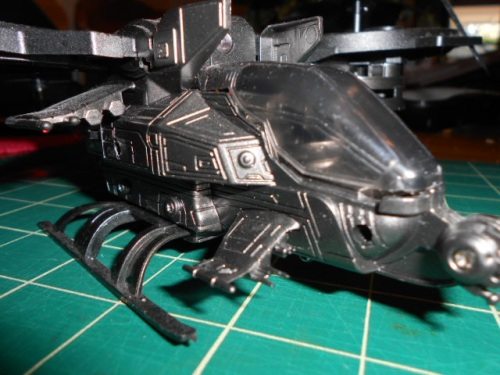 I've played with other RC 'copters (badly) and to me, there are a few main things that make this toy stand out, besides the 'Avatar' movie styling:
There are 2 sets of main rotors, with two sets of blades in each. To make it even more cool, each of the 8 blades pivots independently!
The tail rotor is mounted horizontally and tips the 'copter to fly forward or backwards instead of controlling rotation for direction.
The thing can slide sideways!
It offers a 4-channel remote rather than the more common 3-channel in this price point.
It has lights in it! A forward spotlight (as mentioned, mine died for some reason after just a few minutes), a high-mounted strobing red 'headlight', and a three-color 'tail-light' under the rear rotor that pulses blue, red, and green. The spotlight and tail light are controlled by a switch on the controller.
An opening canopy with a figure in it. I got mine out, but I don't think it was meant to be removable. Oh well, now the copter is a little lighter.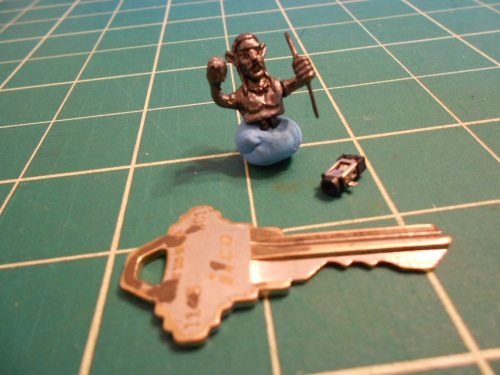 The flight controls are not well-labeled, and the manual is not very helpful if you don't know the language.
Left joystick controls the speed of the main rotors and the up/down motion. Moving the joystick sideways causes the 'copter to scoot sideways. Always start with this joystick at the very bottom position.
Right joystick controls the tail rotor and how the 'copter tilts. Lift the tail to go forward and vice versa. Move the joystick to the left or right to rotate the toy. This stick self-centers when not in use.
The big middle slider switch turns the remote on, and the LED will blink as it tries to connect to the 'copter. Oddly, the 'copter itself needs to be in the 'off' position to fly. ('On' is for charging.)
Two dial knobs adjust drift (rotation and 'sliding sideways') and a middle push button turn the lights on and off.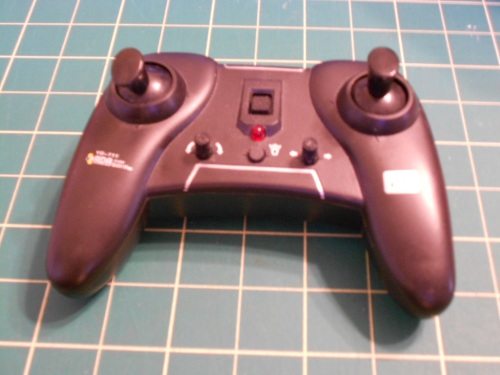 My feeble attempts to make this fly did not go too horribly, but by the time I broke the blade, I had only done a few seconds of anything resembling controlled flight.  So before I destroyed it completely, I sought the help of someone with extensive flight hours at the controls of many RC devices. I feel especially bad since many reviewers specifically commented about how easy this was to fly! Some of the review videos make it look so easy. 🙁
My test pilot discovered that the thing would not fly with the damaged blade, and this triggered an embarrassingly long stretch of trying to find parts, missed and mixed up communications, and so on. Now, we have found the parts, and they are out of stock for an unknown amount of time. Yeesh. I cannot keep this review simmering for that long, it is not fair to the people who supplied it, so we are going with what we have.
My limited flight time with it was a lot of fun, once I got the controls figured out (and hopefully my description above will help someone else!) I really cannot blame the damage on poor build quality for my short experience with it. I am really hoping we finally get the parts; I'll do an update, hopefully with video, when they do arrive.
Product Information
| | |
| --- | --- |
| Price: | $45-85 |
| Manufacturer: | Attop Toys |
| Pros: | Easy to fly (supposedly, but not for me) |
| Cons: | Light-weight build breaks easily |